What we think about
VSDC Free Video Editor
VSDC Free Video Editor is a powerful video editor that can perform all basic tasks with ease. It can even dish out some advanced settings for the more professional user base and that too for absolutely free.
There is quite a lot of video editing software already available on the market. What sets VSDC Video Editor apart is its ability to perform functions of those rival professional video editors for absolutely free. VSDC is a nonlinear video editor that supports tons of features that you would only find in professional editors and for a very high price.
VSDC comes with all those and a ton of other tools to help you edit your video for your project, YouTube and more. It supports almost all available formats and can even convert your videos into another format according to your needs.
This video tool can give your videos a professional feel if used appropriately. It can also serve as a basic video editor with simple features like trimming, cropping and merging videos together.
Another great thing about VSDC is that it's very open about its pricing policies. It won't add any watermarks to your videos if you use their free version of the tool, unlike 99% of the other video editing software in the market. It also has no limited trial period and you can use the free version as long as you want.
Review of VSDC Free Video Editor
We have tried and reviewed a lot of video editing tools in the past and I must say VSDC video editor is one the best editors we have tried. The best part of this editor is pricing and no watermarks on final output even on the free version. Undoubtedly only a few commercial editors in the market allow exporting videos for free without any self-promotions.
Being said that, let's start the review with download availability and installation steps.
Download and Installation
VSDC is currently available only for Windows devices and doesn't support macOS and mobiles applications yet. After downloading the VSDC setup, double click on the setup file to install it on your Windows PC or laptop.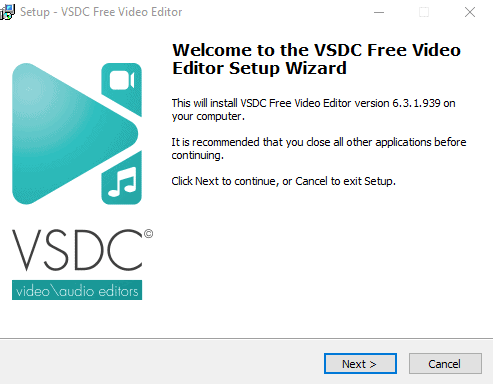 The tool is very easy to install and doesn't require any additional codec or directories. The installation time is very low and the process is completely hassle-free.
Choose your installation directory and select whether you want their screen recorder and video capture tools to have a desktop shortcut. Install VSDC on your device by following the on-screen instructions.
Creating a New Project
To create a new project in VSDC, open the tool by double-clicking the desktop icon. A window will pop up suggesting you upgrade to their pro version. You can just close the window if you wish to try the free version and click on New Project.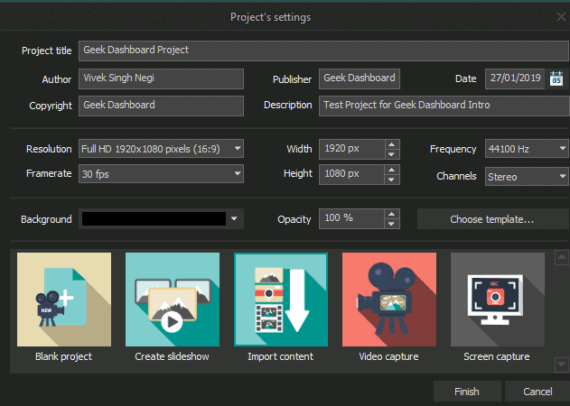 Enter your project details like title, author, resolution, frame rate, description etc., and choose any video from your device to start editing the video.
For this review, I have selected Geek Dashboard channel intro and a sample video of a guy working on his computer. After entering your project details, click on Finish and you'll be greeted with the editor with features like a built-in video preview screen, track window, and other important tools and features.
VSDC Free Video Editor Features
Now it is time to have a look at the features of VSDC video editor and what magic it can do on our boring videos to make them interesting.
Bonus
: VSDC Video editor also has their own
YouTube channel
where you can find tutorials on every feature of VSDC.
1. Interface
VSDC Video Editor has an interface that is quite different in some subtle ways than other professional video editing tools available in the market. It uses slightly different terms to identify its features that you might not be familiar with and are only used by VSDC.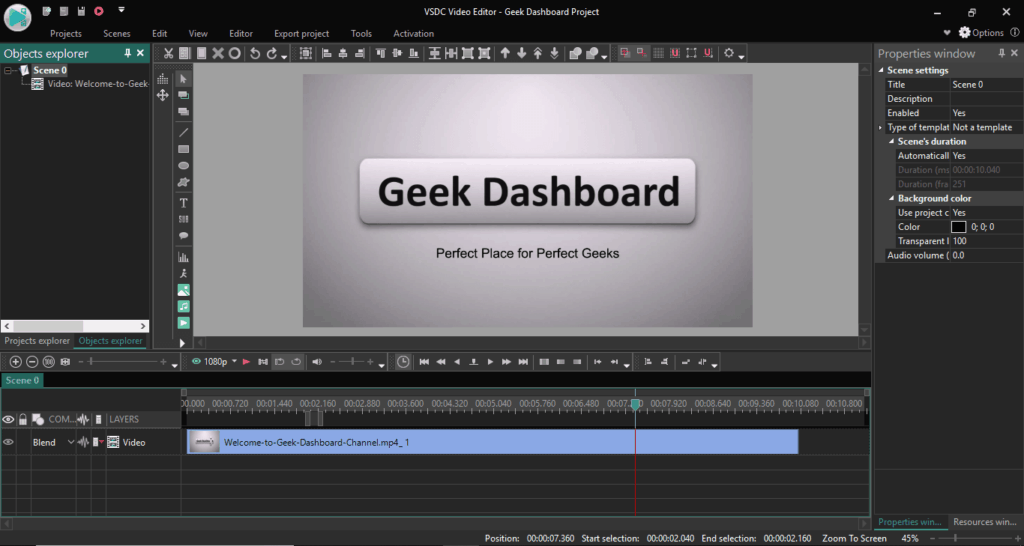 There is a track window at the bottom where you can simultaneously add multiple videos as well as audios and pictures to your project.
On the right side of the screen, you can view important video details. This feature is really useful for more advanced users.
On the left side of the screen, there is an object explorer that works as a timeline showcasing all the videos and edit features that are currently in your scene.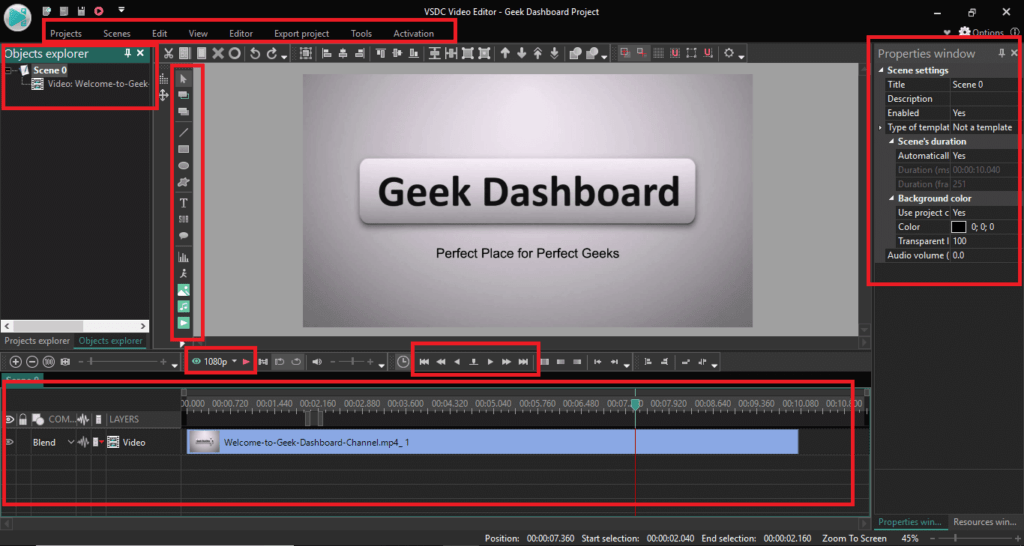 You can move the cursor to go to a specific time on the video using the track window. You can even browse your video frame by frame to edit minor details. If you hover your mouse over any layer in the track it will tell you all the details about the layer.
There is a toolbar at the top of tracks with some basic functions like adding subtitles, images, and audio directly. The interface is sharp with all the basic tools along with few advanced and important tools right on the home screen.
The browsing is easy and you can directly apply many features without going into specific menus. If you have previously worked with other video editing tools then you won't have any problems adjusting to VSDC video editor.
2. Non-Linear Editing
VSDC features powerful non-linear editing, usually not found in free video editors. With non-linear editing, you can basically create videos with a lot of effects and images over one video layer simultaneously.
You can combine video files with still images to create wonderful informative videos. It gives you the ability to create different layers and combine them into one final project.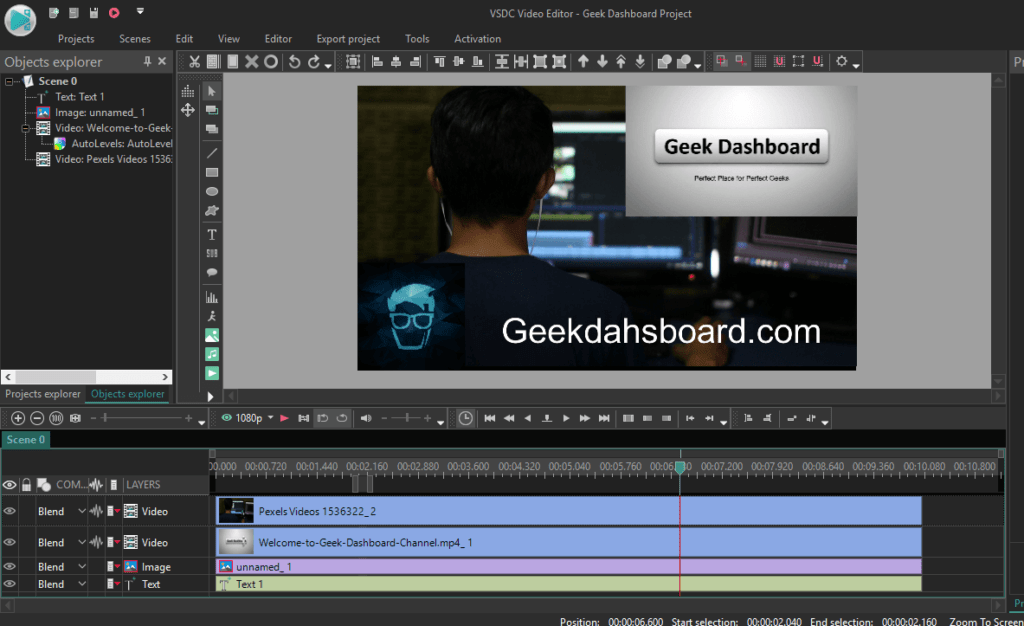 You can add different objects to your video at selected time intervals and also decide their duration. There is a picture in picture mode where you can place as many videos on top of each other at the same time.
Adding text and images over your videos becomes very easy with non-linear editing. These features can be quite useful if you are going to create a YouTube video as most top YouTube channels upload content that prefers this style of editing.
3. Editing Tools and Features
Basic and Advanced Features
VSDC free video editor comes with the basic tools like trimming and cutting your videos. You can easily merge and crop your videos to your liking. The basic tools are easy to use and can be accessed from the editor window or you can use them by right-clicking on your layer. These tools are useful for basic and advanced users and are easy enough to save time on short edits.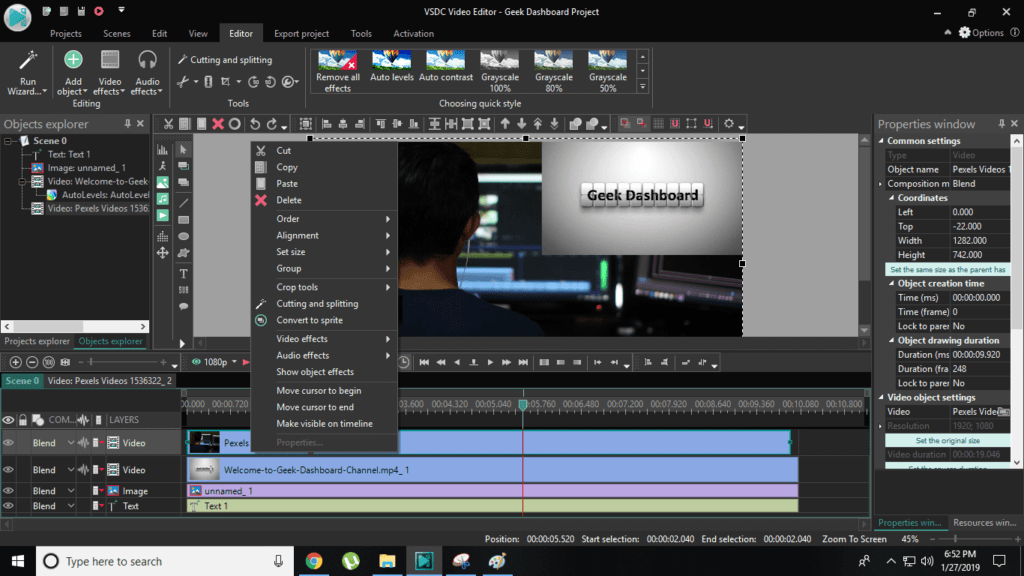 For more advanced editing options, VDSC has its own video effects settings where you can choose from various predefined options like quick styles, adjustments, filters, transforms etc.
There are even options for 360° and 3D video editing and various transition effects that can be used between videos for a smooth and effective transition. The quick style is my personal favorite which has most of the video effects at one place and can really change the look and feel of your video. You can combine these settings and let your creativity flow to produce amazing end results.
Apply Audio Effects
Apart from the video effects, VSDC also provides many audio filters and settings which can be used to enhance audio without using any external audio editor. There are settings for Amplitude, Delay, Filters, Time Stretch/Pitch Shift and also a special effect that can reverse the audio.
Masks for hiding and blurring elements
Masking is basically the process of creating a mask to blur out human faces or sensitive information in videos. VSDC has a very good masking feature. It can also be used to create interesting video effects as masking supports more options than just blur.
You can even add someone else's face over a person or add an image that will move with a specific object on the screen. It is used to highlight, hide and blur various objects in a video.
In-built Charts and 3d objects
VSDC is quite unique among other video editing software as it provides in-built charts that you can use in your video. These charts are not some basic charts, VSDC provides you with a brilliant customizable chart menu that has a lot of different and unique charts.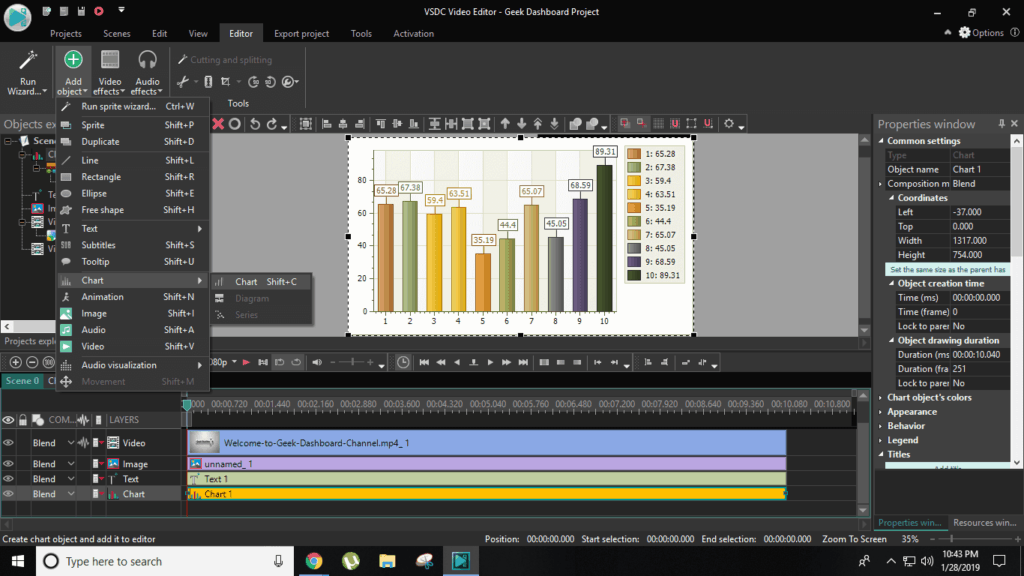 Few of these include bar charts, pie charts, 3d pie charts etc. You can customize each and every aspect of your chart in the editor only without having to refer to any external chart building or photo editing tools. This is especially useful for business and school projects that want to create a moving chart in their video for their presentation.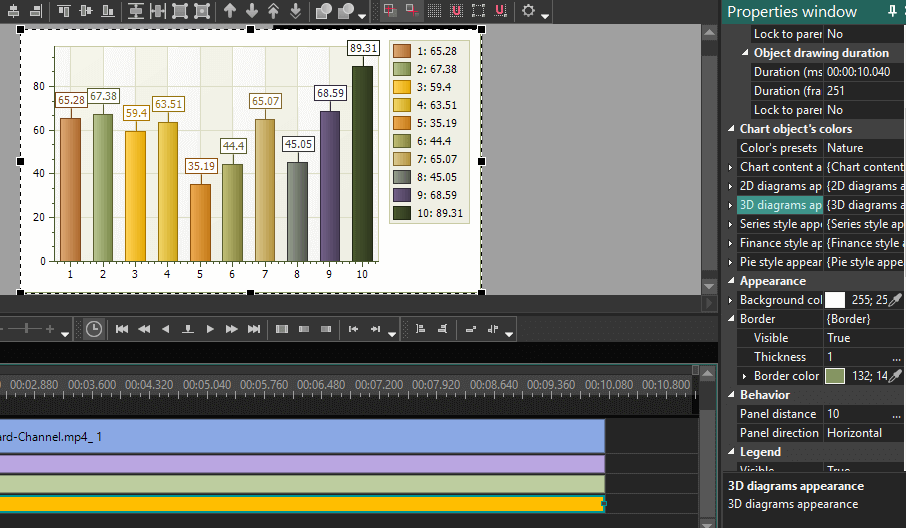 To create a chart in VSDC video editor, simply go to the editor menu and click on add object. From the drop-down list, select Chart and a default bar graph will be displayed on the screen.
Later you can easily edit the properties of the chart from the properties window on the right side of the screen.
4. Additional tools
Video Capturing
VSDC Free Video Capture tool can be used to record on-screen video and save it on your computer. This is especially useful if you want to save a video that you don't have the download option. You can also preview the video being recording using this tool.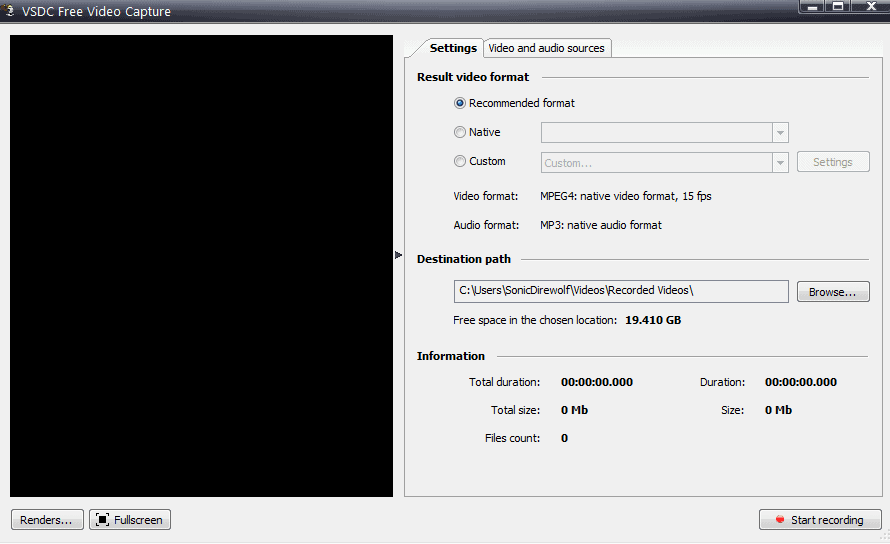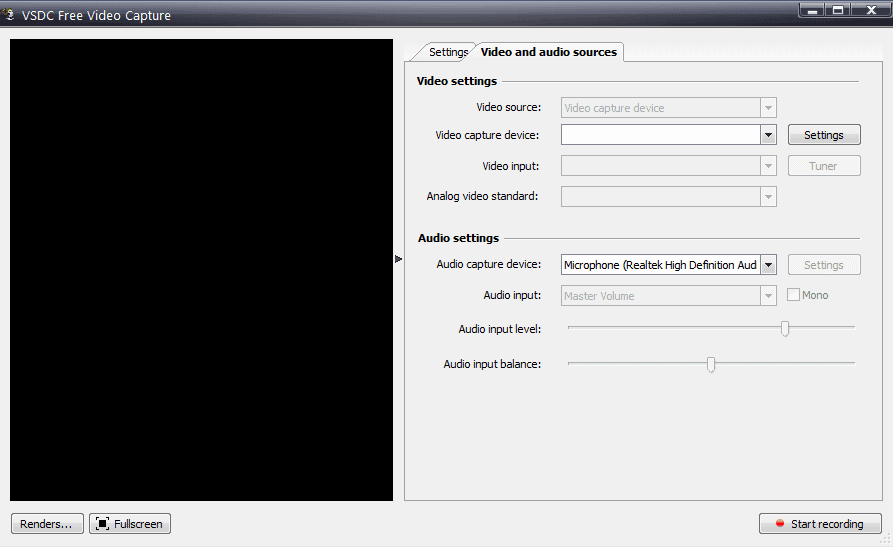 The Video Capture tool is specifically made to capture video footage from cameras and webcams. You can define the storage location where you want the video to be saved. You can also go to Video and audio sources and change the sources according to your personal preferences. This gives the user a lot of flexibility and options to work from.
VSDC Free Screen Recorder
VSDC editor comes with another useful tool for its users and that too at free of cost. The VSDC Free Screen Recorder tool can record your screen and save the footage in your preferred destination. The tool comes with shortcuts to easily pause and end recording.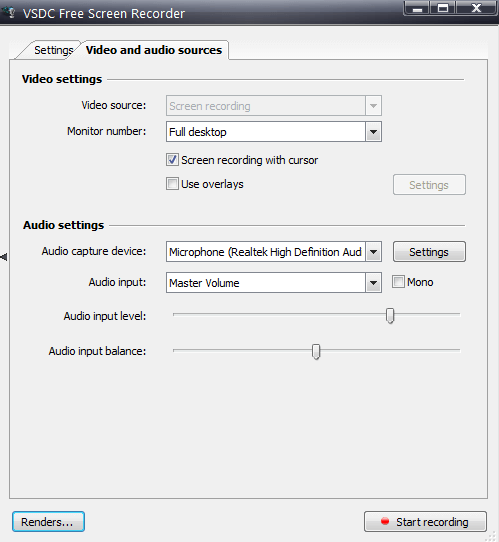 It also has additional features where you can manually select the video and audio sources. The recorded video is low in size and with acceptable frame rates.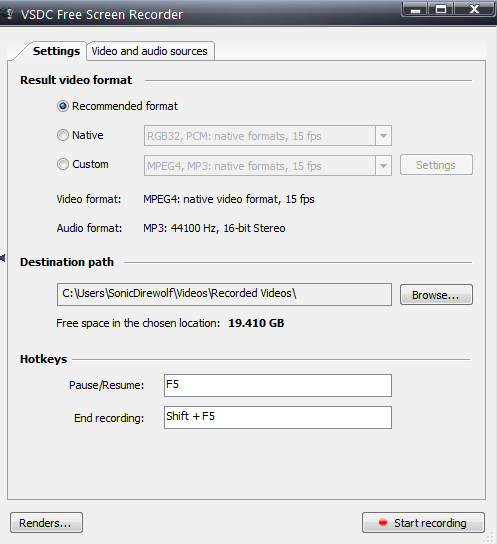 It's an excellent additional arsenal in VSDC's bundle that gives the user a lot of power on how to perform a simple task like recording your computer screen.
5. Formats and Exporting Project
VSDC Video editor can open almost any video file that you import to it. It doesn't matter what device you used to film the video or the source from where you downloaded it, VSDC can open and edit it without any problems.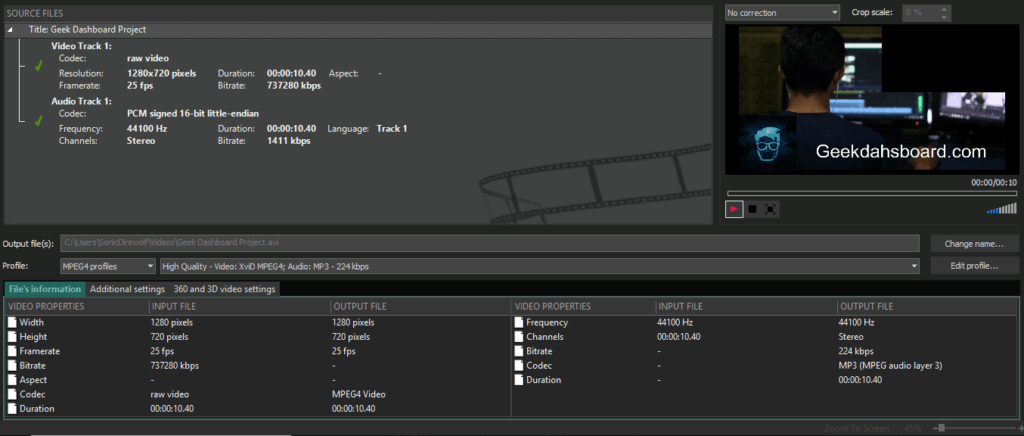 It has a built-in video converter that has all the codecs in its directory so that if it encounters a video file that it can not edit, it can just convert it into a format that is easily editable. There is also support for 4K and 360° videos.
When exporting your project, VSDC editor gives you a lot of options to work with. If you want to export your project to your computer, the Web or burn it on a DVD, there are predefined settings available. That basically sums up all the possibilities of exporting your file which makes VSDC a great tool in this particular area.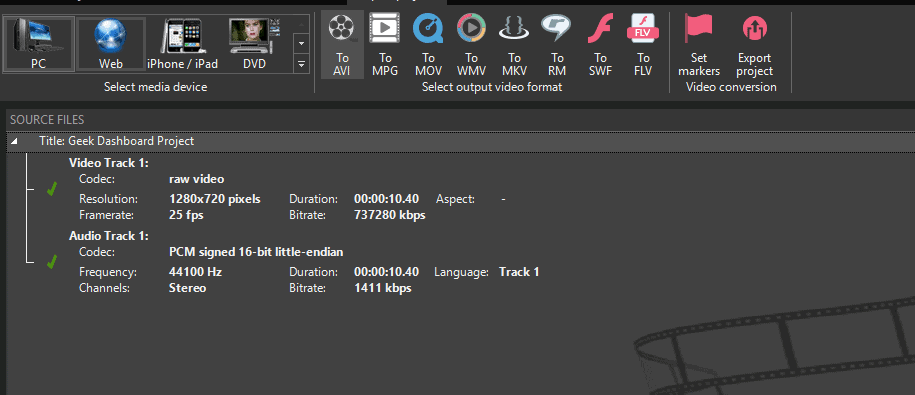 At the export settings you can play with each and every setting of your video including the format of the video, resolution you need, frame rate, width, and height of your video, overall quality, and many other important settings.
here are a couple of predefined settings that are very useful for general users who want to quickly export their video. The PC presets includes the popular formats like .mkv, .avi, .mov and many more.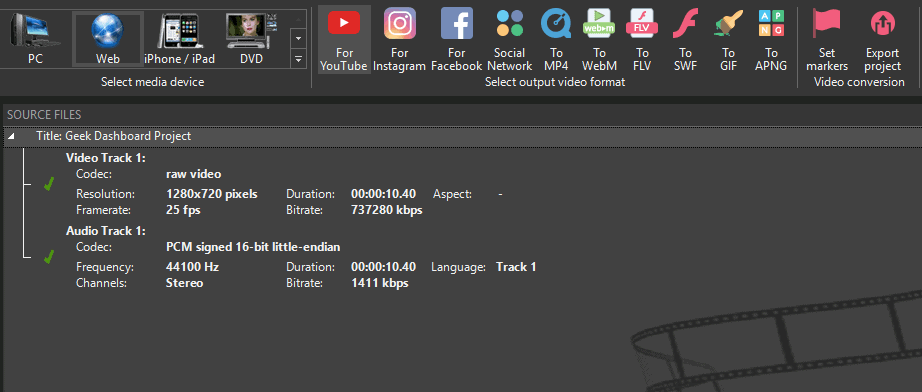 The Web preset has predefined settings for uploading to YouTube, Instagram, Facebook and almost all other Social Networking websites which we found very helpful since it will create a video that is ready to upload. This will prevent the users from going over the tedious task of editing the video and following the dimension guidelines of every single website. The formats include the most popular MP4 along with other formats like FLV, WebM, GIF etc.
Pricing
The one fact that I probably like the most about VSDC is its pricing policy and the transparency it provides. With every other video editor on the market providing a trial version of their editors under the pretext of free versions and adding their own watermarks in the final output file, putting a size limit on their output file, lowering the resolution and many other such practices, VSDC video editor shines like a beacon of hope.
The free version of VSDC editor provides all the essential features that you would find in a paid software. There is just one pop up at the start asking you to upgrade to pro but you can just ignore it and open your project and work on it.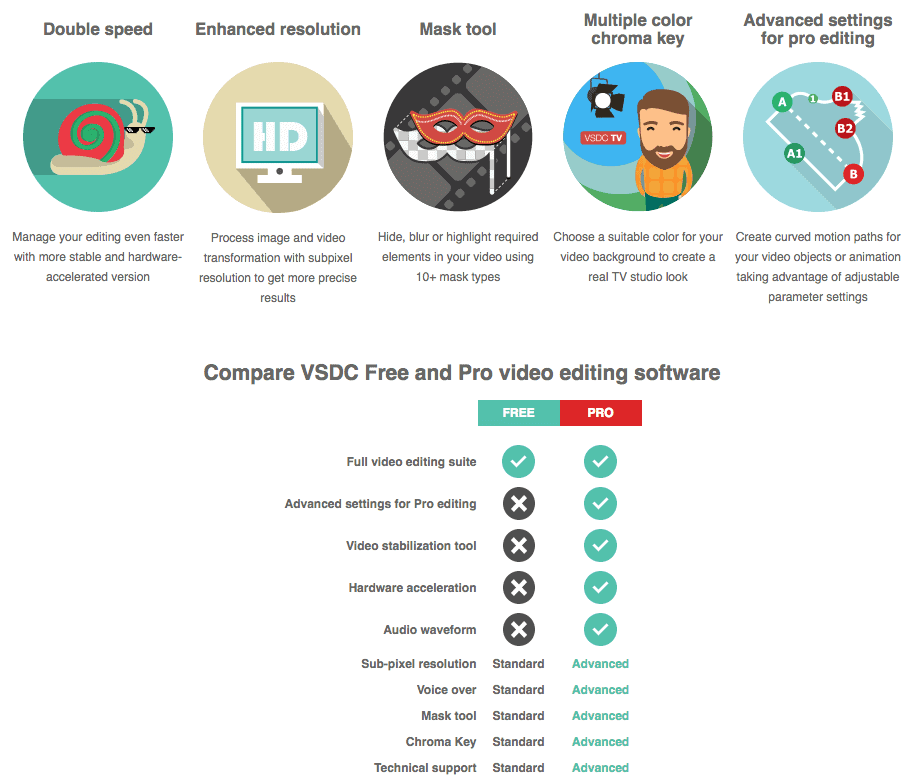 The only other pop-up that comes is when you export a large media file and VSDC recommends you to download the pro version of the software. The pro version comes with an affordable price tag of $19.99 which is valid for 1 year.
Features in Pro Version
There are some key features that you will only find in the pro version of VSDC video editor. Here's a list of all the features that you'll get after paying a fee of $19.99/year.
Hardware Acceleration: This feature greatly improves the export time and reduces the time it takes for you to get your output file by a huge amount. It also makes your editing even faster. Above all, it is useful for those of you who don't want to wait around for your file to render and want it quickly for your purposes.
Enhanced Resolution: Enhanced resolution will create subpixel resolution in your video to get precise results. This can be used to process image and video with accurate edits. It's even useful for professional editors who work on the finer details and want everything to be perfect.
Mask Tool: Masking can be used to hide and blur different objects in your videos. It can be used in a number of creative ways and has applications wider than just hiding a face.

Multiple Colour Chroma Key: This feature gives you the ability to choose a color for your background in your video. This effect can make your videos stand out and look professional without any effort.
 Motion Paths: You can create curved motion paths for objects to follow in your video. You can use this with the mask tool to create interesting effects.
Video Stabilization Tool: This tool can stabilize your video easily. Have a video that is too jittery and the camera movement is very shaky? You can just VSDC video stabilization to stabilize the video and make it much smoother and pleasing to look.
Only advanced and professional users will use the pro version features. VSDC is more geared towards an audience that wants to casually edit their videos for home or educational use. If you want these features and also want to support the team behind VSDC, you are requested to buy the Pro Version.
Our Verdict
VSDC Video Editor is a highly capable editing software that favors an audience that wants to use basic editing features. But VSDC doesn't shy away from providing professional and advanced features for free. VSDC's interface might look a bit off to people who are already familiar with video editing software because it uses different terminology than most conventional editors.
You can always look up their YouTube channel. It has over 296 videos with 3 million views describing various features of VSDC and how to use them correctly.
The pro version has some powerful and advanced features that would come in handy for most advanced users. VSDC stands out in its pricing policy and doesn't bother the user with any watermarks or trial periods. The only big downside is that VSDC is not available for macOS and also doesn't have any mobile applications yet.
[wpr-pros-cons]
What we think about
VSDC Free Video Editor