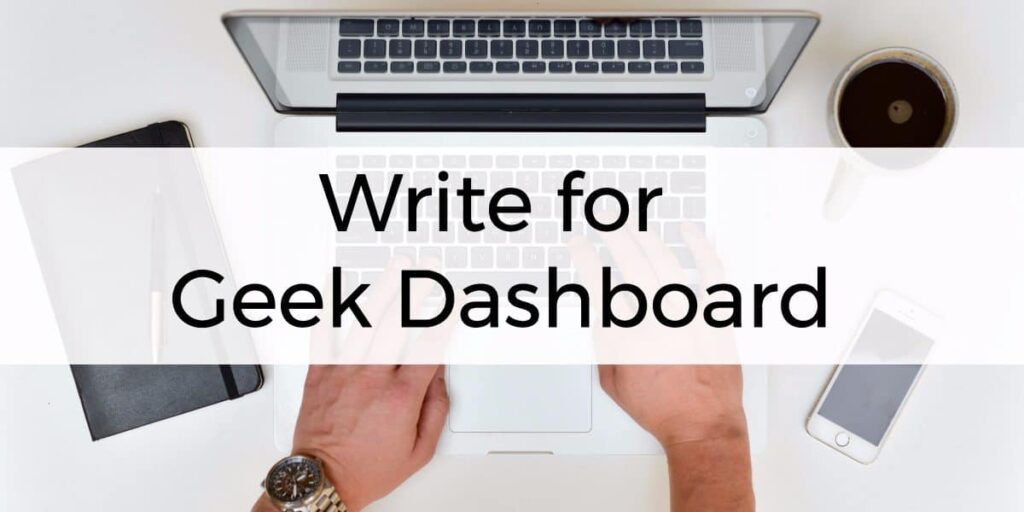 Geek Dashboard started on 29th January 2012 and from the day one of our journey, we tried hard to produce high-quality content and sticks mostly to technology news, mobiles, computers, how-to guides, and gadgets topics.
Kindly note, you can't submit promotional product reviews as a guest post. You are also not allowed to promote your own company/product using guest posts. If in case you are looking to promote your company/product, consider checking our Advertise page or product review page for more details about promotional options.
Topics we accept in guest posts
If your article is a how-to guide or list type article, more chances for your submission to get accepted. You can guest post on Geek Dashboard related to the following topics
Mobiles
How-To's
Internet
Computers
Gadgets
What do you get in return?
Full credit
We'll include your name, author bio, and blog link at the bottom of the article in the separate Author box. Make sure you read the below conditions before submitting your article.
Affiliate links are not allowed

No credit is allowed inside or within the content.

You'll get one nofollow link to your blog page with your blog name as anchor text.
Exposure
We promote your guest post on all our social media profiles. We'll also send push notifications to our mobile app users. No doubt, you'll get a lot of exposure.
How to Submit the Guest Post?
Follow the guidelines mentioned here and send your article by submitting the form below:
The article must be at least 1000+ words in length
Screenshots speak a lot. Capture your own screenshots and include them in the article wherever required. The maximum width of the image should be 1000px and the minimum width should be 500px.
You need to add the featured image at the end of the article and the size of the featured image should be 800 x 450px.
Make sure your article is not published anywhere, even on your own blog. No plagiarism, please.
The article must be formatted properly with bold, italic wherever needed and without grammatical mistakes.
Try to add useful relevant external links to the article and interlink to our old articles.
As mentioned earlier, never ever promote your company or product in guest posts.
Once we receive your submission, your article will be reviewed by one of our team members. If your submission is accepted, you'll receive username and password to your email along with suggested changes and submission guidelines. With your new credentials, log in to your account and submit the article for final review. This time you need to upload all images to our server, fill the meta description, and select the suitable category. After submitting for final review, the article will go live in 5-10 working days.
We may not respond to your submission if we feel the article is not relevant to our website. If you didn't hear from us for 10 days after submission, you can assume it as rejected and you are free to publish your article anywhere.
Fill the following details to submit your .docx file
Download the Apps Now
We put a lot of effort and resources in writing our articles, and we believe it is our responsibility to satisfy your tech hunger
Android App on
Google Play
Browser Extension on
Chrome Web Store