Often when we are capturing a video, we tend to shoot it in the best possible mode that is present on our system or device. However, this best-quality persuasion causes the size of the videos to become huge. But we make the videos to share them with our near and dear ones and most of the videos sharing apps have a limitation of size applied to them.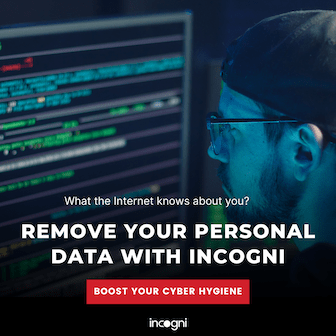 In such cases, we need video compression software to reduce the file size and even if the size isn't a factor, larger files automatically take way longer on slow internet connections to get uploaded and also use a huge amount of data to do so.
Here comes the best video compression software which reduces the size of the files so that you can share them easily while storing high-quality files on your devices or external hard disks.
This article will be discussing all video compression software for Mac and Windows that will help you to reduce the size without losing any quality and you can share it easily on any platform you want.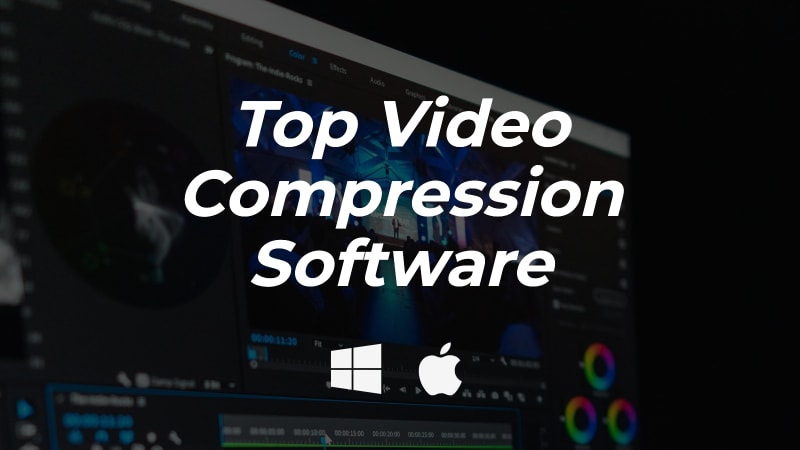 This list of video compression tools for Windows and Mac contains a mix of completely free, open-source, and freemium software. Since free versions are not actively maintained and are outdated, we added a few freemium tools where you can still use the software to compress the videos at free of cost. However, a few of them may have minor limitations.
1. VideoProc Converter
If you are looking for a fast and easy-to-use video processing and compressing tool, then you can try VideoProc Converter. It utilizes your GPU hardware acceleration powered by Intel, AMD, and NVIDIA, to speed up the video editing and transcoding progress, dealing with large-sized videos speedily and smoothly without quality loss.
VideoProc Converter works for both Windows and Mac users. It is built with an advanced video compression algorithm, so you don't have to change any parameter settings. Like, you can directly compress 4K H.264 to MP4 HEVC/H.265, which will reduce up to 50% size and keep the original quality.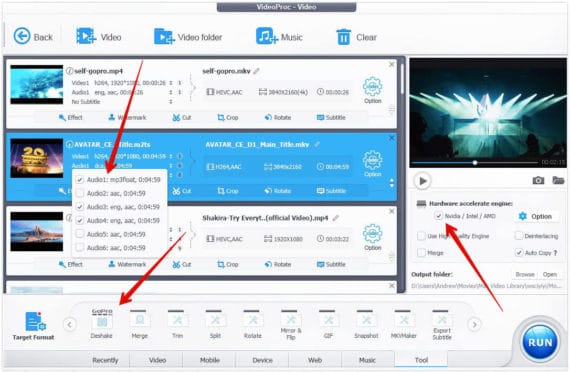 VideoProc Converter supports more than 420 output formats, compatible with almost all mobile devices in the market. More, the video editing toolbox will help you easily edit the videos before compression, like stabilizing shaky videos, merging video clips, trimming and cutting unwanted parts, adding subtitles, etc.
Get VideoProc Converter for Mac
Get VideoProc Converter for Windows
2. Wondershare UniConverter
Wondershare UniConverter is the best video compression software available for both Mac and Windows. The best thing about Wondershare UniConverter is its simplicity which allows you to compress videos without quality loss and also lets you edit your video. It offers super fast conversion speed and at the same time also allows you to directly compress videos from YouTube.
You also get to edit the videos in several formats that are available commonly. You will be allowed to add many effects and transactions with this software which is available both free and as a paid alternative. It also allows you to add audio tracks and music files to the video you are working on to provide you with better video output.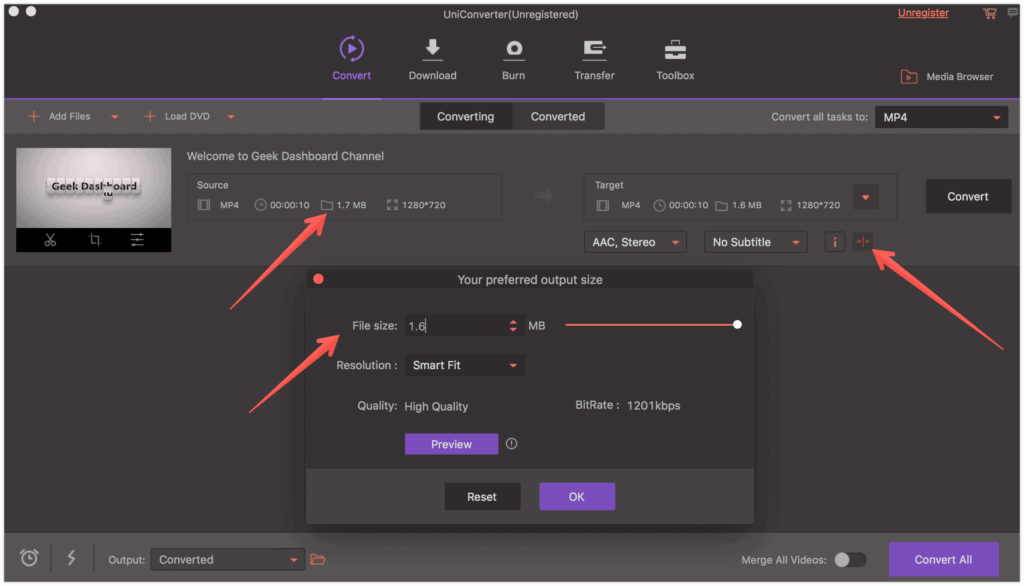 Though the free version is more than enough to compress the videos and for all basic video editing stuff but the major downside of the free version is it can convert/compress only 1/3 of the original video length.
For instance, if your original video length is 30 seconds, with the free version of UniConverter, you get only the first 10 seconds of the original video. Don't worry, for every modern problem, there will be a modern solution – just use your common sense and you can bypass this limitation with little extra effort.
Get Wondershare UniConverter for Mac
Get Wondershare UniConverter for Windows
3. Movavi Video Converter
Movavi Video Converter lets you quickly convert files between 180+ video, audio, and graphics formats. The program supports Intel hardware acceleration, as well as NVIDIA and AMD technologies, to increase the speed of conversion and reduce the CPU load. You can also edit files before converting them: adjust colors, enhance audio, stabilize shaky footage, and more.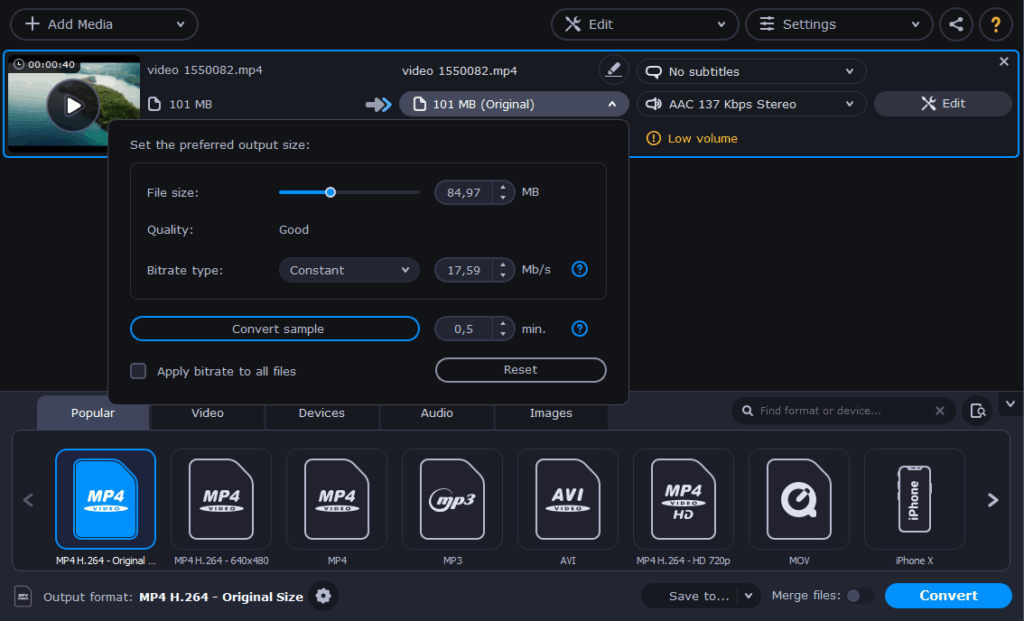 With Movavi's video file converter, compression is easy. You can change the output file size just by moving a slider, which will also let you know the quality of the resulting video. The free trial version is valid for seven days, adds a watermark to all your videos, and lets you convert only half of an audio file. These limitations are removed after purchase.
Get Movavi Video Converter for Windows
Get Movavi Video Converter for Mac
4. HitPaw Compressor
HitPaw Compressor is the new tool in the market that is currently available for Windows machines and the Mac version will be available very soon. This video compressor can reduce the file size drastically without losing quality. It supports most of the common video formats like MP4, MOV, AVI, WMV, FLV, and MKV.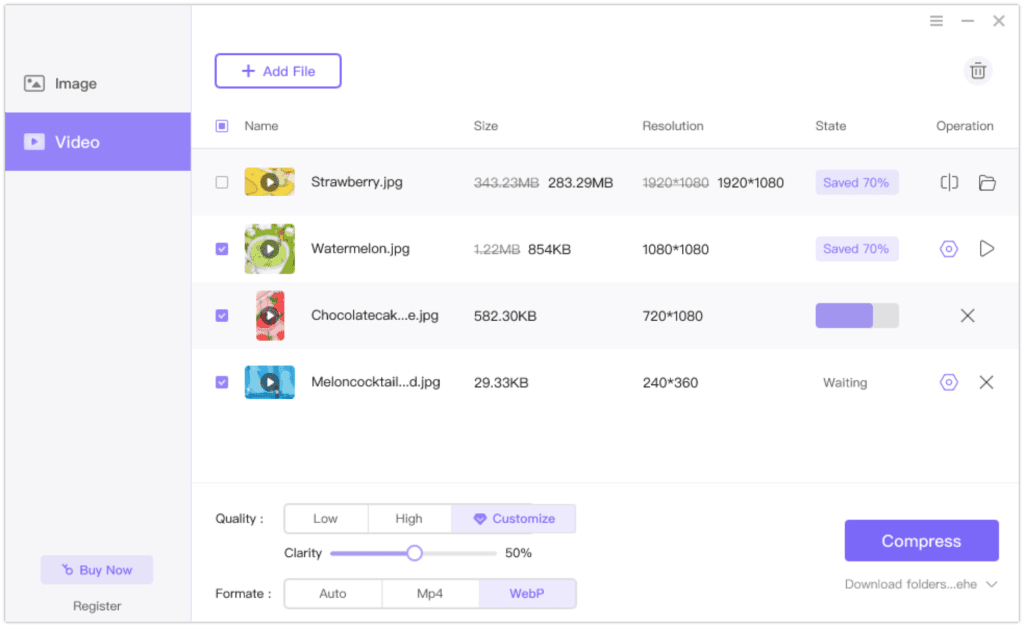 Apart from videos, HitPaw Compressor can also compress image files with ease. If you are someone who frequently deals with image and video compressing, this will be an ideal choice for you. The free version of HitPaw Compressor lets you compress up to 5 videos at once and there will be no watermarks on the compressed video.
The premium version allows you to bulk compress more than 5 videos at the same time and also lets you adjust the compression quality manually. However, the free version of HitPaw Compressor does the work comfortably and it can reduce the video file size by almost 75%.
5. WinX HD Video Converter Deluxe
WinX HD Video Converter Deluxe is an all-in-one video editing software that can edit, convert, compress and resize almost all popular video formats. It can easily compress HD/4K videos to up to 90% without compromising on quality.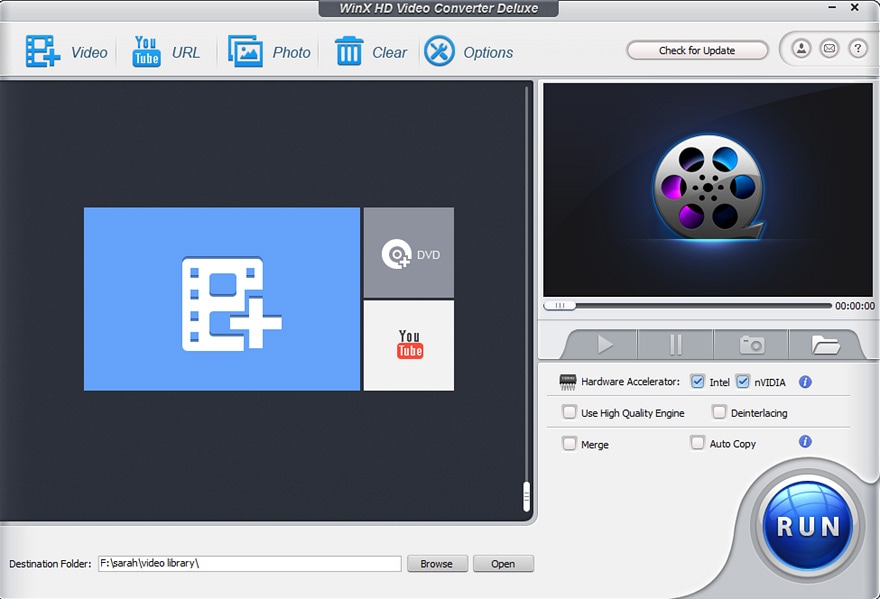 Currently available for both Windows and Mac operating systems and it comes in two variants – Free and Premium. With the free version of WinX HD Video Converter Deluxe, you can compress the videos for up to 5 minutes. However, the premium version has no time limitations and also supports new codecs like H.266 and AV1. Being said that, for most of the use cases and small videos, you can get the job done comfortably with the free version.
Worrying about the compression speed and watermarks? Don't worry, the free version of WinX HD Video Converter Deluxe will not add watermarks to the compressed videos.
Get WinX HD Video Converter Deluxe
6. Freemake Video Converter
If you are a Windows user looking for a well-trusted tool to compress your videos, then Freemake Video Converter is the first option you should consider. This tool has been used by over 93 million users in the last 8 years and it is recognized as one of the best video converters in the market.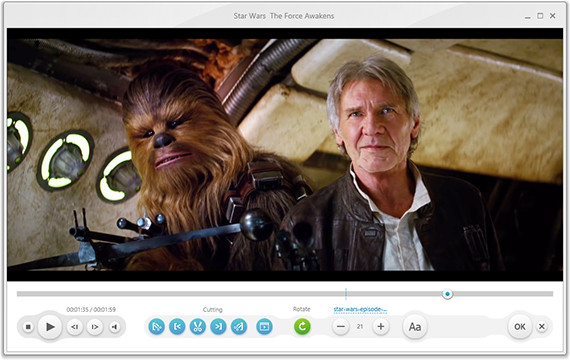 It can compress and convert videos into more than 500 formats and is compatible with all the latest gadgets. The best part of this tool is its price, you can use Freemake Video Converter free of cost but with limitations like a watermark on the final video output and slower compression speed. Looks like the developer of this tool is intentionally slowing down the compression speed and offering paid subscriptions for much better speeds. Currently, it is available only for Windows PCs and laptops. If you're a Mac user or not happy with a watermark on the video, consider checking more alternatives below.
Download Freemake Video Converter 
7. Handbrake
If you are looking for something which is advanced in its features and can be used by pros, then you should try out Handbrake. It is open-source software and one of the best video compression software which is available for free to the consumers and is an awesome alternative to all the various video compression apps present out there.
Handbrake is available for both Mac and Windows OS and is available in a way where you can tweak the outcomes of the inputs that you have put into it. Most of the optimizations that Handbrake allows you to do will change the quality of the video that is coming out in the sense that you can alter the codec, video quality, and also the video FPS. Handbrake contains a live preview for the compression and also settings for the compression of various devices.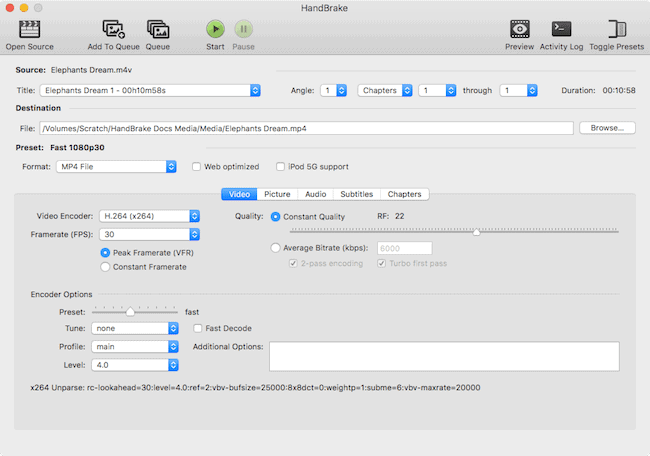 8. Avidemux
If you are looking for the best of the best then you have to try out Avidemux. You will get it online as a free source video compressor that works equally well on both Mac and Windows. It is not just a video editing software but also allows you to do a lot of other things that include editing of the same along with cutting and encoding and it does these multiple tasks with utmost efficiency and ease.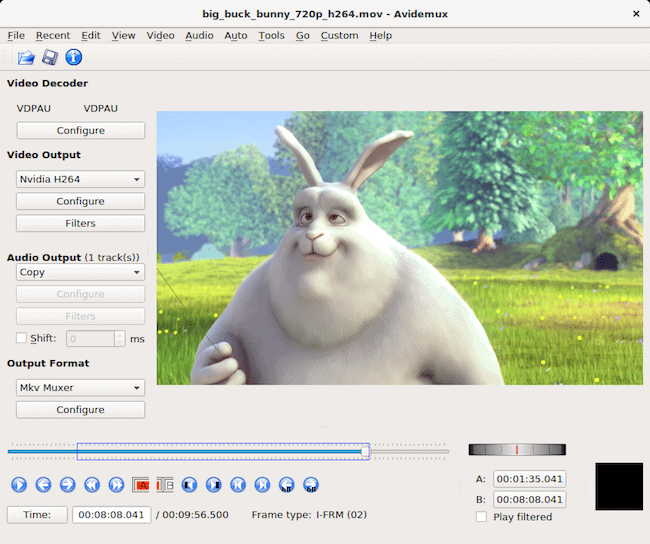 Avidemux also allows you to effectively filter the video you are working on. Avidemux supports an array of video formats and also helps in queuing jobs and projects which makes the whole process fairly automates the whole process of editing the videos. It modifies the bit rate, codec, and also frame rate.
9. Miro Video Converter
If you want simple video compression software, then you have to take dig at Miro Video Converter. It works on the simple principle of drag and drop which can be done by launching the video compressor. You can either do the compression on a customized basis or you can also select from the various formats or device options that are already present on the app.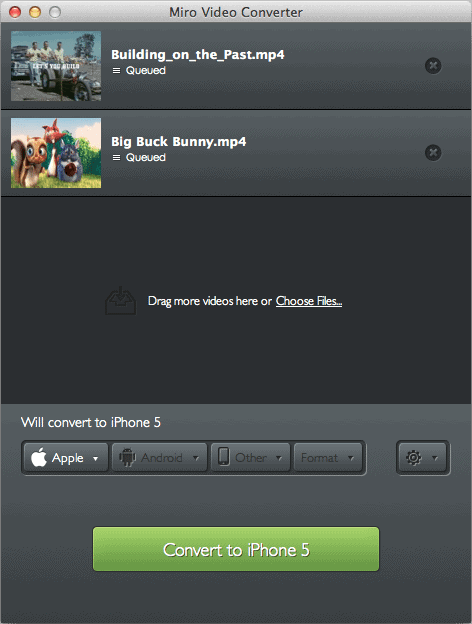 If you are keen on doing all the jobs at once, Miro Video Converter allows you to compress the various videos on a bulk basis so that you can set a standard set of commands and the process will be done with automation. Miro Video Converter also supports several video formats and devices and is available for Mac and Windows.
10. Any Video Converter
Any Video Converter offers you both free and paid versions. While the paid version has some additional features in place, the free version does the job pretty well. You can simply launch the video window and drag and drop the file that you want to work on.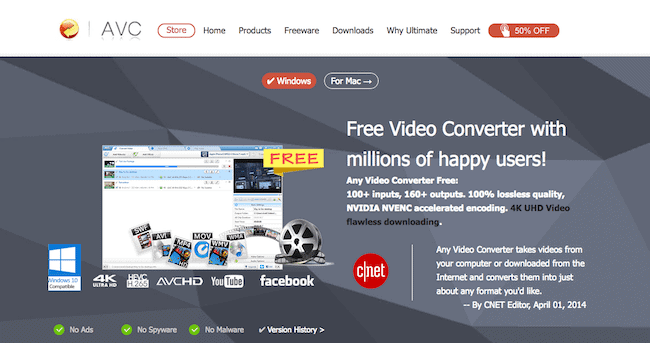 All you need to do is choose the video from CD or DVD or even you can add the URL, choose the parameters of compression and select the specific device or the format from which the video is taken and you are done. At the bottom of the user interface, you will get a tab with the Settings option where you can change the various parameters. It allows you to compress a huge number of video formats and also allows you to play with audio.
These are the best video compression software for Windows and Mac. So, choose the one that suits you the best. Are you using any best video compression software on your device other than these?
If yes, do let us know in the comments section below.