What we think about
Wondershare DVD Creator
Turn your memorable videos or old photographs into beautiful DVD movies using Wondershare DVD Creator. Read the full review to realize the full potential of this amazing DVD burning program.
Wondershare DVD Creator is one of the leading DVD creator programs favored by users worldwide. With Wondershare DVD Creator, you can either burn your data into a DVD or create DVD compatible files on your computer. The Wondershare DVD Creator is a complete DVD toolbox designed to perform all functions related to DVD creation, editing, and other effects. Let us learn a bit more about this handy DVD creator program and see if it is worth the buzz in our detailed Wondershare DVD Creator review.
DVDs are still the best choice for capturing memories whether it is a video or a slideshow of pictures of your favorite event. While you can always store these memories on any storage devices, the DVDs let you create an excellent movie out of these memorable events. With a quality DVD creator program, you can also add some background music or change few effects within the video or slideshow to make a beautiful and memorable movie out of it.
Wondershare DVD Creator Review
Wondershare DVD Creator is a robust suite of DVD tools embed in a single program. The software is developed by Wondershare, a pioneer in developing multimedia tools and applications. The Wondershare DVD Creator program is designed to burn videos/images to DVD/Blu-ray, Blu-ray/DVD folders, or ISO images. Besides burning, Wondershare DVD Creator is an excellent tool to edit the video files using functions like trimming, cropping, and rotating. You can also adjust brightness as well as add transition effects and background music to your videos.
Wondershare DVD Creator also supports a wide range of similar editing tools for images as well as to create a slideshow movie with some background music.
Features of Wondershare DVD Creator
Wondershare DVD Creator is a complete DVD toolbox with a variety of different tools designed to enhance the quality of your DVD movie. Let's check out each feature of Wondershare DVD Creator one by one.
1. Burn Videos
Burning videos become easy now with Wondershare DVD Creator. The program lets you create high-quality DVD movies from single or multiple video files. Wondershare DVD Creator supports more than 150 video formats including the popular one such as MP4, MKV, AVI, and many more.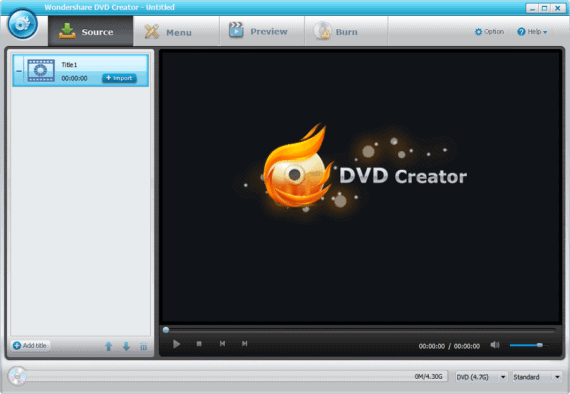 Besides the video formats, the Wondershare DVD Creator software also lets you burn videos into different DVD formats such as DVD-9 and DVD-5; DVD-R/RW, DVD+R/RW, DVD+R DL, DVD-R DL, DVD-RAM; BD-R, BD-RE, BD-25, BD-50, BD-100.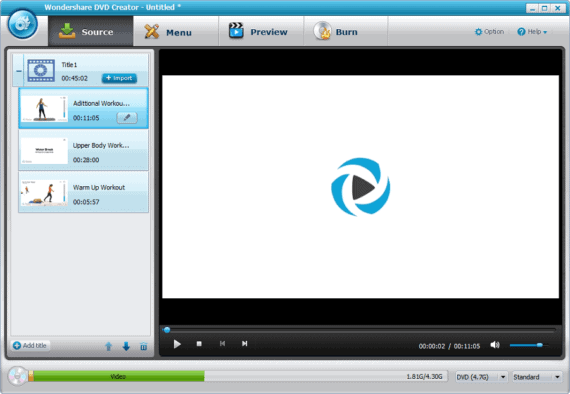 With the one-click burn DVD option, you can easily convert your videos into a beautiful movie with pleasant background music and other transition effects.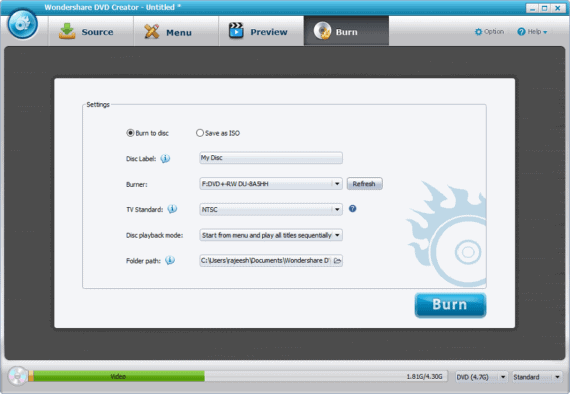 You also get the option to turn videos to DVD by either burning the videos to a Blu-ray/DVD, Blu-ray/DVD folder, or an ISO image. In short, you don't need a DVD to create a movie using the Wondershare DVD Creator software.
2. In-Built Video Editor
Wondershare DVD Creator does more than just burning or converting videos to DVD. You can also find the full range of video editing tools in the program to edit your video files to enhance the quality and the final output of the movie.
The Wondershare DVD Creator lets you trim, crop, and enhance the effects of the video by changing the brightness, contrast, saturation to improve the quality of the movie. You can also use various other special effects as well to offer a better visual experience while watching the DVD on the big screen.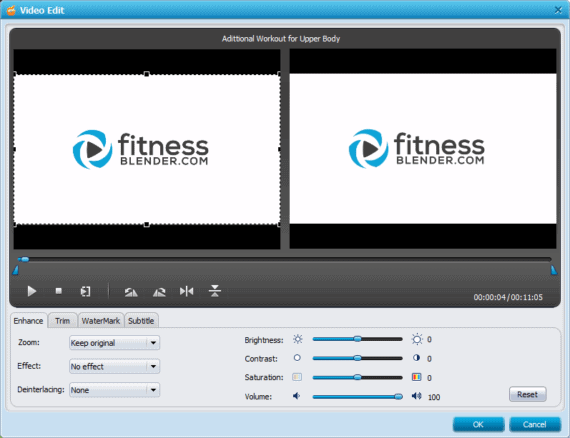 You can also add copyright ownership to your videos by including image or text watermark to all your movies created using Wondershare DVD Creator. If you are planning to make the film accessible to a global audience, you also get the option to add subtitles in the movie using any of the popular extensions such as .srt, .ass, and .ssa.
3. Customize DVD Menus
What's the use of a DVD burning program without the option of adding customized DVD menus? Well, Wondershare DVD Creator lets you choose from a wide range of 100 static and dynamic DVD templates available in different themes such as Holiday, Travel, Sport, Birthday, and Memory.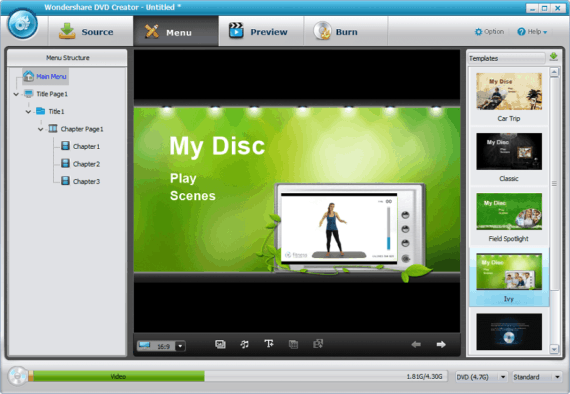 Also, you can also customize the background image/music as well as add/edit the title of the movie or change the thumbnail as per your preference. The DVD burning software also lets you add chapters either manually or automatically based on your preferences.
4. Smart Slideshow Maker
Well, there are times when you don't have many videos of that memorable solo trip or a family vacation you enjoyed some time ago. However, you captured a lot of memories and moments of such trips through hundreds of photographs. Wondershare DVD Creator allows you to convert all your pictures into a beautiful slideshow movie using the Smart Slideshow Maker tool within the program.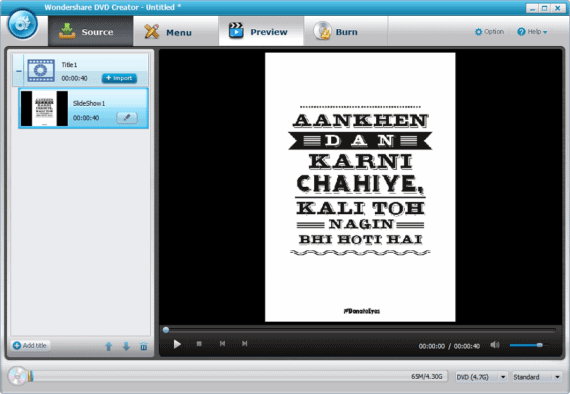 You can add some transition settings, insert some background music, or set photo duration to personalize the whole experience.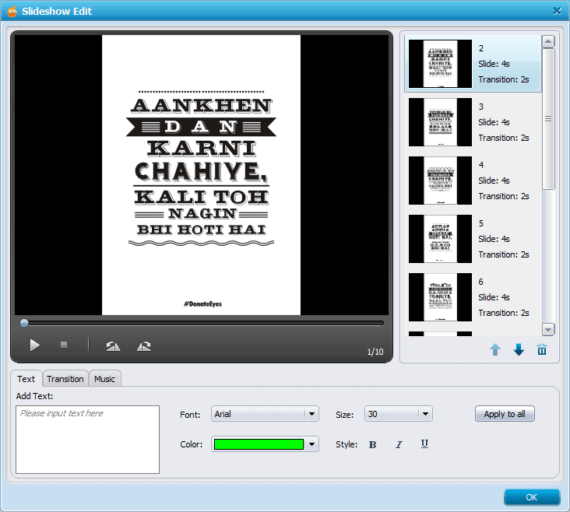 The Smart Slideshow Maker also lets you rearrange or rotate the images as well as add/delete pictures throughout the DVD creation process. Once edited, you can use the one-click burn DVD tool to convert your favorite photos into a DVD movie.
5. Additional Features
Besides these fantastic features, the Wondershare DVD Creator also offers some other handy features as follows:
DVD to Video Converter: With the Wondershare DVD Creator, you can easily convert DVDs into supported video formats such as MP4, AVI, MKV. After conversion, you can directly play the videos on your computer without a DVD player.
DVD to DVD Converter: You can also convert a DVD to an ISO image or a DVD folder using the DVD to DVD converter tool. The tool comes handy if you want to create a copy of the DVD on your computer for future use.
Our verdict
The main USP of the Wondershare DVD Creator program is the ease to create a DVD or Blu-ray disc from multiple videos or images. You can make your movie easily following a 3-step process to burn videos or pictures file on a DVD/Blu-ray, DVD/Blu-ray folder, or an ISO image.
Also, the Wondershare DVD Creator is known as a DVD burning program, but it is much more than that. Besides the DVD burning utility, the Wondershare DVD Creator also offers a complete suite of different DVD tools where you can edit, customize, and add a background or other transition effects to your movies to enhance the overall visual experience.
The Wondershare DVD Creator is the ideal software to create home movies out of multiple videos or old photographs to share or relive the memories with your family and friends.
What we think about
Wondershare DVD Creator