Imagine a scenario where you are following your usual routine and start the Windows PC, but you can't log into password screen and you need to reset Windows 10 password. Either you forgot your Windows 10 password, someone changed it, or you lost the paper mentioning the password. There can be a dozen scenarios where you may lose the access to your Windows 10 machine, and the only alternative left for you is to bypass Windows 10 password.
You can always reinstall Windows and reset Windows 10 password. However, that method is not wise as reinstalling Windows will delete and format the existing drive resulting in loss of all your critical data including project files, personal photographs, and other essential settings.
Well, there's nothing to worry as you can easily bypass Windows 10 password screen using USB recovery disk. Although there are multiple alternatives concerning Windows 10 password bypass, I strongly recommend the following USB recovery disk method that can help with Windows 10 password bypass quite easily with few simple steps.
Bypass Windows 10 Password with iSunshare Windows Password Genius
Yes, the USB recovery disk method to bypass Windows 10 password is powered by iSunshare Windows Password genius. It is a simple software that you can install on your Windows PC and follow these step-by-step instructions to bypass Windows 10 password screen.
If you don't prefer reading text, watch this video to know how to remove Windows 10 password and bypass login screen.
Step by Step Tutorial to Bypass Windows 10 Password Screen
Before you start the tutorial, you must download and install iSunshare Windows Password Genius on another Windows PC or Mac. You can also try the Android version of this app as well. For this tutorial, we are using Windows 10 powered Dell Inspiron 15.
Step 1 – Install iSunshare Windows Password Genius on another PC
To bypass Windows 10 password, you must purchase the application or opt for a free trial version of iSunshare Windows Password Genius and start downloading the .exe file on your Windows PC.
Once you download the .exe file, it is time to install the software. After installation, you can launch iSunshare Windows Password Genius as below: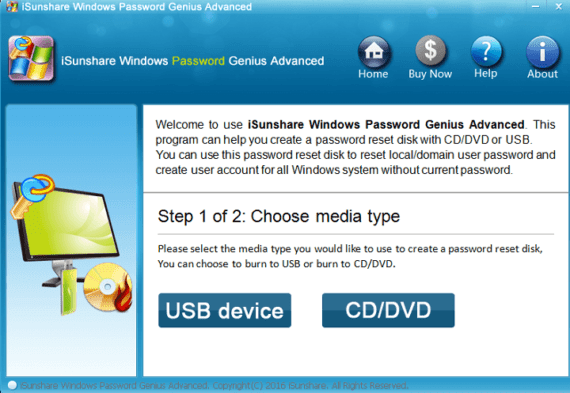 Step 2 – Connect USB device and click Begin burning
On the main screen of the application, you can find two options: USB Device and CD/DVD. Choose and click USB Device.
If you already have a USB stick hooked on your PC, the application will automatically locate the device. If not, then as soon as you attach the USB device, the software will automatically detect the device.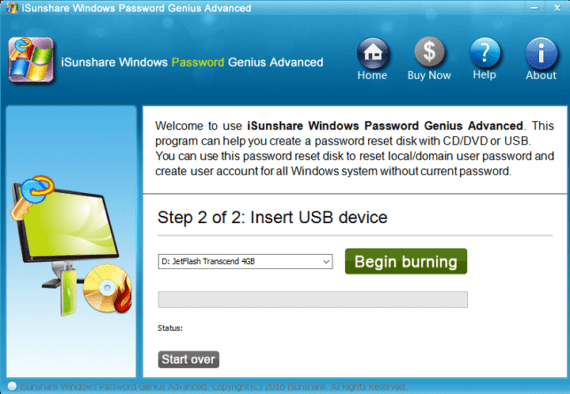 After confirming the USB flash drive detected by the application, you can begin the burning process by hitting the "Begin Burning" button.
Remember, the application will ask you if you wish to continue as the process will format the USB stick. Use a USB drive that's either empty or doesn't have any important data.
Also Read: How to share USB Drive over the network to access it anywhere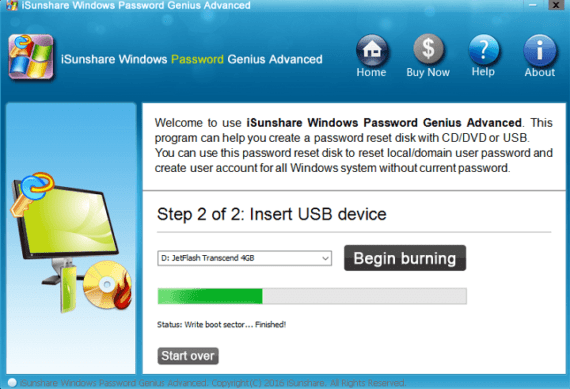 The burning process will take only a few seconds, and it will burn the iso image of the application to your USB stick. Once burned, the USB device is ready to boot the PC and help you bypass Windows 10 password screen.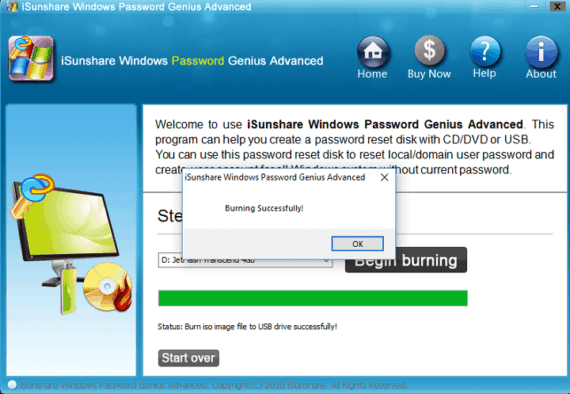 Step 3 – Reboot the PC with burned USB disk
Just stick the USB drive to the Windows PC for which you forgot the password. Now reboot the Windows and go to boot menu by pressing F12 or F10 multiple times.
Remember that the
boot options
screen is displayed on all Windows machines, but the key can differ based on the manufacturer. For Dell laptop, it is F12. For Samsung, it is F10.

Note:
You need to change the first boot priority to USB disk in the boot menu. If you didn't see the USB in the list, make sure to disable "Fast BIOS Mode".
In the boot menu, you must select the USB device you inserted, and the Windows will boot the iSunshare Windows Password Genius application window where you can choose and reset Windows 10 password.

Step 4 – Choose reset password to bypass the login screen
The program provides two options. You can either reset Windows 10 password or leave it blank. If you keep the password blank, then the next time you boot the Windows usually, it will bypass Windows 10 password screen and take you directly to your desktop.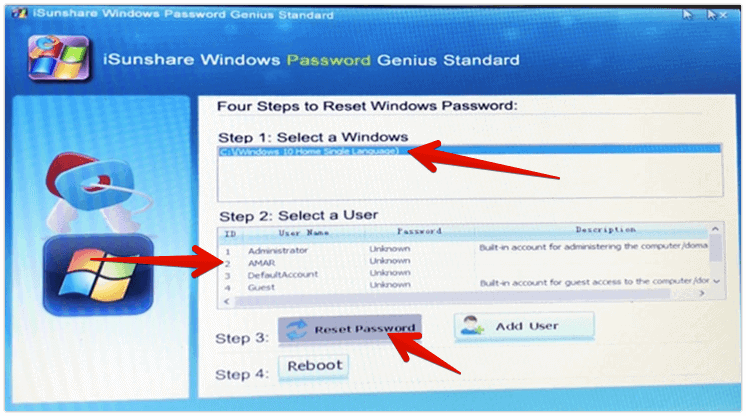 Once you have made your choice, you can reboot the PC. The application will prompt you to remove the USB stick and ask if you want to restart your PC. Make sure to remove the USB device before you hit "Yes".
Your Windows PC will now boot directly bypassing the Windows 10 password screen. Now, you can either leave it as it is if you want to bypass Windows 10 password screen permanently. Else, you can set new Windows 10 password from the Settings > Accounts > Sign-in Options menu.
Well, that's it. It can't get any simpler than this. So, when the next time you forget your Windows 10 password or lose it, there's no need to panic. Use iSunshare Windows Password Genius application and bypass Windows 10 password right away.
Reset the Windows 10 password or remove the password completely in just matter of minutes. All you need is another working computer/laptop and a USB drive.