Excel dashboards and templates can be very useful when you need to assess the execution of key metrics. Continuous monitoring coupled with easy editing and alterations makes these dashboards excel templates a pinnacle option. Statistics prove how customer service KPI is important for monitoring and measuring performance at the customer-centric ends. For that reason, customer support KPI dashboards excel templates comes to picture.
It is the key performance indicators that are a measurable value to demonstrate the effectiveness in a business achieving its targets. Altogether, selecting the right customer service KPI and some justifying dashboard excel templates make up the perfect real-time reporting tools.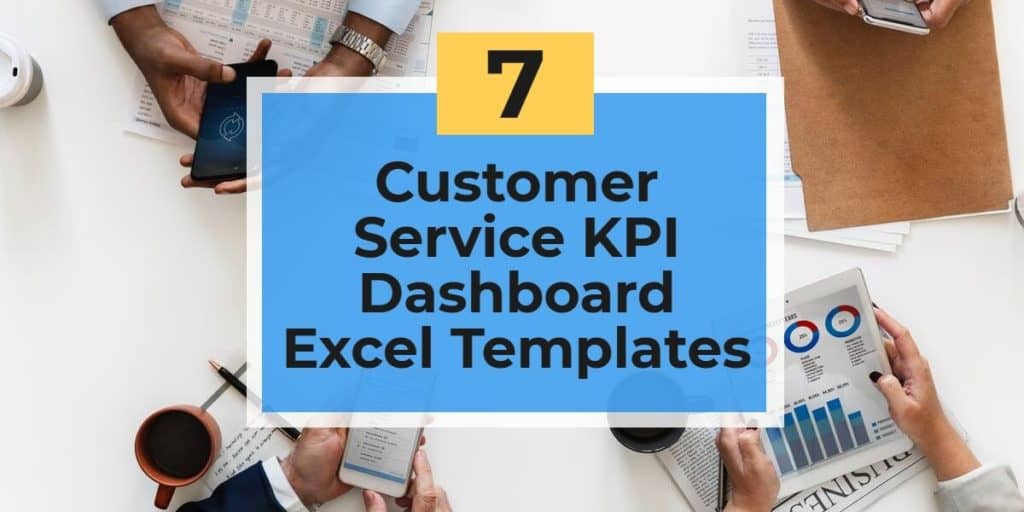 Top 7 Customer Service KPI Dashboard Excel Templates
There is plenty of customer service KPI dashboard excel templates available out there. We have chosen the best customer service templates and dashboards that will indeed increase the efficiency of the business.
All the dashboards and excel templates target specific goals yet all focus on customer-centric departments. Take a look at the customer service KPI dashboards and excel templates:
1. Customer Call Center Performance Dashboard
In particular, it is a simple and efficient customer call center KPI dashboard. It monitors and reports the status of customer call center key performance values. Further to add, it is a modern solution to monitor and track in an accessible way. The template is relevant to customer service teams, to help generate a 360-degree customer-centric view.

The dashboard features bullet graphs which are indeed the best way to visualize the quantitative metrics over a single customer service KPI dashboard excel sheet. Moreover, the dashboard allows the filtering of data and drill downs making the entire monitoring and reporting task interactive. Consequently, it is easier the analyze the good-weeks and bad-weeks over a large 12-weeks glance period.
Key Highlights
Full data and control accessibility.
Individual agent analysis.
Customer Satisfaction Score.
Agent Availability.
Agent Service Level.
Incoming calls monitoring.
Past 12-week record-keeping capability.
Click here to download Customer Call Center Performance Dashboard
2. Service Desk Excel Template Dashboard
Identical to the above template, this KPI Dashboard also features full-house operations and performance metrics. Moreover, the dashboard enables to track a list of customer service KPI for effective business management.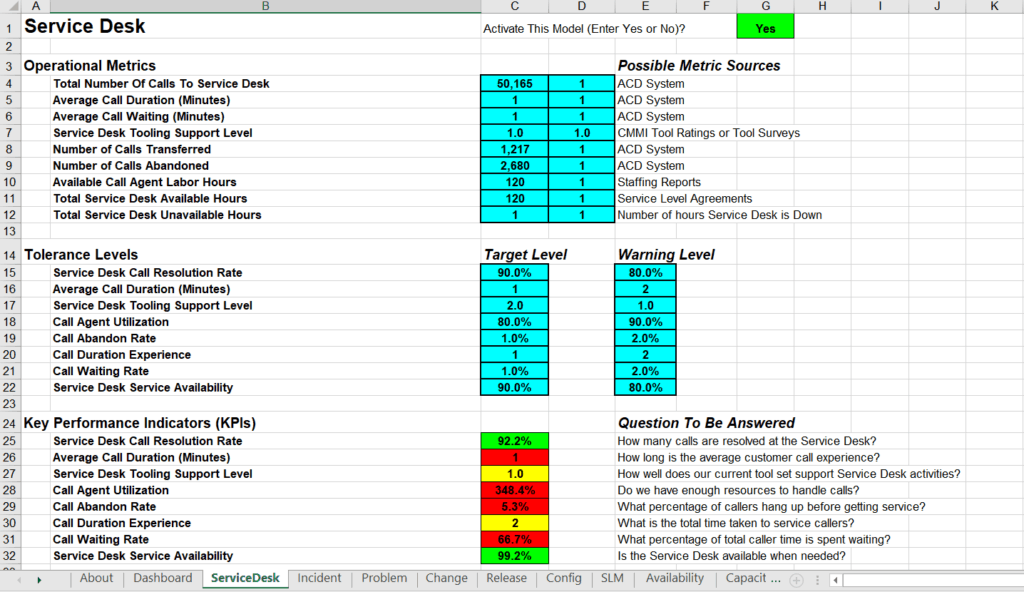 If you are looking for a minimalistic approach for the representation of metrics then this template is the right choice. Though infographics are an impressive way to monitor customer service KPI, the conventional approach works best for the majority of cases. Further, this template can be easily modified and expanded ahead with suitable key parameters indicators. Subsequently, increasing the efficiency in data monitoring and reporting.
Key Features
A total number of calls.
Call waiting rate
Call abandoned rate
Average call duration
Call resolution rate
Service desk availability
Click here to download the Service Desk Excel Template Dashboard
3. Customer Call Metrics KPI Summary Dashboard
To list, this is a tweet-board based summary dashboard. Also, the template features a scrollable list of custom data entries. Additionally, the template can be filtered with a particular date and month.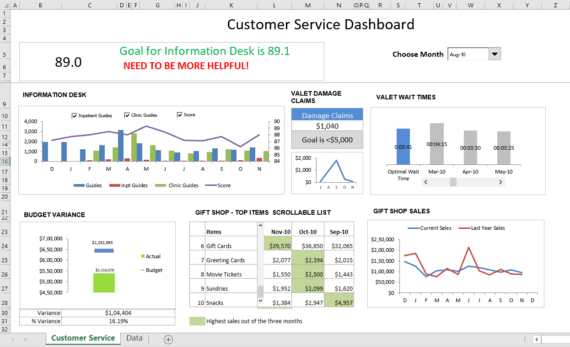 Customer service is indeed one sphere where a lot of data is gathered regularly. Now to understand and monitor all this data along with meaningful representations complex strategies needs to be incorporated. Additionally, to take valuable business decisions considering all the collected information this customer service KPI dashboard shines perfectly.
Key Features
Interactive color scheme.
Clear and uncluttered charts.
Fully custom editable fields.
Customer wait times.
Summarized data from graphs.
Click here to download Customer Call Metrics KPI Summary Dashboard
4. Customer Service & Experience KPI Dashboard
Since call metrics hold immense importance in customer service KPI metrics, this excel dashboard is the best choice to solve the purpose. For one thing, customer satisfaction is utterly important in business. With this intention, this template helps is real-time analysis and drawbacks identification.
In a similar fashion, the number of support tickets says a lot about customer service as well as product satisfaction and acceptance amongst the consumers. How a product is performing in real-world is best analyzed through the number of support tickets arising against it. The customer service KPI dashboard under consideration substantially helps in monitoring and analyzing the performance of support agents in details to form crucial business strategies.
Key Features
Average Resolution Time.
Call Decline Rate.
Number of Calls per Support Agent.
Total calls and answer time breakdown.
Click here to download IC Customer Service & Experience KPI Dashboard
5. CRM Summary Dashboard
Tracking the support agents data indeed gives a greater understanding of the resolution team. Further to add, this template shows trends over the past time as well. Moreover, this KPI dashboard features daily, weekly and monthly data filters.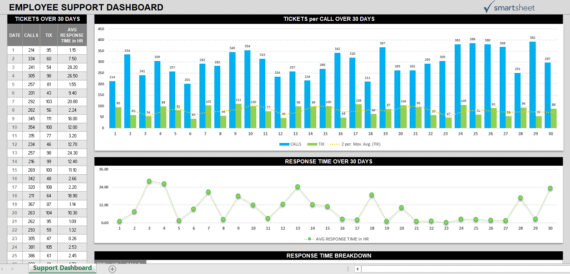 Undeniably, past performance coupled with current statistics is a great way of defining the present flow of business. The previous customer service KPI dashboard excel template stressed more on single support representative performance. However, the current dashboard takes a general average criterion over a standard period of 30 days which indeed can be modified to form a broad overview of the performance of complete support executives team.
Key Features
Support tickets tracking.
Daily, weekly, monthly performance assessment.
Average Response Time.
Past 30-day tracking.
Click here to download CRM summary excel dashboard
6. Customer Experience and Satisfaction Excel Dashboard
Customer satisfaction score and customer support experience are essential customer service KPI elements. Subsequently, this customer service dashboard is a visual scorecard representation for the same.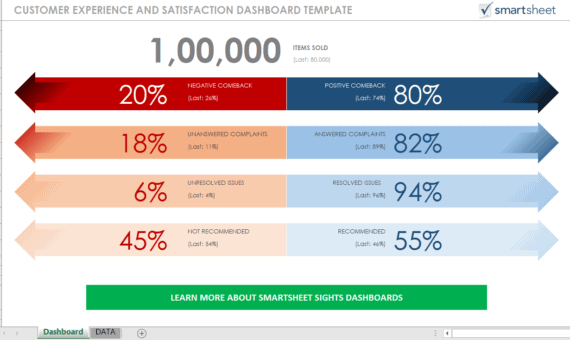 It is one of the easiest templates to update regularly and track the business' ability to satisfactorily resolve customer grievances. Also, customers experience with the support agents over raised service tickets is constantly rated and recorded. Along with this, the customer service KPI dashboard template highlights the region where the support staff is lacking in delivering the expected results.
Key Features
Positive and negative feedback tracking
Solved and unsolved complaints history
Net calls connected
customer satisfaction score
Previous data tracking
Click here to download Customer Experience and Satisfaction Excel Dashboard
7. Retention and Customer Service KPI Dashboard
Customer retention score indicates the rate of customers a company has retained over a specific time interval. Similarly, this customer service KPI dashboard template enables to understand user's interaction with a service or product.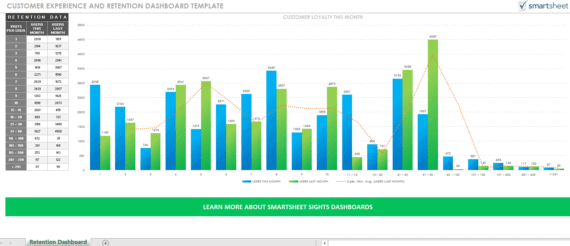 Even though a business' vision should aim for higher potential growth and new customer acquisitions, the business cannot withstand competition unless it retains the current customer base. Therefore, it becomes extremely important in continuously checking customer retention rates and drafting suitable policies. Additionally, this is one likely step to understand where current marketing campaigns need more attention in order to achieve higher ROI numbers.
Key Features
Past user engagement tracking
Total revenue
Visual representation
Customer Loyalty and retention rate
Return over investment estimations.
Click here to download Customer Retention KPI Dashboard.
Final Words
On the whole, these are the top and most effective free customer support KPI dashboard excel templates that one can incorporate easily. However, there are also multi-utility business intelligence tools for KPI monitoring as well.
In case you find these free excel templates dashboards hard to use, you can easily resolve down with these CRM and performance analytics tools out there.
Comparatively, the above-mentioned KPI dashboards and excel templates are as effective as any of those paid services. Since the ultimate aim is continuous monitoring and tracking thereupon free excel templates and dashboards are most sought resort when performance indicators and metrics are considered.
Summing up, I hope the dashboards and templates add some useful insights to you. If you come across any other template design or customer service KPI dashboard tools, do let the word out in the comments section below.