In the era of fast-growing Information Technology, an employer of a company has the challenge to fulfill project demand within deadline and budget thereby maintaining its stature, prestige, and integrity. Any delay in the project puts a question on the team's productivity, morale and focus. In such a case, an Agile project management tool comes into play to make work easier and much swift by implementing the latest and futuristic techniques.
To make it simpler to understand, agile means easy and quick move. This same definition applies to project management or software development. Managing agile project as a whole can be tough but niche tools, helping to perform multiple smaller tasks that add increment in each phase would make the task a big success. These tools identify the current state of a project, projected tenure, and other feasibilities. The main intention behind this approach is rapid delivery, continual reassessment, continuous improvement, pliable planning, and flexible response to change. Thereby, it is very important to choose the best agile project management tools.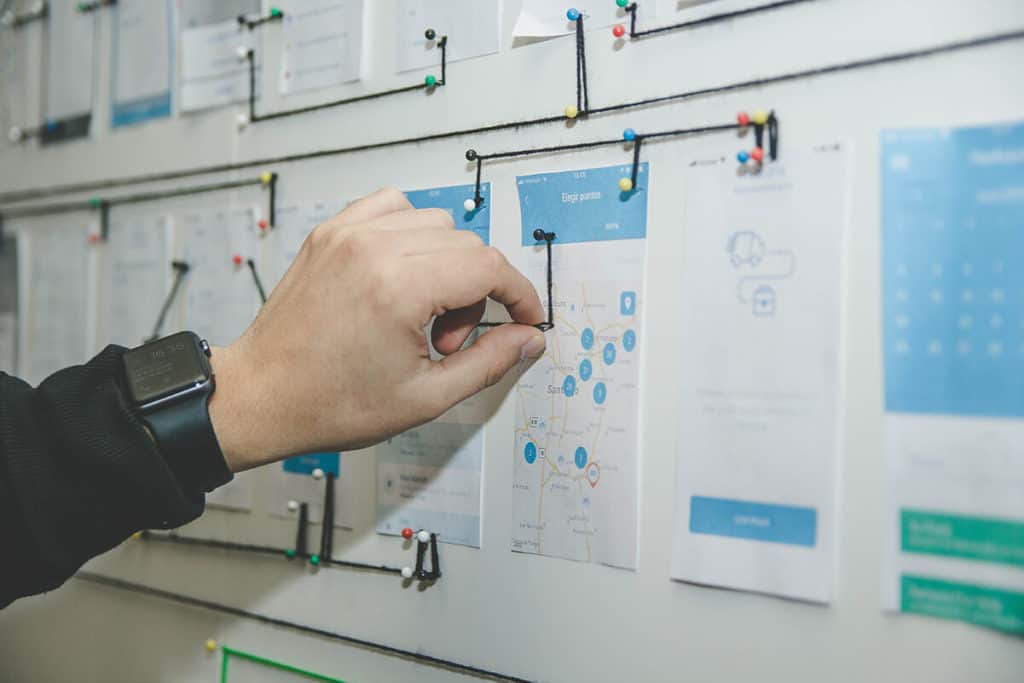 This article will help you with the list of Agile project management tools. These tools provide important elements like
Task Management: Kanban or Scrum boards with tasks lists, projects, expenses, time records, discussions, and things required for the or project. Collaboration: sharing task lists, assignments, and feedbacks and communicating with teams.
Agile metrics: Reporting and analytics, time track and projection, quality assurance, easy understanding progress reports for stakeholders, remedies for project obstacle, evaluate performance, and appraise financially.
Integration: Does the tool goes well with other tools, this needs plugins to extend functionality or minimum an open API.
Best Agile Project Management Tools
JIRA is one of the best agile project management tools useful for small teams and startups. It is popular for bug tracking and issue tracking amongst IT professionals, institutional designers, and people working in a shared environment.
Scrum boards help for visualizing all the work in a sprint, displaying backlog to newsprint. It can be made to fit according to the team adding on to fast planning and iterative delivery. Kanban board keeps the user updated about the next agenda ensuring maximum output with smart effort. The user gains access to predefined and custom reports like burnout charts, sprint reports, velocity charts, etc.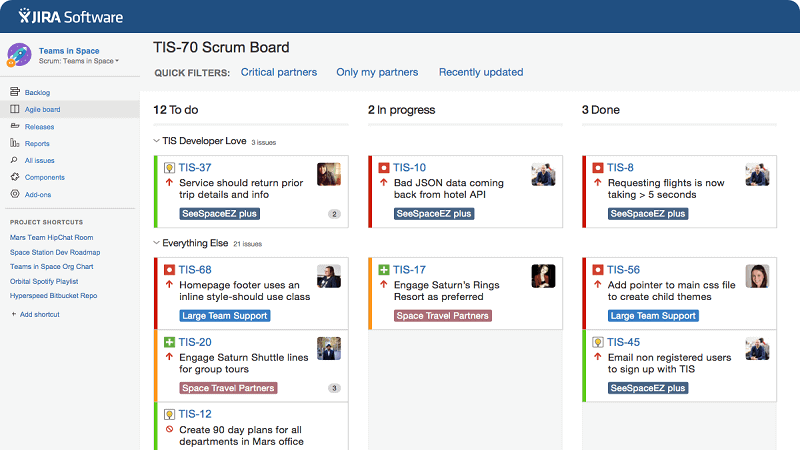 It offers a surplus of add-ons to scale up JIRA for a particular use. Through the mobile application, one can stay connected to the project status even being away from the desktop. Customizable workflows can be generated for unique procedures.
Pros:
Cheap for small teams so helpful for startups.
Big companies worldwide have been using this so it's a proven product by the large community.
Highly customizable according to project needs.
Its vast features bring benefits to projects in the long term.
Fit for IT professionals, instructional designers, e-Learning authors in a shared environment.
Cons:
The setup takes a long time and one would require an IT-savvy team to learn JIRA and make it serve the purpose.
There is a lot of packed tools and features that question the ease of use.

For getting access to core features, one needs to purchase the add-ons, which may turn out to be costly.
It's a simple feature-packed project management tool for task jurisdiction, tracking, and billing all in a single place. It is ideal for small businesses. Initially, it operated as an open-source project but evolved as the agile project management software. It can be operated from the cloud or as a self-edition depending on the team size and work type.
Active Collab helps the project members to remain connected. They can create notes, comment, and browse the history for changes done. It has the @mention feature to mention group members and get quick responses. Each member has a personal dashboard that shows the agenda and updates. Users can keep track of upcoming deadlines through comprehensive calendar Events and special attention topics can be created.
Different tasks mentioned can be grouped in lists and can be found by labels, assignees, and due dates. This helps the user to immediately search their requirement. It also provides a feature to track the time of work. It can generate invoices for customers.
Pros:
Ease of use
Fast
Reliable tool
Moderate price and rich features
Cons:
Issues with customization
Performance issue at times
No sprint planning option, only timeline and column views of tasks
VersionOne is another great agile project management tool catering to IT professionals and tech-savvy persons. It supports Scrum, XP, SAFeR, Kanban, and hybrid development techniques. With the help of Kanban boards, one can see complete strategy with the concept, planning, and tasks.
Within a single interface, it can perform work according to priority; releases and sprints, manage retrospective and perform all habitual scrum activities. It offers multi-faceted reporting and analytics which helps to be in pace with changing demands and schedule.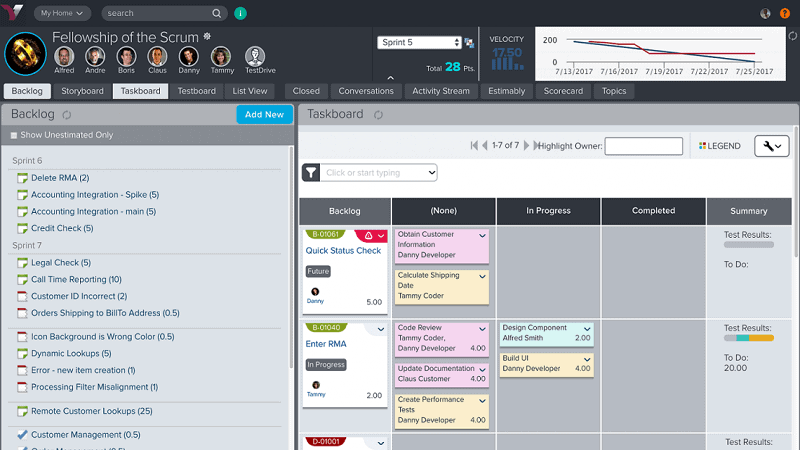 The framework connects the customers, stakeholders, team members for fruitful communication. The planning Rooms module of this software ensures effective collaboration between them. User can develop high-level road maps, assign a project to programs keeping oneself in the loop. This software also supports software like Visual Studio, Microsoft, Bugzilla, Eclipse, etc.
Pros:
Offers a great integration system
Ease of use
Suitable for remote teams
Cons:
It is tricky and confusing to be operated
Searches for particular needs may not be possible
Free version is limited.
Taiga can cater to major agile methodologies because of its ease of use. It is the choice of most of the content developers from different backgrounds. It is an open-source agile project management tool for developers and project managers, licensed under GPL.
Taiga supports Scrum and Kanban mode so planning can be developed in any model. It is a good fit for e-learning authors, project managers, and agile developers working in a shared environment. Taiga is free for public projects.
It renders a complete toolset for video conferencing, wikis, and issue tracking. In video conferencing, video calls can be made to teammates via AppearIn or Talky. It has built-in wikis for each project and supports Markdown and WYSIWYG editing. Issues can be filtered through parameters like type, priority, status, etc.
Pros:
Elegant and eye-catchy
Customization is possible
Simple to use
Cons:
Being new to the marketplace, its performance is still an issue.
It makes a lot of features available to the new user but offers very little help.
It's time taking to get familiar with the system.
Pivotal tracker joins the software and non-software development teams to work on a common platform for a task. With Pivotal Tracker, it is easy to share and exchange information, receive real-time updates and meet deadlines. It is easy to track all stories from starting until delivery. Every user shares the same viewpoint for progress status and events.
The dashboard makes visible the entire picture of work, layout, and alerts. Building blocks of a software project are easy to generate and gradually develop in Pivotal Tracker. Quick feedbacks can be achieved by sharing the stories, content, and options among the group. To get a clearer picture, ideas can be grouped.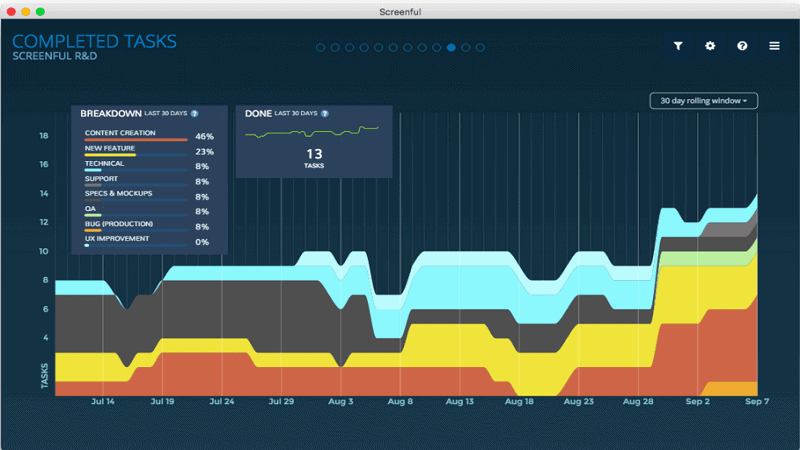 It has the feature of analytical representation of the team's performance through reports, burnup, cumulative flow, feat, cycle time report, etc. It recommends notifications, mentions, search, labels, API, story linking, history-making the work quicker and easier. Even users can assign points and weights to specific features and help accurate evaluation and timely product delivery.
Pros:
Available in Apple Phones
Friendly to user
Tracking of all major things can be done on a single page
Multiple integrations help to extend the functionality
Cons:
Expensive
Challenging to maintain a dashboard for big teams as it causes performance issues.
The mobile app is slow and this version is not available on Android.
Using Wrike would be a smart choice due to its enhanced integrations and enterprise-level security. It offers a common project environment for remote and distributed teams. The user can perform edits and see the changes without saving files on the computer. It is easy to set goals, attach files, and mention deadlines. Tasks can be made and linked to multiple projects and structured according to the needs.
Visual timelines and tracking help members to be on track and perform the necessary changes. It also has time and performance management tools. Users can easily filter the required list of to-do's from all open files, making it more organized. If any work needs to be proofread or approved, it can be picked and sent for feedback.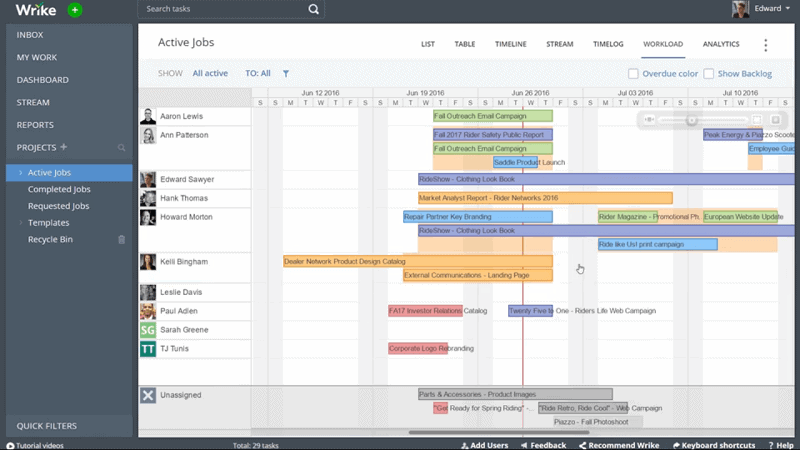 It can access files from the cloud, forward emails, and even process data. Customization is available for all workflows, fields, and dashboards. Admins can even decide the groups to use only the particular project amongst all the available ones. You can easily integrate Wrike with other business tools with the help of API.
Pros:
Admins can decide access of the user to projects
Available for iOS and Android
Ease of use with other software
Cons:
It has a lot of features so may be a little complicated for new users.

Performance issues.
VSTS is a great tool to use if one is a fan of Microsoft stack. It helps in managing technical project management to maximum levels. Microsoft Visual Studio Team Service has the mechanism of tracking the changes done in code which helps the developers to retrieve the inputs made by them.
It is flexible with kanban boards and offers customization to the dashboards. It has built-in scrum boards. One can easily trace the work done and changes made in the backlog. It can be used free until there are five users.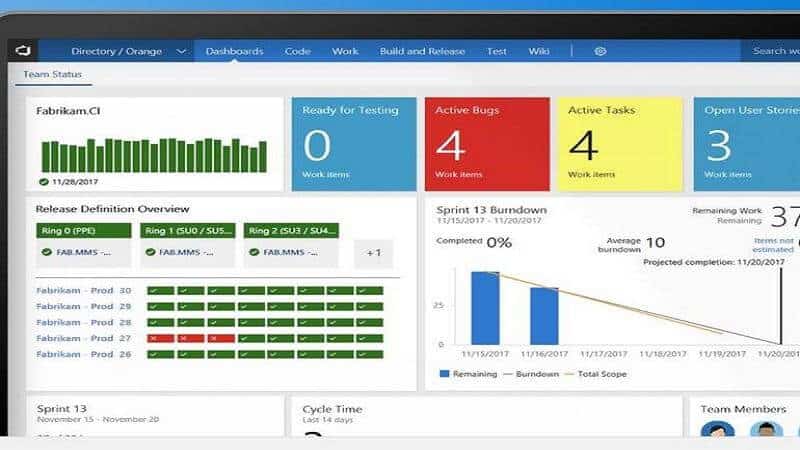 If there is any change done in coding, they get directly linked to the tasks or bugs. Hence the software provides an automatic connection to the code. Any integration can be done easily. It has Git client support.
Pros:
Powerful and complete agile project management tool
Has functionalities like backlog management, capacity management, Kanban, Scrum board to support scrum team
Easy steps for build, test, and release
Ease of use and graphical visuals.
Cons:
Only web application is available
No mobile apps for Android and iOS
ProofHub is an agile project management software that is helping teams and project managers to bring flexibility in the way they manage work. It is one of the most versatile project management tools that come with a long list of features such as online proofing, time tracking, measuring progress, task management, multiple tasklist views, and many more.
Whether you're a part of a small team or handling large teams, it is the perfect place for all your projects, teams, and communications. There are Workflows and Kanban boards in ProofHub that helps you streamline your work process giving better visibility across tasks making things transparent than ever. You also get the option to create custom workflows apart from the Basic and Kanban workflow in ProofHub.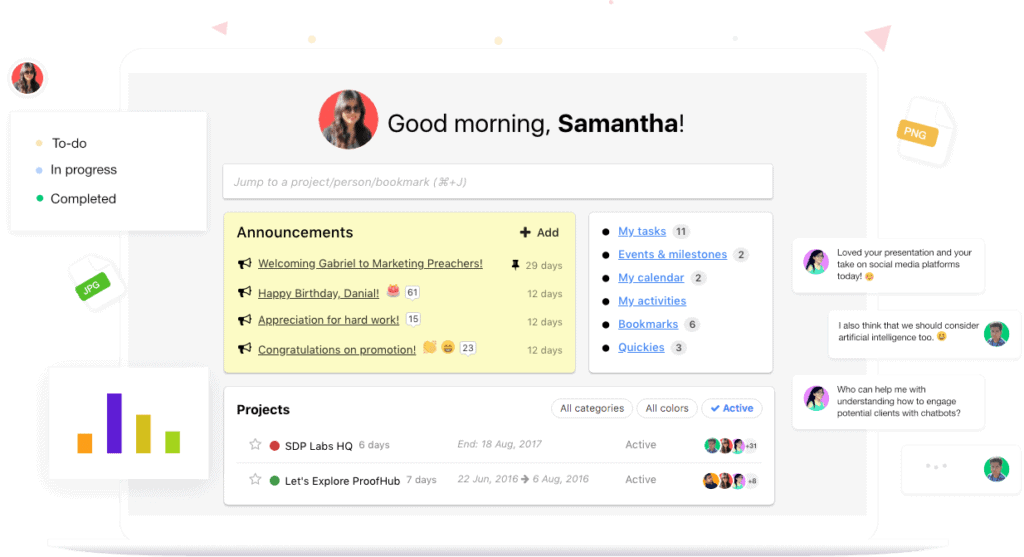 Other key features include online discussions, chat, custom reports, notes, project templates, mentions, announcements, multiple timers, recurring tasks among others. It easily gets integrated with popular file management apps such as Google Drive, OneDrive, Box, and Dropbox.
Its design is simpler where everything comes together in the most organized and intuitive manner. When you're on the run, you can use its mobile app to stay updated and organized.
Pros:
30-day free trial and 24×7 customer support.
Customized live demo for you as per your convenience.
Android and iOS apps for smartphones and tablets.
Cons:
While documents and designs can be reviewed and proofed using markup tools, video proofing is not yet available. Though, it's listed among the upcoming features.
While it does help you track time spent on tasks or projects through multiple timers, it doesn't help in billing and invoicing.
Conclusion for Agile Project Management Tools
Agile is one of the widely used project management and software development practices. In the current scenario, fast changes have become an unavoidable requirement. Mentioned above are the best agile project management tools available that adapt to reality.
Research shows that projects using agile project management tools are more successful than traditionally managed projects. Among the stated agile project management tool list, select wisely the tool which would complete your need for managing the project.