QR Code Scanners are a kind of hit currently with Android users worldwide. These QR Code readers are the ideal solution to scan a QR Code to extract vital data about things such as website URL redirection, Wi-Fi access code, product prices on different virtual stores, storing banking information, etc. Hence, we are going to list down some of the best Android QR Code readers that could come in handy when you need to scan a code with your smartphone.
While QR codes are widely used on products found in both retail and virtual stores, this concept is, however, popular to link your verified smartphone with a particular application or web logins. The recent example of the utilization of a QR code can be found on the newly released WhatsApp desktop app.
With the growth in numbers of Smartphone owners worldwide, especially Android users, many different industries have adopted QR codes methodology to offer a highly secured and simple way for the users to get access to vital data right from their smartphones. Whether you are trying to mobile check-in to your flight or looking for Wi-Fi access at an event, QR codes can be found almost everywhere today. So, now that you are convinced about the necessity of a quality QR coder reader on your Android device.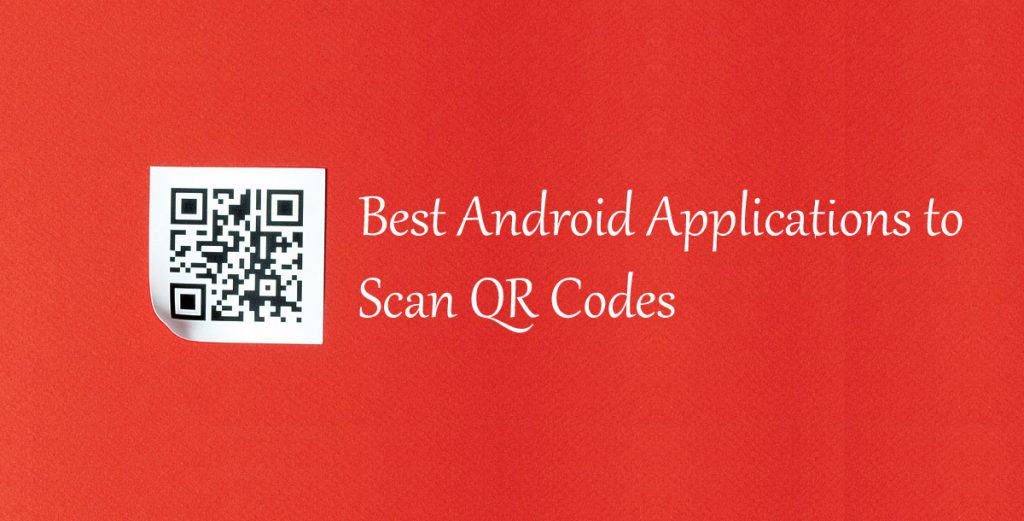 Best Android QR Code Readers
Take a look at our list of top 10 Android QR Code scanners available on the Google Play Store. All these QR code readers are completely
ShopSavvy Barcode & QR Scanner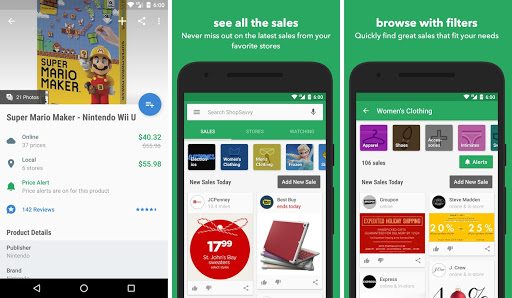 If your primary cause to use QR Code reader is shopping, then ShopSavvy Barcode & QR Scanner is the ideal solution as it lets you scan the barcode found on products at major retail stores. A quick scan will help you compare the prices of your favorite products available at different stores within your city's well as at online stores. Also, it will sort the list and map the retailers based on your location and show results that are closest to your home. Other than shopping, ShopSavvy's easy-to-use features can be the ideal QR scanner you are looking for.
Download on Google Play
QR Droid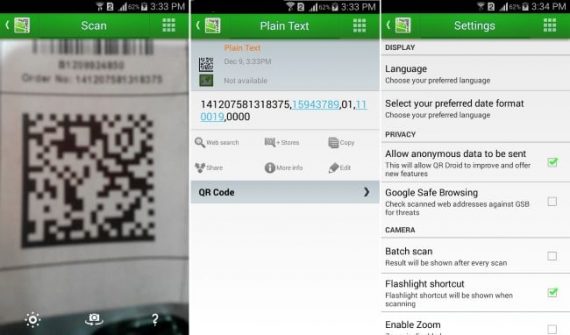 The simplicity of the QR Droid code scanner allows it to run effectively even on older smartphones that were built on low-end processors. The app flaunts an attractive design, alongside a user-friendly navigation menu that helps a newbie to get used to the app quite easily. It offers all the basic features that are expected from a QR Code Scanner app. However, if you are highly concerned with your private data such as contacts, then you may skip installing this app. QR Droid requires app permission to access your list of contacts, so the user can directly message the scanned data to their contacts. Hence, if you are not comfortable with letting the app access your phone contacts, then you may opt for another QR Code reader app on the list.
Download on Google Play
ScanLife Barcode & QR Reader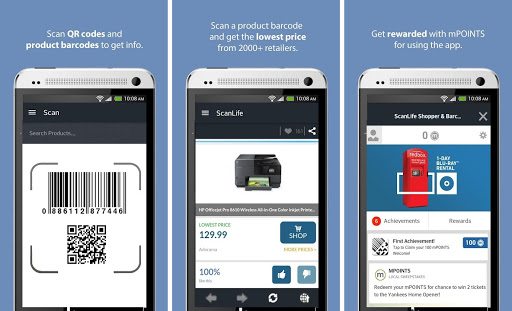 If you live in the United States, then ScanLife Barcode & QR Reader can be your ideal companion while shopping. Yes, with this Android app, you can easily sort out and compare prices with different retailers based on your location. Other than price comparison, you can also collect vital data such as nutrition facts about food products to help you decide the nutritional value of what you're buying. In addition to that, ScanLife will also allow you to access user reviews of the products directly from Amazon in order to help you with your buying decision. It is one of the best QR code reader applications available for Android devices.
Download on Google Play
Scan QR Code Reader
Scan has established a reputation as one of the fastest reading QR apps in the industry with their iOS app. However, they have lived up to their reputation when the app made its debut in the Google Play Store. Despite such excellent features, the Scan QR Code Reader app is available for free to download and use on Android smartphones. The best part of this Android QR code scanner app is its simplicity, where the user needs to simply tap on the app in order to activate the scanner and the app will be ready to scan data using your phone's primary camera.
Download on Google Play
QuickMark Barcode Scanner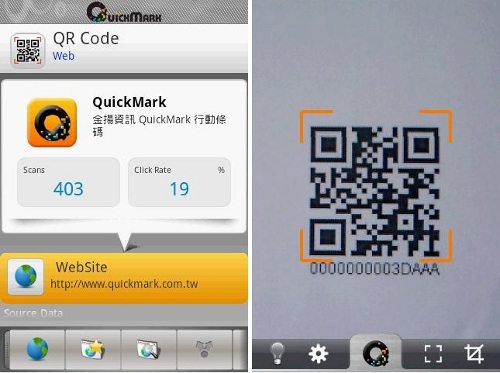 QuickMark Barcode Scanner is undoubtedly one of the advanced Android QR Code Readers as it is compatible with a wide range of Android devices. The app is also highly equipped to auto-scan multiple barcode formats that include QR Code, Datamatrix, Quick Codes, EAN 8/13, Code39, Code128, Interleaved 2of5, etc. This feature allows the app to work with all types of mobile barcodes that are meant to access web links, add contacts, navigate maps, and much more. The app is also perfectly compatible with QuickMark's Chrome browser extension.
Download on Google Play
Norton Snap QR Code Reader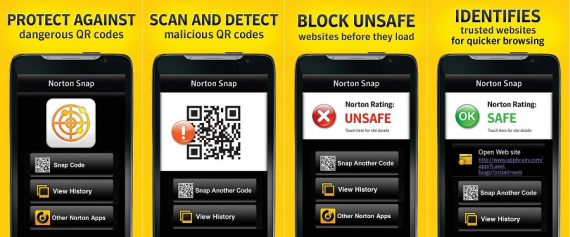 Norton Snap QR Code Reader is an expert Android QR Code reader to scan QR codes securely. This QR code scanner app is ideal to protect your privacy and personal data from online threats while accessing websites using QR codes. Unlike other Android QR Code readers on the list, Norton Scan QR Code Reader is basically used to scan QR codes to access URLs safely. This app will use the inbuilt Norton Safe Web feature to check the website's safety rating before accessing the web URLs while scanning a QR code. Hence, it will make sure that your mobile doesn't get vulnerable to online threats or any adware attacks. Another important feature of the Norton Snap QR Code reader is the ability to share cool websites or promotions with your contacts through messaging.
Download on Google Play
Buycott – Barcode Scanner Vote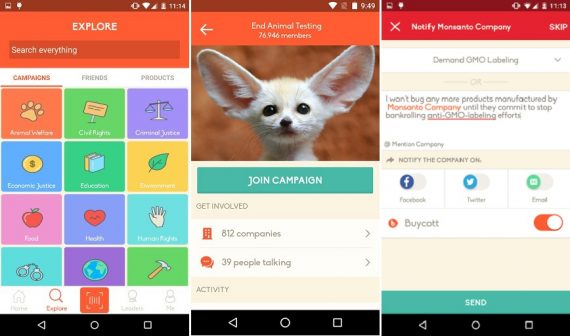 If you wish to be a part of several NGO campaigns and scan QR codes, then try Buycott – Barcode Scanner Vote. In addition to let you scan QR codes and get information about products, it also gives you the option to be a part of different campaigns created by some of the world's best Non-profit organizations. This barcode scanner app is the best for those who wish to boycott as well as report products from companies that oppose GMO labeling, use child labor for production, indulge in animal cruelty and many other issues. It's an interesting concept as the app gives you the direct authority to take action if you find brands that use unethical modes to manufacture and distribute their products and help you create awareness about the same all over the world.
Download on Google Play
I-Nigma QR & Barcode Scanner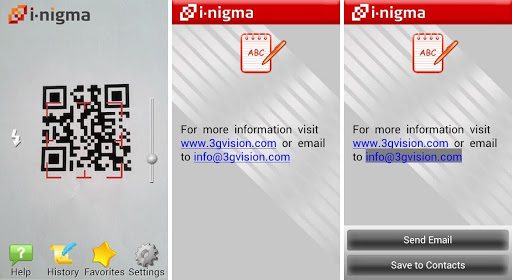 Just like every other Android QR code reader app here, I-Nigma QR & Barcode Scanner also use the phone's camera and converts it into a unique QR code scanner delivering quick and accurate data extraction from the scanned codes. The app is compatible to scan different barcode formats including QR code, DataMatrix, UPC/EAN (a.k.a. "Supermarket codes") etc. On the top of it, the app is also designed to scan color and creative codes to add an extra flavor to its features list. With this app, you can easily access memory card data protected by a barcode, share contacts using barcodes, as well as scan location-based map barcodes to help you find your destinations accurately.
Download on Google Play
NeoReader QR & Barcode Scanner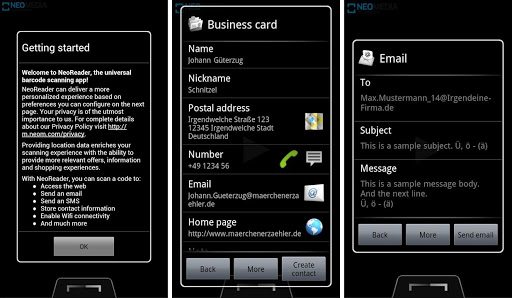 NeoReader QR & Barcode Scanner is ideal for scanning both 1D and 2D QR codes. Considered as one of the simplest, fastest and best performing Android QR code readers on Google Play Store, this free app is capable of scanning different barcode formats such as QR, DataMatrix, Aztec, EAN, UPC, Code39, Code128, PDF417 and a few others quite accurately. The best feature of this app is that it stores your scan history and lets you access the data you've scanned in the past.
Download on Google Play
Barcode Scanner by ZXing Team
Barcode Scanner by ZXing Team is the last on our list of top Android QR Code readers. This app is also an ideal solution for scanning barcodes on products, or DataMatrix and QR codes consisting of information such as web URLs, contact information, and several other data. Other than scanning QR codes and barcodes, the app also allows the user to share contact details, apps, and other bookmarks with friends in the form of QR codes.
Download on Google Play
Over to you!
QR code scanner apps can be very helpful in making smart shopping decisions, share data securely, access data quickly, and most importantly automate basic operations such as Airport check-ins, Wi-Fi access codes, verifying devices with mobile apps, and web logins.
In the above list, we have sorted and selected the top Android QR Code readers available for free in Google Play Store in order to help Android users to take advantage of this latest concept slowing spreading its wings across the globe. However, if you think we have missed some of your favorite Android QR Code readers in the list, then feel free to let us know using the comments section below.