Last year, we have seen many devices with almost zero bezels and then-new 18:9 aspect ratio. Samsung already implemented both of these via their previous flagships. As smartphone companies look forward to amusing their customers with innovative technologies, Vivo came up as a surprise with an in-screen fingerprint scanner.
The latest reports suggest Samsung is working to astonish the gadget enthusiasts with another invention as well. They have filed a patent for a concept which incorporates multiple smartphone components inside the display.
Samsung Galaxy Note 9 might Include an Under-Display Camera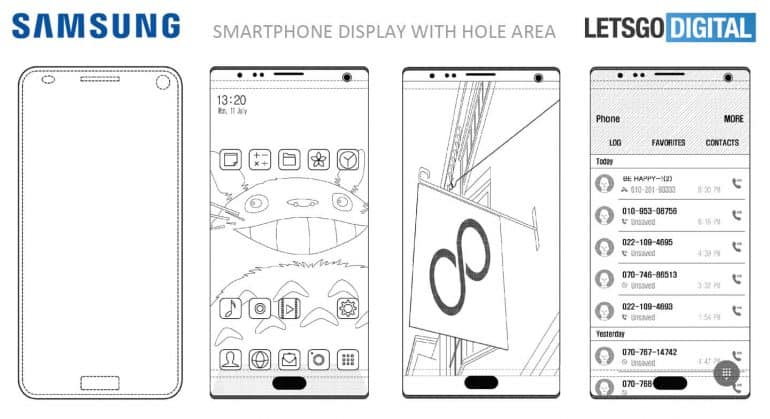 The smartphone world is never short of innovations. We have already seen many failures and successes, especially in the display department. When Xiaomi launched Mi Mix with almost zero bezels, most people didn't expect it to be the next big thing. Then came 18:9 FullView resolution and in Consumer Electronics Show exposed another exciting technology before us, under-display fingerprint scanner.
Apple has got Face ID under their belt. Even though Samsung has iris scanner, they needed another technology to woo the customers, who spend a $1000 for smartphones. We think they are closing in on the next big thing for Galaxy Note 9.
One might practically think it is impossible to integrate cameras under the display. We don't know how, but the South Korean multinational conglomerate might present the same before you very soon. When it comes to the reports, the screen contains tiny pores at the top, which the contents can overlap. Meaning, when you view a video you will get the content on the entire screen. The pores (front camera+ iris scanner) go active only when you use the front camera.
The users will have the option to choose from FullView and regular (with cuts on the bottom and top, of course) views. In addition to this, the patent also revealed another design just like iPhone X's. However, it is unlikely for Samsung to opt for that.
Not to mention, they are already working on an under-screen fingerprint scanner. We heard their patent for the same in November last year.
So what does it mean to the end consumer? Will we have 100% screen-to-body ratio soon? To quote the truth, grabbing a patent doesn't mean the technology will go live. In this particular scenario, tech world anticipates they will make this possible pretty soon given the competition.
Samsung is going to unveil Galaxy S9 and S9+ in Mobile World Congress next month. Apparently, we won't see this unique feature on them. Let's hope they can incorporate it into Note 9.