Robocalls and spam texts are automated phone calls and prerecorded messages sent to people's devices for marketing and advertisement purposes.
Robocalls and texts can be legitimate but are unwanted calls and text messages most people want to avoid. It can be irritating and disturbing. But, some scammers can misuse your phone numbers for robocalling and spam messages.
Spam calls can be disruptive, intrusive, and annoying, leading to identity theft or other malicious activities if the user falls for their scams.
To save yourself from these problems, you can use a spam-free virtual phone number and block spam calls and messages. In this blog, we'll discuss robocalls and spam texts, misuse of phone numbers, and ways to overcome them.
Robocalls: What they are and how they work
Robocalls are automated calls using auto-dialing software for political and telemarketing campaigns. They deliver pre-recorded messages about advertisements, booking details, and reminders.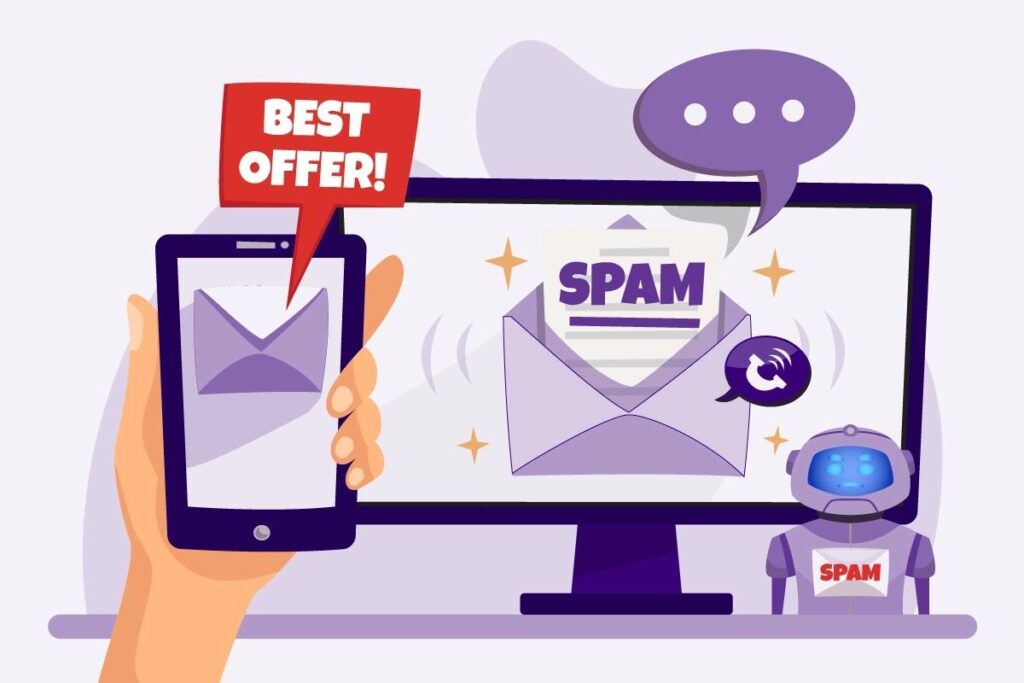 Robocalls can be useful, but if misused, they can be annoying and intruding. Scammers use robocalls to simulate real calls to scam people and use them for fraudulent activities.
A report claimed that in 2022, US customers received over 50.3 billion robocalls, although government and state regulators have set laws and regulations. Also, it is reported that 87% of Americans don't answer calls from unknown numbers, causing distrust for a new or unknown number.
How do Robocalls work?
Robocalls use an autodialer to dial hundreds of numbers simultaneously and play the recorded message when someone answers the call. The technology also allows companies to track customer responses and store data about their interactions.
Additionally, robocall systems may include features like interactive voice response (IVR) menus that allow callers to select different options based on their needs or preferences.
Types of Robocalls
Robocalls are used for various purposes, some can be legitimate, but some calls can be scams. Here are the different types of robocalls.
1. Spoofing calls
Spoofing calls are calls that imitate some organization or a local number. It is done for scams and emulates advertisements, as people will likely receive calls from familiar numbers.
2. Telemarketing calls
Businesses and enterprises often use telemarketing calls to promote their services, products, and company to their potential customers. These calls can be intrusive as it repeatedly calls the user without their consent.
3. Charity scams
Fake calls pretending to be from different charity organizations, asking people for donations to help people form different causes such as diseases and natural disasters.
4. Political calls
Political calls are scams to manipulate and betray the people for political reasons. Messages are pre-recorded in a convincing way to trick people into voting for them, giving personal information, asking for donations, and other purposes.
5. Reminder calls
Reminder calls are mainly used to remind of important events such as meetings and appointments by customizing dates, times, locations, etc. Scammers misuse these calls to remind people of their scams and phishing schemes.
6. Loan scams
In this robocall, the caller targets people with bad credit scores and offers loans and credit cards at a small front fee. They do this to get the front fee and will never materialize the loans.
7. Travel scams
This type of call offers you low travel and vacation costs; interested will put in their credit card information which can lead to loss of information and money.
8. Customer care scams
In this robocall, the caller acts as a business agent of high-profile brands or organizations related to you. They will try to convince you and get your personal and sensitive information for different fraudulent activities.
Spam Texts: What they are and how they work
Spam texts are phishing text messages or also known as SMS spam, are messages sent by scammers and hackers to make you click on the link and get your personal information.  They can steal your credit card details, banking information, location, or social security number.
Spam messages are used for promoting products or services, scamming people, or distributing malware. There are different types of scams, but they usually offer you prize money, gifts, or advertisements to attract you and get your sensitive information.
According to a report, in 2022, the total number of spam texts sent was 10.89 billion. The number of spam texts decreased during the COVID pandemic, but as soon as the pandemic ended, it was back to its normal state.
How do Spam texts work?
Spammers use automated programs to send out large numbers of text messages in a short amount of time. The goal is usually either to get people to click on their links and visit their website or convince them to sign up for something they don't want or need.
You can identify these types of spam texts and messages if they have the following features.
The message is not related to you.
They want an urgent reply or action.
It can have some spelling, punctuation, and grammar mistakes.
Frequent SMS from unknown or suspicious numbers.
The text message contains a suspicious shortened link.
Incorrect branding and irrelevance message.
Common types of spam texts
Spam text looks real, but it can deceive you. Here are some of the common types of spam texts.
1. Phishing scams
Phishing scams are text messages from illegitimate or internet criminals claiming to be from a reputed or well-known organization. It contains links that steal personal information from the user, such as bank details, credit card details, and other information.
2. Prize and lottery win scams
Prize and lottery win messages are exciting, but you should be careful. Scammers often use this trick to trap you into giving away your money, information, and address.
You should be careful when you receive these types of messages. If you're suspicious, don't click any links or reply to messages; instead, directly contact the organization and report your messages.
3. Fake job offers
Scammers often use fake text messages to take advantage of people looking for a job. They offer jobs with a higher salary to attract people with convincing messages.
In these messages, they ask you to fill out the form with your name, address, qualification, and work experience; some even ask for credit cards. Which can be a scam be sure to check whether it is legit or not.
4. Investment scams
Investment fraud tries to trick you by sending investment offers through text messages. They will suggest you invest your money in stocks, crypto, commodities, bonds, or even real estate.
They will give you fake information, and if you invest your money as they instructed, you'll never get your money back.
5. Health or Insurance scams
Health scammers offer you free treatments and high insurance policies from text messages. They will try to get your personal information and pay for fake insurance policies.
6. Impersonating government
Scammers are full of skill; they can easily disguise themselves as governments. They have information about you, your address, name, and other information.
They can ask for more core information by offering more government facilities, well, they are just imitations and fake.
How your phone number is being misused
Robocallers and spammers obtain your phone number in different ways. They can purchase it from third-party data brokers, which collect information on individuals from public records or other sources. Hundreds of data brokers have an array of data on individuals.
They harvest numbers online by scouring websites for publicly listed contact information like customer service hotlines, warranty card, online purchases, or social media accounts that list phone numbers.
The Dark Web and its Role in Phone Number Misuse
The dark web is part of the World Wide Web that keeps its users private and anonymous, helping many Robocallers and text spammers.  It has been a shadowy corner for criminals to hide their activities and misuse people's phone numbers.
Robocallers and spammers are particularly fond of using dark web resources to acquire large amounts of phone numbers which they then use to send out calls or texts without consent. This practice can be difficult to track as it often involves multiple layers of anonymity, making it hard for authorities to identify who is behind the misuse.
Social media is the easiest way for robocalls and spammers to find and collect numbers. They can misuse the phone numbers on the social media profile and use them to send robocalls and text spam.
You should avoid putting your phone number on social media to avoid robocalls and spam SMS. Also, you can put your social media, lock and keep them private.
If someone unknown person asks for your number on social media or other platforms, you should refuse to give them your personal number.
Data breaches through social media and the dark web are the major problem causing online risks. Scammers can misuse your phone number by retrieving it through different methods to scam and steal your personal information.
The impact of phone number misuse
Your phone number is the opening wedge for scammers and identity thieves.  Once they get your number, they will perform different strategies to lure you into their trap. And they will steal your identity, credit card, bank accounts, and money.
Phone scammers are very hard to detect; they can convince you in a believable way, and you can easily fall for them. According to Truecaller, in 2022, people lost $39.5 billion to scammers. It is a very serious problem; if you have fallen for a scam, you're not the only one.
Scammers can misuse your information after accessing your credit card, personal information, social media, and other financial accounts. They can use your identity and information for fraudulent activities and also steal your money.
Impact of Robocalls and spam texts on mental health
As we have mentioned that robocalls and frequent spam texts are annoying and irritating, and they can have a major impact on your mental health. Many psychotherapists claim that constant disturbance and interruption can hamper a person's brain and cause stress.
It can cause an adrenaline rush and increase cortisol levels, which can cause anxiety and depression. Frequent calls and disturbances can cause panic attacks if people already have this problem.
Also, people who fall for scams and become victims of identity theft, blackmail, or credit card scams can face several mental health problems. These scams can lead to bankruptcy, defamation, and other cases that trigger victims' mental health.
Losing a lot of money and defamation cause mental health problems such as distrust, depression, and anxiety, affecting the nervous system. These problems can bring suicidal thoughts and even worse.
What you can do about it?
Robocalls and spam texts are serious problems, but they are avoidable. There are different methods to protect yourself from robocalls and spam texts.
Here are some methods you can follow to avoid robocalls and spam texts.
Register Your Phone Number With The Do Not Call Registry
Do Not Call registry is the best method to prevent robocalls and spam text messages. It gives you an option of whether you want to receive telemarketing calls. To register your number, follow the given steps:
Go to their website donotcall.gov

Click on Register.
You can register up to 3 numbers; enter the number.

Enter your email address and verify it.

Verify the information and click Submit.

Even if you register your phone number with the Do Not Call registry, you can not block robocalls and spam text messages completely. Some scammers can bypass the Do Not Call registry.
Tips to block robocalls and spam texts on your phone
You can block calls and texts on your phone by blocking their phone number. The steps are short and easy:
For iPhone 
Open the Phone app > Recents > Select the number > Tap the info icon > Block this Caller.

Open Messages > Open the message/conversation > tap sender > info > Block this Caller.

For filtering unknown senders
Go to Settings.
Tap Phone.

Tap Silence Unknown Callers.

Turn it on.

For Android
Tap Phone
Go to Recents and Choose the number.
Long press the number
Click on Report Spam/Block.
Once you've blocked the number, the incoming messages also will be blocked from the same number.
Disclaimer: You have to block these numbers individually to prevent robocalls and spam text. If you receive spam calls and robocalls from a different number, you must block them again.
Use third-party apps
You can use third-party apps to block robocalls and text messages. They detect and filter the caller id, spam calls, and messages before reaching your device and blocking them.
Some apps are available for free, and some are paid. You can research the best robocall blocking and spam detection app and download it on your phone to prevent yourself from robocalling and spam messages.
You can also use virtual phone numbers as it provides call-blocking and call-monitoring features. You don't have to give your personal phone number as it is part of your personal information, so use this as your secondary phone number.
How to report robocalls and spam texts
You can report the number to the authority if you're getting frequent annoying texts and call messages. Here are the different ways to report robocalls and spam texts.
Register your number with the Do Not Call Registry.
Block the number on your device.
Contact the Federal Trade Commission (FTC) if you receive such a call or message.
Report the number and message to your phone number carrier.
Tips for avoiding phone scams
Phone scams are avoidable if you're well-known about these activities. To avoid phone scams, you can follow the given ideas.
Don't answer unknown callers. Even if you answer their calls, don't fall for their words. Perform research and know their company's reputation.

Don't get to the deal easily and do not make digital payments or give your personal information.
Never reply or click the links of the texts related to financial information; it is a trick for your stealing your information.
Hang up robocalls.
Do not fall for the lottery, prizes, or job offers.
You should immediately change your financial accounts and passwords if you've fallen for the scam. If you have lost your finance, you can report it to the Federal Trade Commission (FTC) or the Internet Crime Complaint Center (IC3).
Conclusion
We hope this blog helped you to know about the misuse of phone numbers for robocalls and spam texts. Scam calls and texts waste time and cause loss of information and finance.
However, with appropriate knowledge, you can reduce these risks. The above-mentioned guidelines and strategies will help you to stay safe from these dangers and use your phone number safely.