Everyone moved to instant messaging applications like WhatsApp and the usage of normal text messages has got down to almost zero. Except for OTPs and transactional messages, people have stopped using traditional SMS. Since people are not checking their SMS inboxes, advertisers started sending annoying flash messages to promote offers. Flash SMS is definitely annoying and blocks the entire screen with a popup and user interaction is required to close them. Fortunately, a simple solution is available to stop flash messages on any Android device permanently.
Most of the flash messages will be coming from your network service provider and they are enabled by default. Since the option for disabling is buried deep inside the settings, very few people notice to disable flash messages. Unlike normal notification that appears on the top and dismisses automatically, flash messages appear at the center of the screen as a pop-up with an option to either accept or cancel it.
Most of the time those will be service activation messages and accepting them accidentally will surely deduct money from your network balance. In order to get rid of the annoying pop-ups and accidental service activations, you need to disable flash messages on your Android device.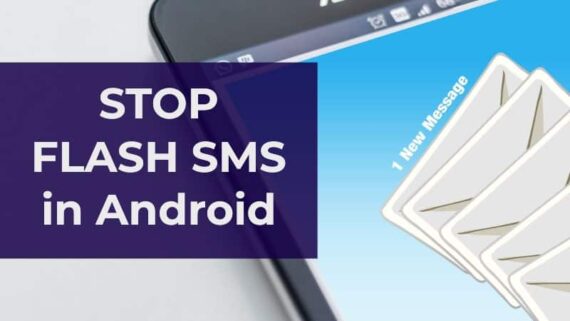 The process is very simple but the name of the service will be different for each network provider. Don't worry, I'll summarize the service names of all popular networks which you need to deactivate to stop flash messages on Android phones and tablets.
Steps to disable flash messages in Android
Here is the generic solution to stop flash SMS on any Android smartphone. For the tutorial, I have taken Xiaomi Redmi Note 7 Pro with Vodafone SIM inside. However, the steps for deactivating flash messages will be almost the same for other network providers like  Airtel, Idea, BSNL, etc. The only difference will be the name of the services you need to deactivate.
Unlock your phone and go to the app drawer.
Open SIM toolkit application.
Tap on the flash SMS service.
Click Activation.
Select Deactivate.
Click OK for confirmation.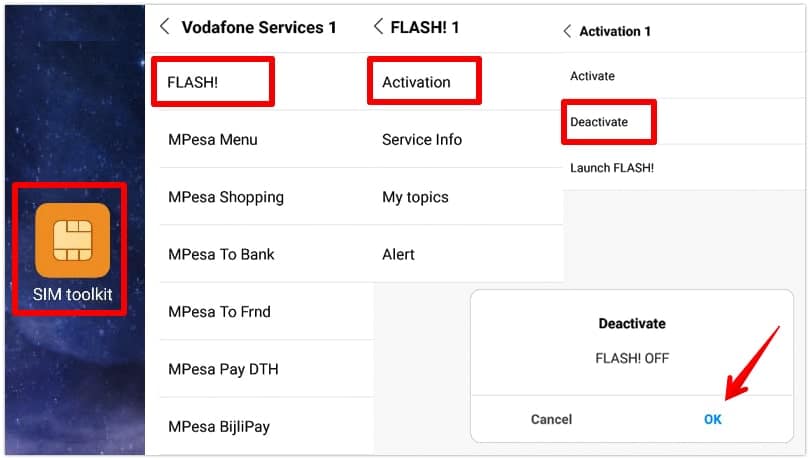 Once you deactivate or stop the service, you will never receive a promotional flash message from your network provider unless you enable it again or reset your mobile. If you are not a Vodafone user, then you might notice minor differences in the wording of the above steps. For instance, on a few networks, it will be Stop / Start instead of Deactivate / Activate. To clear up the confusion, here are the exact service names and steps for each service provider.
Bharti Airtel
To disable flash messages on Android with Airtel network, open the SIM toolkit application and tap on Airtel Now! service. Now click on Start / Stop and select Stop to deactivate flash SMS completely. You may also receive a text message confirming the deactivation of the service.
In addition, you can also message STOP ANOW to 58234 to request the service deactivation.
Vodafone
In order to stop flash SMS on Android with the Vodafone network, open the SIM toolkit app, click on FLASH!, and select the Activation option. Here you need to click on Deactivate and select OK to confirm the selection.
Idea
Similar to Airtel, you have two options to deactivate flash messages in the Idea network. The first method is to open the Idea Power app on your Android mobile and tap on the Idea Flash service. Now select the Activation option and tap Deactivate to discontinue the service.
The other way is dialing *121*46# from your default phone dialer.
BSNL
BSNL Android users, you need to open the BSNL Mobile app on your phone and click on BSNL Buzz service. In this screen, tap on Activation, select Deactivate, and hit OK to disable flash SMS on your BSNL mobile.
Reliance Jio
The process is complex in the case of Reliance Jio. Unfortunately, on Android phones with Jio SIMs, you can not find a SIM toolkit application to disable any services on your network. The best possible way to disable fullscreen pop-up overlay ads in Jio is by contacting customer support at @JioCare along with your mobile number. They can turn off these ads for your number at the server level.
Meanwhile, you can also try uninstalling Jio 4G Voice, MyJio, Jio Music, Jio Movies, and all other Jio apps one by one to make sure none of them are responsible for showing flash messages.
Network
Steps to stop flash SMS
Airtel

SIM toolkit

> 

Airtel Now!

>

Start / Stop

>

Stop

>

OK

Vodafone

SIM toolkit

>

FLASH!

>

Activation

>

Deactivate

>

OK

Idea

Idea Power

>

Idea Flash

>

Activation

>

Deactivate

>

OK

BSNL

BSNL Mobile

>

BSNL Buzz

>

Activation

>

Deactivate

>

OK

Jio
Contact Jio customer care or try uninstalling all Jio apps from your Android mobile.
What about Class 0 messages?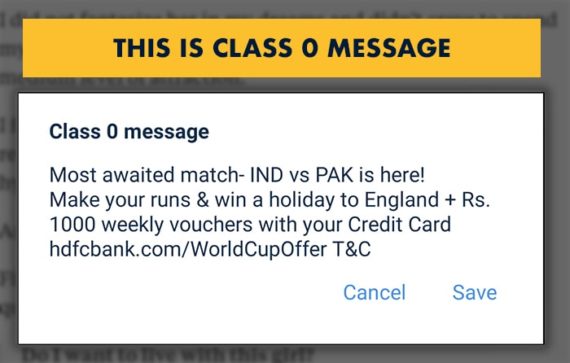 If you are still getting flash messages occasionally even after disabling them, then they must be class 0 messages. The worst part about class 0 messages is, that you can not stop them. The sender of Class 0 messages is difficult to trace and it is not possible to block them. If you are frequently getting class 0 messages, don't hesitate to contact customer support and they might be able to block it at the server end.
This is how you can disable or stop flash messages on your Android mobiles. I have covered multiple network providers along with their service names. In the case of dual SIM mobiles, after opening the SIM toolkit app, you need to first select the network and the rest of the steps remains the same. Hope this article is helpful and you will be able to stop flash messages on Android devices easily.