We have covered multiple pieces on Jio here on GeekDashboard. Ever since its arrival, the Ambani-helmed firm never ceased to make news every now and then. As the company marks the third anniversary of its services, they are planning to enter new arenas too.
In Reliance Industries Limited's (RIL) 42nd Annual General Meet (AGM), a few announcements are made including Jio set-top box, Postpaid Plus plans for Fiber users, partnership with Microsoft, and Jio Fiber welcome offer. Let's have a look everything in detail.
Jio Gigafiber to Launch with free Full HD TV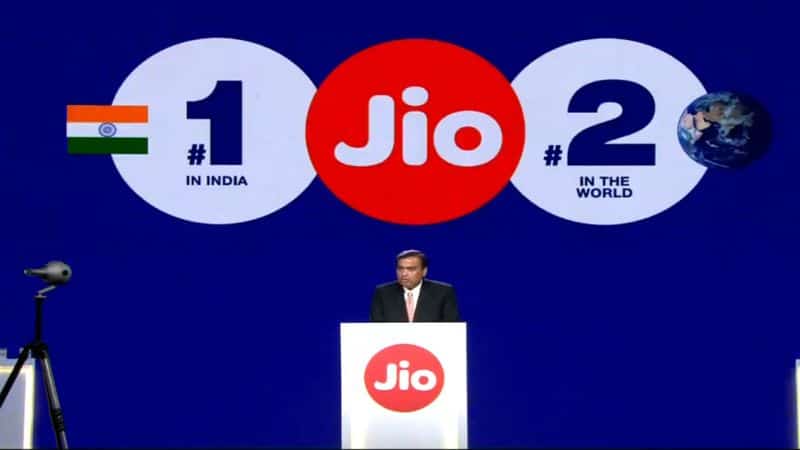 In the event, Reliance Industries Limited Chairman Mukesh Ambani revealed that Gigafiber got more than 15 million registrations so far. They have plans to reach 20 million homes and 15 million businesses in 1600 towns all over the country. The company has been testing its Fiber service for three years now. It has managed to get into half a million households.
The tariff for Fiber starts from Rs. 700 per month to Rs. 10000. The base plan carries the network speed of 100 Mbps and extends up to 1 Gbps. Being a Gigafiber customer gifts you with free-calling feature forever. Jio wants to slam the competition by providing the customers with access to a few Over-The-Top applications (maybe Netflix and Hotstar).
They have also announced an international calling pack to the US and Canada at Rs. 500 per month. When it comes to watching movies, they have a service named First-Day-First-Show. It allows users to watch films on the same day as they are released in theatres. The service is going to commercially go live on September 5. Jio Fiber users can also leverage from mobility with their Postpaid Plus service.
Their welcome offer seems too good to be true. Users can bag an HD LED or 4K TV and a 4K set-top box for free of costs. You have to opt for their annual plan to secure this offer, though.
The firm separately announced Jio set-top box. They claim the device is designed to accept TV signals from LCO partners.
In the same event, they have announced a partnership with Microsoft and blockchain development. They aim to create one of the largest networks with over thousands of nodes in a year. Microsoft in partnership with Jio will establish top-notch data centers in India to help SMBs accelerate their digital growth. It costs Rs. 15000 to Rs. 20000 per month for SMBs to get their productivity, connectivity, and automation tools.