Live video streaming is one of the best technological advancements in the human history that helps popular brands across the globe launch their latest products or services in front of the whole world in real time. Today, we will discuss some of the best free live video streaming websites to help you create live presentations or videos for your set audience.
During my childhood days, watching films in cinema houses or television series used to be the great source of visual entertainment or information. However, today the technology has evolved so vastly that these traditional modes of visual entertainment are challenged by the web entertainment trends.
Even though, the web entertainment world is fully dominated by YouTube, where users can upload their videos to help it reach a wider range of audience, there is growing demand for live stream videos, whether it's about a product launch, sports match, awards show, or any mega event that users are not able to attend in real because of geographical or economical hassle.
Live streaming is also one of the most economical ways for the web entrepreneurs to launch their new products or services simply on the internet without the need of booking a large hall or arena and expect the people to visit.
Despite having a large number of free live video streaming websites all over the net, it is important to find the best lot out there. Remember, the videos displayed to your viewers are live and hence it is pretty much essential that the video streaming service is powered by a quality web server with ample capacity to handle large audience tuned it from across the globe.
And, that's the reason why we have created this list of top free live video streaming websites for you that not only lets you watch real-time events for free but also lets you stream videos for your audience.
Best Free Live Video Streaming Websites To Watch Live Events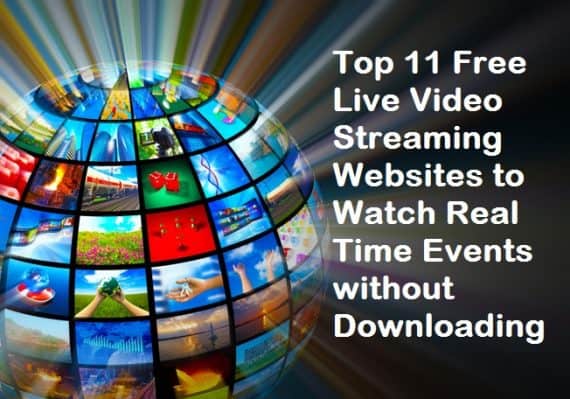 For streaming videos live, the essential element is the bandwidth offered by the live streaming service and your internet speed. While internet speed can be managed by choosing the right plan offered by your ISP, the bandwidth offered is completely managed by the live streaming service that you are using.
If you have a large audience, you may require high bandwidth and vice versa for lesser viewers. Hence, we have made sure to include both types of live streaming services over here to help you choose the best for your next live video.
Let's check them out one by one:
USTREAM.TV
Live streaming is all about quality and the demands go high when you have a larger audience or a huge event to go live. Here's where UStream scores the best with its HD Streaming Video Platform. With UStream, you can deliver ad-free, HD streaming video to all devices, anywhere in the world. This is one of the best free live video streaming websites you can consider while releasing your product.
LIVESTREAM.COM
Live streaming is not just about reaching out to people from different places, but also to watch videos and events broadcast around the globe. Livestream is a streaming hub for the community to broadcast your event live as well as watch other live videos on the go. This cloud streaming service includes some excellent features such as playback on any device, DVR analytics, ad insertion, CDN & support.
BAMBUSER.COM
Bambuser is an excellent free live video streaming websites to reach the world and be heard or watched. With Bambuser, you can video stream live from your mobile phone or webcam on your PC or Mac.
YOUNOW.COM
YouNow is another excellent option to watch or broadcast interactive live stream videos. It is an excellent live stream service to share or watch tutorials and video chat live with people around the globe for free.
SKYPE.COM
Skype is one of the most widely used IMs globally. While the platform is designed to chat or video call with users individually, Skype is also known for making group video calls for conference or webinars. A new service called Skype Qik also allows you to send video messages created from your mobile phone to the group of friends on Skype as well.
VAUGHNLIVE.TV
VaughnLive is a free live video streaming website used globally by the users for live webcams, live video streaming, live broadcast, and others. It is one of the best live streaming services on the web and is considered as one of the greatest free live video streaming websites on the internet.
VOKLE.COM
Planning to host your own show on the internet? Just log on to Vokle.com and broadcast live and video chat with a virtual audience and create your own talk show. You can embed the video on your blog or website later for free and reach out to your web traffic.
FLIXWAGON.COM
Flixwagon is one of the leading mobile video broadcast and social networking platform on the internet. It allows the user from anywhere to visually express their views to an audience and socialize with people sharing their experiences, interests, and adventures through live videos.
TWITCH.TV
While most of us desire to reach out to a wider audience and address them personally or via some Powerpoint presentation via live streaming, there's also a community for gamers. Twitch is a leading video platform dedicated to 45 million gamers who gather every month on the platform to broadcast, watch, or chat about gaming. Twitch is considered as the backbone of the entire video game ecosystem when it comes to both live and on-demand distribution.
GAMING.YOUTUBE.COM
Another great place for gamers to broadcast or watch videos on gaming is the Gaming section on YouTube. On this platform, you can connect with a large group of gamers playing a wide range of games and interact with them through videos, and live-stream.
Google Hangouts
Lastly, we have Google Hangouts that has gained huge popularity over the years and has become the 1st option for bloggers and influencers around the globe to host webinars or live discussions. The best benefit of using Google Hangouts is that once your live session is over, you can easily upload the video to YouTube; undoubtedly world's largest video platform and make the video live for the public to watch it later on.
Extra Bonus
Facebook Live
Facebook has recently launched a new service called Facebook live that allows the users to stream live videos that the friends and followers can watch in real-time if they are logged in at the same time on Facebook. The service is widely accepted and used by many influencers and celebrities around the world and giving tough competition to Google Hangouts.
Let us know which live video streaming websites you prefer and why