Jio's Happy New Year Offer comes to an end on 31st March. Even though the company initially struggled to get subscribers for Jio Prime, the new statistics revealed that they have managed to convince about 50 million people to go for it.
As the year of free mobile data ends, another Jio offer has started doing the rounds now. It is not a secret that Reliance-backed Jio is planning to come up with their broadband service called Jio Fiber. Our sources point to the possibility of Jio Fiber following the same path of Jio mobile network.
Reliance Jio Fiber to Come up with a free Preview Offer of 100 Mbps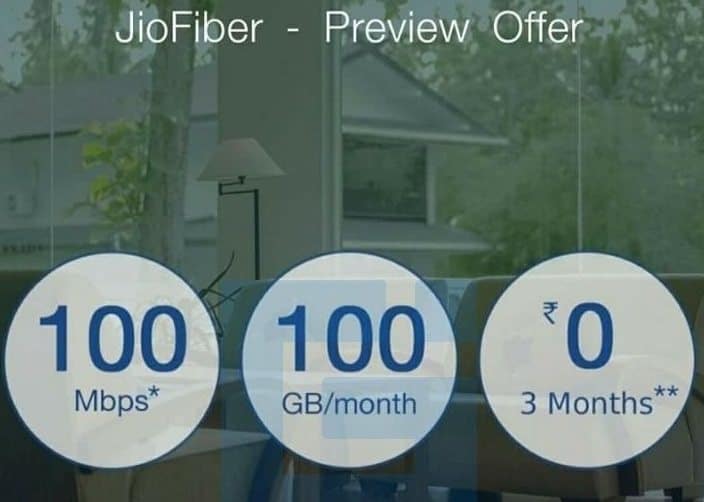 Yesterday, we have reported about ACT Fibernet launching the gigabyte connection in Hyderabad. Even if the speed is not as much as that, Jio Fibernet is worth checking out (according to the initial information we have got).
Most probably, you will get a 100 Mbps speed with the preview offer. Similar to what Jio mobile network successfully implemented, the offer will last up to a period of three months. And, you will get 100 GB fair usage policy (FUP) for each month.
Once you burn your 100 GB quota in any case, you can still browse the web, but with a speed of 1 Mbps only. Yeah, we get that! It's hundred times lesser than usual. But you are getting all these for free.
For Jio Fiber, you have to pay 4500 INR as an installation fee. The speculations say that you will have it refunded after the three months free usage (most probably, once you become a paid user). We are unaware of the terms and conditions of the refund policy if there are any.
Jio Fiber will most probably be launched in Delhi and Chennai first. Obviously, we can expect them to go all over the nation.
Also Read:- Airtel has Come up with Another Offer to Compete with Jio, This Time 70 GB and Unlimited Calls for 999
Indians have been enjoying free mobile data and voice call services for over a year now. The availability of mobile signals is an area where Jio already excels at. As the free period comes to an end, the company wants to capture the news columns and the market again.
Apart from the fiber network, the company is reportedly working on their DTH service also. Rumors revealed that you get to enjoy the service for a trial period of six months. For 360 channels, you may have to pay 185 INR per month once the trial period ends.
So, will you ditch your current ISP and go for Jio Fiber? Let's wait for the plans to get unveiled.