Here are amazing and best lightweight Android games for all kinds of smartphones. If you love to play games on your smartphone and at the same time worried about phones memory and internet speed, then you are at the right place. The only possible solution for your problem is choosing lightweight Android games under 50MB. Yes, you read it right, there are many lightweight Android games under 50MB with decent graphics. Installing lightweight Android games helps you in many ways, they won't lag much, they won't slow down your Android phones and take less space and takes less time to download.
If your internet speed is slow and looking to download lightweight Android games under 50MB, then here are 15 best lightweight Android games for phones and tablets. All lightweight android games mentioned on this list are free to download.
Also Read: Best WhatsApp dare games and puzzles
15 of the Best Free Lightweight Android Games under 50MB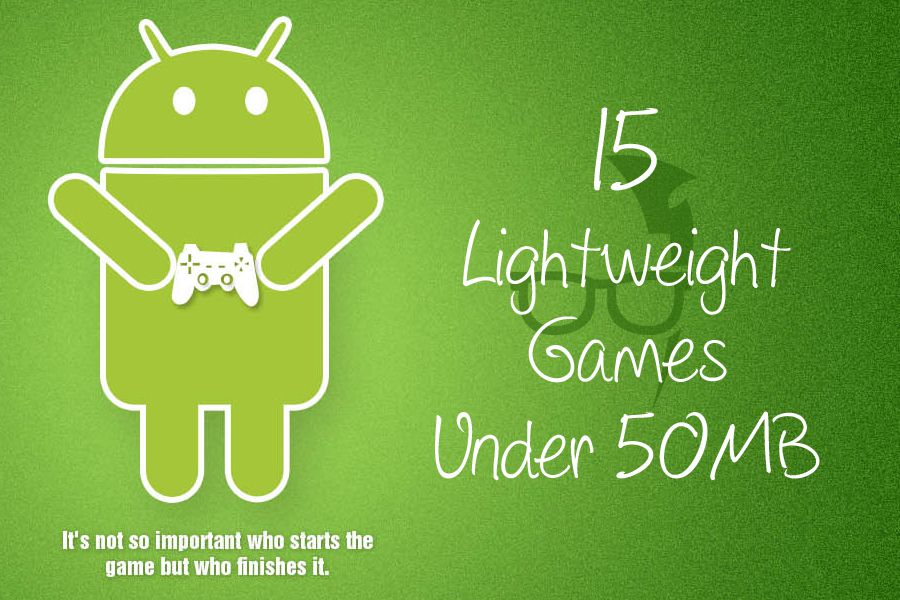 List 15 cool lightweight Android games for smartphones and tablets:
15. Hungry Shark Evolution
Ever played GTA? Hungry Shark Evolution works on the similar concept. You can make your shark swim anywhere in the ocean. No rules and no route maps. Discover the new routes and new things but don't make the shark starve to death. Eat food and enjoy your trip in the ocean.
Download on Google Play
14. Plane Simulator 3D
Everyone dream to ride a plane and be a pilot. Wait is over, Plane Simulator 3D brings you the real experience of riding a plane. Over 25 different planes and 10 missions are waiting for you. The sky is your limit. This is one of the best lightweight Android games which made to forget all the things around me. Plane Simulator 3D is beyond your expectations.
Download on Google Play
13. Flow Free
Flow Free is a puzzle game of colors with about 1500 levels. Connect all similar colored dots and fill the entire board to complete the level. Challenge yourself using free play and time trial modes. Flow Free is one the best lightweight Android games I have ever played.
Download on Google Play
12. Rail Rush
Are you ready for an adventurous ride? Rail Rush is a combination of Subway Surfers and Temple Run. Get into the cart and collect gems by tilting your device left/right and make the best score possible. Trust me, you will love background music of this lightweight Android game.
Download on Google Play
11. Archery
Looking for shooting games? Here is one fo the best lightweight Android games for shooting lovers. Archery is a bow and arrow game, you need to shoot the target to get the score. Connect to the internet and compete with worldwide players with a feature called Scoreloop high score.
Download on Google Play
10. Don't Tap The White Title
7 modes, single game and nonstop fun with many challenges. This game says, "play the piano but don't touch the black title". Though it sounds easy but practically it's not. Login with Facebook/Twitter to get the leaderboards of your friends.
Download on Google Play
9. Chain Reaction
Chain Reaction is the best time killer and multiplayer lightweight Android game. If you are in college and class is damn boring, immediately start playing chain reaction with your bench mates. It is highly impossible to predict who is winning the game.
Download on Google Play
8. Jungle Adventures
How can we forget Mario? Thanks for Mario for making our childhood awesome. The Developer of this game took our feelings seriously and coded a game that looks almost like Mario. Are you ready to recall your best childhood memories with this lightweight Android game of 8MB? I guess Yes, Download Jungle Adventures – free now.
Download on Google Play
7. Hill Climb Racing
One more game based on physics. It looks a bit like a racing game but not. This addictive game size varies from one device to other but still falls under lightweight Android games category. I bet you can't take your hands off this game. Be ready to get addicted.
Download on Google Play
6. ? Loop
? Loop (Infinity loop) is a game with no borders. There is no end for this games. Can you believe this 3 MB lightweight Android game has 5 million downloads and no ads in it? ? Loop is an Ad free and endless games that create a beautiful design at the end of each level. You can take the screenshot of the pattern you made and save it to your gallery.
Download on Google Play
5. Unblock Me FREE
Unlock Me Free is the only game with 14500 levels in the Play Store. It is a puzzle game to spend hours and days challenging yourself solving them. Different modes are made available which makes it one the best lightweight Android game which weighs only 25MB.
Download on Google Play
4. Brain Dots
No time limit and no limits to your imagination. Brain Dots is developed with simple logic with many features. You need to make the blue ball touch the red ball or vice versa. If you're good at physics, this game is very easy for you. Don't miss this lightweight Android game. It also gives the option to record or take the screenshot of the logic you applied.
Download on Google Play
Also Read: How to Download Torrent Files Using IDM
3. Daddy Was a Thief
Amazing game with a simple concept. The best thing about Daddy Was a Theif is it's graphics and sound effects. This lightweight Android game under 30MB is very simple and interesting. You need to swipe down to break the roof of floors, the more floors you reach the more points you earn. Be careful with cops and lasers and don't miss the bath tub for quick points.
Download on Google Play
2. Tap Tap Dash
Tap Tap Dash is an addictive lightweight Android game with a lot of levels. In the recent update developers of this lightweight Android game added 150 more levels making 400 in total. This 16 MB lightweight Android game is one the best game to kill your time. You can unlock new characters for every 25 levels. The Recent update also added 4 new characters making the game more interesting.
Download on Google Play
1. Smash Hit
You can't get such amazing graphics and sounds in any other lightweight Android games. I have been playing Smash Hit from last few months and really in love with it. You need to smash the glass objects with metal balls. The game ends when you are done using all available balls. You can earn metal balls by hitting the objects. You will surely enjoy the sounds of this game. I suggest you turn on the sound while playing this amazing lightweight Android game called Smash Hit
Download on Google Play
Hope you like this collection of best lightweight Android games for both phones and tablets. Let us know if you know anymore lightweight Android games under 50MB with good graphics. We'll try to add them to this list of lightweight Android games.