Smartphones replaced Tablets and Laptops for emergency works. Android devices and Android apps gives you lot of control on your business management. Here are 30 useful business apps for android. By installing these business apps on your Android Smartphone or tablet, you can make your work easier than ever. It helps you to keep up to the date and makes you complete your to-do list effectively in time.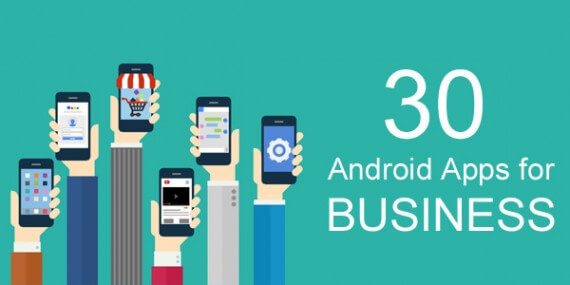 Have a look at these useful business apps for android tablets and smartphones to improve your productivity. Tough these apps looks simple it plays a major role on your business and on your productivity.
Bonus: 250+ WhatsApp status updates
Best Business Apps for Android Phones and Tablets to improve Productivity
Have a look at our compiled list of 30 best business apps for android devices. This list is purely authors choice and you may find some of these apps not useful for you. This list of business apps for android is created keeping all kind of business people in mind.
Expense Manager helps you to keep track on all your expenses. You can categorize all expenses and compare them with previous months. This is a best business app for android to minimize your expenses on unwanted things. Go install it now and never ever waste your money again.
Being a business owner you might have important appointments and meetings which you may fail to remember. This may lead to loss of money and relations. Why don't you try Google Calendar and add all your important dates like birthday's, payment dates, journey timings etc.
Team Viewer can make you access your clients computer directly from your Android device. This helps you control and manage clients device in go. I recommend this app to everyone and more over it is a free business app for android devices.
Suggestion: Try Comindware Process for you business. Comindware Process will optimize and scale you business operations.
No more unknown numbers. True Caller can retrieve caller name, location and other information using his mobile number even his mobile number is not in your phone book. True Caller maintains a huge database of callers and their information. You can now answer calls tension free.
Also Check: How to Track Mobile Number using IMEI
This app track your location and gives you information about nearby available cabs with ratings and phone number. You can call them directly to book nearest cab. This will surely save your productive time. This apps deserves a place in our best business apps for android list
Using this free business app for android you can create catchy and interesting slides in few minutes. Lot of videos and how-to's, infographic's are available to use. You can rock your meeting using this app.
Drop Box – Store and access important data anywhere anytime.
Google Drive – You can use this as an alternative for Drop Box. But In Google Drive you have many options to share them to specif people in your mail box, private sharing, comments etc.
Google Docs – Used to create documents in your mobile.
Fast Scanner – This app works like a scanner. You just capture a page and this apps takes care of remaining things. It adjusts colors, brightness and make the text on paper clearly visible. This is one of the best business app for android.
Facebook Page Manager – If you own multiple Facebook pages, this app helps you track insights of all your pages easily. This app is only for Facebook page admins.

Google Sheets – Create, view and edit Excel sheets directly from your mobile.
Google PDF viewer – View PDF files in your mobile using this business app for android.
App Lock – This application is used to password protect any installed application on the device. It adds a layer of security protection.
ShareIt – Share files from one device to another quickly using hotspot. Using shareit, you can transfer images, videos, apk files, contacts and lots more.

Fiverr – Fiverr is a service offering website where you can get any type of work done for just $5. You can outsource your work here for $5.
AdWords – Create a campaign here and make your business appear more frequently on Google search results in the form of ads.
Nimbuzz – Using Nimbuzz, you can login into all your social media accounts in single click and it is damn easy to respond all messages from AIM, Goolge+, Facebook under one roof. You can also use it to make phone calls (charges apply).

Automatic Call Recorder – You can now have a copy of your words spoken to anyone on phone. This app will record all your phone conversion automatically at background and save it as mp3 files. You can use them as proofs or reference.
Bank Account Balance Checker – Member of different bank accounts? and no enough time to login each time to know the balance? No worries, this app will let you know any bank balance you own in just single click. You will get an SMS with balance details. Currently this app supports 22 banks. I suggest you to use this free business app for android to make your work simpler. No internet connection is needed.
English Dictionary Offline – An awesome offline dictionary with thousands of meanings to common and popular words. This app also works without internet. Keep updating app for more words.

Tally on Mobile – Tally lover? Use this Tally business app for android and enjoy using Tally on mobiles and tablets.
GoToWebinar – No matter how far you are from the desktop, you can still attend the webinar and communicate with participants in matter of seconds.
News Hunt – Get latest news and updates all over the globe in different languages. Push notifications won't make you miss any single important news.
Android Apps for Business -> Next Page
Let us know if you still know any better business apps for Android smartphones and tablets that deserves a place in this list.