Facebook introduced 360-degree photos and videos a while back. Users around the globe enjoyed this new feature and started uploading many.
The company took a leap in the VR segment with their Oculus Rift. Yesterday, they launched the first VR app dedicated to viewing 360 photos and videos.
Not everyone can download and use the app. You must have a Gear VR and a compatible Samsung device to start with Facebook 360.
Facebook Launches Their First VR App for 360 Photos and Videos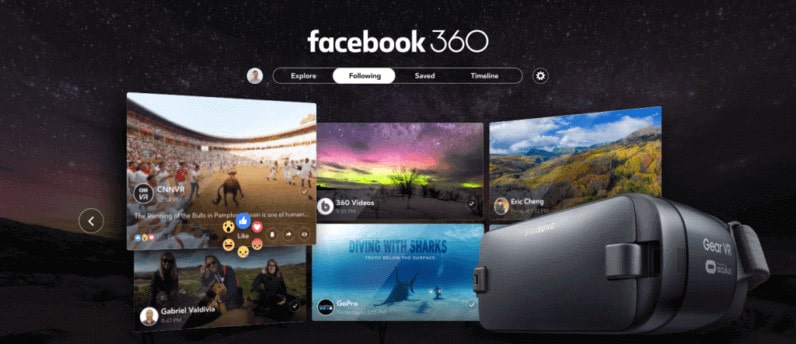 As of now, you can't access your newsfeed and do regular FB activities using the app. Facebook 360 is solely meant for experiencing 360 visuals only. They may launch an app to browse Facebook in 360- degree, but not now.
Given that there are more than 25 million 360-degree photos and 1 million 360-degree videos on the platform, you will never feel bored of the app.
They decided to limit the support to Gear VR for now. The downloading process of the app is pretty simple. Open the Oculus app on your Samsung device (not to mention, it should be compatible with Gear VR) and search for Facebook 360. Alternatively, you can visit this link on Oculus's website as well.
Also Read:- A Weird Smartphone Gets Launched with 360 Degree Camera and Embedded Diamonds
The interface of the app has four tabs, which bring you to 360 videos and photos of different segments.
Explore: Many companies, organizations, and individual creators make 360 content. You can browse such random videos and photos here.
Following: Under this tab, you will get 360 photos and videos from pages and people you follow.
Saved: We all know there is a Save option for status on Facebook. Here, you can see all the 360 visuals you save.
Timeline: If you want to upload your own 360 content, the timeline is the tab you need. It is the place for you to upload.
We haven't got clear information about the compatibility of non-360 videos on Facebook 360 app. In case they choose to drop the support, we will have to remove the VR headset and open the regular Facebook app to watch the normal videos.
You can watch 360 videos on Gear VR even without the new Facebook app using Oculus Video. The 360 app stands out because it makes the content discovery easier with the new Explore tab on the interface.
Let's wait to know how VR enthusiasts accept Facebook 360. If it becomes popular, we expect Facebook to roll out support for more VR headsets too.