With tons of smartphones getting launched every year, manufacturers are striving hard to come up with unique features to stand out from the rest.
LG G5 came up with modularity, and Mi Mix got a bezel-less display. Now, the latest addition to the list of standing out smartphones is Protruly Darling.
What makes the smartphone stand out from the rest is the 360-degree camera. Being the first one of its kind, Darling has got an exceptionally well spec sheet.
A Bizarre Smartphone Comes up with Studded Diamonds and 360 Degree Cameras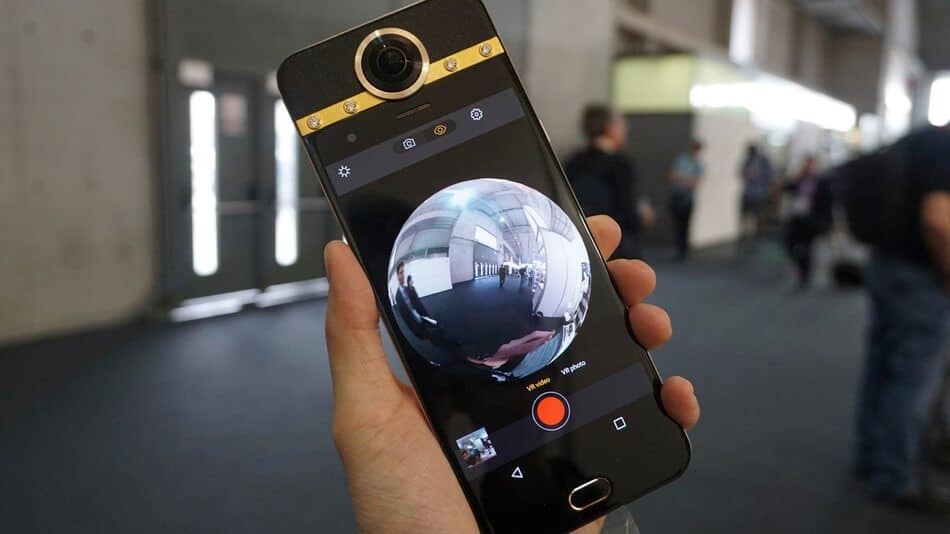 The biggest attraction of the Chinese based Protruly's Darling is its camera. In total, the smartphone has four cameras that differ in megapixel size and features.
We can locate two 13 MP 360-degree cameras on back and front. Both the cameras include wide-angle fisheye lens to capture maximum area. Moreover, it has regular primary and secondary cameras measuring 13 MP and 8 MP respectively.
To take 360-degree photo or video, you have to enable the VR mode from the camera app on the phone. Protruly has made it easy for you to share the visuals on Facebook and YouTube.
Another strange thing it contains is a strip of diamonds. Yeah, you read it right! Protruly Darling sports a full-grain leather piece on the front with four diamonds. And, the metal body is made of 3.08 grams of pure gold!
Also Read:- Lenovo Announced Moto G5 and Moto G5 Plus at MWC 2017
Along with all these awkward specs, you get a thermal sensor too. The phone can tell your body temperature without even making contact.
When it comes out in China by the end of November (we are unaware of the launch in other locations), you can see two variants. The premium one costing $1300 will come out with a fingerprint sensor on the physical home button whereas the basic variant priced at $600 (no gold, diamonds, and leather) features the same on the back.
Bonus: Top 10 Expensive Smartphones that would Blow Your Mind
No, the specifications don't make you disappointed. The phone has a 5.5-inch screen with full HD resolution. Beneath the hood, you get a 2.5 GHz deca-core MT Helio X20 processor, 4 GB RAM and 64 GB internal storage. In order to power up the camera and processor, it has a 3650 mAh battery.
Protruly included the audio jack and USB type-C port too. And, it runs on a skinned version of Android 6.0 Marshmallow.
We all know a smartphone like Darling is not going to be a hit. That's why we must appreciate the effort taken by Protruly in manufacturing it.