The much-awaited dark mode feature on WhatsApp is here. But at the time of writing this article, the feature is only available for WhatsApp Beta users. The new "Dark Theme" is available in the latest beta version of 2.20.13. If you are in the beat version then, you can simply update the app to get the feature. However, if you are not in the beta program here's how you can enroll in it.
How To Become A Beta Teaster for WhatsApp in Android
Becoming a Beat for an App gives you the advantage to try really cool features before it goes public. You can click on this link to become a beta tester for WhatsApp. Since WhatsApp accepts only limited users in their beta program, you might see "the beat program is full" message when no slots are available. Don't worry, you can still get the beta version of WhatsApp by sideloading the APK from here.
To recall you, the parent company of WhatsApp i.e Facebook has already pushed dark mode in its major apps Facebook Messanger and Instagram. And WhatsApp becomes the third app to get the feature.
How To Enable Dark Mode in WhatsApp Messenger
Enabling Dark Mode in WhatsApp is a piece of and you need to just change one simple setting. Here is the step-to-step guide to enable dark mode on WhatsApp Messenger: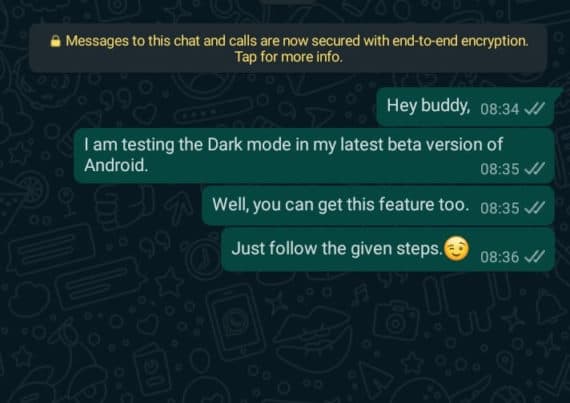 Update your WhatsApp Beta to v2.20.14 or higher.
Open the app and click on three dots on the top right corner to go to the Settings.
In the Setting menu, Click on Chats setting.
Inside Chat setting, you'll see a new option called Theme just above the Wallpaper.
Click on the Theme and select Dark.
Voila, you entered in the Dark world of WhatsApp Messenger.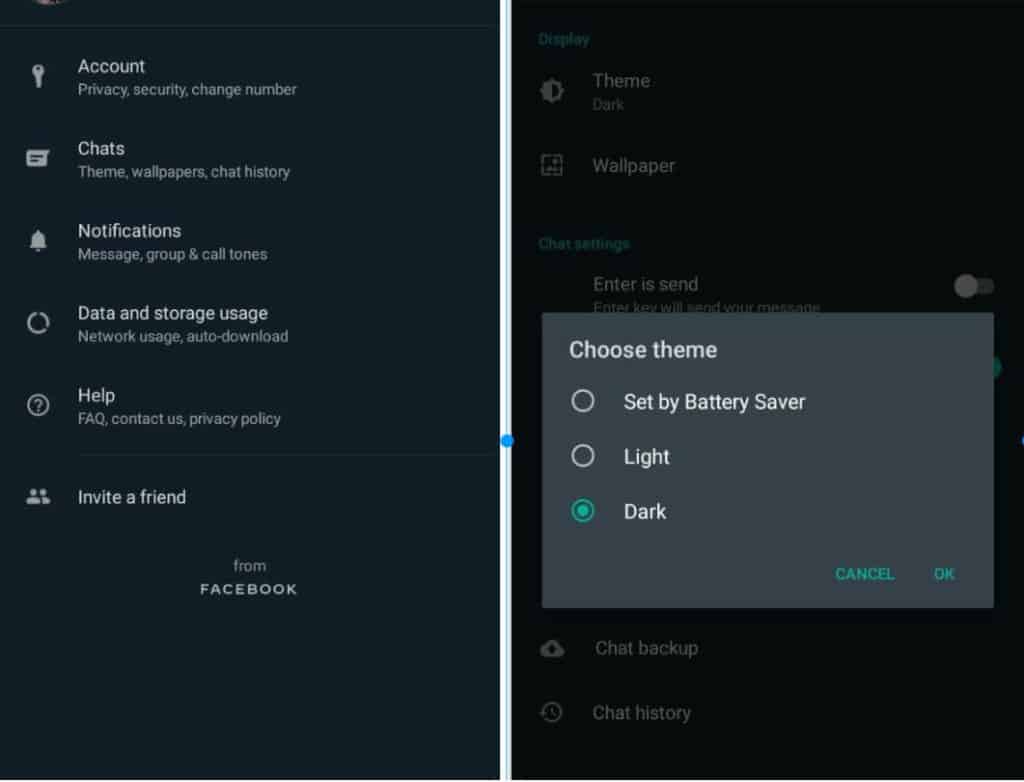 Will Dark Mode Help You Anyway?
Researchers claim that dark mode makes app interfaces easier for the eyes in the dark environment. Additionally, Dark Mode can really improve your smartphone's battery life if it has an OLED display. To be honest, the dark mode of WhatsApp kinda looks grey. Since it is not pitch black (#000000) even on OLED display, I don't think so it will improve battery life.
When You Will Receive The Dark Update?
The new dark mode is only available for Android WhatsApp beta users for now. But since the feature is available for beta users already, it will not take much time to come in the stable version. However, there is no official update when exactly will it will come to all public users of Android and iOS.
Well, let us know if you received the dark mode feature or not, or this article really helped you to get a dark theme in your Android device.