What we think about
Stellar Phoenix Data Recovery
UI

9
Performance

8.5
Support

8
Pricing

9.5
Stellar Phoenix Data Recovery is one of the data recovery software to recover lost or deleted or formatted data from laptops, computers, mobiles and servers. You can download and try this tool for free of cost.
Stellar Phoenix Data Recovery is perhaps an ultimate solution for data recovery, which offers a bundle of great features to resolve all the problems that you face in data recovery in a hassle-free manner. It offers a high percentage of data recovery, although there have been few complaints about the interface that seems confusing.
We have heard from many of the users that Stellar Phoenix Data Recovery has able to retrieve 100% files which include a rich database of images, Video and audio files, documents which were deleted. You can have a similar experience in case of recovery of files from a hard drive being formatted. You can recover almost 90% of data consisting of video and audio files, document and images.
After seeing so many reviews on the internet, we thought to come up with Stellar Phoenix Windows Data Recovery software review to know that all the claims are original or just fake.
So, without wasting too much time further, have a look at the review of Steller Phoenix Windows data recovery software.
System Requirements
You can start working with Stellar Phoenix Windows Data Recovery only on Windows operating system. Only you require is a minimum Windows XP operating system and can support a maximum version of Windows 10 OS.
Processor required: Pentium Processors or higher
Minimum RAM: 1 GB
Minimum Hard Disk: 50 MB
Operating Systems: Windows 10 / 8.1 / 8 / 7 / Vista / XP
Also Read: How to download and install .NET Framework offline installer on Windows 10/8/7
Get
$10 OFF on "Stellar Phoenix Windows Data Recovery – Professional" using

STL-PRO-10 coupon code (valid up to 31st May 2017)
Features of Stellar Phoenix Windows Data Recovery that you should know
Great User interface
Efficient data recovery has never been easier. The software is more intuitive than ever before and gives you an option to select the desired type of files in a particular location instead of looking for data on the entire hard drive, saving your precious time.
It has a newly designed user interface which helps to save a lot of precious time as you can navigate to a particular file rather than searching the whole drive which itself is a time-consuming process. Graphics of this software also look reasonably good.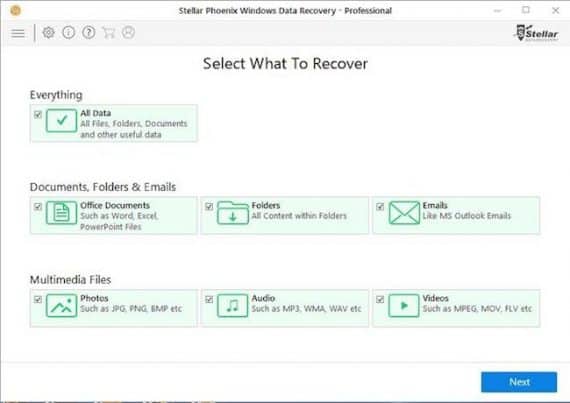 Sporadic Scanning Features
With the fabulous scanning features, you perhaps have the luxury to recover any kind of files such as Emails, documents or multimedia files. This can indeed save the duration that it would take initially during the full scan.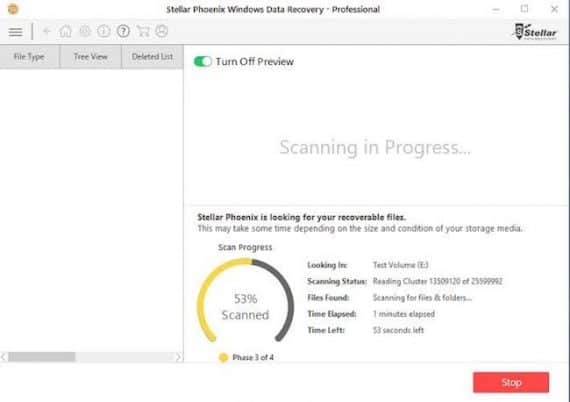 Live Chat Option
This software offers an excellent phone and email support which also features a live chat option. It also has a great professional team who assists in data recovery and gives relevant information about their product.
Raw Recovery
It is a professional software which has a very advanced feature named Raw recovery which helps you to look out for the data that is available in the drive via file signature and thus help you to recover your valuable files. Apart from that, you can also change the header of the existing file type.
Windows Data Recovery
Are you looking for a software that can help you recover data from partitions? If yes, then Stellar Phoenix Windows Data Recovery is the best software that you use to recover documents such as videos, multimedia files, and photos to name a few.
Preview of Files
This software scans for the result and shows the preview of the files that has been deleted and lost. You can perhaps click on any file to see the preview of that particular file. This software also has an option of turning on and turning off the preview. Based on your choice, you can choose a particular option.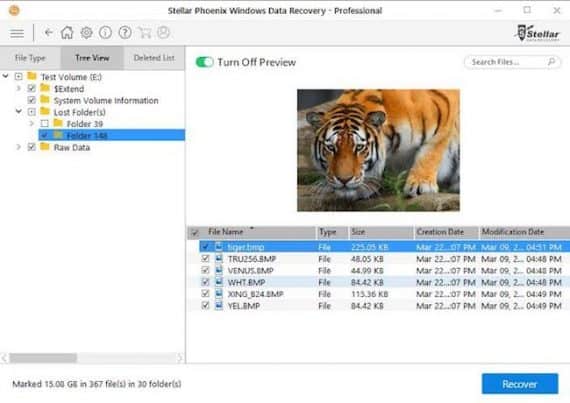 Optical Media Recovery
This software has special features that can help you recover data and files from burnt or corrupt optical media such as DVD, CD discs thus saving your valuable assets.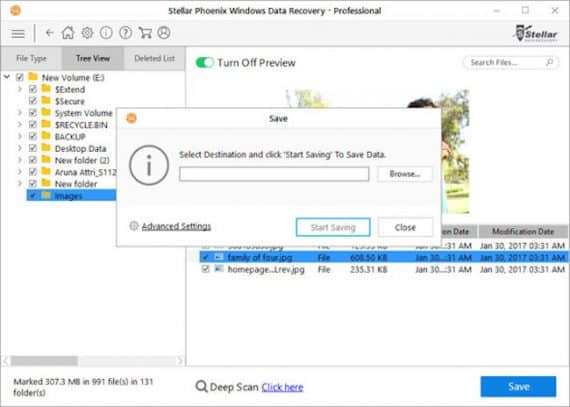 Cost Effective
This software has extraordinary features, but apart from that, the best thing about this software is the cost. It is quite affordable and doesn't dig a hole in your pocket.
Pricing of Stellar Phoenix Windows Data Recovery
This amazing software with world-class features is available at a jaw-dropping price of just $99.
If you by far with us, you got an idea how useful Stellar Phoenix Windows Data Recovery tool is! Though, I'm sure you must be wondering how to use this software to recover data. Do not worry, I've covered a stepwise procedure that will help you to recover data using Stellar Phoenix tool.
Once you install the program, you'll get to see the below screen in which you can select what actually you want to recover. You can choose All Data, Office Documents or Photos, Audios, Videos. In my case, I've selected Photos. Once you select the category, click on Next on bottom right-hand corner.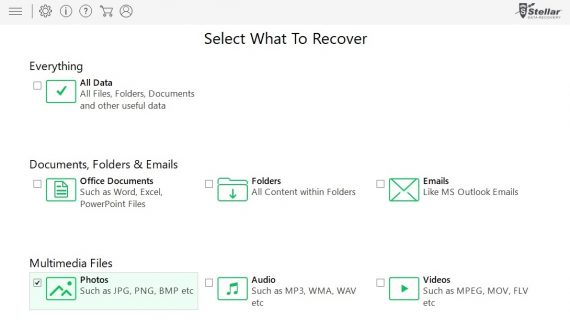 On the next screen, you have to select location from where you want to recover the data. Once selecting the location, click on the Scan button on bottom right-hand corner.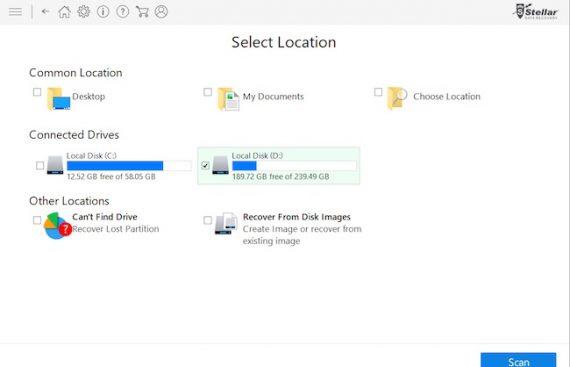 Sit back and enjoy a cup of coffee or tea. It will take a few minutes, depending on how much data is on your drive.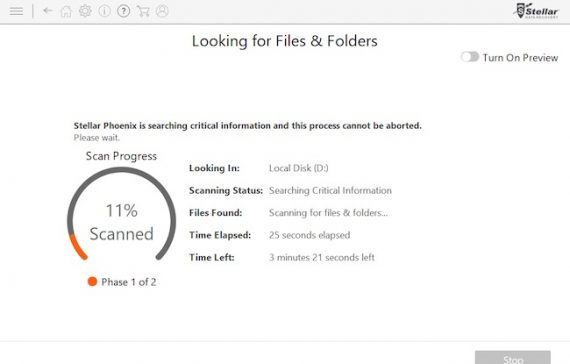 Once the scan is complete, it will show you no. of files found and how much amount of data is recoverable. If you are fine with the scan, click on OK. You can also run a Deep Scan if you want.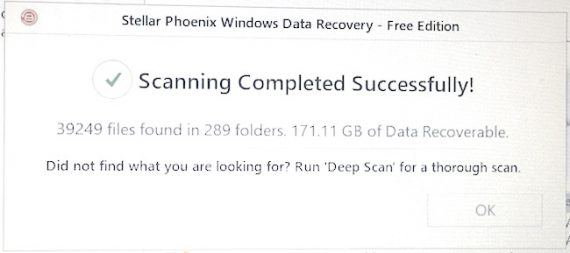 Next screen will show you all the data which can be recovered. You can select the folder from left-hand sidebar and files from right-hand tab which you think you might need or you have accidentally deleted. Once you are done with the selection, click on Recover button.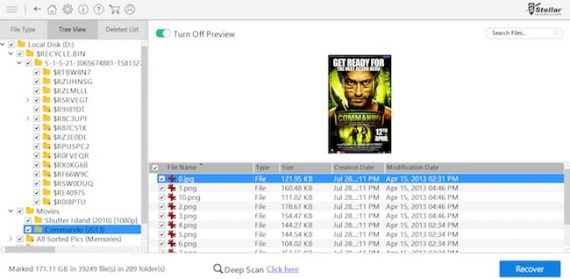 If you think, you want to recover all the data suggested by the tool, skip the selection process and click on Recover button directly.
Click on Recover button, the tool will prompt you to choose the destination folder where you want to save the data. After selecting the location, click on Start Saving.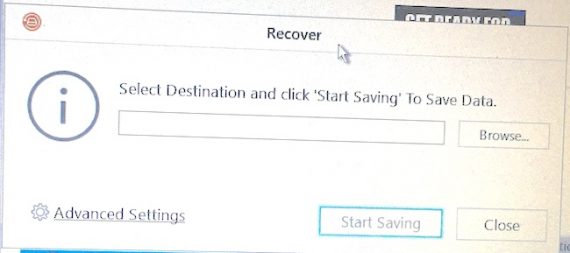 It might take a few minutes depending upon the amount of data is being recovered. Once the bar is full, your data will be in the folder you have created.

Voila, you are done! You have successfully recovered the data using Stellar Phoenix Windows Data Recovery tool.
There are many instances where you have scanned the data, but you want to have a look at it later. If you are not recovering the data at the time of the scan, the tool will allow you to save the file so that you don't have to scan the drives once again when you are back.
Get
$10 OFF on "Stellar Phoenix Windows Data Recovery – Professional" using

STL-PRO-10 coupon code (valid up to 31st May 2017)
Verdict
We have explained all the features and with this, we end our Stellar Phoenix Data Recovery review and here's our verdict below.
Stellar Phoenix is a great data recovery software which is loaded with tons of exciting features. It has an interface that has been designed so as to be user-friendly and save time to the beginners, but it can be slightly confusing for experienced users. I would prefer this to everyone and give it 4 stars out of 5.
What we think about
Stellar Phoenix Data Recovery