Over the past couple of decades, we have seen an evolution in the Smartphone industry that started with the introduction of PDAs powered by Palm OS, Blackberry OS, and Windows CE/Pocket PC. Those iconic gadgets, then, were among the most expensive smartphones around the globe. Today, the industry has evolved with an array of gadgets dominated by Google's Android and Apple's iOS systems, ranging from high-end Smartphones to evenly affordable low-end budget Smartphones.
Despite such a revolution in the market, there has been a segment of the Smartphone industry that catered exclusively to the millionaires or the billionaires targeting those who preferred luxury over features. Hence, there are different Smartphones designed and launched as limited editions to please this luxury conscious segment with prices ranging from $4,000 to $50 million.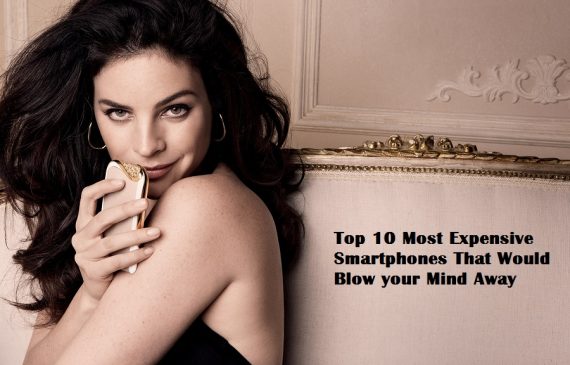 Surprisingly, besides Apple's iPhone, all the major brands producing such high-end luxury Smartphones are hardly known to the common user. Considering the fact that these most expensive Smartphones are designed and build for a particular segment in limited editions, these Smartphones hardly even get enough press coverage both online or offline.
Well, to please or better say astonish our readers, we bring you a list of top 10 most expensive Smartphones  that you possibly can't afford to buy.
Top 10 Most Expensive Smartphones
Designer branded iPhones
That's a no-brainer that iPhone makes it on the top of the list. Priced at $749 at the Apple store, the iPhone 6s Plus has to be one of the most expensive Smartphones out there. Isn't it?
Well, iPhone is in fact, the most expensive smartphone around the world right now, but their highest priced model isn't iPhone 6s Plus and it isn't priced at $749 either. Owing to the popularity of the iPhone brand, many different designing brands and designers have crafted their own version of the device by adding a creative layer on the iPhone along with some precious elements such as Gold, Diamonds etc.
Many different designers have crafted some of the most expensive smartphones out of iPhone devices. Whether it's the iPhone 6 Amosu Call of Diamond priced at a whopping $2.5 million or the Stuard Hughes Diamond Rose edition of iPhone 4 priced at $7 million, the prices of these designer phones have been set to a level that common can't even dream of acquiring one in his or her lifetime.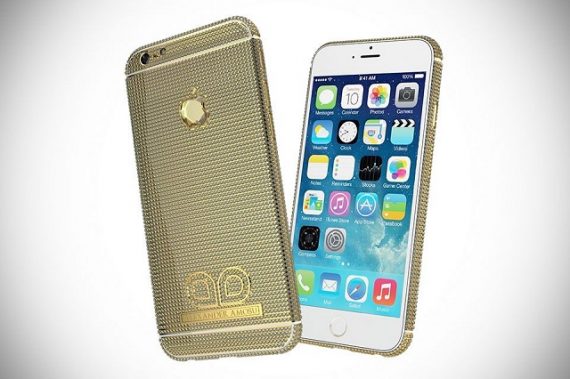 However, these prices are just the tip of the iceberg. The costliest designer phone over iPhone ever made would be iPhone 6 Falcon SuperNova Pink Diamond created by US luxury brand Falcon. This super expensive piece designed by Falcon can empty your bank balance by $48.5 million to be precise.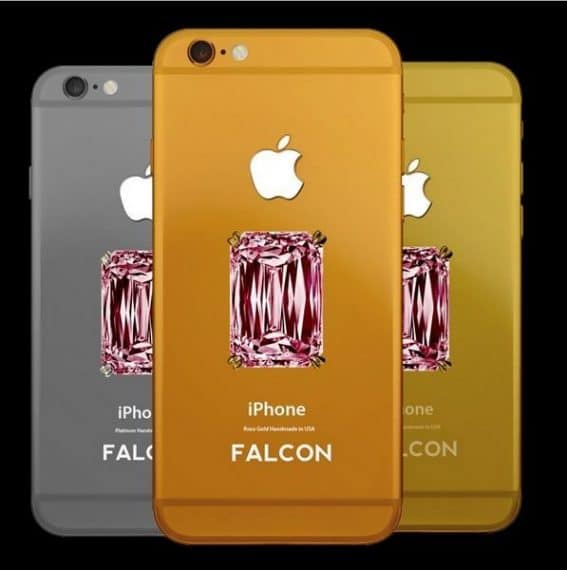 Well, the list doesn't end here. In addition to the above-mentioned products, there are other creations too, that qualifies for notable mentions such as iPhone Princess Plus and iPhone 3G King's button, both of which were designed by an Australian jewelry designer Peter Aloisson.
Gresso Luxury Smartphones
Well, to be honest, the list of top 10 most expensive Smartphones can be completed by simply mentioning the marvelous creations of the designers mentioned above. However, the fact is that most of these designer branded devices are either out of stock or outdated. Hence, it will be an injustice to other Smartphone brands, which may not cost you millions, but they truly qualify as luxury Smartphones and deserve a mention on the list.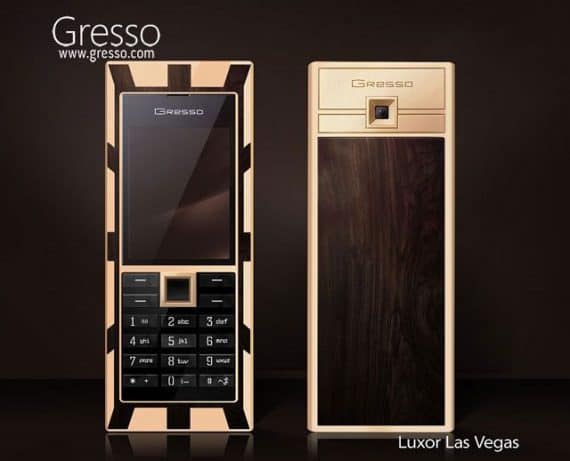 Thus, it brings us to Gresso Smartphones. Well, many of us might not be aware of this Smartphone brand as it is famous for producing luxury Smartphones and deals with high-end customers who are looking for handcrafted, limited edition devices. Although; Gresso is popular for its Regal series among its loyal customers, it's the Gresso Luxor Las Vegas Jackpot that steals the show for now. Priced at a whopping $1 million, this ultimate luxury Smartphone consists of 17 manually polished and laser cut sapphires weighing 32K. Other luxury factors include the black diamonds layered on the front, the 200-year old African blackwood at the back as well as the 12mm golden frame keeping the device together.
Diamond Crypto by JSC Ancort Company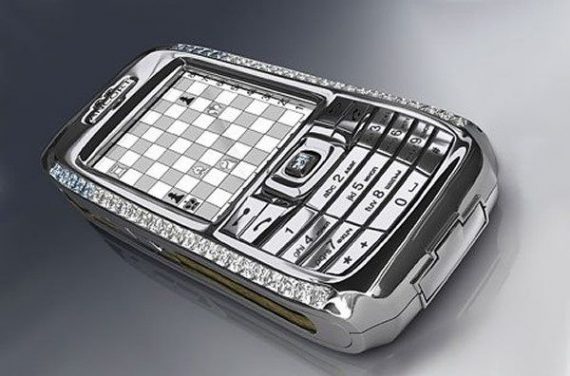 Diamond Crypto is another diamond studded Smartphone designed by Australian jewelry designer Peter Aloisson. At the time of its release in 2006, the device was priced at a whopping $1.3 million, mainly because of its build that comprised of 50 diamonds blended with white and pink gold. Besides the diamond studded feature, Diamond Crypto was also known for its powerful encryption technology that added a whole new security layer to the device. With such encryption technology, the device was capable of providing protection of information against kidnapping, financial racketeers, technological blackmail, and corrupted state officials.
Goldvish "Le Million"
Goldvish is a Switzerland-based luxury mobile phone manufacturing company that has developed the expertise to manufacture luxury gadgets with advanced technology blended with the popular Swiss craftsmanship.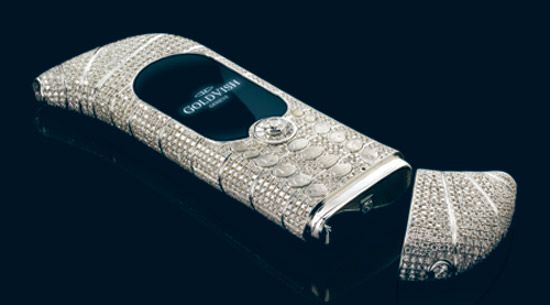 Founded in 2003, the brand got noticed in 2006, when it's solid gold, diamond-studded Goldvish "Le Million" was introduced as the most expensive cellular phone during that time at an enormous price tag of $1.2 million. However, the product was a limited edition consisting of 3 pieces only.
Black Diamond VIPN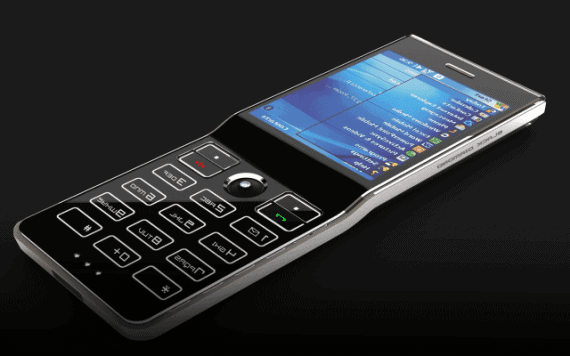 Black Diamond VIPN is another gem of a device designed by the Singaporean artist Jaren Goh. The name of the device can be justified by the fact that it contains two diamonds embed on it. One is fitted on the joystick, whereas the other diamond is on the back of the phone. Both the diamonds are supplied by Diamanthaus of Switzerland and considered to be larger than 2 karats. This Smartphone comes with a keypad and features a 2.1-inch touchscreen display. Black Diamond VIPN is powered by Windows Mobile 5 and only five of these devices were released at the time of its launch at the rate of $300,000 a piece.
Ulysse Nardin Chairman Diamond Edition
Once listed in the Guinnes Book of World Records as the world's costliest smartphone, Ulysse Nardin Chairman Diamond edition was priced at $129,000 at the time of its release. Studded with over 2000 hand cut diamonds all over its exteriors, this shiny device is the flagship Smartphone from the Swiss watchmaker Ulysse Nardin. Besides the diamonds, the device also features 18 karat white gold body in addition to a white ceramic trim. Despite all these precious metals, the most attracting factor of Ulysse Nardin Chairman Diamond edition is its design which reflects the design of a typical Swiss watch with a crown on the side, which possibly works towards generating supplement power to the battery.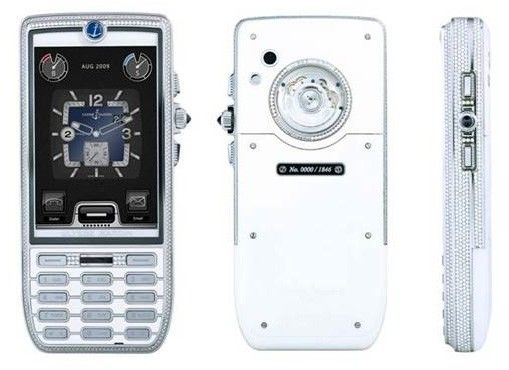 Besides the exteriors, the device also features a 3-2-inch touchscreen display and is powered by Google's Android operating system. Featuring a Qwerty keyboard, the device stands out from the current league full touchscreen Smartphones popular among the mass.
Dior Reveries Haute Couture
Dior Reveries Haute Couture is yet another luxury Smartphone powered by Android on the list. Just like most of the expensive and luxurious devices on the list, Dior Reveries Haute Couture is handcrafted with Pearls, white gold and diamonds. Assembled in the fashion hub of France, this luxury Smartphone handset will dig your pocket by $116,225. Other features of the Dior Reveries Haute Couture, apart from its luxury elements, include a full LCD touchscreen, 5 MP rear camera, and a powerful battery that offers 12-days standby power backup. The x-factor of Dior Reveries Haute Couture, however, must be the 46 pieces of pure natural mother of pearl embed into the device.
Savelli Champagne Diamonds
Next on the list is Savelli Smartphone range that is designed by Switzerland-based Alessandro Savelli. Most commonly, these Smartphones by Savelli are classified as the Queen's Smartphone and is specifically designed to attract women across the globe. Besides the diamonds and gold finishing, all the phones feature a curvy design with slender and sensuous S conceptualized by the 18th century English artist William Hogarth that adds to its feminine beauty.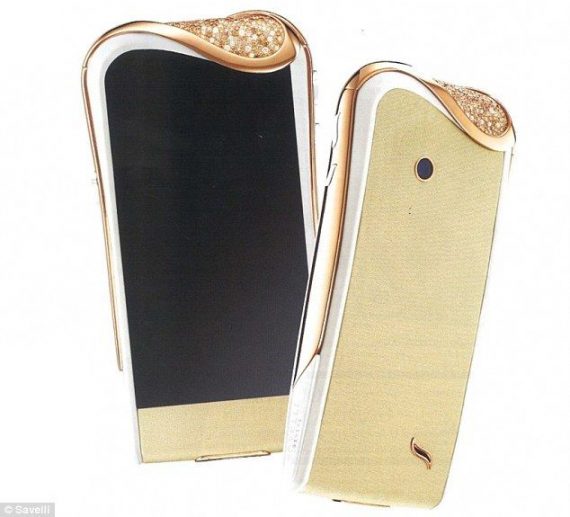 Touted as an elegant jewel for women, the Jardin collection by Alessandro Savelli features 11 luxurious Smartphone handsets classified into different groups such as Elegante, Precieuse, and Marveilleuse. Among these collections, Savelli Champagne Diamonds luxury Smartphone is the costliest of all. Priced at $57,000, the device features 395 diamonds that includes a casing crafted from 18-carat rose gold, while the screen is made of scratch-proof sapphire crystal. The entire collection of Savelli Smartphone devices is available at exclusive stores such as Harrods in UK.
Vertu Signature Touch Collection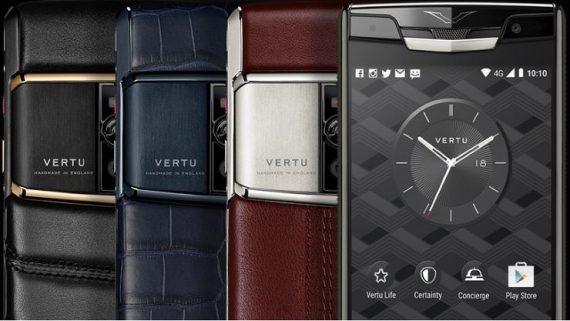 Popularly termed as bling, the Vertu Signature Collection is often seen as a simple flashy jewelry without any special features. This British luxury brand is widely popular mainly due to its limited edition handsets manufactured in collaboration with elite brands such as Ferrari, Bentley, Lapo Elkann, and Ermenegildo Zegna. However, the costliest device in their collection is not among these featured limited editions. After launching its first Smartphone Vertu Ti powered by Android Operating System in 2013, Vertu followed it with their flagship series titled Signature Touch. Signature Touch also happens to be Vertu's high-end collection ranging from a base model priced at $10,300 up to the most expensive Smartphone Pure Jet Gold priced at $21,900.
Mobiado Grand 350 Pioneer
Although last on our list, Mobiado Grand 350 Pioneer deserves a special mention as the device is designed in the honor of the Pioneer 10 probe, the first man-made object that passed the Asteroid belt in the Space. The device is also special as it is built using an outer space object, the Gibeon meteorite discovered in Namibia by J.E. Alexander, an English Captain in 1836. Yes, you read that right. The back cover of Mobiado Grand 350 Pioneer is created using a real meteorite that originated from the Jupiter's asteroid belt with a composition of 90% iron, 8% nickel, and few traces of cobalt and phosphorus.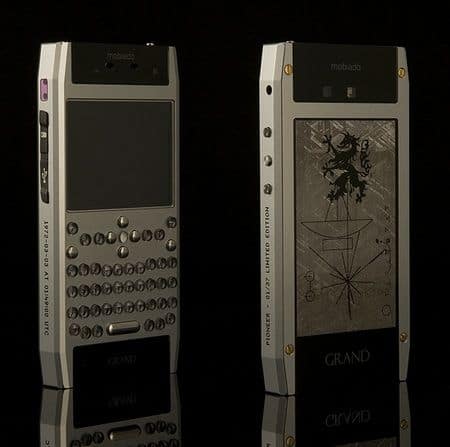 Being crafted from a meteorite, the Mobiado Grand 350 Pioneer was a limited edition device and only 37 pieces were manufactured each priced at $9,500.
Over To You!
Well, that completes our list of expensive smartphones. Looking at the prices of each and every expensive gadget mentioned on the list, it is no rocket science to believe that a common man can't afford any of these devices. Even a billionaire would hesitate to invest such an amount in a smartphone. Yet, it is also a fact that there are a few fashion enthusiasts out there who are willing to invest in such luxurious Smartphone brands.
This is the main reason why these exclusive range of expensive smartphones is often introduced in limited editions as none of these device manufacturers expect huge sales from them.