Why do you need backup and restore software for your business? We'll explain it here. Electronic gadgets are robust and reliable than ever before. Well-built devices can offer years long service but it is a fact that they cannot last forever. They can fail at any moment without a warning, and your computers are not an exception. If your new LED TV or home theater system fails, the loss is just financial, but if it is your computer, the consequences can be catastrophic. It takes away your most valuable data; it can be your business files, documents, family photos, videos or many similar important things. Safely Backing up the data is the only possible solution to survive such scenarios, and obviously, you need the best backup and recovery tools to do it properly.
Now a day, it is not difficult to find backup and restore software in the market, but choosing the right one is most important. In this context, you need to invest some extra effort to figure out the best backup and restore software for you. We present a review and comparison of best 10 backup and restore software to help you to recover any kind of lost data.
1. Acronis True Image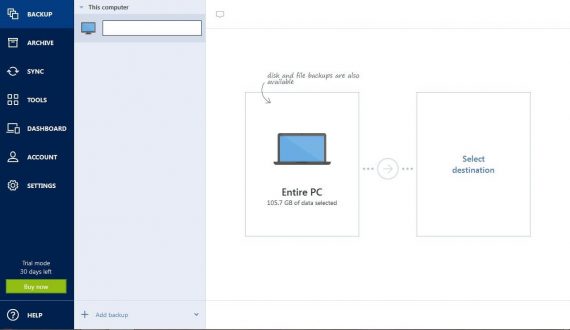 For more than a decade, Acronis is one of the prominent players in the data backup and recovery segment. Their flagship product, the Acronis TrueImage is the most user-friendly and feature-packed software available today. Now, Acronis hits the market with the latest version of this software, Acronis TrueImage, which includes powerful tools and features that offer you much more than just data protection. It offers you full system image backup to local or cloud storage, quick and easy recovery, data migration, disc cloning, rescue disc creation, and many other features. In addition to all these necessary features, the premium subscription entitles you to enjoy many unique features such as Acronis Notary, Acronis Active Protection and Acronis ASign. It can also take care of your social life, by protecting your data in social media. It is multi-platform compatible and can provide protection to Windows and Mac machines. With Acronis True Image, you can backup and restore the data on your iPhone and Android devices and manage them in a centralized control center. Acronis always offers good promotions and discounts also check some Acronis Coupon Codes to save extra!
Pros:
Sophisticated and highly reliable
Easy to use
Integrated cloud storage
All-in-one backup and restore solution
Multiple subscriptions offers to choose from
Unique features unavailable with competitors
Cons:
Sometimes confusing options to entry-level customers
2. Paragon Hard Disk Manager 15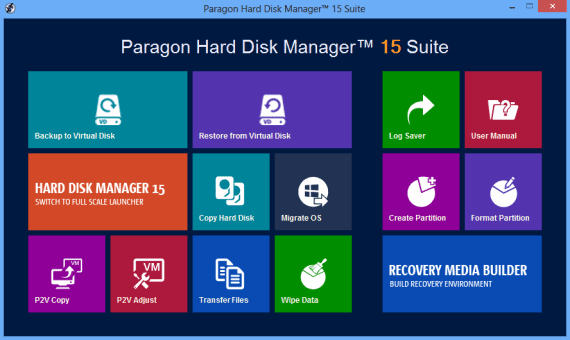 Paragon Hard Disc Manager 15 is another popular disc management solution developed by Paragon Software Group. It is well acclaimed for the abundant features and its disc backup and recovery capabilities.  It comes with everything you need for easy data management and professional system administration. With this software, you can back up the entire disc with operating system or individual partitions to multiple destinations including local mounted or unmounted partitions, optical discs, external storage devices, network shares as well as FTP/SFTPs servers. It also supports sector and file level backup to virtual containers.
The backups can be programmed to be differential, incremental or an exclusive file complement. The Smart Backup Wizard in Paragon Hard Disc Manager allows you to backup exactly what you want and automatically choose the technique as per the type of files being backed up. The other utilities include Split, merge and wipe partition Wizards, System migration, Backup and recovery from virtual disc wizard, Rescue media creator and WinPE bootable recovery environment. It comes with very simple and easy to use metro style user interface, making the wizards and tools easily accessible.
Pros:
Effective and reliable disc management features
A wide array of disc backup and recovery options
File-level backup to virtual containers
Faster migration to SSD, new HDD, and virtual machines
The simple graphical user interface
Reliable rescue media builder
Cons:
No integrated cloud support
3. EaseUS Todo Backup Home 9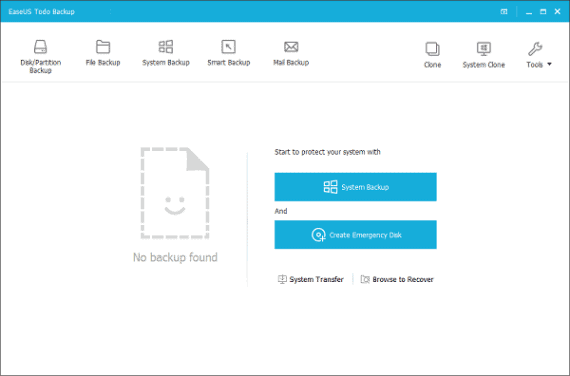 EasUS Todo is one of the most efficient and affordable backup and restore software available today. It is a perfect tool for making backups of your discs and partitions, and restore the data whenever required. It comes with additional utilities like data migration, drive and partition cloning, rescue media builder etc. When a disaster strikes, you can quickly and easily recover the operating system along with all installed applications and files to the original or new hardware using the PXE server or WinPE bootable rescue media.
It comes with a clean and simple interface, and you don't need to be a computer geek to use this software in full potential. It is also one of the fastest performers in the segment and utilizes block-level disc imaging technique to backup the disc or partitions. It supports full, incremental and differential backups, and you can schedule the backup schemes so that the backups can be made automatically. EasUS Todo Backup Home 9 allows a variety of mediums to store the backups, and it includes hard drive, external drives, network shared locations, DVDs, FTP servers etc.
Pros:
Clean and simple interface
Reliable performance
Email and Outlook backup
Comprehensive backup schemes
Pre-OS recovery environment
Affordable
Cons:
Not as fast as expected
No integrated cloud support
4. AOMEI Backupper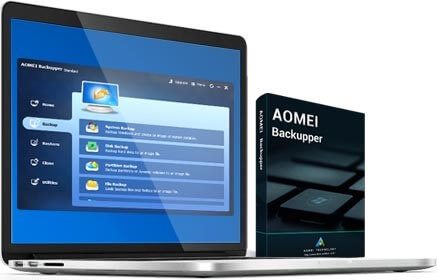 It is a powerful and well-designed backup and restore software developed by AOMEI Technologies. It is one of the best in the segment and ensures data protection without spending much time and money. It is perfect for the novice users and includes all essential tools for file and system backup. It is also less resource intensive and offers easy data protection and recovery for your computer.
The Backupper comes with great scheduling capabilities. You can customize the backups in full, differential or incremental and the software will perform it without any further attention. It also features real-time synchronization that can sync files and folders from the source with the target in real-time. It can be used to clone your hard disc to a new one or a solid-state drive when you upgrade your system. It is capable of creating WinPE or Linux bootable disc, and it will help you to recover your data even if your computer is unable to boot. It supports all editions of Windows from Windows XP to Windows 10.
Pros:
Easy to use
Complete backup and recovery tools
Easy bootable media creation
Seamless support to all Windows versions
Real-time file sync
Cons:
Limited number of features
No cloud integration
Supports only Windows machines
5. Macrium Reflect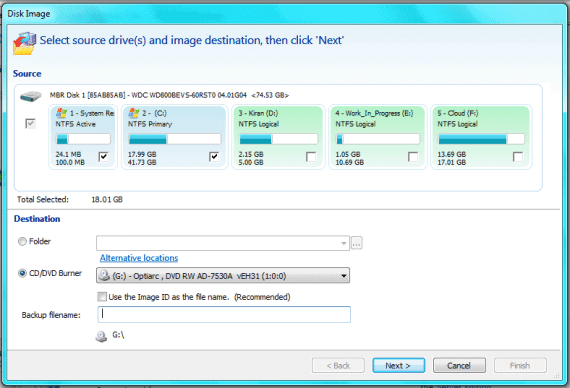 Macrium Reflect is another attractive and comprehensive data backup and restore software that features all key elements to provide complete protection to your data on your PC. The slightly complicated interface indicates that it is geared more towards advanced and intermediate users. Despite this slight setback, it is fast and reliable and can keep you safe from the hassles of data loss if a disaster strikes. It can create the image of your hard drive while you are working on your computer, thanks to the Microsoft Volume Shadow Copy Service support.
Macrium comes with many useful features such as super fast imaging, predefined backup plans and templates, file and folder backup, incremental cloning, item level recovery, backup file consolidation, SSD Trim, Macrium Deploy etc. It works in tandem with Windows versions from XP to Windows 10. It is moderately priced and even a free version is also available but at the expense of some advanced features.
Pros:
Excellent backup and restore speed
Complete set of backup and recovery tools
Powerful compression
Inbuilt backup scheduler
Minimal impact on system performance
Cons:
Complicated UI for beginners
Average data compression speed
No cloud storage
Supports only Windows machines
6. StorageCraft ShadowProtect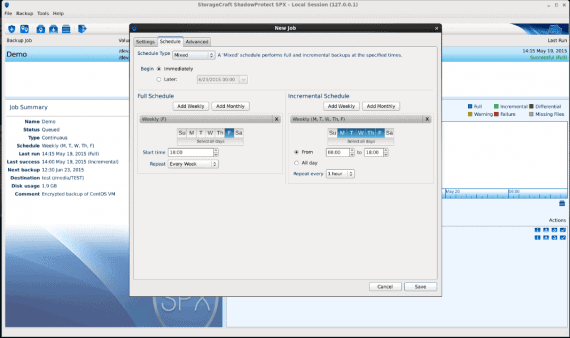 The ShadowProtect is one of the most advanced backup and recovery software. Despite the cluttered user interface, it boasts all essential and sophisticated backup and recovery tools that make it the favorite of IT professionals. It offers you top of the line protection and reliability, and with this software, you can manage data backup, disaster recovery, system migration etc. more efficiently. It supports system migration of Windows on both physical and virtual machines and it can be very useful if you often deal with virtual machines.
The StorageCraft ShadowProtect is available in many versions and the Desktop Edition is more appropriate to home users. Though its interface has some major learning curves, it will never let you down once you are familiar with it.  It offers a handful of customization options that let you set your backup regime and forget it, the ShadowProtect will do it for you without any interaction.
Pros:
Cutting edge tools and features
Excellent scheduling options
Image consolidation
Diagnosis and troubleshooting feature
Supports Windows 2000 to Windows 10
Cons:
Unimpressive user interface
No cloud storage support
Compatible with Windows machine only
7. Novastor Novabackup 18 for PC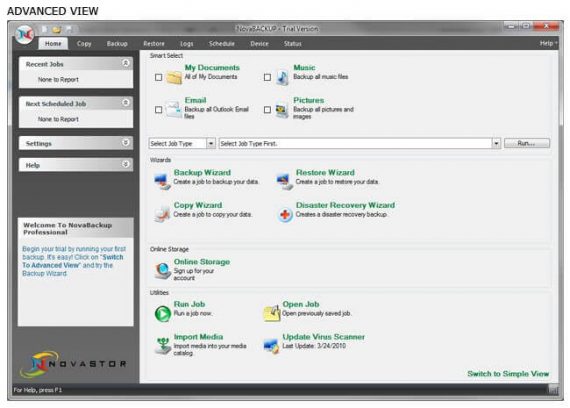 Novastor Novabackup 18 is not just another backup and restore software for Windows, but it is a unique combination of high-end protection and ease of use. It comes with a bunch of refined and highly robust tools that can relieve you from the hurdles of data backup and restoration. With Novabackup, you can choose either file level or image level backup and the file level allows you to just drag and drop individual files or folders to backup. The software automatically detects duplicates and ignores them to make the backup fast and more compact. Novabackup 18 is comparatively faster and the scheduling allows you to program backup intervals according to your wish. You can also choose different schemes such as incremental and differential between full backups.
Unlike many competitors, Novabackup 18 offers seamless cloud integration and allows you to store your backup in the cloud storages including Dropbox and Onedrive as well as in the local. It comes with an intuitive user interface with the light theme.  The tabbed screen layout makes it easy to navigate through the different options and tools.  In performance, it is not behind any other and the company's customer care is very impressive.
Pros:
Easy to use
Advanced Scheduling
Backup in the cloud
Better backup speed
Impressive customer support
Cons:
Lacks some virtualization features
8. NTI Backup Now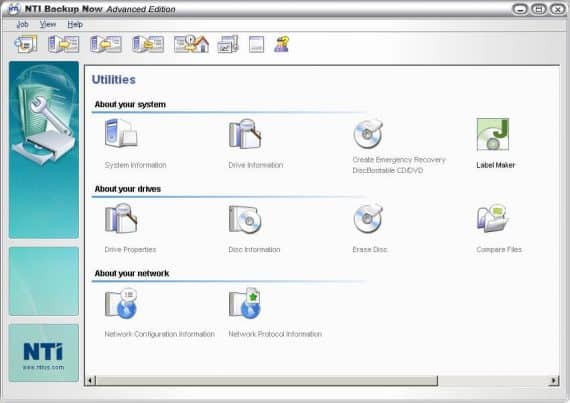 It is another backup software available in the market at an attractive price. Though it lacks many advanced features, it is apt for beginners. It is very simple and easy to use and makes the backup process really effortless. You can complete the process in three steps and it is very smooth and fast. Like other products, in this review, NTI Backup Now also offers options to choose backup schemes and flexible scheduling. The data compression quality is impressive and it allows you to verify each backup to ensure its integrity.
In addition to the common disc backup tools, NTI Backup Now offers you social media backup and automatic mobile device backup. You can save the backups in the destination of your choice and it can be cloud storage, external hard drive, solid-state drive, flash memory, NAS or network drive. It automatically analyzes the destination capacity and alerts you if sufficient space is not available to store the backup. It comes with 256 bit AES data encryption and compression, which ensures the privacy of your data in the backup.
Pros:
Friendly user interface
Social media backup
Mobile device backup
Support wide range of backup destinations including cloud
Secure data encryption
Cons:
Primitive features
No virus scanning
9. Genie Backup Manager Home 9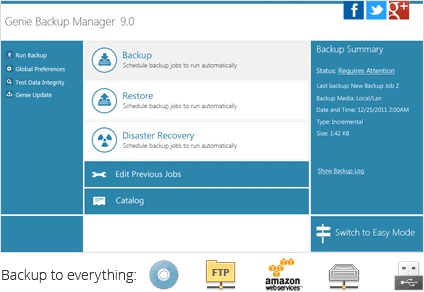 Genie Backup Manager is one of the top-rated data backup and restoration software.  It comes with an array of noble features that can impress even the advanced users. The interface fairly simple and comprises two modes, regular and easy, and it is very helpful to users with minimum experience. It can backup everything in your computer to virtually any media attached to your computer including internal or external drives, FTP/FTPS, CD, DVD, Blu-ray discs and network.
The backups are encrypted with military-grade encryption methods and password protected to ensure data security. In addition, Genie Backup incorporates multiple level data compression and backup purging methods to reduce the backup size to minimize the resources utilization. The Genie Backup Manager Home 9 boasts every necessary tool but in performance and speed, it falls far behind the top of the line solutions such as Acronis TrueImage.
Pros:
Friendly interface
Ability to backup individual files or the whole system
Creates backups as executable files
Resource friendly
Better data compression and encryption
Cons:
Middling performance
Rescue media can be built only on optical drives
10. O&O DiskImage 11 Professional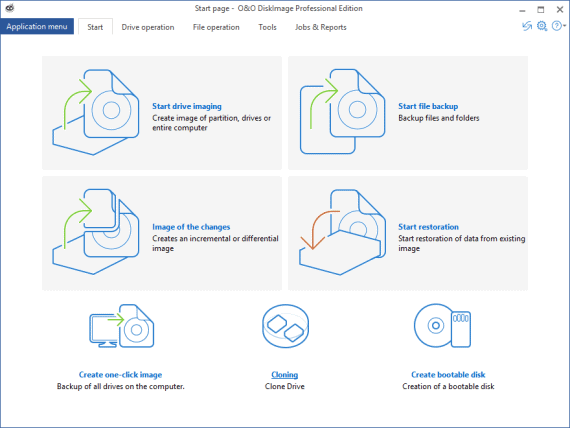 It is another data backup application developed by O& O Software. It is really a nice tool for both entry-level and expert users. It comes with a neat and well-organized user interface and highly customizable functions. All basic and advanced tools are available in this software, making it a comprehensive solution to ensure the data protection. The process of making backups and restoration is fairly straightforward, and you can choose multiple destinations to store the backups including the cloud servers. With O&O DiskImage 11 professional, the features such as multiple backup schemes, backup scheduling, creation of rescue media etc. are readily available at one's disposal. It is one of the strongest performers in its segment and requires less effort and resources to make the better use of it. It can be used in machines with Windows Vista, Windows 7,8 and 10.
Pros:
Clean and well-organized user interface
Comprehensive tools and options
Decent backup and restore performance
Direct creation of VHDs
Well made and customizable wizards
Cons:
Cannot restore OS partition with disc image within Windows
Lacks many advanced features offered by competitors
A comparison between the top 10 backup softwares
| | | | | | | | | | | |
| --- | --- | --- | --- | --- | --- | --- | --- | --- | --- | --- |
| | Acronis True Image | Paragon Hard Disk Manager 15 | EaseUS Todo Backup Home 9 | AOMEI Backupper | Macrium Reflect | StorageCraft ShadowProtect | Novastor Nova backup 18 for PC | NTI Backup Now | Genie Backup Manager Home 9 | O&O Disk Image 11 Professional |
| Full disc backup | YES | YES | YES | YES | YES | YES | YES | YES | YES | YES |
| File and folder backup | YES | YES | YES | YES | YES | YES | YES | YES | YES | YES |
| Multiple backup schemes | YES | YES | YES | YES | YES | YES | YES | YES | YES | YES |
| Backup to local discs and network | YES | YES | YES | YES | YES | YES | YES | YES | YES | YES |
| Backup to cloud | YES | NO | YES | NO | NO | NO | YES | YES | NO | YES |
| Integrated cloud | YES | NO | NO | NO | NO | NO | NO | NO | NO |   NO |
| Bootable media creation | YES | YES | YES | YES | YES | YES | YES | YES | YES | YES |
| Individual file and folder restore | YES | YES | YES | YES | YES | YES | YES | YES | YES | YES |
| Restoration to dissimilar hardware | YES | YES | YES | YES | YES | YES | YES | YES | YES | YES |
| Virtual machine support | YES | YES | YES | YES | YES | YES | YES | YES | YES | YES |
| Data encryption and compression | NO | YES | YES | YES | YES | YES | YES | YES | YES | YES |
| Pre-OS recovery environment | YES | YES | YES | YES | YES | YES | YES | YES | YES | YES |
| Files notarization | YES | NO | NO | NO | NO | NO | NO | NO | NO | NO |
| New generation features | YES | NO | NO | NO | NO | NO | NO | NO | NO | NO |
| Social Media protection | YES | NO | NO | NO | NO | NO | NO | YES | NO | NO |
The verdict about best backup and restore software
In this world, where the data protection is of utmost importance, a reliable and highly functional data backup and restore software is quite necessary for everyone. There are hundreds of such software available today, but all of them are not similar. Each one has its own merits and demerits, and selection highly depends on your requirements and budget.
However, in the comparison of the top 10 backup and restore software, we can see that Acronis TrueImage is clearly ahead of the rivals when it comes to ease of use, performance, reliability, and functionality. It comes with integrated Acronis Cloud and offers free storage space to save your backups. In addition, the multiple new generations features such as Acronis Active Protection, Acronis ASign, Acronis Notary etc are not available with any other applications. Considering all these parameters, we can conclude that the Acronis TrueImage is the real winner in the race and offers true value for your investment.