Yesterday on 10th July 2020 some of the popular apps Pinterest, PUNG Mobile, Spotify, Tinder, and several other apps were crashing for iOS users. iOS users took social media platforms to raise the issue-reporting about the app crash when loaded on the iPhone or iPad. According to Facebook, the issue was in its software development kit (SDK) and has now been resolved.
Few iOS users reported this on twitter that few apps on their iPhone were crashing. The outrage was also seen for these apps on DownDetector. According to the website, the issue started popping up around 4 PM IST. However, for Android users everything was fine.
According to the reports, the apps were crashing because of a Facebook SDK issue. Most of these apps use Facebook accounts to login to the application, and as the issue was in Facebook's SDK, iOS users were not able to use those apps that required Facebook login.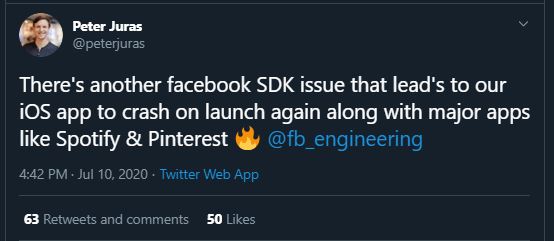 PMWL Postponed!
PUBG mobile was most affected due to the SDK issue. The owner of PUBG Mobile, Tencent is organizing the PUBG Mobile World League. Initially, the PMWL time and date were scheduled to be July 10 from 5:30 PM. But, due to the app crash issue, ESports players were unable to login to the game, and PubG Mobile castle rescheduled the event until tomorrow.
To let you know, Tencent is organizing the first inaugural world league event. It's a massive event where PUBG Mobile teams around the world will head face to face. The event has prize money ranging from $7,000 to $100,000 for the top teams.
In a statement PubG Mobile said,
We are aware of the current login problem iOS users are encountering with PUBG MOBILE currently and we have been informed that this issue is affecting multiple apps and games on iOS and we are actively working with related platforms and supporting to solve the problem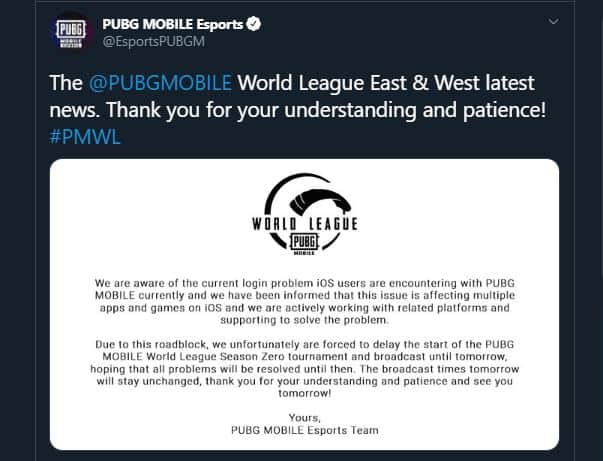 Now, Facebook has confirmed on its developer platform that the issue has been fixed. And iOS users can use the apps using Facebook login without any issue. The company said a code change triggered crashes for some iOS apps.
Facebook said,
We are aware and investigating an increase in errors on the iOS SDK which is causing some apps to crash.
To recall you, this is not the first time, when an issue occurred in the Facebook SDK. Earlier in May, the same thing happened when several users reported similar issues and found the problem was with Facebook's SDK. At that time, Facebook disabled a server configuration, which forced its SDK to crash the apps.