Aww, Snap! I can't get hold of Facebook, am not able to log in, not able to update my status with selfies. How disgusting! Seems my Facebook account was disabled.
These might be your inner feeling once you agree to the fact your Facebook account is disabled. We can understand your problem and how uncomfortable it is. We have received a lot of messages and emails requesting to guide them to enable the disabled Facebook account. Maybe something has happened to your Facebook account probably your account has been disabled.
Don't worry, your tech expert Geek Dashboard is here with a guide on reactivating your disabled Facebook account and will guide you through this whole havoc. So go through this walkthrough and get your Facebook account reactivated fast until things get worse.
Is your Facebook account disabled? – Analyze the possible scenarios first
You must try to understand why your Facebook account was disabled. There are many reasons ranging from abusive behavior/usage of swear words to using a fake name. Below are mentioned the causes your Facebook account may be disabled. After understanding these rules, you may proceed to
Below are mentioned the causes your Facebook account may be disabled. After understanding these rules, you may proceed to send the Facebook account disabled appeal.
Continued abusive behavior and usage after attaining several warnings from Facebook and other organizations.
Your posts have been marked spam and reported to Facebook
Usage of a fake name to represent yourself.
Hacking others' accounts and sending unsuitable messages to others including forced advertising, harassment, stalking, and NSFW media. As this is a policy violation, your Facebook account is disabled for security reasons.
Unsuitable and harsh behavior or posting of comments on Facebook pages and groups.
You must have yourself disabled or deactivated the account.
Maybe your Facebook account was disabled by mistake.
The above reasons elucidate you being disabled. To avoid this in the future, you must give a glance through these guidelines. But don't worry your Facebook account can be recovered and reactivated if you are lucky. Just follow the steps given below.
Types Of Disabled Facebook Accounts
Well, the steps you take to reactive Facebook account greatly depend on the type of disablement that has been applied to your account. Your account may be disabled either temporarily or permanently.
Temporarily Disabled Facebook Account
If your account is 'Temporarily Disabled', Facebook will display this message when you try to log in as described in the screenshot below.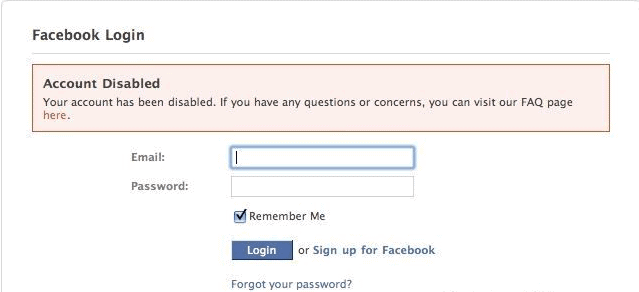 Permanently Disabled Facebook Account
If your Facebook account is permanently disabled that you won't be able to access this account in the future and anyone like your friends and acquaintances will not be able to see your account. If the Facebook account is permanently disabled you'll see the following message as elucidated in the screenshot below.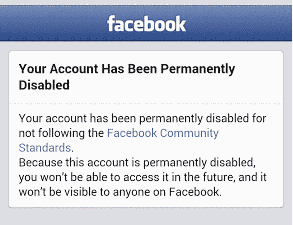 Reactivating the Account Which was Disabled Yourself
You might say to yourself, how can I be so silly that I disable my account myself, but we all are humans and it can be done by mistake. So this mistake doesn't turn out to be a blunder, follow the steps given below to reactive the Facebook account if you disabled yourself.
Step 1: Visit Facebook and you need to log in with the same credentials i.e., username and password you used to login with previously

Step 2: And tap 'Login'
Step 3: Now your account is reactivated automatically and so should you get acquainted with the latest terms and conditions so that you are updated with all the rules. You can check your privacy setting by using the 'privacy guide' and get ready to face the new Facebook.
Appeal to Enable Account Disabled By Facebook Team
As I explained the reasons above, that may have been the cause of why your Facebook account was disabled. If you think that your Facebook account is disabled by mistake or due to security reasons, you may want to submit an appeal to enable the disabled Facebook account.
Note: You can confirm that your account was disabled by Facebook, when you log into your account, you'll see a disabling message. If the message doesn't appear there's something with your login.
Step 1: Open Facebook account disabled appeal form.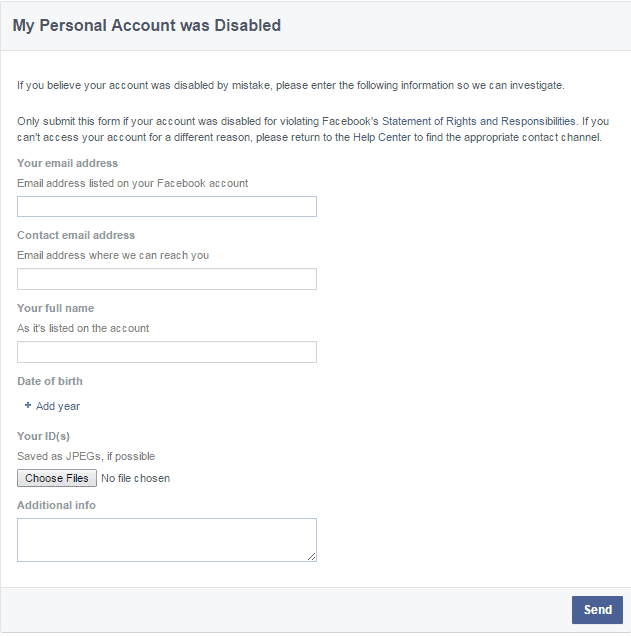 Step 2: Fill out the following details:
The Email address of your Facebook account.
Alternate contact email address where the Facebook team can reach you.
Your full name.
Date of birth.
If you have any government-issued IDs like the Aadhaar card (only for India), PAN card, driver's license, Passport, etc submit them in JPEG format. You can do this either by scanning or taking a photograph from mobile. This helps Facebook to identify your identity and 60% more chances for your account to get reactivated quickly.

Write additional information under "additional info" (request them politely) and after confirming all the fields in the form, click on the 'Send' button.
Update (August 14, 2021): If your Facebook account is disabled due to your age (less than 18 years) or if you are not getting any replies even after submitting the above form, you can try appealing again from a different form. Make sure you provide proper information to prove your eligibility and type the correct email address or mobile number associated with your account.
Update (August 09, 2021): It sounds weird, but people are literally buying Oculus VR headsets to reactivate their Facebook account. If you don't know, Facebook has bought Oculus long back, and to use your Oculus VR headset, you must have a Facebook account. After buying the VR headset, people are reaching out to Oculus support saying they had problems setting up the Facebook account. Surprisingly Oculus support is able to reactive their Facebook accounts. You can give this trick a try.
Update (October 04, 2019): Facebook has removed the "Additional Info" field in the appeal form. Now you can just mention your details and unfortunately, no other fields are available to explain the problem.
Update (June 19, 2019): If you feel, you have done something against Facebook policies, like using auto liker scripts, spamming Facebook with your blog links, sharing promotional offers, cryptocurrency ads, etc. Explain it in detail at "additional info" and request politely it was your mistake and is not intentional. Assure them you'll not repeat your mistake again. Accepting your mistake might convince the team and they might enable the disabled Facebook account
COVID-19 Update
You already know, the COVID-19 pandemic has impacted every business all over the world and Facebook is not an exception. Due to local restrictions, the safety of employees, and to main social distance, more than 75% of people are currently working from home. This has impacted the manual review process a lot. Currently, Facebook has very limited resources to review your appeals and it is taking very long to get a response.
In a few countries, Facebook has completely stopped reviewing the appeals and showing the message "We have fewer people available to review information due to the coronavirus (COVID-19) pandemic. This means we may be unable to review your account. We apologize for any inconvenience".
Unfortunately, we don't have another choice than to wait. No one knows when this pandemic stops and hopefully Facebook brings in more people to review the appeals quickly.
Frequently Asked Questions
Why was Facebook account disabled without reason.
You might have done something wrong and in 99% of cases, Facebook will never disable an account without any proper reasons. If you really feel, it is a mistake and it is your only personal account, then you should immediately appeal for reactivation.
How long it would take to get a reply after submitting the appeal?
It would normally take 5-20 days to expect a reply. Don't submit the appeals repeatedly. Keep your patience.
It is more than a month and didn't receive any response to my appeal.
A lot of people still face this problem. Make sure you check your spam folder as well. You might have received a reply but filtered it as spam.
Can I submit an appeal again?
If you didn't get any reply even after 30 days, then you can submit one more appeal. Remember to be polite. Don't show your frustration.
Bottom Line
We have seen that enabling the disabled Facebook account isn't that hard if you follow the steps. So guys, have you been able to reactivate your Facebook account? Have you followed the tutorial successfully? Have you received any response you received from Facebook? We hope you will never say my Facebook account disabled again. Let me know your views in the comments below.