WINNER WINNER CHICKEN DINNER! Yes, winning your chicken dinner is not as hard as you think when you follow simple PUBG tricks and strategies. We're here to help you with PUBG mobile advanced tips and tricks to get the chicken dinner easily.
Player Unknown's Battleground Mobile is the hottest game on the Play Store right now. With over a 100 million downloads on just Android, PUBG Mobile has taken the world by storm. The game works almost exactly like it's original counterpart on PC. Developed and published for mobile by Tencent Games, the game hurls you into a battleground with 100 other players. You need to fight in order to survive and be the last person standing.
The fast pace, incredible action, online multiplayer and the smooth gameplay such as never seen before on mobile devices has made PUBG Mobile one of the best games on the play store for your device.
We will talk about some of the best PUBG strategies, PUBG tips, and PUBG tricks that you can use to be the last man standing and impress your friends with your amazing skills!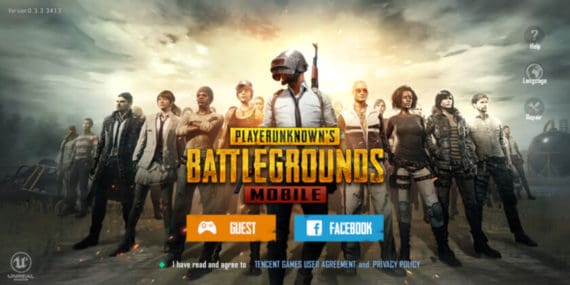 Best PUBG strategies that will help you get the Chicken Dinner easily
1. Train and Practice first
The first thing that you could do is use PUBG Mobile training grounds. Go to select mode and on the bottom of the screen, you'll see 'Training'. Use training to find out about all the different types of guns present in the game. Test them out in the shooting grounds where you can shoot moving targets. Practice aiming, using your scope, driving etc. The training ground is a must for new players who want to get a gist of the game before jumping straight into action.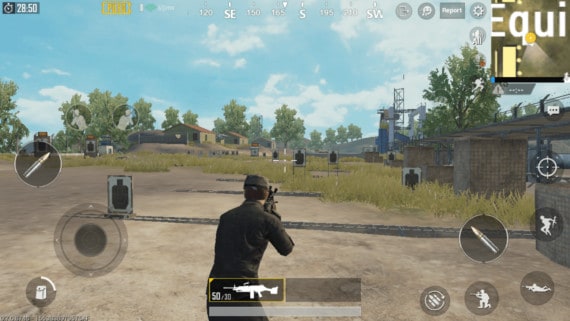 2. Land in less crowded place
Always try and land in a less crowded place. Avoid infamous sites like the School or Pochinki, where you know there will be a lot of players. Instead of finding yourself in the middle of gunfire and dying before even getting started, go for a more secluded place. Somewhere that has a few buildings enough for you and your team. Also as soon as you land, focus on looting first and then looking around. Focus on getting a gun in your hand as soon as possible.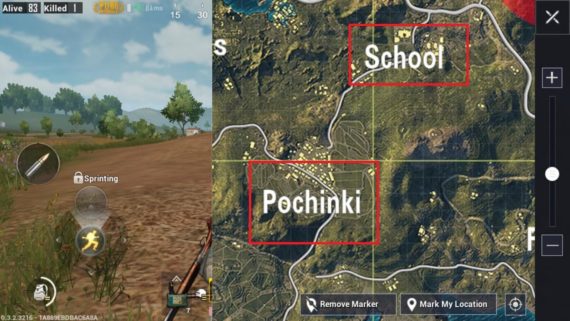 3. Watch the Map
The map at the top right corner is a very useful feature in PUBG Mobile. The map not only tells you your current position and the surrounding areas, but it also gives you visual cues. If someone is shooting at you within range, then the map will tell you where the shooter is with a red sound icon in his or her direction. It will even tell you if an enemy vehicle is around with the steering wheel icon. This can be quite useful if you are playing the game without sound or without using proper headphones, which you really shouldn't.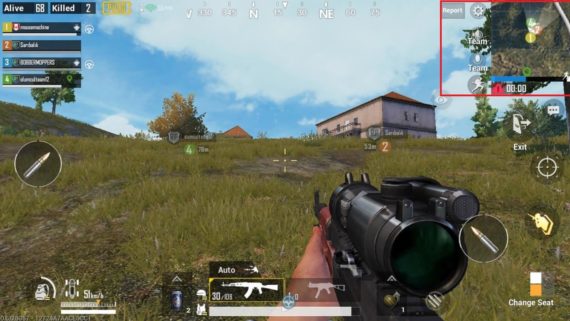 4. Peek and Fire
I cannot stress enough importance on peek and fire. If you have this setting disabled, enable it now by going to Settings > Basic > Enable Peek & Fire. This is one of the best PUBG mobile tricks. Peeking and fire help you to shoot other players from behind a tree or the edge of a wall without revealing your whole body and make yourself an easy target for other players. Peek and fire will help you in many situations. Go and enable it now.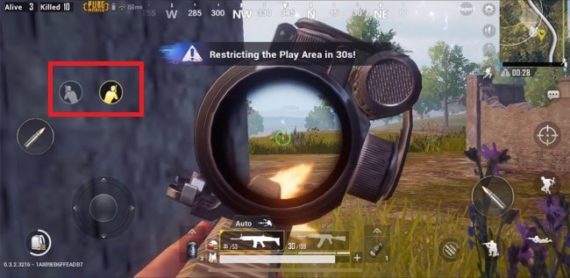 5. Pick Up Settings
In order to save time and increase efficiency you should enable Auto Pick-Up by going in Settings > Pick-Up > Enable Auto Pick-Up. By using this PUBG trick, items on the ground will automatically pick based on the rules given on the same screen. Auto Pick-Up will really help you in situations where you are on a  time crunch.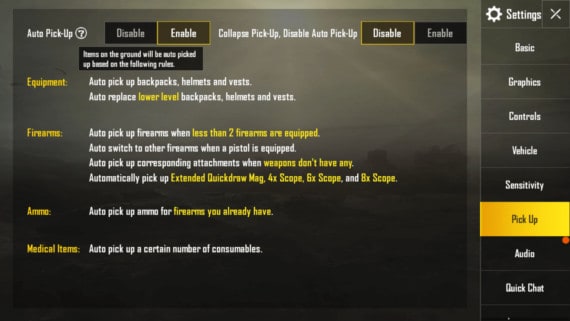 6. Aim Sensitivity and Gyroscope
Aim sensitivity is really important and will affect your aiming quite considerably. You can tweak your Sensitivity settings by going to Settings>  Sensitivity. This is one of the most complex and advanced PUBG advanced tricks. You can even mess around with the Gyroscope setting. The gyroscope will allow you to aim without touching and by using your phone's orientation. It will help you do other stuff with the finger you would've used to aim and might come in handy
Also Read: 10 Best MMORPG's of All Time You Should Be Playing Right Now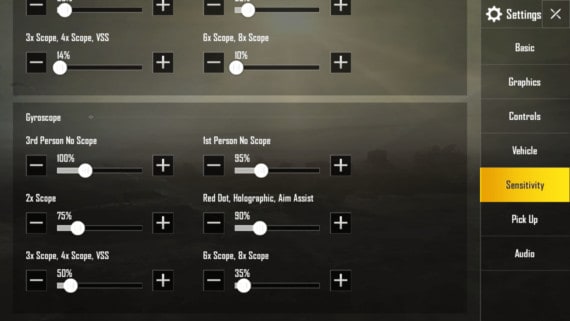 7. Change Control Layout
Not happy with the control scheme? Want the shoot button on the left or anywhere else on the screen. Is the sprint button too small for you? Don't worry. Just head up to Settings > Controls > Customize and tweak around with the position as well as the size of all the different UI buttons until you are comfortable with the layout you want. This is one of the most important of PUBG tips that you should follow.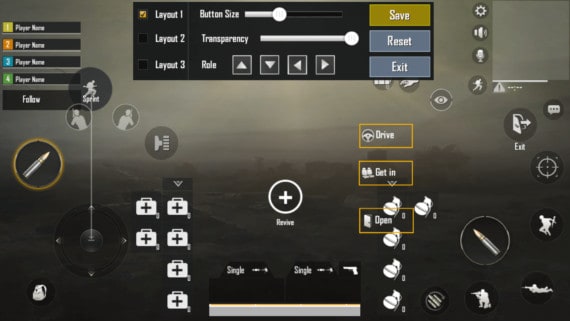 8. Footsteps and Sound
Always be on the lookout for footsteps around you and other audio clues that will help you detect other players. If you don't have a proper audio device, use the visual cues on the map. Adjust Audio settings and increase the SFX sound and lower the music sound in order to better hear the in-game shooting and footsteps. You should also remove any footwear as your feet will make less sound when barefoot, than when you are wearing shoes. Crouch or go prone in order to make even lesser sound and not alert nearby enemies. You should also use silencers whenever possible.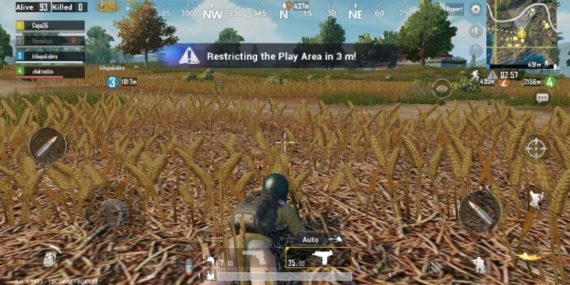 9. Empty your Backpack
Remember to check your backpack for things you might be carrying that you do not need. Sometimes you might have ammo for guns you don't even use or footsteps for weapons that you don't even have. Your Backpack is quite important as it will hold the most important things that you need in the game. And the more space it has for useful things, the more your chances of winning.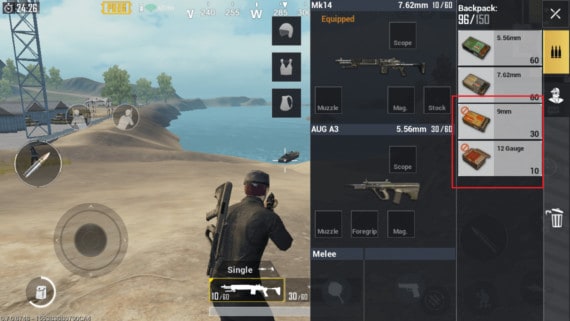 10. Use Proper Gear
By proper gear, I don't mean weapons or extensions that you will find in PUBG Mobile. I'm talking about your real-life gears. Make sure that your phone meets the minimum requirements and is playing the game at a suitable framerate and the experience is smooth. Also always try and wear good headphones as the audio in the game is quite important. Play the game in a quiet location where you are not disturbed time and again as the game will require your constant attention. If you are playing using WiFi you can even turn on airplane mode and then play so as not to be interrupted by calls.
Also Read: 75 Funny WiFi names with random WiFi name generator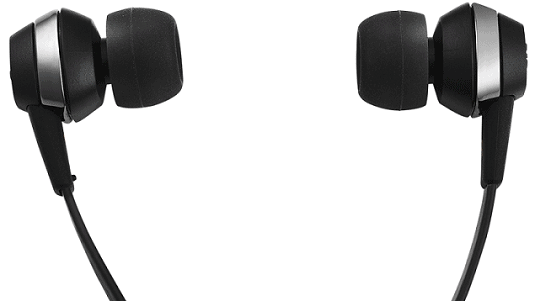 Bonus Tip: Use the Pan
The infamous PUBG pan has also made its way to the mobile version. One of the weirdest PUBG tips, this strategy will come in quite handy. The pan may look like just a prop, but it is very useful. Equip the pan and you'll be bulletproof in that area. The pan will actually deflect bullets for you and give you some protection. The pan will also come in handy for melee combat and hits harder than anything in the game.
So the next time you see a pan equip it ASAP!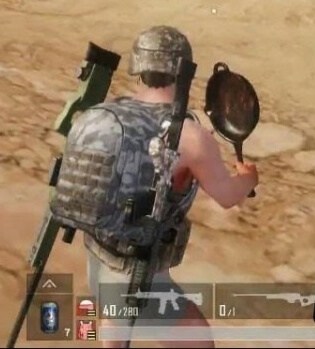 And this is how you can come out as the last man standing. Follow these PUBG tips and our own guide for PUBG mobile. Always be aware of your surroundings and most importantly, practice. Play the game with your friends or go in alone and get that delicious Chicken Dinner. Comment below if PUBG strategies provided helped you in any way and if you have PUBG tips of your own, we would like to hear them out.