Netflix India is testing a new plan for the users in the country for low pricing. During the Lockdown period, many movie-buffs and series watchers have opted for OTT services such as Prime Video, Disney+ Hotstar, and Netflix. Even before 2020, Jio has revolutionized the way data used by consumers in India by introducing low-cost data plans. This act by Jio provoked other providers as well for bringing competitive data plans in India.
In 2019, Netflix has announced an Rs. 199 plan for Indian audiences. This lead to users watching their favorite shows and movies on their mobile devices at Standard quality. This plan has been one of the most affordable Netflix plans around the globe, exclusively brought out for India. And now users can enjoy HD quality for Rs. 100 extra paid with the plan called Mobile+ plan.
Netflix India New Mobile+ Plan Details
The Netflix Mobile+ Plan starts at Rs. 299 and offers users to watch content at HD quality. They can only use one device at a time. Besides, this can be either a mobile, PC, or tablet for streaming their content. Only selected customers around the country are enrolled on the plan. Netflix India is awaiting positive feedback. If the new Mobile+ Plan gets a positive reception among the few enrolled users, the streaming service will roll out the plan widely.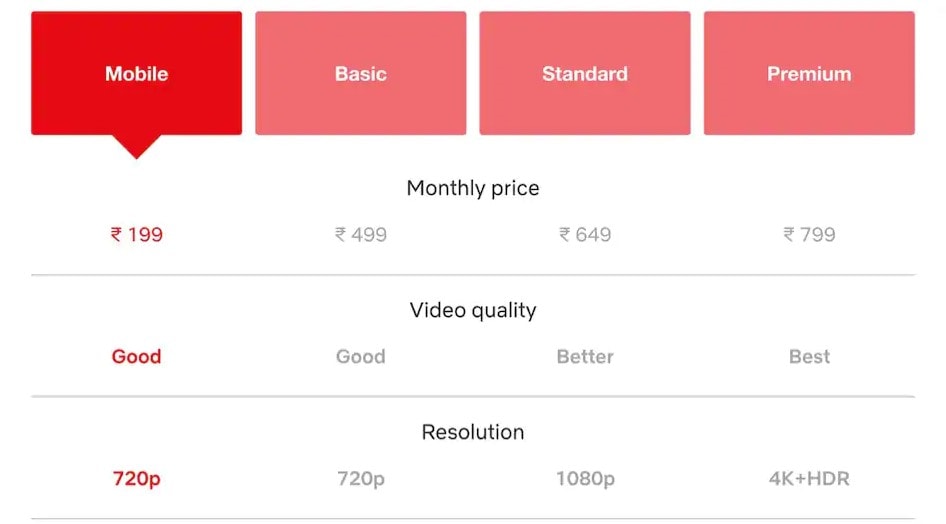 The other streaming contenders among Netflix such as Disney+ Hotstar and Amazon Prime Video have a similar price range of plans. The Disney+ Hotstar has an Rs. 299 VIP plan that has access to Sports and content from different channels. Even, Amazon Prime Video has availed new plans to the users starting at Rs. 129/month for the mobile version of Prime Video.
A Netflix spokesperson said,
We launched the mobile plan in India to make it easier for anyone with a smartphone to enjoy Netflix. We want to see if members like the added choice Mobile+ brings. We'll only roll it out long-term if they do.
For Instance, Netflix India has made plans and was testing an Rs. 345 plan last year. Therefore, this year they have raised the curtain and brought in the new Mobile+ Plan for Rs. 299 in India. Moreover, this plan will let a user watch the content in HD quality limiting it to one screen.
Unlike, the standard plan which was allowed up to 5 screens per user. Netflix is pushing these new plans for India as the viewership is more and increasing compared to other countries.