Yesterday (on 28 April 2017), we reported about Samsung coming up with their In-Traffic Reply app to reduce road accidents from distracted driving. Their app hasn't been launched yet.
Vodafone, on the other hand, launched their Road Safe application in partnership with SaveLife Foundation that holds the same aim as that of Samsung's app.
Vodafone Collaborates with SaveLife Foundation for Road Safe App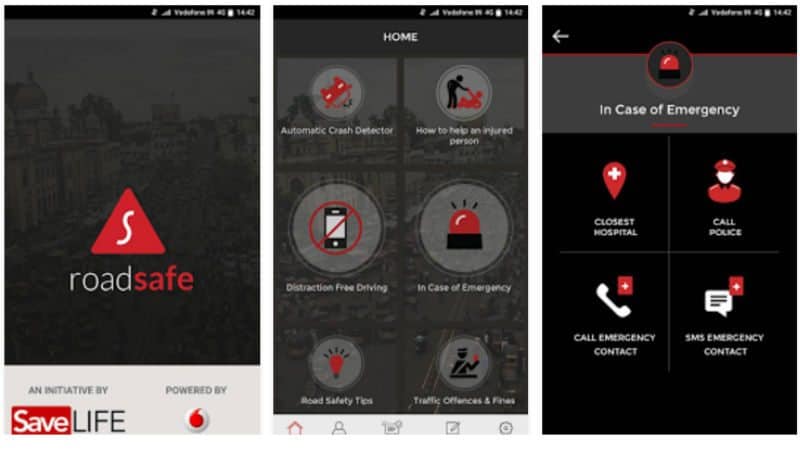 Vodafone's app in partnership with SaveLife Foundation brings in many useful features and enables the drivers to easily manage emergency situations.
'Distraction Free Driving' is the significant feature on the Road Safe app. Once you turn it on, you will never get disturbed by messages, calls, or even push notifications and never feel a need to pick the phone during the drive.
You may wonder how the app knows when you are driving. The application uses the sensors on your phone to check whether the speed you are travelling at is over 10 km/hour or not. The Distraction Free Driving feature gets activated when the speed is found to cross the limit.
Another important feature Road Safe app is 'Automatic Crash Detector'. As the name suggests, it detects vehicle crashes using phone's accelerometer to identify the sudden drop in the speed. Unless an accident happens, the sudden speed drops seldom occurs. When the app finds a sudden speed drop, it will activate the voice enabled emergency assistance. Moreover, you can also use the one-touch dial service. Road Safe app allows you to pre-set emergency contacts for quicker texting or calling as well.
Download on Google Play
You can download the app for free from Google Play Store. Once the installation finishes, a registration is required for you to step further. And, you see all the features mentioned on the homepage of the app after the registration. Along with the two features mentioned earlier, the app gives you road safety tips too. The traffic offences and fine section give you an overview of the money you may lose if you disobey a traffic rule.
Also Read: 5 Can't Miss Smartphone Apps Primarily for Kid's Protection
Vodafone-SaveLife Road Safe app also features a section where you can report the harassment you face from an officer or an individual. Although the default language of the application is English, you can switch it over to Hindi.
Vodafone revealed study results with the app. According to them, about 96% of passengers took part in the study feel unsafe when their driver uses the phone during the drive. The interesting fact is about 20% of the participants have a near-miss situation on the road due to using phones.