You know it is dangerous to attend a call or reply to a text while you drive. Still, you do it every time a message or call comes. What if your phone doesn't allow you to do that during the drive? Of course, you will stop the vehicle if it is urgent.
Brace yourself! Samsung's Dutch subsidiary has developed an app named In-Traffic Reply to avoid accidents from distracted driving.
Samsung to Launch an App that Avoids Accidents from Distracted Driving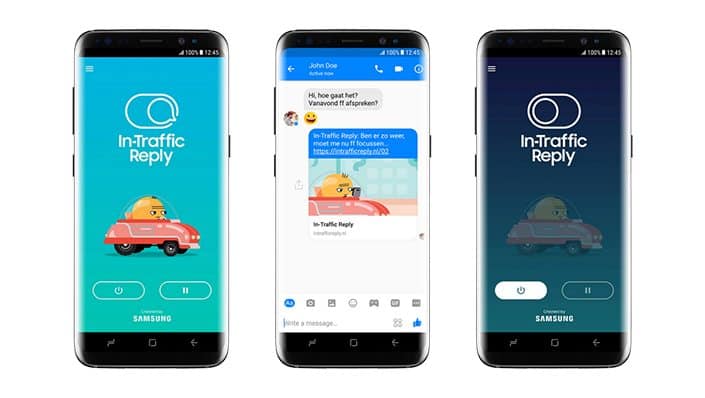 We have already shared the news about Samsung's Secure Folder app earlier. The new app, In-Traffic Reply focuses on preventing drivers from using their phones for texting and calling on the road.
You don't have to do anything prior to getting into your car to activate the app. Just install the app and it will get activated by itself as you drive or ride. Apparently, In-Traffic Reply takes the help of sensors like GPS.
Once a call or message comes, the app will send the person on the other end some automated messages like 'I'm driving at the moment and can't reply'. Moreover, you can add custom messages if you want.
Not only does it work for calls and messages, but you will see the texts you receive on the social messaging apps (Messenger, WhatsApp, etc.) while you drive also get replied. In short, you don't have to worry about taking a phone call or replying to a message. All you should care about is driving safely along the road. The people on the other end will know what you are up to.
Along with custom or premade messages, you can send animated texts too. And, Samsung may come up with some other interesting features as it goes live.
If you don't want automated replies for calls and messages, you can turn them off. You might have heard or seen the S Bike Mode on some Samsung phones in India. The app works somewhat similar to that.
Right now, the app is running on beta in Netherlands. Samsung, in a news post, revealed that the stable version will go live on Play Store by mid-May.
As they kept their silence about the availability of the iOS variant, we didn't get any details about that. They may launch one once they get customer feedbacks after the Android version release.
Even if you don't get a chance to install the app on your smartphone, we request you not to use the smartphone while you ride or drive.