Want to talk, let's Skype; want to see the photos, look at your WhatsApp! Let me welcome you to a new world of communication that is setting new norms in our lives. You can even call this norm 'Technological Communication'. Though this communication has reduced the gaps, but as it has no defined limitations, it is putting people's security at stake, especially of kids. The smartphone is hovering up the market share, lots of apps a being launched on a daily basis, frequent texting is getting more common and above all, talking on phones is more prevalent than face to face communication.
With this revolution of technology, parents are getting more concerned about the security of the kids. You might be unaware of this, but chat rooms, emails, instant messaging and social networking can put kids at potential risk of coming across anonymous predators.
Don't be worried, because every problem has a way out. According to a research firm, it has been estimated that more than 70 million people will use programs like track family members by 2016 in North America and Europe. It is of course a good notion that parents are becoming aware and understanding that this way out is fair enough. Even if parents have to make a slight investment, they won't overlook it! So today I am going to tell you about the best smartphone apps that can optimize the security of your kids by becoming your monitoring companion. Let's have a look at what are they!
Life360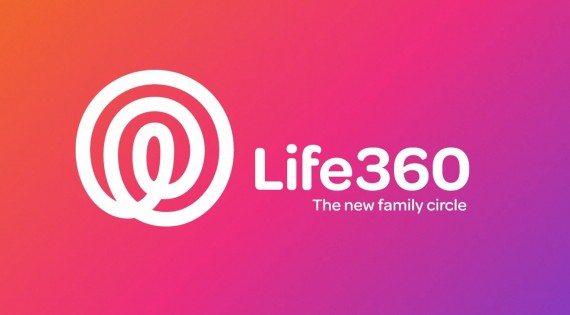 Life360 app is ideal for the entire family. If you have installed this app, it can tell the rest of the family members when you have left and reached at a particular place. It works with Android and iOS. It also offers features of conference calls and group messaging; if one is busy, others can be informed in case of emergency. Moreover, it also calculates time for you and tells you how long it would take from one place to another. Keeping average GPS tracker at one side, it has a lot more services to offer. So, if you want to know the location of your kid and want to be in contact with them, install it on your smartphone and on your kid's smartphone.
StealthGenie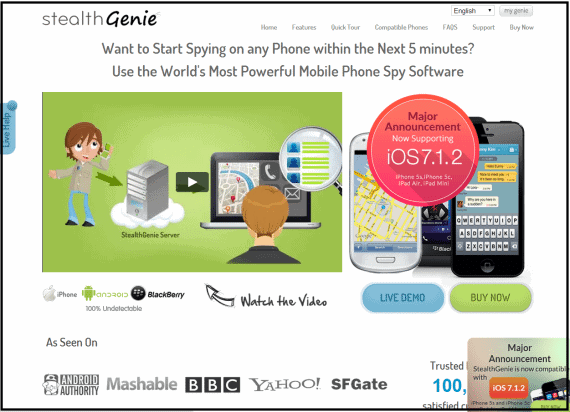 StealthGenie provides the ultimate mobile monitoring solution together with exclusive tracking features. It is compatible with Android, iPhone and Blackberry. It offers long list of monitoring features. The good news is that it works in stealth mode, means your kids are not going to know that they are being monitored. You can even install it on your employees' mobile phones to track their office activities. With StealthGenie installed, you can look at
Call logs
Chats of instant messengers e-g WhatsApp, Viber, Skype
Incoming/outgoing emails
Photos and videos
Calendar activities
Browsing history
Call recordings
You can even put specific numbers on recordings.  Later on you can download the calls and listen to them. As far as tracking features are concerned, you can look at the exact location of the phone on the map in real time. In case you want to look at the history, you can do that using location history feature. Geo-Fencing is another exclusive feature that allows you to create fences. If your kid or employee leaves or enters that fence, you will be notified via email or SMS. In case you mobile is lost or stolen you can also lock your phone and wipe out the phone data by sending remote commands.
Find My Kids- Footprints
Footprints app is an app for iPhone and compatible with iOS versions 4.3 or above. It works as a GPS tracker that can tell you the exact location of your kids or even your employees if you want to. You can keep the history about where your child has been through. Now you don't need to look at the location of your kid every two hours. The history option can sort out that problem for you. It can also put up Geo-fences that will notify you if your kids will cross these fences.
SMS Tracker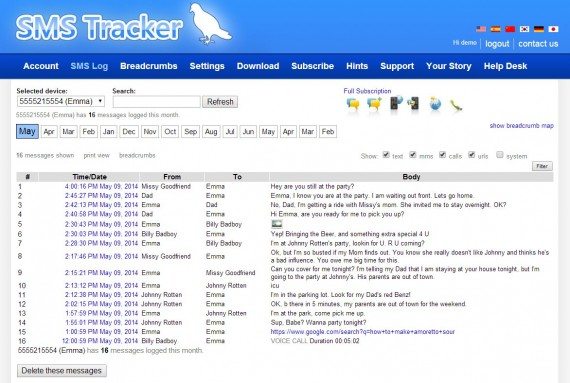 The SMS tracker app provides ultimate solution to track the location and monitoring of Android phones. Once you will install this app in the Android, you would be able to look at all the incoming and outgoing SMS messages including multimedia messages of your target Android phone. Furthermore, you can also look at the browsing history, GPS location and call logs. You can have access to all the information on the web browser. Even if you are out of home, you can look at their smartphone activities remotely.
AT&T Family Map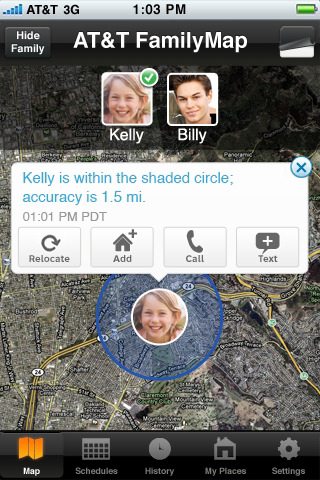 AT&T Family Map lets you locate your family members. You can look at their location on a map either from your mobile phone or even PC. If you want to be notified, you can do that too. For example, if you want to verify that your kid has reached school safely, just set up a schedule check. Once you are done, you will automatically get alerts via SMS or email about the location of your kid.
These smartphone apps can do wonders for you. You might be thinking that I should talk to my kid about dangers and provide them guidelines, but the electronic surveillance is becoming important in the digital age. You can't overlook the impact of digitalization. There are probable chances that your kids are hiding their activities from you or they think it's not important to share them with you.
However, you know the dangers; you can better interpret wrong and right things. Before you face any harm to your kid's life, take your call now. After all, you can choose better for your kid's safety.