Well, if you are an avid internet user, then you must be aware of torrent engines and torrent files. However, every now and then, you must be facing an error while downloading a torrent that says Unable to Load or Torrent is not Valid Bencoding. That's too frustrating if you want to download that torrent file so badly. Don't worry, we have a quick fix for "Unable To Load: Torrent is Not Valid Bencoding" which might help you download the torrent file and data easily.
Before we proceed to the solution, let's understand what exactly a torrent is. With a torrent client, you can download large files such as software setup, ISO image, movies, TV shows, videos and many more. Unlike other hosted downloads, torrent downloads offer you the liberty to pause and resume downloads whenever you like.

Also, the torrent data are downloaded from different locations known as peers and seeds instead of one single location or server. Such a feature lets you keep receiving data even if the source destination (i.e. Torrent engine) is down, you can still continue downloading as the data is not stored on the torrent engine at all. This is the main reason why users prefer torrent data instead of hosted downloads from a single server.
However, sometimes our own system IP or ISP blocks the torrent engine or the data because of restrictive country guidelines or any other reason and we face an untimely error that says Unable to Load or Torrent Is Not Valid Bencoding.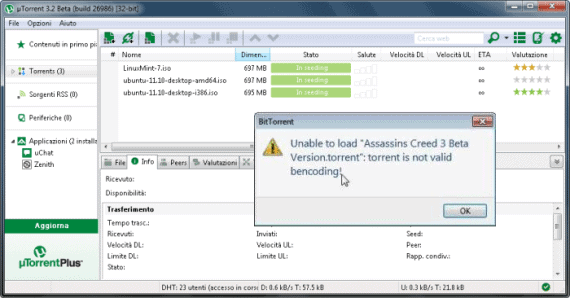 Reasons For Unable to Load or Torrent Is Not Valid Bencoding Errors
Basically, there are only two ways that you can get this error. The main cause of this error is the corrupted torrent file and the only ways that the torrent file can get corrupted is as follows:
Your ISP corrupts the file as many ISP now days are corrupting torrent file because of Government restrictions. Well, that's not the case in every country but there are some countries where they are very strict about using torrent engines or downloads.
You have downloaded a corrupt torrent file.
But, there's nothing to worry as we have the few effective solutions that would help in containing these errors in order to let you download the torrent data smoothly.
3 Effective Methods To Eliminate Unable To Load or Torrent Is Not Valid Bencoding Errors
As the title suggests, I will guide you through three simple solutions that would help you resolve the most common errors faced by many users now a days. Well, if you are not able to load your torrent file or if your Torrent client is showing an error saying, Torrent Is Not Valid Benconding, then don't get frustrated but try the following methods.
Method #1: Use Magnet Link
Well, if you are regular torrent downloader, then you must be aware that there are two ways you can load the torrent file onto your torrent client. You can download the torrent file on to your PC and select the torrent file from your Torrent Client to initiate the download.
Else, you can also use the Magnet Link available for most Torrent downloads and initiate the download directly from your default Torrent client. In short, with the Magnet Link option, there's no need to download the torrent file on your PC.

Using this method will ensure that the torrent file doesn't get corrupted as you are not downloading the file on your PC but instead downloading the torrent data through a magnet link.
Method #2: Download from a different source
This error will also show up if you are trying to download from a corrupted torrent file. The torrent file can get corrupted from the torrent engine's side and there's no way to troubleshoot or repair it. Hence, it is always advisable to try downloading from a different source and see if it works.
Method #3: Use VPN Services
Now, if none of the above methods work for you, then you must try this 3rd method. You need to hide your IP as the errors such as Unable to Load or Torrent Is Not a Valid Bencoding result mainly either because of the corrupt torrent file or if your computer IP is blocked. Many countries or ISPs restrict the users from using any sort of Torrent sites or engines as these sites are the best tool to spread piracy.
However, users can still bypass these restrictions by using VPN services. VPN services will help you hide your IP and lets you access any blocked website by your ISP or within your country. By using VPN service, nobody will be able to track your IP or computer location and even your ISP won't be able to find your IP and its location. So, there's no way that the ISP will be able to corrupt the torrent file or restrict you from accessing the torrent file.
You can try any VPN service as there are a lot of different VPN service providers around the web, both free and premium. You don't need to be a tech expert or a developer to use these VPN services. It is quite simple to set up VPN on your PC.
Over to you!
Well, I am pretty much sure that one of these methods would definitely work in your favor. However, I would always recommend to check the list of files that the torrent file contains before opting for the Magnet Link option.
Follow these simple methods to get the solution for errors such as Unable to Load or Torrent is not valid benconding. I hope that this article helps in resolving any issue you face while downloading data from torrent files.