Recently Facebook has changed its layout and like every other change, while some people are embracing it wholeheartedly, some are reluctant about it. And the reluctant ones are desperate to switch back to the classic Facebook layout. Launched in 2004, Facebook has come a long way and with apps like Instagram, Whatsapp, and Messenger that are ruling the messaging world.
How to Get Old Facebook Back?
While in this new layout, which Facebook is calling new Facebook, (the old one is Classic Facebook) focuses more on minimalism. This new update gives users a tidy newsfeed with an expanded navigation bar, a new dark mode, and a redesigned top menu. Initially, Facebook has an option to switch back to the old Facebook layout for 48 hours but after September 2020 they removed the option permanently.
So, all those classic Facebook fans out there, this article is for you. Stay with me till the end and you will learn some amazing tricks to revert to old Facebook.
New Facebook Layout
Classic Facebook Layout
What is So Special in Classic Facebook?
While this design change which is the biggest one in the decade completely changes the UI of Facebook, users were accustomed to the old design and they knew what lies wherein the old design.
Personally, in classic Facebook layout, we like
That blue navigation bar on top.
The old blue theme of Facebook, which was there from the very beginning.
The old design was a vibrant and dynamic place with screens filled with different types of things.
and more.
Why Change to Facebook Classic Mode?
There are plenty of reasons why you need to change
If you don't like the new design
If you love the traditional blue navigation bar.
You own a Facebook page and are unable to manage it in the new design.
You are unable to find options or manage your Facebook profile.
The new design takes a lot of space and so we need to scroll more.
For plenty of reasons, people looking to revert to old Facebook. However, as of now, there is no option to switch back to old Facebook unless you have a Facebook page. But in our research, we found a few cool tricks to get old Facebook back.
Method 1: Revert to Old Facebook Style Using Pages
If you have a Facebook page, it becomes quite easy for you to switch to the classic Facebook layout with the following steps:
Login to your Facebook account.
Switch to any page you manage.
On your left, you will find a "Manage page" section.
Under your page's name, you will find the option of Switch to Classic Facebook.
Click on the "Switch now" button to enable classic Facebook for 48 hours.
A pop-up window will appear asking the reason for switching back. Give any reason or simply click on Skip.
For now, this is the only official method to switch back to the old Facebook layout. However, there are a few more unofficial methods that help you to change Facebook to the old version. 
Before we move further with these options, the one very clear thing is Facebook doesn't recommend these extensions. The new layout isn't going anywhere in near future, so you have to finally come on terms with it. If these things work well for you, great but if things go downwards neither facebook nor we at Geek dashboard take responsibility for it.
Method 2: Get Classic Facebook Back With Browser Extensions
Facebook is still loading the classic layout on old web browsers, and all these extensions work on the same loophole. They trick Facebook into believing you are using an old web browser and let you load the classic Facebook layout automatically.
With an overall rating of 4.3 out of 5 and more than 400,000 downloads, Old layout for Facebook is worth trying. You can easily install this extension on your Google Chrome and Microsoft Edge browsers by following the steps below.
 Go to chrome web store
Type "Old layout for Facebook" in the search field and hit Enter.
Click on the "Add to Chrome" button and wait until the extension is installed.
Now, log in to your Facebook account and it will load the Classic Facebook by default.
Alternatively, extensions like Revert site, Switch to classic design on Facebook, Force Show Old Layout, and Old design for Facebook are few other extensions that can also help you switch to classic Facebook.
Tip: If you are facing any compatibility issues on other websites after installing the extension, you can disable it temporarily. You need to keep the extension enabled only while accessing the Facebook account.
Method 3: With the Mobile Version of Facebook
You can access the basic mobile version of Facebook at mbasic.facebook.com. You can use this mobile version to access the vintage layout of Facebook. But as per multiple sources, Facebook will stop the mbasic version very soon.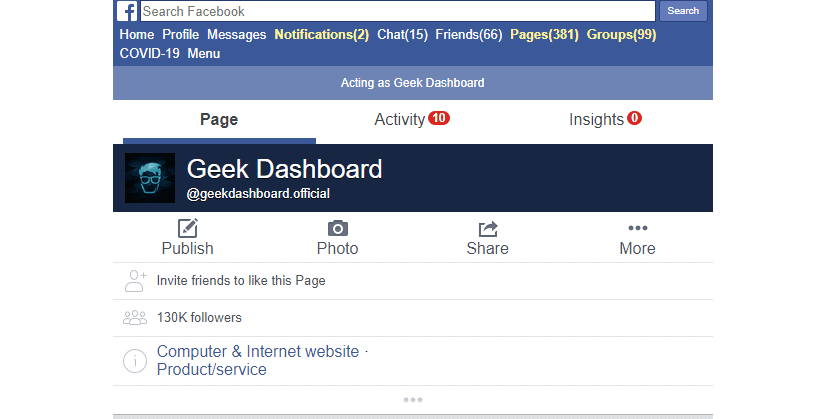 Frequently Asked Questions
1. Why Facebook launched the new layout?
In 2019, Mark Zuckerberg announced at the Facebook F8 conference that these design changes will be the platform's biggest redesign in a decade. The new design is for a cleaner look and better privacy.
2. Till when we can use access classic Facebook?
From September 2020, Facebook made this design change mandatory for every user. Facebook will surely close these backdoors anytime and we won't be able to switch to classic Facebook later. Enjoy it till available.
3. What's special in the new Facebook design?
While we don't like a few changes, not everything is bad in the new redesign. Now we can easily access videos, pages, and events. The one thing which I like the most is the all-new Dark mode. It was a long time due and it will not give more strain to your eyes.
Conclusion
You can use all these methods as long as Facebook is letting you do so. However, all these methods are going to last only for a few months. It's only a matter of time before Facebook removes the option to switch back to the old classic layout. So, it's better to make peace with this latest redesign.