The smartphone companies always look forward to bringing innovations to the table. The mobile phone has evolved from a simple electronic device for calling and messaging to something nobody can ignore. We have seen many new technologies becoming a smartphone standard (including dual camera, 18:9 display, and fingerprint scanner).
Nokia, helmed by HMD Global is reported to bring a new innovation to the smartphone industry. The recent news suggests they might release a new device, dubbed as Nokia 10 with five rear camera lenses.
HMD Global to Release Nokia 10 with a Penta-Camera Setup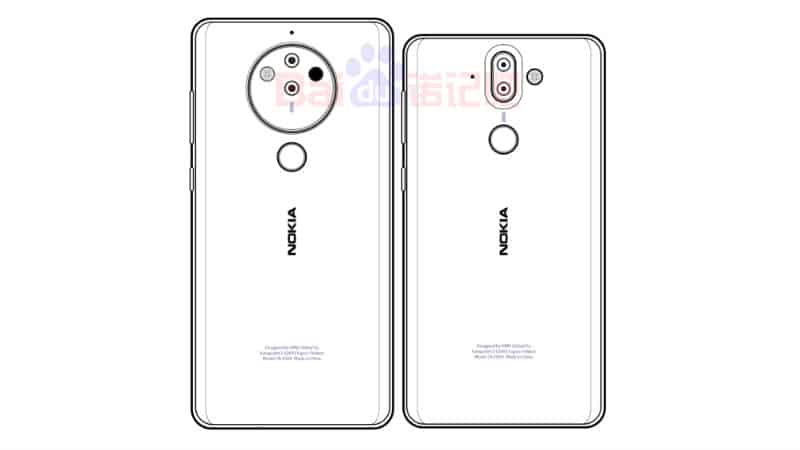 HMD Global managed to bring Zeiss Optics to their smartphones. Although they couldn't dominate the industry after the comeback, many enthusiasts got a reason to be happy with it. The company launched a flagship Nokia 8 after a few mid-range efforts.
Now a few sketches have surfaced on the web, leaking the camera design of an upcoming Nokia phone. Going by the rumors, we perceive that the name of the device can be Nokia 10.
As we go underneath the rumored working of the camera module, it carries five lenses as stated earlier. However, what an end-user see on the surface are two lenses just like on a dual-camera phone. The rest of the lenses find its place underneath the whole setup. It is possible for the user to rotate the lenses thereby varying the focal length as per what he/she wants to capture. Below the camera, there is a fingerprint scanner.
As we tell you in every leak, you should take this information with a pinch of salt because nothing has gone official. Apart from the camera details, we hope the other specs of the device will match those of a flagship. We expect them to pack in the latest Snapdragon 845 processor coupled with at least 6 GB RAM. The 18:9 display is almost certain given the same has become a smartphone standard now.
To back up the rumor, we managed to dig into the patent application by Zeiss with a German Patent and Trademark Office. In the application, they have explained the camera will have multiple lenses with different focal length, which sits on a rotatable base.
Alongside the rumors of Nokia 10, we pulled out a GeekBench listing of Nokia 7 Plus. The rumored model may include a Snapdragon 660 SoC doubled with 4 GB RAM.
Mobile World Congress event is happening in Barcelona next month and we can expect some announcements from HMD Global there. Will it be Nokia 7 Plus, 10 or something else? Let's wait and see.