One of the main reason behind massive users for Android is mainly because of free Applications. Millions of Applications are uploaded to Google Play store till now and hundreds of new applications are being uploaded to Google Play Store everyday. For security reasons Google decided to ignore download option at store. This is actually a good move but sometimes it creates lot of inconvenience for the android users. These days any popular and big games are in size of around 50MB. It feels okay when downloading the game or application for the very first time. But the real boring part begins when you restore your mobile to factory settings.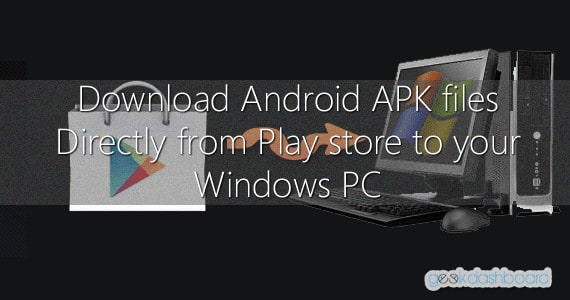 In case if you wiped your phone memory, all applications will get deleted and there is no other way to get them back; unless you backup android device, all you have to do is to download them again from the Google Play Store. This becomes really a big task if you have a huge list of installed applications on your mobile and even it is time consuming task. Your position becomes really worse on slower internet connection.
Also See: How to increase Internet Speed
Just think, what if you can download original Android APK files directly from Play store to your windows PC? Can't get me? If you're able to download Android APK files directly from play store and save them a side on your windows PC, then there is no need to download them again if you reset your mobile in future. You can just install them by copying them to micro SD card.
However there are many online sites which provide apk files of Android Applications for free of cost. But we can't trust those apk files as they are from third party members and it may contain any malware and virus. So, here is a working genuine trick to download Android APK files directly from play store to your Windows PC directly. This trick is proven and working like a charm and 100% save to perform.
Download Android APK files Directly from Play store
To accomplish this task we're making use of a software called Real APK Leecher to downlaod apk android files from Play store. This software is based on JAVA which helps you to download 100% original Android Apks directly from play store to PC which is running on Windows operating system. So lets move and start downloading original apk files directly from play store and yeah! for free.
Note: This trick only works fro Free Android Applications. For paid apps this method is not applicable. You know nothing is free in this world right?
Tutorial to Download Android APK files directly from Play Store
Follow all below mentioned steps properly and enjoy downloading Android APK files from Play Store directly on Windows PC
Step 1 : Finding the
device ID
In this step we're going to find device ID of your smartphone. This can be done very easily. Go to normal dialer and enter *#*#8255#*#* once entered GTalk service provider will display your device ID along with few more details.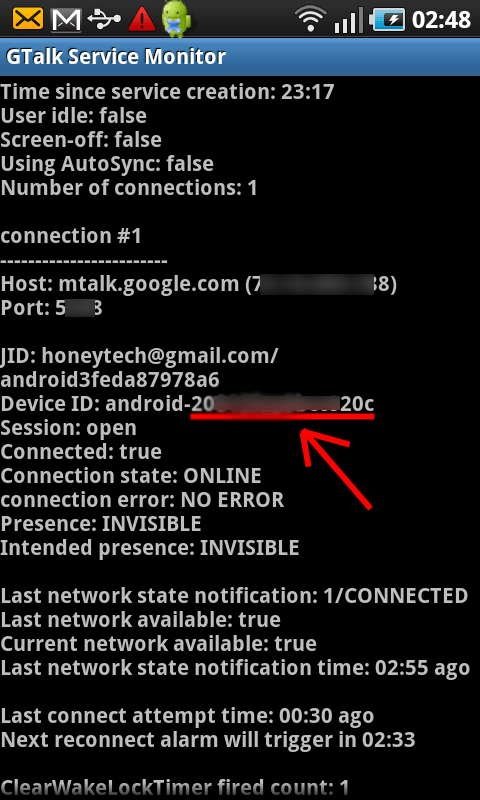 In case if you had uninstalled Gtalk, from your smartphone, make use of this Device ID Android Application. Installing that application will show your device ID
Step 2 : Downloading
Real APK Leecher
As said earlier, we're making use of a JAVA based software to download Android APK files directly from play store to Windows PC directly. This is a portable software and no need for any further installation.
Just download the required software from above link and unzip it after downloading
Step 3: Providing required details
Go to the extracted folder and double click Real APK Leecher.exe file. You're now in the settings page of the software, Now enter your Email ID and password of Google Play account and enter Device ID.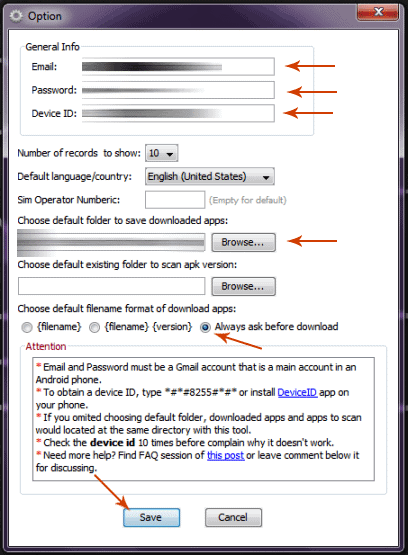 If needed, you can change the default folder to save downloads and don't touch remaining options and press SAVE.
Step 4: Start Downloading
Immediately after pressing Save, you'll be taken to main screen of the software. Making use of search box, search for the required application and wait till results appear. Right click on the displayed application and click Download.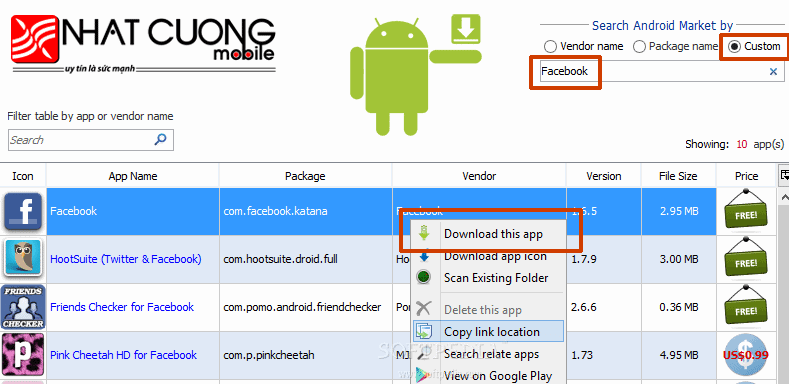 Now Android APK file will get downloaded to the folder you have selected in the above step. You can copy those files to the micro SD card to install them.
Advice: Make sure, you're using latest version of JAVA installed on your windows PC and there is no spaces in between device ID.
Hope this guide helps you to download Android APK files directly from Google Play Store to your Windows PC. Consider sharing this guide with your friends and make use of below comments section in case of any questions.