What we think about
Wondershare TunesGo
UI

9.5
Price

9
Features

10
Speed

9
Support

10
Need an excellent program to share files between iOS, Android, and Windows devices? Try Wondershare TunesGo and you will find a great product to manage all your devices from a single point.
Data sharing between Smartphone and your PC or Mac has become essential today. As Smartphones have very relatively low memory storage, it is important to transfer all your important data from your Smartphone to your PC to make space for new data. Wondershare TunesGo is the ideal program that can cater to that task. After reading our Wondershare TunesGo Review, you will also understand why it is one of the best applications for data sharing and management between PC/Mac and Smartphones.
Music is the best companion today wherever you go. Whether you are traveling, commuting, jogging, or sitting alone, music will never leave your side and is just a tap away on your Smartphone. However, the music industry is evolving day after day and latest numbers are climbing on top of the charts.
Hence, it is important to update your Smartphone's music library every now and then with latest songs while keeping some of your favorite tracks on your device. Also, to make space for the new songs, you must remove the old ones from your device. However, removing them permanently is not a wise choice and instead you can easily use a program like Wondershare TunesGo and manage all your music and other important data from your PC or Mac device easily.
More about Wondershare TunesGo
Wondershare TunesGo is a product developed by Wondershare Software Ltd. In its initial years, the company released conversion software to make an entry into IT industry. After finding some success in data transfer technologies and estimating the growth of multimedia usage in the gadgets world, the company extended its wing to audio/video conversion into different formats for better compatibility with different devices.
Eventually, the company introduced Wondershare TunesGo to serve users who are looking for a crossover technology that's compatible across different ecosystems such as Windows, Android, Mac, or iOS. Earlier launched as Wondershare MobileGo, the name was changed to Wondershare TunesGo because of its extensive usability and compatibility with Apple's iTunes universe.
In this Wondershare TunesGo review, I tried to explore different utilities of this program and how it can be a wonderful tool in this modern age of digital data across different platforms.
Wondershare TunesGo Review
While reviewing Wondershare TunesGo, I found that this program offers a lot of different benefits essential for this modern data-driven world. The core feature offered by this program is data transfer across different modern day devices. Well, you must be wondering what's so special about such feature, but there are very rare software programs that offer data transfer compatibility across different platforms such as Android, Windows, Mac, and iOS.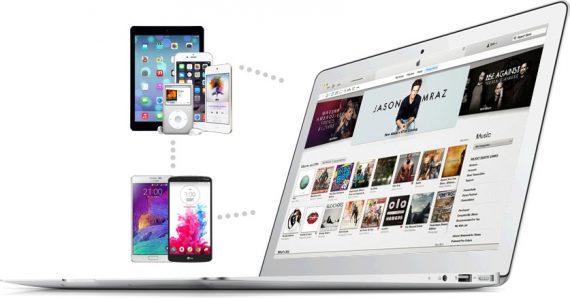 Yes, you read that right. With Wondershare TunesGo, you can manage your entire mobile lifestyle from a single place, irrespective of whether it's an iOS or Android device. You will be amazed to know that an iPhone or any other iOS device user won't need iTunes anymore to enjoy any iOS related features or transfer data between different gadgets.
Excellent Features of Wondershare TunesGo
The only thing that sets Wondershare TunesGo apart from its competitors in the market is the features offered by the program. The program lets you take full control of your data as well as the devices you own. Today, iOS devices are highly restrictive because of iTunes, whereas an Android device is not rooted willingly by the OEM for both safety concerns as well as to disallow the users to take full control of the device.
However, such restricted environment doesn't let you enjoy the complete ownership of the devices. But, all that can be changed with Wondershare TunesGo and the following features offered by the program will help you understand better.
Smart Transfer – Be the Master of Your Music Collection
Irrespective of whether you are using iPhone or an Android device, you can smartly transfer all your music files across different devices. With Wondershare TunesGo, you can easily transfer music without iTunes, erase duplicate tracks, fix your music tags for better recognition, backup your entire music collection on your PC or Mac.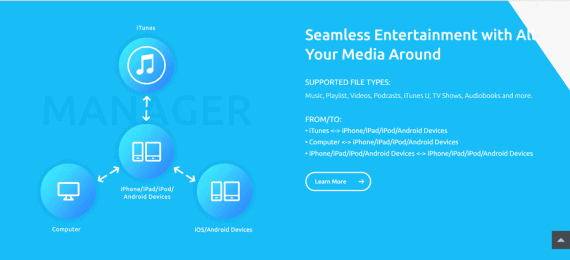 Not just music, you can also transfer and manage video files, podcasts, audiobooks and other multimedia collection. The major problem faced by users across different platforms is the file compatibility. Wondershare TunesGo takes care of that and converts the file into a particular format that's compatible with the device you are transferring your files to. Also, you can backup all your music collection from different devices and can easily restore them at will whenever you need.
Organize and Manage Your Photo Collections
Pictures are special memories of your memorable experiences or moments stored digitally on your gadgets. In this modern day world, pictures are one of the most precious collections that you can't afford to lose. With Wondershare TunesGo, you can efficiently organize and manage your entire photo collection across different devices.
Whether you want to import, export, or manage your photo collection, Wondershare TunesGo will make it simple for you. The image format is the key to compatibility over different platforms and Wondershare TunesGo supports all kind of photo types available both on Android and an iOS world. Again, you don't need iTunes to transfer photos to your iOS devices. Besides Smartphones, this program also lets you add photos from DSLRs and Camcorders for better convenience. With the inbuilt tools, you can also create funny GIFs using photos from your collection.
Backup Contacts from Your Phone and Multiple Accounts
Like other important data on your phone, contacts are also very essential and needs to be taken care of properly. The contact manager on Wondershare TunesGo lets you manage your contacts whether you want to backup, import, or export them to and fro your device.
As the world grows smart, the contacts are no more limited to phone numbers alone but have evolved across email, social media, etc. This contact manager is also designed to export contacts from multiple accounts from your phone to your computer.
Views IMs or SMSes on Larger PC screen with Message Manager
No matter how comfortable Smartphones are, their screens are comparatively smaller to the computer screen. With Message Manager on Wondershare TunesGo, you can also view Smartphone IMs or SMSes from your computer as well.
Simply export the messages from your iOS or Android device to your computer and read them on a larger screen that pleases your eyes better than the compact Smartphone screen. You can also restore these messages back to your phone whenever you need. In addition to that, you can even send messages to your contacts directly from your computer.
Other Features
Lets you batch-install apps as well as batch-uninstall apps to save time
Lets you access the system files of your Android or iOS devices.
Use your phone as flash device with the help of Wondershare TunesGo
Root your Android Device and take full control of your device.
Uninstall preinstalled apps from your Android device.
Our Verdict after Wondershare TunesGo Review
If you are a pure tech geek and own multiple smart gadgets, then Wondershare TunesGo is an essential software program for you. We live in a data-driven world and with data spread across different devices and platforms, it becomes important to have a program that allows you to manage and transfer such vital data directly from your computer.
Whether you own an Android, iOS, Windows, or a Mac device, Wondershare TunesGo lets you transfer important files or multimedia collection to and from your Smartphone or Computer. With the help of this program, you can take complete control of the data on your devices as well as get full access to your phone.
Wondershare TunesGo is designed to ease the overall process of communication between multiple devices and the software does the job brilliantly. You don't need iTunes anymore if you are an iOS device user to transfer or manage files from your device to your Computer, either Mac or Windows PC.
After this Wondershare TunesGo review, I have realized that data needs to be managed smartly. With new Smartphones launching every year and the new technologies introduced on a regular basis, it is highly crucial in this digital age to have a program that could become the mediator to help build smarter bridges across devices belonging to different platforms.
What we think about
Wondershare TunesGo