Last year, we saw tons and tons of new smartphones released around the world. However, we also know that smartphones sales have saturated. In terms of innovation, we have not seen a major change in the smartphones from the last few years. In 2018, most of the flagship smartphones were announced with a notch of some sort.
From the outside, all the smartphones look and feel the same from their previous generations. Apart from that, we also know that Apple has announced a revenue miss for the first time ever. Now, IDC and Counterpoint have both reported that 2018 was the worst year ever for smartphones
2018 was the worst year ever for smartphones: Counterpoint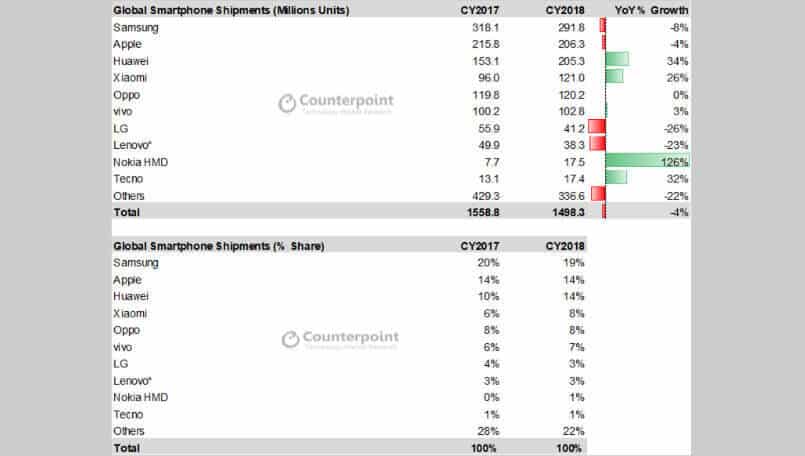 Counterpoint and IDC are two of the most reputed research firms around the world. Both the research firms have released their report on smartphones and their sales in 2018. It was clear from the outset that 2018 has not been the best year for smartphones.
However, the research firms have now said that 2018 was the worst year for smartphones, ever. This claim has been backed up by data of last year's smartphones sales as well.
Earlier this week, Counterpoint released a report in which OnePlus emerged as the top premium smartphone brand in India. Also, the best selling premium smartphone in India last year was the OnePlus 6. This was followed by the OnePlus 6T and then the Samsung Galaxy S9.
However, Counterpoint reports that sales were still on a decline last year. Counterpoint and IDC's reports claim that the smartphone industry saw a 4% decline in 2018. This is a huge percentage of decline keeping in mind the overall smartphone industry sales figures.
Now, the report also mentions that the decline was mostly because of Samsung and Apple. Both the companies saw a decline in their total number of shipments last year. As far as Samsung is concerned, they had an 8% decline compared to 2017. Apple, on the other hand, saw a 3.2% decline from the previous year.
Huawei emerged as the winner last year with an increase of 34% year-on-year in 2018. The company is estimated to have shipped 206 million smartphones in 2018.
Counterpoint and IDC also report that there was a 4.9% decline last year in Q4 2018. The report, however, notes that India, Indonesia, Korea, and Vietnam emerged to be high-growth markets even in Q4 2018. This report also mentions that there is no upward trend in sight for 2019 as well. Therefore, we might see the same figures repeated for 2019 too.