Most of us will be getting many notifications on our Android mobile. These notifications are just for the users to check out the latest updates on social networks, alarms, events, downloads, and more. Whenever you get such a notification, many people don't have time to check it and they just tap on the dismiss icon to clear all the notifications. So now the problem arises here. How can you retrieve your notifications again? How to open old notifications?
After dismissing all your notifications, you may realize that some important notifications may also get cleared, or sometimes the Android notification menu may be filled with a lot of notifications and you accidentally tap the Dismiss icon. If you are trying to recover your past Android Notifications and failed, don't worry. To be short, you can easily access a log of your notifications on your Android Mobile. Yeah, that's right! This post will help you to view old notifications log on your Android device with a few clicks.
Bonus: How to Browse Websites without Internet Connection in Google Chrome
How to View Old Notification Log on Android Devices?
As I mentioned earlier, your old notifications can be retrieved quickly because usually the notifications are saved as an archive in your device that lets you look back again with some tweaks. Let's get started.
All we have to go to widgets options. Reaching widgets option is different for different smartphones, You can try either of the following methods to add a new widget to your home screen.
Go to your App Drawer and click the Widgets.
Long press on your Home screen and tap on Widgets.
Tap on the All Apps icon in the tray. Then tap on the Widgets icon found at the bottom of your screen. You will find both Apps and Widgets options. Make sure you tap on the widget options.
You will get all the available widgets and search for Settings Shortcut. Just press and hold the settings shortcut widget and drag it to your home screen.
Settings shortcut in widgets is not available in all Android smartphones. Device manufacturers like Samsung, Huawei, Asus, etc., have removed this Settings shortcut for some unknown reasons.
If you can't find this widget on your mobile, worry not! You can download and install the Unseen Messenger app from the Play Store for free of cost. Once you install the app and enable notification access permission, it will start storing all your new notifications.
However, you must know, Unseen Messenger can't show the past notifications you received before installing it.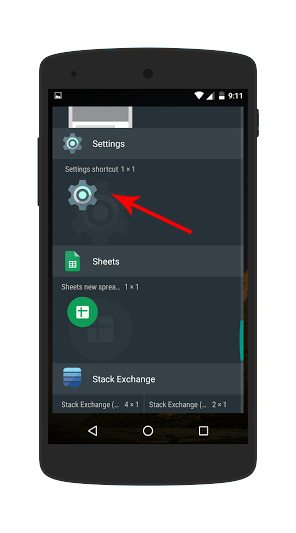 Then from the options scroll down and select Notification Log or tap on the 'Setting Shortcut' and select 'Notifications'.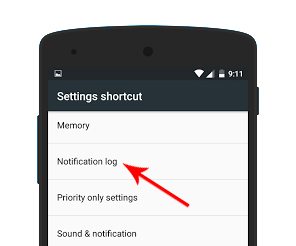 A new widget named "Notification Log" is now added to your home screen, just click it and you're done.
Once you're in the notification log, you can view all old notifications. You may see the active notification in White color and the notification you dismissed earlier as Gray color. Just tap any notification which you are looking for.
If your device is running on Android Lollipop or lower versions, clicking on notifications might take you to the App info which is not useful. To get rid of this problem, you need to install third-party app called Unseen Messenger mentioned below.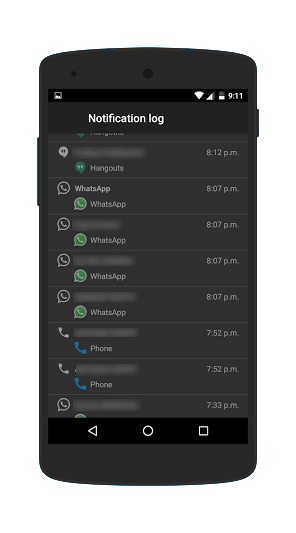 Whenever you want to access the old/dismissed notifications from your history, just click the Notification Log widget from your home screen. You can also remove and add the widget anytime you need.
Alternative Method to see Notifications Log
Some Android devices running on older versions may not have Settings Widgets. In that case, you need a third-party app on your device. I've tried Unseen Messenger, which lets the users access the old notifications.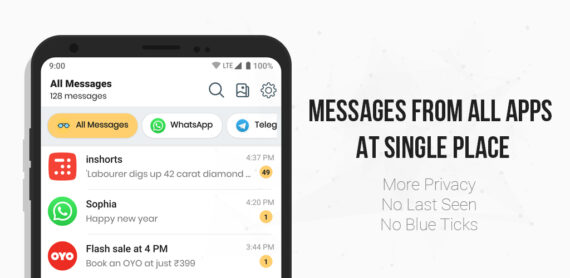 This app will display all your previous notifications in the same manner as it does in the default method. But here you got some advantages over the default method. You can blacklist the apps which you don't want to see in notification history, delete an individual notification, clear all notifications, and lot's more.
Note: You can view the Notification log only on devices running Jellybean or higher.
I hope this post helped you a lot to gain some knowledge about how to open old notifications on Android devices easily. If you are facing any errors, just drop them below. Will get back to you soon with the perfect solution for it. Stay tuned here for more informative shares.