Samsung Galaxy S5 released in April 2014 is no exception to charging problems. Slow charging of Galaxy S5 has been reported by so many users. Most of the charging problems are due to charging port malfunctions. While other problems include a battery symbol with a yellow triangle, not charging with original charger, broken port and few dropped their phone in water and became a victim of charging problems.
With 2800 mAh, Samsung s5 is expected to provide steady battery backup to smartphone users. But the performance is deteriorated with too many hectic problems. Having said that, we are going to provide clear cut solutions and accurate fixes for Samsung Galaxy S5 not charging issues here.
Fixes for Samsung Galaxy S5 not charging or slow charging and charging port issues are listed below.
1. Calibrate using Galaxy Charging Current
Calibrate Samsung Galaxy S5 using Galaxy Charging Current, from play store. This app will let you know whether battery condition is normal or not. If the results displayed by this app are not up to the mark, then you must try the below techniques to resolve abnormalities in your battery.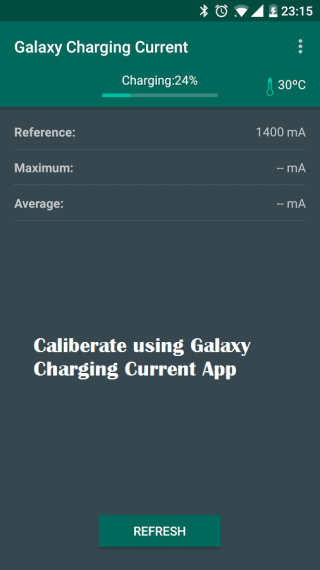 2. Use Original Charger
Use original charger to overcome Samsung s5 not charging issue. Most of the times, people have a tendency to reach out to a charger with the suitable port. But it is more hazardous than we think. Chargers have specific power rating and using other smartphone charges for Samsung is the major reason for not charging or even slow charging issue. Please use the original charger that came inside Galaxy S5 box.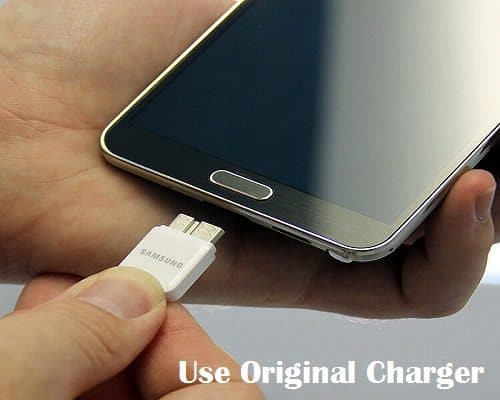 3. Try different wall socket
Try different wall socket to avoid slow charging issue. Even though the charger is original, the socket may have some issues. Don't entertain obsolete wall sockets. At times, it will be a serious threat to your life. Kindly replace the old and defected wall sockets with a new one and save your smartphone's life.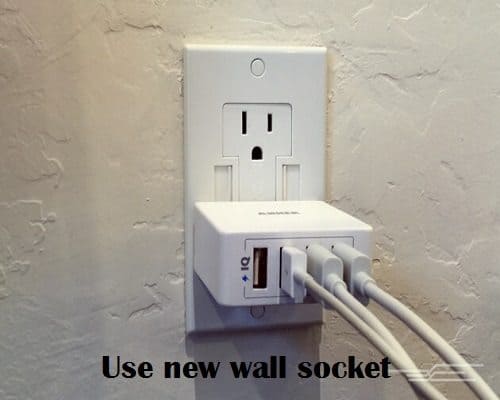 4. Charge with USB cable via PC
Charge with USB cable via PC or laptop whichever is available. You might be using the original charger, but still, the adapter may carry some issues on a long run. Hence it is always advisable to check what is the exact caveat. If your Samsung S5 phone is charging via USB, then try to get an adapter from online stores. If Galaxy S5 is not charging with USB cable also, then it is an issue with the device. Nothing to do with charger. By now, if everything is going fine, suspecting the charger won't help you.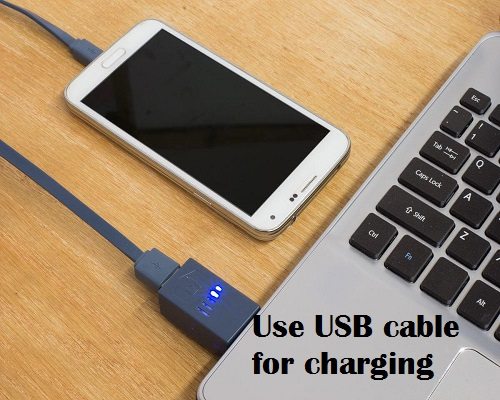 5. Update the software
Update the software to solve Samsung S5 not charging issue. Until and unless you confirm that there is nothing wrong with the charger, please do not proceed to this step. Now update the OS to the latest available version. Here is the step by step procedure to update the software.
Connect the Samsung Galaxy S5 to Wi-Fi (Check funny WiFi names here)
Open device Settings
Scroll down and tap "About Device"
Choose "Software Update"
Tap on "Update Now"
6. Uninstall apps from Safe Mode
Uninstalling apps from Safe Mode will help you to get rid of third party malware. Android play store allows hackers and spammers to deploy malware. Make sure that none of those apps are installed on your Samsung Galaxy S5. Follow the below procedure to know which apps are responsible for slow or not charging of your S5.
Turn off your Galaxy S5.
Press and hold the power button to Switch the device on
Release the power button, when "Samsung Galaxy S5" appears on the screen.
Press and hold the volume down button soon after releasing the power button.
Continue to hold power volume down, the device should complete restarting.
Release the volume down button, when "Safe Mode" is displayed on bottom left corner.
Now plug in the charger to Samsung Galaxy S5 and see whether it is charging fine or not. If it is working fine, then find out the app which is a malware by force stopping apps one by one. Uninstall it and now you Galaxy S5 should charge properly. If this solution has not worked, then you must do a factory reset for sure.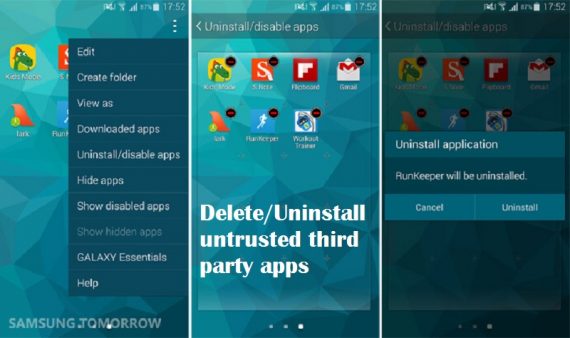 7. Do hard reset
Before proceeding to perform the hard reset, make sure that you have taken a backup of all your data. Use these apps to backup your data. Follow this step by step procedure to do hard reset.
Turn off Galaxy S5
Press and hold the Volume Up, Home and Power buttons simultaneously until Android icon appears on the screen.

Use Volume Down button to highlight wipe data/factory reset option
Press power button to select the highlighted option
Use Volume Down button to highlight Yes-Delete all user data
Press power button to select the highlighted option
Wait until you see the reboot system now option and select it using power button
When your Samsung Galaxy S5 starts, it should be fresh.
Connect the Galaxy S5 to the original charger and it should charge like a new headset. That's it, the Galaxy S5 charging issue has been resolved. The next two techniques are not for all Galaxy S5 users. Those two solutions are for specific issues.
8. Replace charging IC
Anytime you dripped your Galaxy S5 in fluids?
Samsung Galaxy S5 stopped charging from then?
No worries. We help you in getting back your Galaxy S5 to normal condition. Make sure that you dismantle your device with a screw set. Try to dry them under normal conditions. This takes away moisture from the device. Now reassemble Galaxy S5 with care and try to charge it.
If this is not working, then there should be some problem with your Charging IC. Get it to the nearest Samsung showroom and replace the charging IC. That solution should help you in charging the device normally.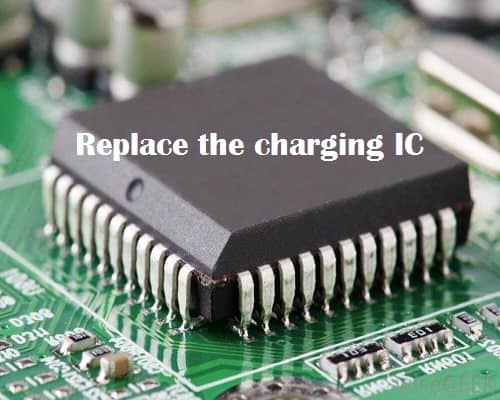 9. Replace the charging port in Car
In this busy world, no one like to spend time charging their Samsung Galaxy S5. Hence most of them prefer to charge their smartphone in the car. Soon, the not charging and slow charging of Samsung Galaxy S5 problems started hitting the Google search. Hence we would like to provide the solution for that problem too in this article.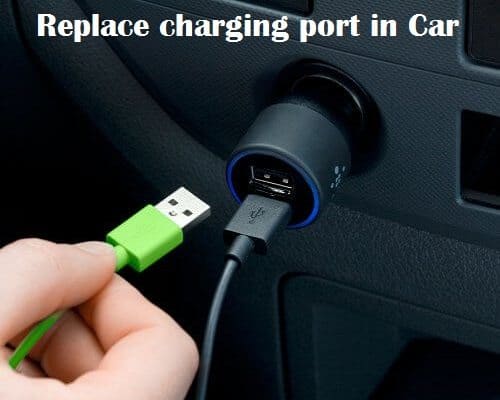 Try to use the original car charger from Samsung rather than cheap brand car chargers. This should help you in proper charging of Galaxy S5. It may not be as fast as wall socket charger, but still, it works well. If this solution is not working, then try replacing the charging port of your car. This should fix slow charging of Samsung Galaxy S5 even in the car.
Final Words
That's the complete list of problems and solutions for Samsung Galaxy S5 not/slow charging issues. Hope you have found the perfect solution for your Galaxy S5 not charging issue. If you still see your Samsung S5 charging slowly, let us know in comments section. Appreciate your efforts of going through each and every fix for charging issue. Use comments section and post your success or regrets.