Are you still using the default Chrome new tab background? If the answer is yes, then it's time to change the Chrome background image that is more personal to you. The Chrome Web Store already provides a huge library of themes that you can install to change the overall look. But they don't allow using our own images as a background. Don't worry, read this article to know how you can change the Google Chrome theme with your own picture.
Changing your Chrome theme with your own personal image from your gallery is a pretty easy thing to do. It just takes a minute of your life and you can have your own custom background image in Chrome browser.
Why should you upload your own background picture?
Setting your own custom background on your Chrome browser can be highly useful and I'll give you 5 reasons why you should do it right away.
You can have an image of your loved one as your theme and you can fondly remember them every time you open your browser.
It can also be your own image to curb the narcissistic inside you.
You can use a flashy wallpaper defining your favorite hobby.
Your favorite wallpapers make your browser more personal and catered to your taste.
Adding your business wallpaper on every Chrome browser in your office gives you a professional look.
Step by step guide to change Google Chrome theme with your own picture
Here I'll tell you how you can easily change your Google Chrome theme with your own image. This process of changing background image is the same for all Windows, Mac, and Linux devices.
Open a New Tab in Chrome browser.
Click on the Customize button on the bottom right of the screen.
Select Upload an image option.
Browser an image from your device.
Click on Open to set the image as your Chrome background.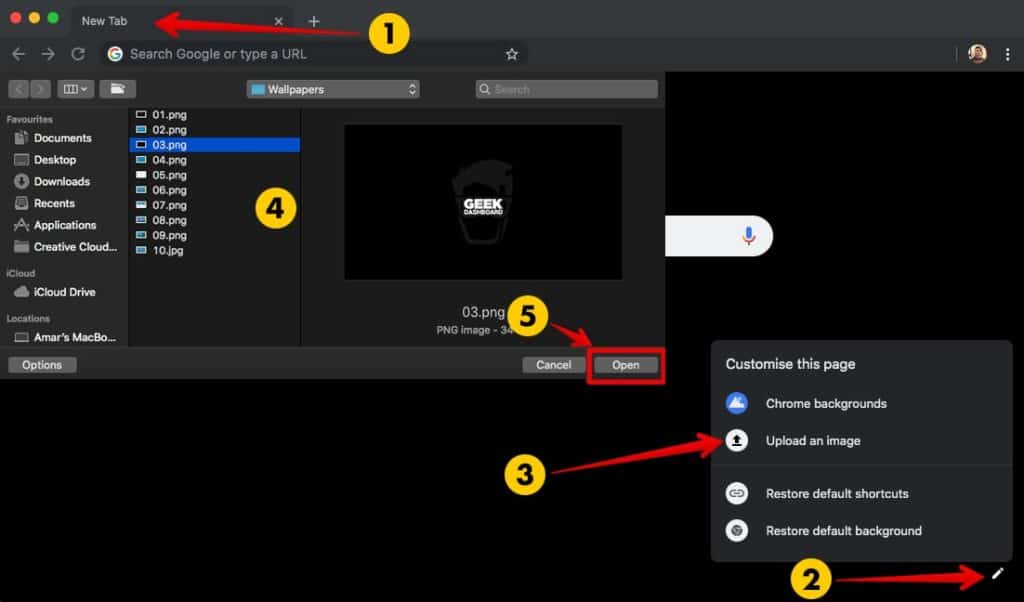 After choosing an image from your hard drive, you will now have your own picture as your Chrome background. Every time you open your browser, you will be greeted with your own picture. If you need inspiration for backgrounds, don't hesitate to select Choose backgrounds in "Customize" options.
If you also want to change the background colors of the address bar, bookmarks bar, tabs and more, then you need to install simple themes that won't replace New Tabs in chrome. Choose and install a theme from here and you can use both your own background picture and custom theme colors at the same time.
Here is the final result we achieved after changing the Chrome background with our own picture and installing High Contrast Colorful Chrome theme.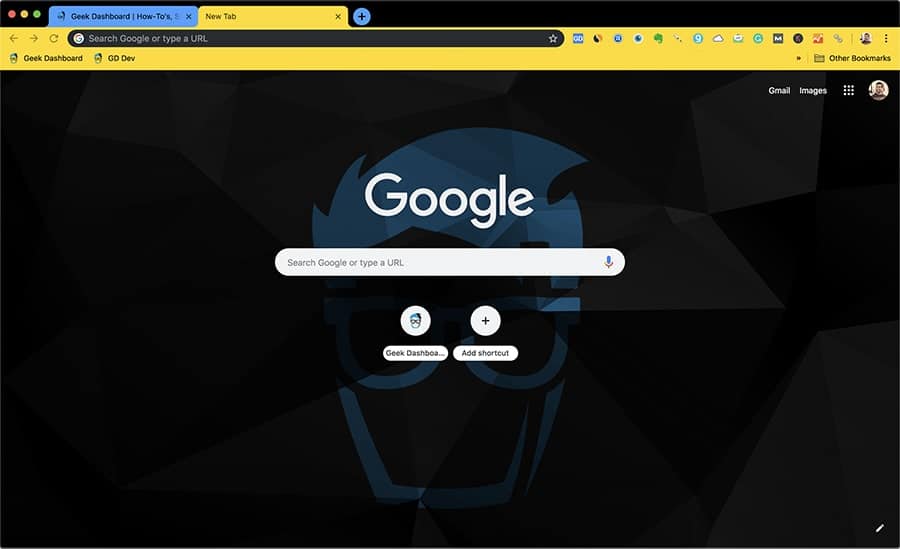 Cannot find the customize button?
If you cannot find the customize button, you might be using an extension or theme that replace default New Tab. If the extension or theme you're using doesn't have an option for image update, then its time to remove them.
In order to change Google Chrome background with your own picture, you first need to remove the already installed extension or theme from your browser as follows.
Find the extension icon in the Chrome address bar, right click on it and select Remove from Chrome.
If you cannot find the extension icon, click on the 3 vertical dots on the top right corner and click on More Tools.
Now select Extensions and click on Remove button of the extension that is replacing the new tab.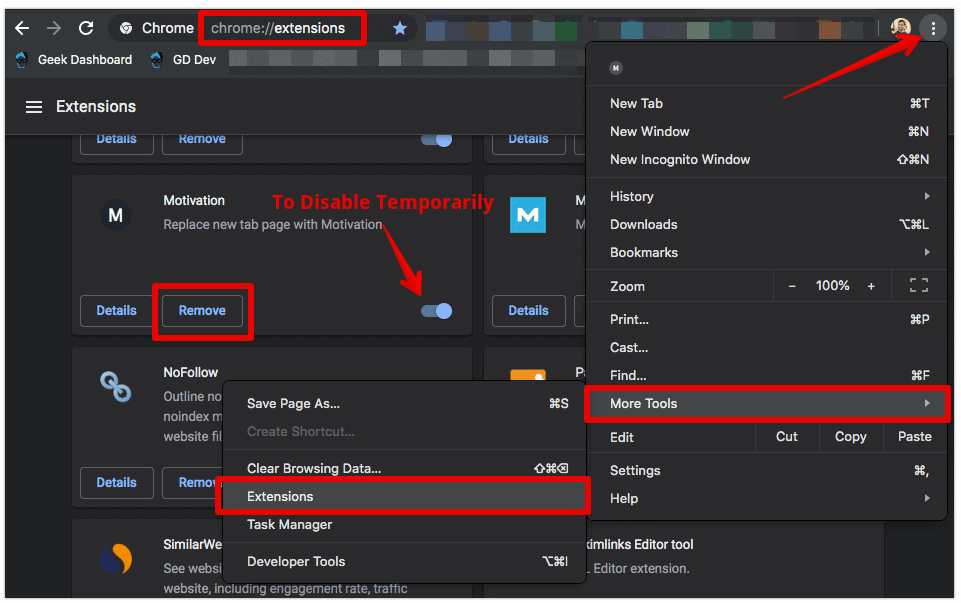 Conclusion
It's very easy to change your Chrome theme with your own personal image. The process will hardly take a minute or two but it will change the way you see your browser. I personally love to change Google Chrome theme with a picture of loved one or something beautiful like our universe.
Also reverting to defaults is also pretty easy. Changing Chrome theme with your own picture and installing a new theme will sound interesting in initial days but you might feel bored again later. If at any point of them, you wanted to use default background and theme, click on Restore default background in Customize options and to reset the theme, click on Restore to default button under Appearance – Themes section of Chrome settings.