What we think about
CDNsun
UI

10
Price

9
Features

10
Speed

9.5
Support

9.5
Looking for a reliable and secure CDN service to handle your web traffic? Try CDNsun, the best and most affordable CDN solution with amazing features.
Web traffic is the key to success for any internet based business in this digital world. However, as the traffic inflow increases, the load capacity of the server to handle the traffic decreases resulting in performance lags and sometimes time out errors. Well, this issue can be easily tackled by upgrading to a server with better resources, but it can be a costly affair. Instead, you can find a CDN (Content Delivery Network) solution to manage your web traffic. While there are many different CDN solutions available online, I found CDNsun quite interesting and cheap cdn. Simply go through my CDNsun Review and choose a reliable CDN solution for your website wisely.
A Quality CDN solution is the key to better the performance of your server and offers a great user experience to the visitors surfing through your website. Many media companies and eCommerce vendors around the globe rely on a permanent CDN service to deliver content to their audience or end users. Currently, CDNsun is one of the excellent CDN solutions available out there and offers effective content delivery to your visitors through its wide range of distributed servers spread across the globe.
More about CDNsun
Amidst other players in the CDN niche, CDNsun is highly favoured because of its efficiency and low price compared to others. This Prague based company has distributed server network spread across 70 data centres worldwide.
Since its launch in 2012, CDNsun is focused on delivering great experience to the end-users for its clients. As the world is moving at its peak speed, the content needs to be delivered with same efficiency and speed. CDNsun is an excellent choice for CDN services for all your website acceleration needs.
CDNsun Review
Being in the CDN industry since 2012, CDNsun has gained enterprise CDN experiences and gain a competitive advantage over its peers with an optimized network of servers designed to serve content accurately and blazingly fast.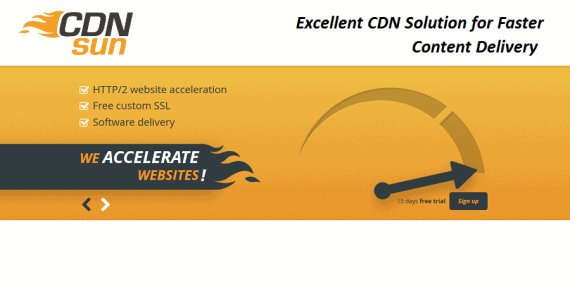 Today, every website, whether a blog, an e-commerce platform, or a corporate website, is developed using dynamic scripts and static assets such as JavaScript, CSS and Flash files. Such architecture makes it easier for server and loads the content faster for the end-users. However, these new technologies can't be enough to handle incoming traffic (generated mainly by static assets) from different corners of the world.
Here's where CDNsun comes into play. Instead of loading the whole website from your main server every time a user visits, CDNsun caches static assets of your website on their distributed network of servers spread across the globe. Through this type of networks, content is delivered to the end-user faster based on their geographical location. The speed of the content delivery depends upon the distance between the user and the nearest CDNsun server.
Excellent Features of CDNsun
In addition to website acceleration, CDNsun offers an array of many different features essential in this modern digital world. This is the age of internet and the World Wide Web has reduced the barriers of communication to a great extent. Today, you can reach out to a number of people through a simple blog, sell your products online via e-commerce platform, and spread your thoughts to a larger audience in video formats.
However, without better server resources and lack of traffic handling capacity, all these benefits of the internet can go in vain. But, not anymore! CDNsun can help you handle your website traffic smartly as well as offer Video on Demand services to stream your videos stored on your server to a wider audience more efficiently. This CDN solution will also help your users get better download speed for any high volume data such as games or software stored on your web server using their distributed network of data centers.
Let's check out the amazing features of CDNsun:
Website Acceleration

The loading speed of your website content is the key to better SERPs and deliver a better user experience to your visitors. With over 70 data centers spread across the globe, you website content will be delivered quickly and efficiently to your visitors based on their geographical location. For example, it will take time for an Indian user to load a website from a US based server, but the website would load faster if the content is delivered from an Indian server. That's the charm of CDN service and CDNsun aces that technology with its optimized distributed network of servers.
Video-on-Demand
Today, many webmasters and companies rely on YouTube or other video streaming services to host their videos. As the video takes a lot of time to buffer or basic web servers offered by hosting companies, most of us need the large resources offered by a big entity like YouTube. However, with CDNsun, you don't need YouTube service, but load and deliver videos directly from your own web server. Again, with a force of 70 different distributed networks of servers, the video can be easily delivered to the end-user swiftly and more accurately. While the service won't be great to run a Video based portal like YouTube, CDNsun can be an excellent choice to run Video-on-Demand service through your website.

CDN for Software and Games download
Similar to videos, you can also upload software or game files on your web server and use CDNsun to deliver them smartly and swiftly to the end-users without losing on speed or efficiency. Unlike videos that required real-time streaming, Software or Games can be easily loaded on to your web server as well as cached copies of your Software or Games can be stored at more than 70 data centers worldwide, such that they can be easily downloaded by the end-users. This is an ideal service for websites selling digital products such as Software programs or Games online.
Live Stream Videos
With Video-on-Demand service, all you need is to upload your videos and the users can stream them whenever they wish to watch it. On the other hand, live streaming is a different ball game altogether. CDNsun will help you live stream the video using Wowza servers. The CDN service will work for you even if you have a streaming server or not. If you don't have a streaming server, you simply need to connect your Adobe Flash Media Live Encoder to one of the Wowza servers and CDNsun will do the job for you! CDN live stream service on CDNsun supports all the major device platforms as well as all the popular video formats.
Making Money With CDNsun Affiliate
You can promote CDNsun and refer your readers to try it. It is a 2-Tier affiliate program and you will get commission up to 50% of sale. Minimum pay out is $45 and payments are made via PayPal once in a month.
Our Verdict after CDNsun Review
CDN service is highly essential in this internet age, where speed defines quality. The faster your content loads on a user's computer or device, the more efficient your website becomes. That's the simple formula of this digital world. Irrespective of what internet speed your end-user is being served, unless your web server is capable enough to handle the amount of traffic, the content won't load faster at the user end.
CDNsun will help you reduce the distance between your content and end user through its distributed network of servers located at 70 different data centers. With such a wider network of distributed servers, the content is delivered in a faster, cheaper, and in the most efficient manner. While you have the choice to upgrade your server and serve the traffic better, CDNsun will do the same task without large expenses.
Also, it has its own benefits to have your content delivered to the end user from a distributed network of servers rather than a single web server provided by your hosting company. Besides serving web content, CDNsun is also an excellent choice to load videos for users to access them on demand, has free custom SSL. Digital product developers can also use CDNsun to host the cache images of Software or Games for better download speed at the user end.
All in all, if your website deals with high traffic, then you can use CDNsun to offer faster, reliable and highly efficient user experience to your end users and has very convenient Pay As You Go pricing model.  After the CDNsun review, I also found that this CDN solution offers a good range of amazing features including website acceleration at highly reasonable and cheaper rates compared to its competitors.
What we think about
CDNsun