The latest OpenSignal reports show that Bharati Airtel 4G has best internet speeds than the Reliance Jio 4G VoLTE network.  As we know Reliance Jio 4G VoLTE connectivity drastically changed the Indian telecom industry with exciting free offers to Indian Smartphone users. To compete with Reliance Jio 4G offers, all network service providers started 4G LTE network coverage throughout the India with best 4G plans.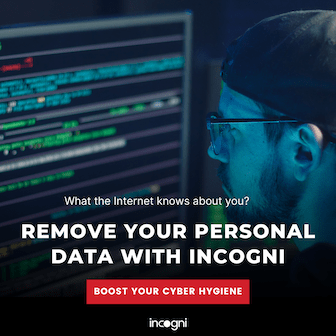 Bharati Airtel 4G is Fastest Network in India
Most of the other mobile service providers in India lost customers because of Reliance Jio free 4G services, in order to retrieve the lost customers all Indian mobile service providers came up with exiting 4G plans. But no other mobile service provider has the capability to beat Reliance Jio 4G except Bharati Airtel network. Bharati Airtel has almost 264.58 million customers in India, and it's been performing well with best voice plans and Internet packages, and the best part is Airtel has Full network connectivity even in villages.
The OpenSignal reports have carried out by closely looking the Network coverage and Mobile data speeds of various 4G networks in India. All these reports prepared by considering 93,464 Indian smartphone users and their network downloading and uploading speeds. OpenSignal reports claim that Bharati Airtel is the fastest 4G speed network in India, the next positions are acquired by Vodafone, Idea and Reliance Jio 4G.
As we said, Bharati Airtel is the fastest 4G LTE network with an average speed of 11.5Mbps, and it has average 3G Network download speed of 4.77 Mbps. The second place is acquired by Vodafone with a 4G download speed of 8.59 Mbps and 3G network download speed of 4.3 Mbps. Idea gains third place with an average of 8.34Mbps download speed and Reliance Jio on fourth place with a download speed of 3.92 Mbps which is less than the Airtel 3G speed.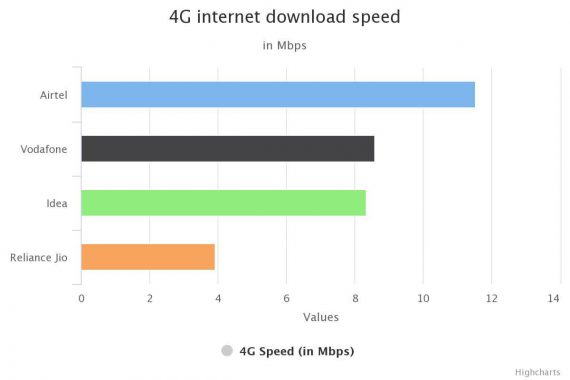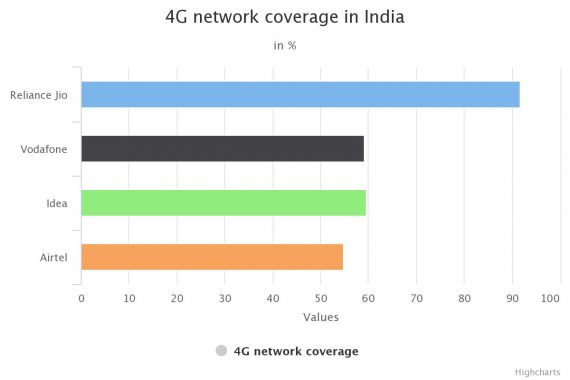 Coming to 4G Network coverage, Reliance Jio appeared on the top place of the list with a 91.57% network coverage all over the India. Although Reliance Jio started its 4G services last year because the network coverage has been expanded drastically throughout the India. After Reliance Jio, another place on the network coverage list is acquired by Vodafone, Idea, and Airtel. Although Bharati Airtel has best network coverage in India, it failed to expand their 4G network coverage throughout the India. Bharati Airtel 4G network coverage is available in all metro cities, but it doesn't have network coverage in medium towns and villages.
The Internet speed test platform Ookla recently stated that Bharati Airtel 4G has the best internet downloading speeds throughout the India but Reliance Jio argued about Ookla reports because in last month TRAI declared Reliance Jio is the Fastest 4G internet service in India and the Airtel was on the third place on the list.