The recent offers Indian telecom operators revealed shows how hard they want to bash the popularity Jio has gained over the last few months.
Vodafone and Airtel announced a few offers last week as a part of their Jio combat mission. Airtel offers Rs 345-349 subscription based plan with 1 GB data limit per day. Although Vodafone offer's price and data quota are similar, they only give it to selected prepaid customers.
Guess what? Airtel has released another offer. Let's have a look at what they have got this time.
Airtel has Come up with an Offer to Bag 70 GB Data and Unlimited Calls for 999 INR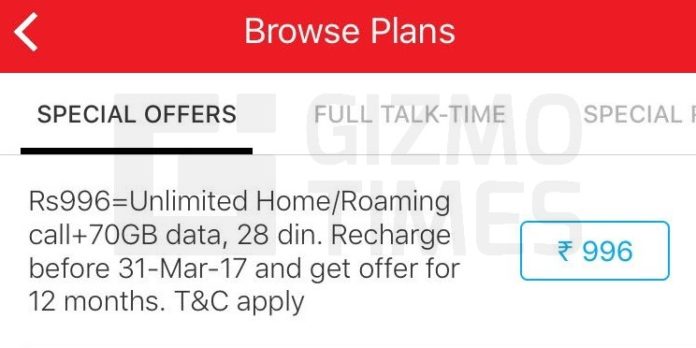 As stated earlier, Reliance Jio became a threat to all the telecom operators in India ever since its commercial launch in September last year. They provided free data and VoIP calls; something Indians weren't familiar of.
Apparently, people went crazy behind Mukesh Ambani's company for the free service. They even stand in queue for hours to get their hands on the Jio SIM. As a result, the newborn telecom operator achieved 100 million subscribers in February.
Ambani came up with exciting data plans as the welcome offer is about to expire. Their paid plans are ultra cheap that you can get 28 GB for only 303 INR. Bear in mind; this is happening in a country where Airtel used to charge 356 for 2.5 GB (it's the same with others as well)!
Also Read:- How to Switch to Reliance Jio without Changing Number
Obviously, main telecom players (Airtel and Vodafone) had to change their strategies. And, they came up with new plans. As Vodafone offer still stays anonymous, Airtel started offering 345-349 INR plan.
Bharti Airtel couldn't rest. They even launched another offer for 799 INR, with which you can use 2 GB per day for almost a month (28 days, to be specific).
Now, they have come up with another offer. Yeah, Indian telecom field is turning user-friendly. With the new 996 plan, you get 70 GB per 28 days and unlimited calls to any local/national numbers.
Although Airtel has released the offer, it doesn't seem to reach all their customers. If you want to know whether you are eligible for this or not, you will have to install My Airtel app.
Given that the special offers on the app change every day, you should bag one as soon as you find it interesting.
Be quick! All these new offers work like a subscription. You have to recharge before March 31, in order to get the benefit for a year.