Rainmeter skins for Windows will let you customizable your Windows-powered PC or laptop and can change the overall look in seconds. Without Rainmeter themes, Windows is still customizable but very limited and it can only let you customize it in the traditional way. You can only change Wallpapers, themes, Sounds, etc. But the UI cannot be changed, the look you need might not be achieved.
If you want to take UI to the next level, then you definitely need best Rainmeter skins for Windows. Rainmeter is one of the best software to design your Windows 10, Windows 8 and Windows 7. This desktop customization tool allows you to apply skins or themes on your desktop, from hardware usage meters to fully functional audio visualizers.
So, we are giving you the list of 15 cool Rainmeter skins for any Windows machine.
Best Rainmeter Skins for Windows:
Rainmeter allows you to design and customize your Windows the way you want it by applying cool skins (themes). You can change icons, wallpapers, battery indicator system, weather, locations and what not – Sky is your limit. Once you install a Rainmeter skin on Windows, it will automatically UI and interface.
Also Read: How to fix keyboard typing wrong characters problem in Windows 10
Before we start telling you the best Rainmeter skins, you have to first download and install Rainmeter on your Windows just like any ordinary software. Once you open the Rainmeter from the desktop icon, you can customize the desktop with the skin you installed.
List of free Rainmeter skins for Windows 10, 8 and 7:
1. Ironman – Jarvis V2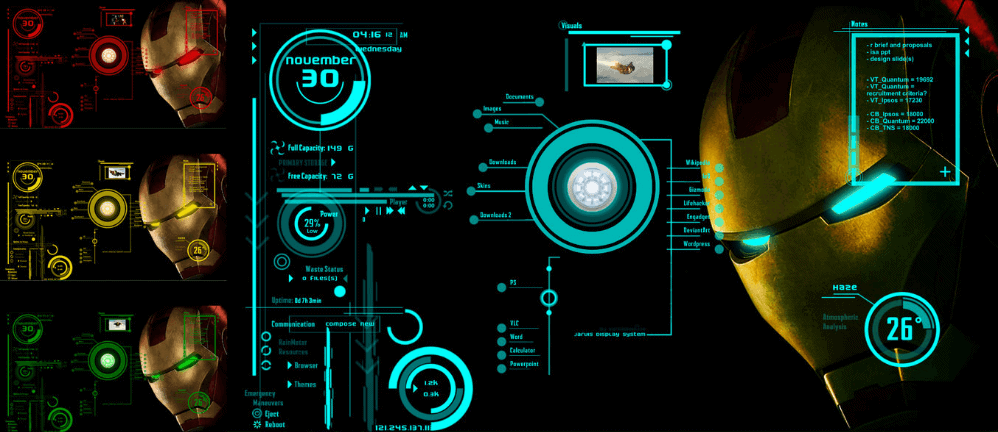 Are you a fan of Marvel movies and Ironman? Yes. Then you need to install this Ironman Jarvis V2 Rainmeter skin right now on your Windows 10 machine. We all know about Jarvis (famous Ironman character). So, this Rainmeter skin will change your desktop just like Ironman's assistant Jarvis. It is available in four different colors; blue, red, yellow, green. This is the updated version of Ironman Jarvis skin.
2. Mass Effect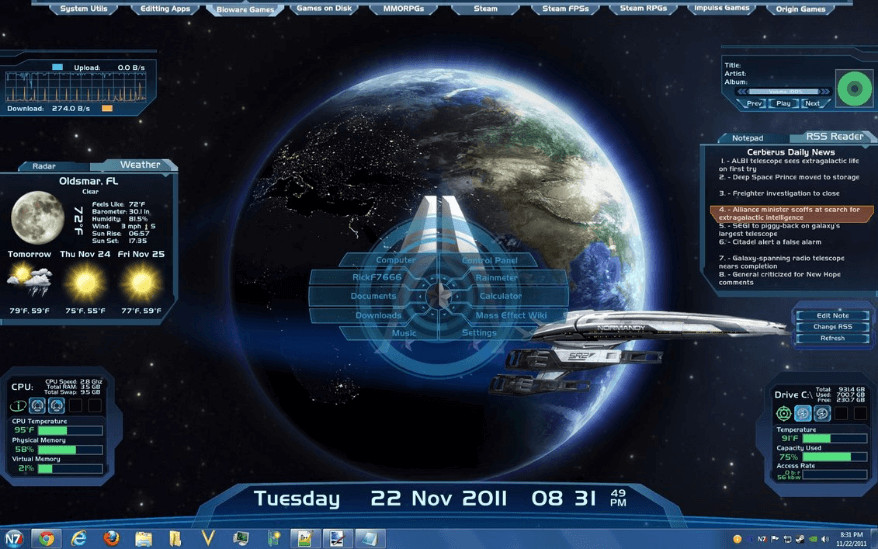 Yes, you got it right. It is the popular game Mass Effect Rainmeter skin which you can download and customize your desktop like you are the leader of those famous character players. You can see your internet download and upload speed, Weather, CPU utilization and plenty of options right on to your desktop.
Download Mass Effect Rainmeter Skin
3. Razor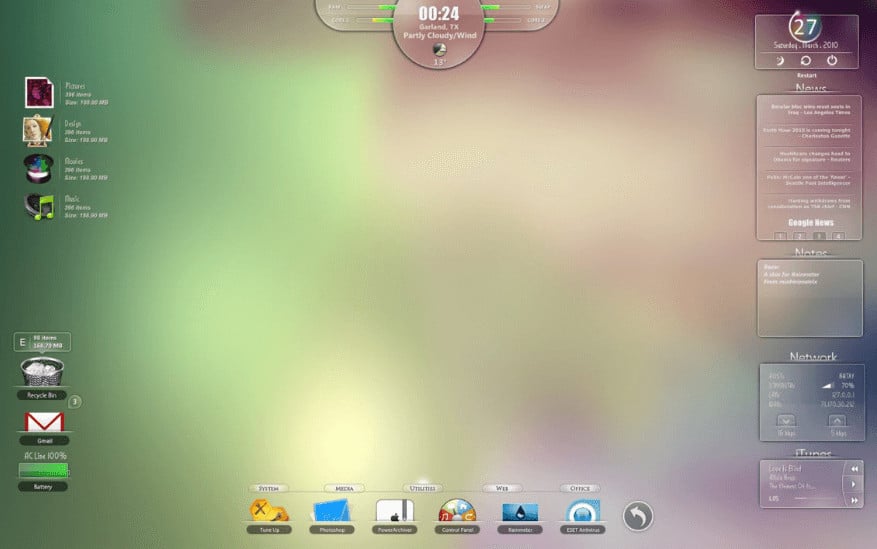 Razor Rainmeter skin is fully translucent glass-like skin (theme) for Windows 10. There are plenty of features available on the desktop which are just one click away to run them. There are options to show date, sleep, shut down, restart functions and there is a circle spin around it. Weather, CPU utilization, temperature are also shown and is available in three different skins; Glass, Dark & Light. Razor Rainmeter skin brings Mac-style look to your Windows PC and laptop.
4. Enigma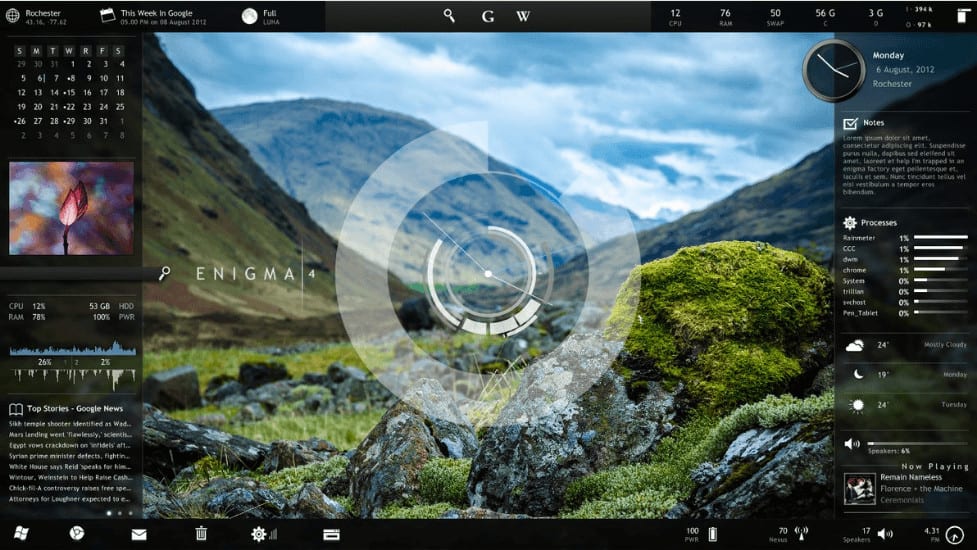 Enigma Rainmeter skin is one of the best Rainmeter skins for Windows 10 and my personal favorite. It changes the desktop with clean UI and lots of options available with its pretty dark and crystal color combination. I also like the icon pack of this skin and the clock at the center of the screen.
Download Enigma Rainmeter Skin
5. Newspaper Desktop
Newspaper Desktop Rainmeter skin, as the same suggests, you got it right. This skin provides you with daily news with RSS Feed, you can set up 4 RSS feeds on your desktop and 14 desktop launchers. There's a mailbox skin (for Gmail only), weather skin and a working pocket watch. It will give you the luxury reading experience just the vintage 90's rich people do.
Download Newspaper Rainmeter Skin
6. Wisp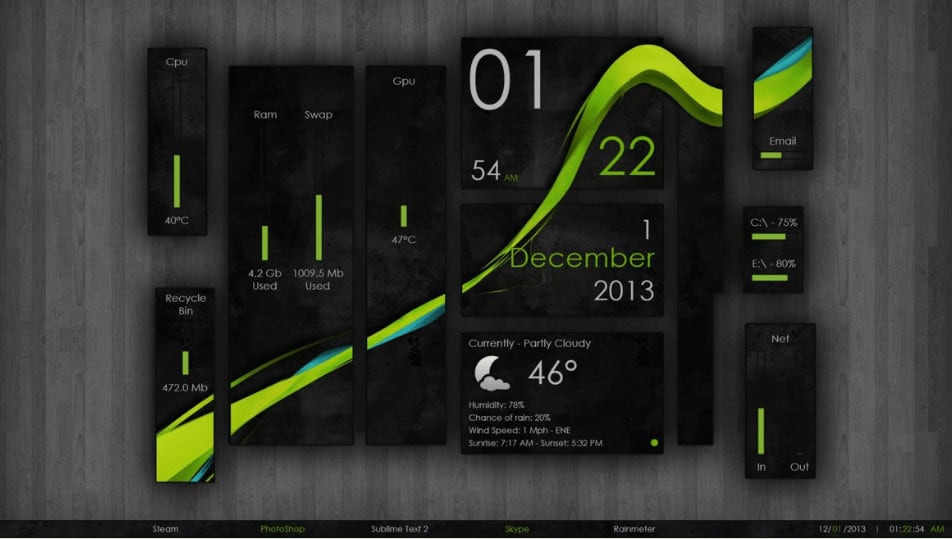 Wisp Rainmeter skin is one of the best Rainmeter skins for Windows with a simple and clean design. There are bar representations with a pretty design which is attractive as well as lightweight.
7. Neon Space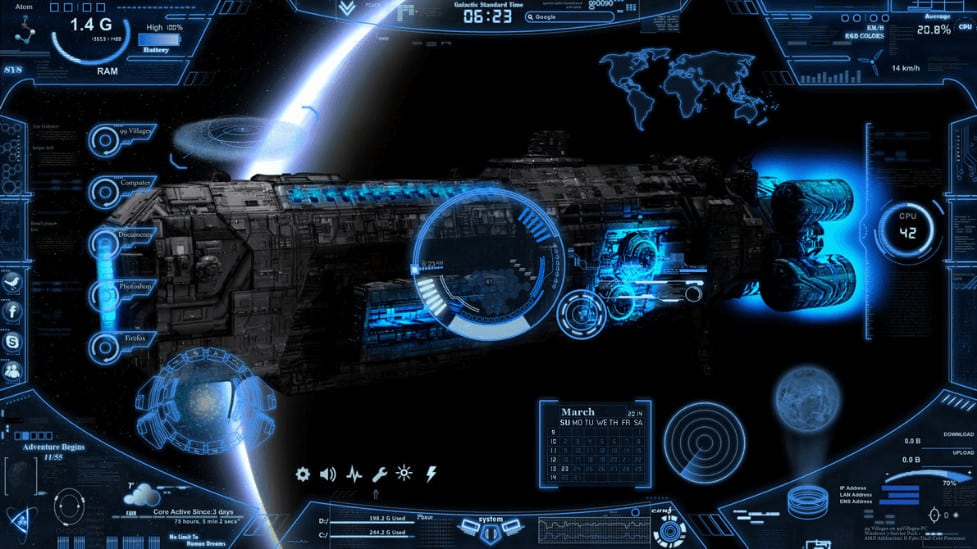 Neon Space Rainmeter skin will give you space like feel as you are the commander of a big ship which is going on a space mission. It is loaded with lots of features with date, weather, CPU usage, disks widgets. If you like space things like Aliens, you'll love this skin for sure.
Download Neon Space Rainmeter Skin
8. iSteve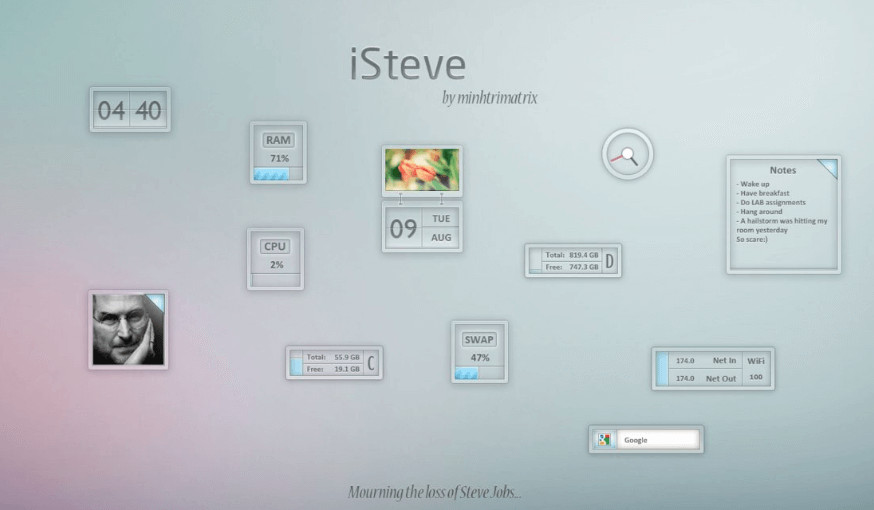 iSteve Rainmeter skin can be said as the best minimal Rainmeter skins for Windows 10. If you like Steve Jobs (Founder of Apple), you'll also like this skin. It is a clean, simple UI with very basic options. No other skin is as minimal as this skin.
Download iSteve Rainmeter Skin
9. Windows 2019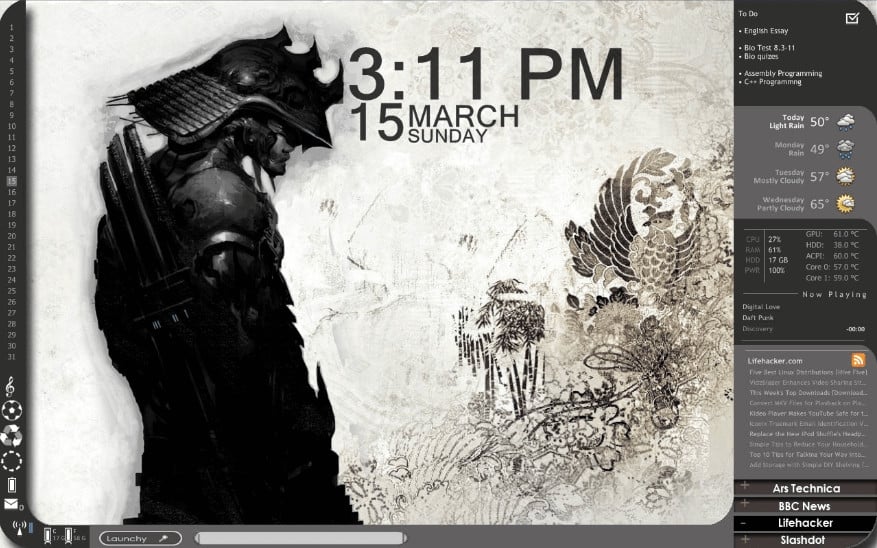 Windows 2019 Rainmeter skin will give a glance at how Windows will look in 2019. Not literally but the developer tries to demonstrate how older versions of Windows look like. It provides a perfect arrangement of widgets, icons around the screen and the wallpaper in the center. This Rainmeter theme is amazing and you must try it to revamp your entire Windows interface.
Download Windows 2019 Rainmeter Skin
10. Darkness Falls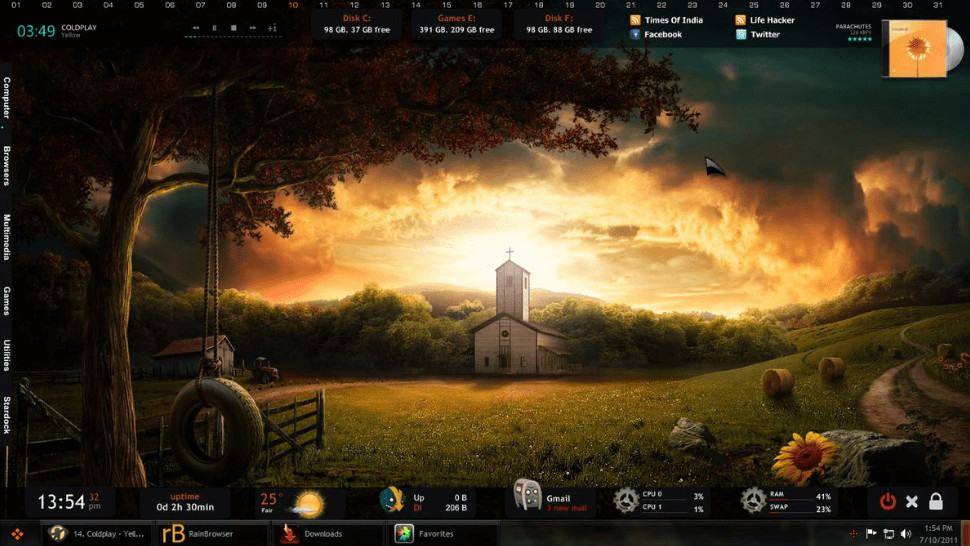 Darkness Falls Rainmeter skin is a soothing skin with landscape wallpaper at the back with colorful icons and widgets. When you look at this theme, you feel peace. It is a dark Rainmeter skin for Windows 10 with fresh and unique features which make it one of the best Rainmeter skins out there. This theme also has social media icons at the top of the screen. Once you logged in to your accounts. you'll get notifications directly on your desktop.
Download Darkness Falls Rainmeter Skin
11. Avengers SHIELD OS
I am a big fan of Marvel Cinematic Universe (MCU) and loved the Marvel's latest Avengers movie. Avengers SHIELD OS Rainmeter skin is one the best Rainmeter skins for Avengers lovers. You can gather your own Avengers team and lead them to their destiny. Just like the giant ship of Avengers, you can control various functions of Windows with just one click. The icon pack is also cool and there are plenty of widgets available.
Download Avengers SHIELD OS Rainmeter Skin
12. Speed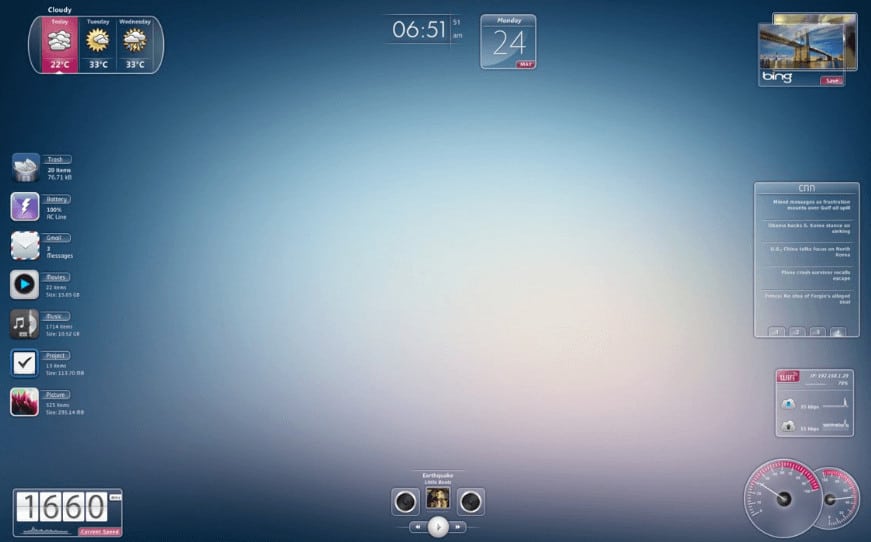 Speed Rainmeter skin is one of the fast Rainmeter skins with a glassy design. Only necessary and important widgets are available which are very useful for daily basis use. This Rainmeter skin had a trendy gradient wallpaper at the back with an awesome looking speedometer which shows the RAM and CPU usage consistently.
13. Simply Nova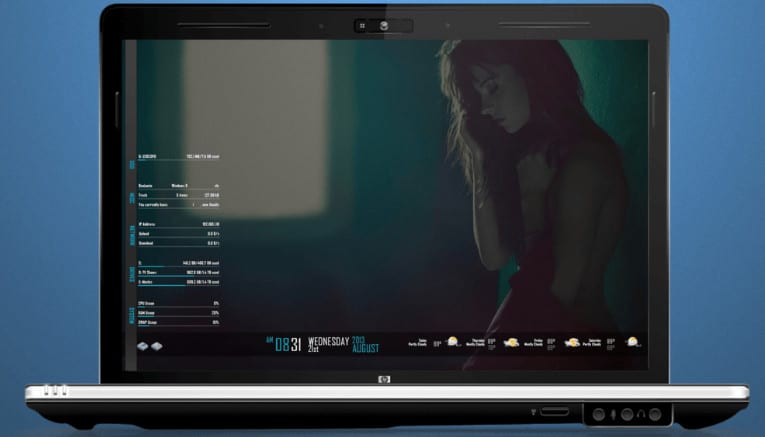 Simply Nova Rainmeter skin is one the best Rainmeter skins with Crisp Display Quality. A simple and pretty theme with minimal options with a fantastic lonely type wallpaper in the background. You will fall in love with the white and blue color combination. The best feature of this Rainmeter theme I like the most is the date and weather widgets.
Download Simply Nova Rainmeter Skin
14. Battlefield 3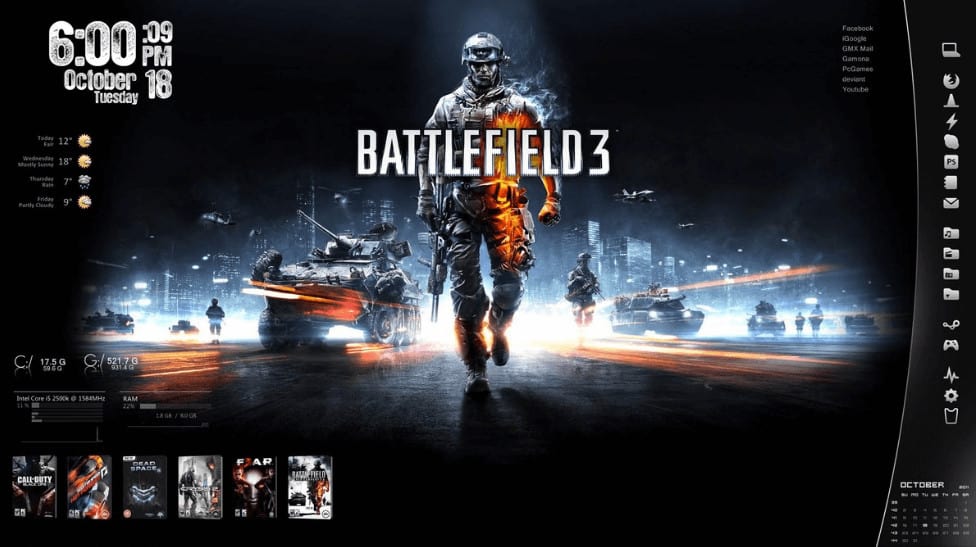 If you love to play and watch video games, you'll love this Battlefield 3 Rainmeter skin. This skin is one of the best Rainmeter skins for gamers. There is an amazing option to play the games installed on your PC at the left-bottom of the screen. The icon pack is awesome and the font in white used is just excellent. I played Battlefield 3 regularly and I'm in love with its insane gameplay.
Also Read 10 Best MMORPGs of all time you should play right now
Also, you can add your social links or connect your social profiles with this theme.
Download Battlefield 3 Rainmeter Skin
15. Windows 9 Single Mark 4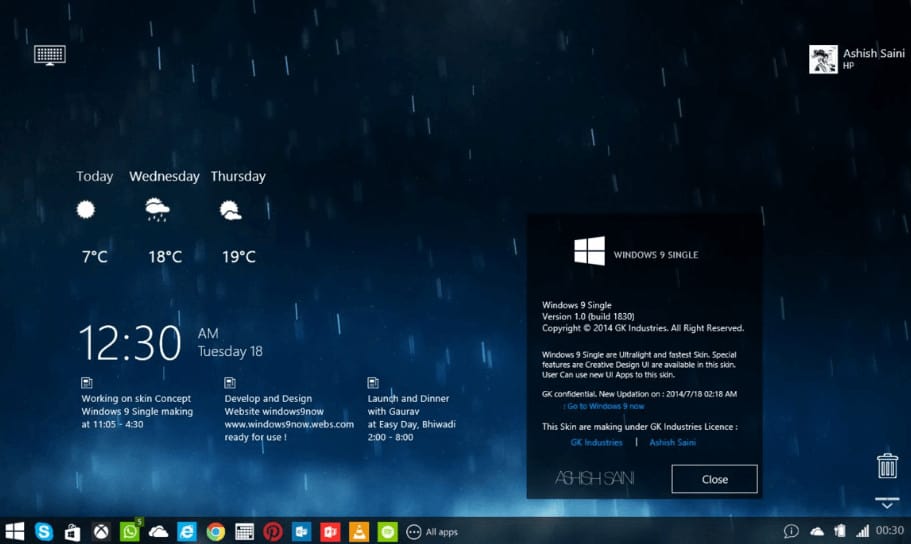 I know you got this skin after reading the name "Windows 9 Single Mark 4" of the theme. Microsoft hasn't released Windows 9 and directly released Windows 10. So, this skin is one of the best Rainmeter skins for Windows 10 to get a glance of how Windows 9 may look. It is dark and minimal Rainmeter skin with simple widgets. This skin looks similar to the Windows 8.1 interface with a widget which shows the properties of the system on the main screen along with the weather widget.
Download Windows 9 Single Mark 4
Conclusion for Rainmeter skins for Windows
So, these were the best Rainmeter skins for Windows 10, 8 and Windows 7 you can install on your Windows PC or laptop. With these Rainmeter skins, you can give a taste of advanced customization to your system. Do tell your views on these Rainmeter themes and which skin you like the most.