YouTube has started testing a new feature that allows for a chatbot under some of the videos. This chatbot will work similarly to the ChatGPT Chatbot which brings AI-related features to the video streaming platform. This new addition of features on YouTube helps in enhancing the experience of the viewers with new AI-powered tools.
There are a total of two new AI-powered tools being developed and tested on the platform to make the user experience better. The first tool provided on this AI-related update is the chatbot that will answer any questions related to the current playing video. The other tool comes as a comments organizer for the videos, that curates a bunch of comments into topics.
YouTube New AI-Powered Features that Work Similar to ChatGPT
The new AI-powered features on YouTube which are the chatbot and comments organizer are currently available for select Premium users. These new features brought by Google for YouTube will help in improving the way people interact with content. Besides, there's no barrier for these videos with subscription or non-subscribed users, and works for all.
One of the AI-powered tools that allows for enhancing the experience for users that scroll through long comments. The tool can help in summarizing the comments section in topics and shorten the length to provide room for better readability. Besides, the feature will help the users to easily interact with the discussion that they are interested in. Allowing users to navigate swiftly through other topics.
The new developments with this feature were showcased with a new "Topics sorting" option. The option was provided on specific videos for users who were accessing the comment section of the videos on the mobile version of YouTube. Moreover, the feature will become a great advantage for the creators to see the right reactions and opinions from viewers.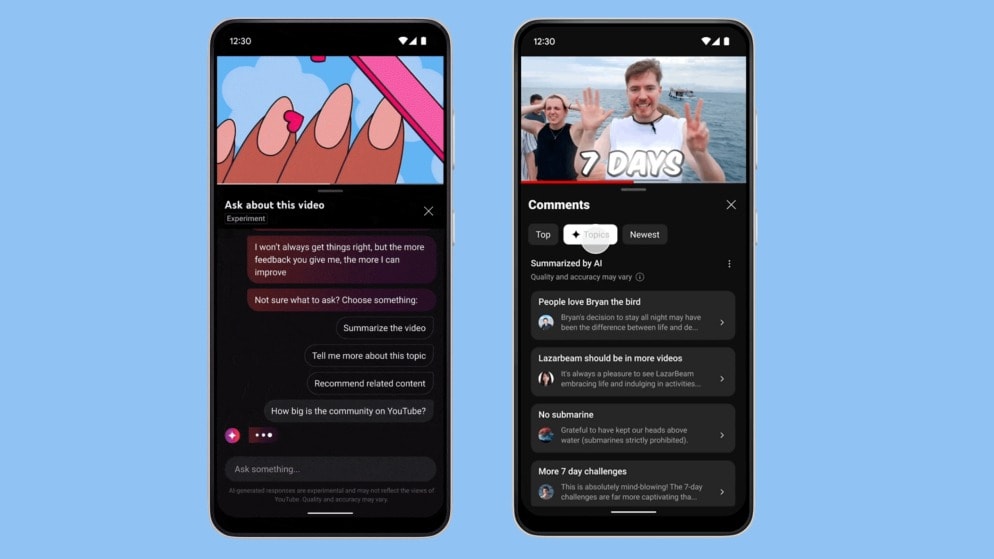 Furthermore, the creators will still have full permission to delete the topics in the comment section. However, they still need to delete the comments individually from the topics. On the other hand, the comments in the topic section cannot be created with comments under review. This means the comments will not make it to topics that come under blocked words or from blocked users.
Speaking of the chatbot, the conversation AI tool which comes under the videos. This tool will have the scope to answer questions related to the content. This tool from Google for YouTube will provide quizzes and responses to users. This becomes an advantage for users to provide a better understanding of course-related videos.
Currently, the experiment is running only on a limited number of English-language content that have large numbers of comments. However, both these new features will be available for YouTube premium members as an opt-in feature. Interested users can visit the youtube.com/new page and get full details and a sign-up option.