The Poco F1 was one of the hottest smartphones of 2018. As the device offered flagship-grade specs at a competitive price and become extremely popular among the users. Since then, the Poco fans have been waiting for the company to launch its successor the Poco F2.
The new report says the Poco F2 may pitch in upcoming months. The company has filed a trademark application for a smartphone named Poco F2. And the name clearly hints that its the most anticipated phone that fans are waiting for. 
The trademark application for Poco F2 was shared on twitter by @_the_tech_guy. The tweet shows two screenshots of the application. The application clearly shows that it was filed on the 4th of December 2019 at the China Trademark office. It has application number 4280005.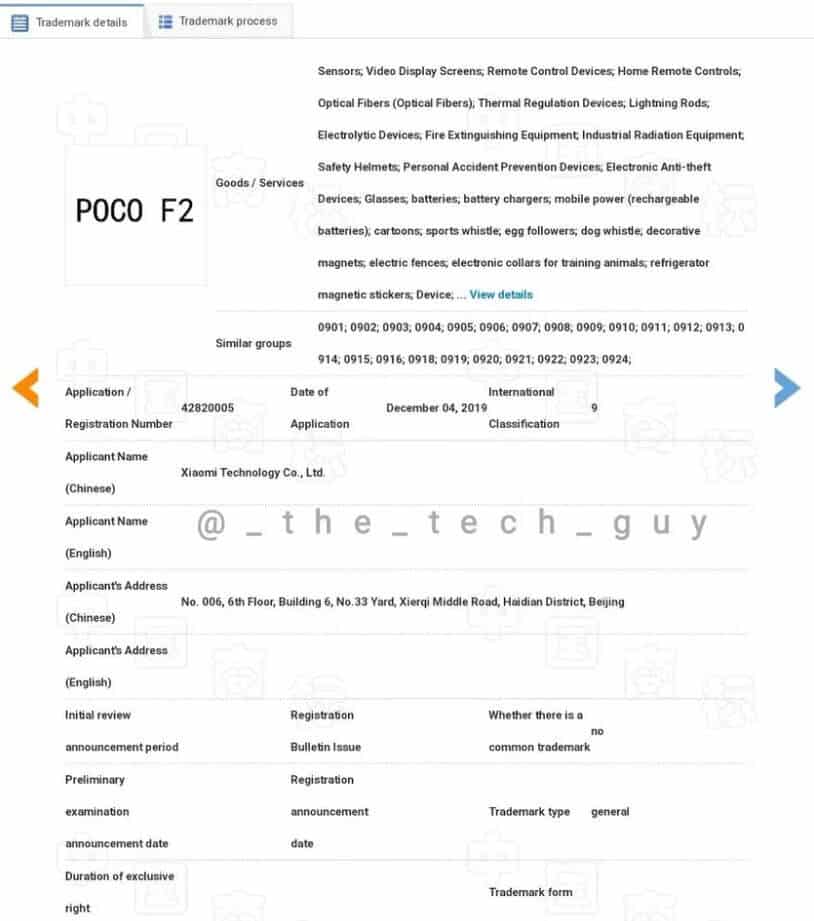 Well, you guys must have been wondering why the trademark was filed in China seeing as the Poco brand isn't available there. That's maybe because Poco is a part of Xiaomi and the company is a Chinese brand. Likewise, the company filed a trademark application for the Poco F1 in June 2018.
The trademark application is strong proof that the successor is in the work. However, there is no other information on when the device will launch. We could expect it to launch in February or March observing as the Poco F1 came two months later its trademark certification.
Well, it's not that we are hearing about the Poco F2 for the first time. In December 2018 the global head of Pocophone, Alvin Tse had claimed that "You will hear more from POCO in 2020". He tweeted this while responding to a guy asked "Poco user is confused! What about the future of the Poco brand?".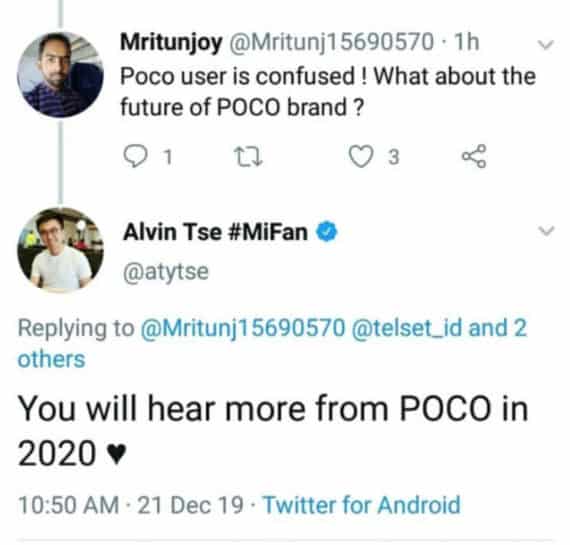 The question was obvious because we are living in an era where phone makers update their smartphones in almost every Quater. And Poco didn't update the series ever since it launched Poco F1.
But sadly, Tse deleted the tweet later. We have seen leaks of the case renders of the upcoming Poco phone. If those are indicating towards the future, the device will apparently have a notch-less display. Talking about the price, as the brand promises to give flagship performance in the budget. The device may launch with a similar price tag as the Poco F1.
For now, we have limited information about the device. But, here is a question for you guys, until Qualcomm unveils Snapdragon 865 SoC. Everyone believed that the Poco F2 will launch with 855 SoC. But now, as the company has launched Snapdragon 865 SoC will Poco use the 865 SoC in Poco F2?