What we think about
TunesGo Retro
Features

9
Speed

9
Price

10
Support

9
UI

8.5
Wondershare's TunesGo Retro is a wonderful replacement for iTunes since it offers many brilliant features that can be accessed very easily. The only thing that could bother an iTunes and iCloud user is the price tag. One can, however, check out the trial version and then buy it, depending on how he/she feels.
Update
: Wondershare rebranded TunesGo as TunesGo Retro. We have updated the article with all latest features and information. You can know about the latest TunesGo
here
.
Dubbed as one of the best replacements for iTunes, Wondershare's TunesGo Retro is an amazing iOS file transfer software which works not only for iPhones but also for iPads and iPods. TunesGo Retro is a software designed for Windows PCs using which one can easily transfer data from the PC to the iDevices. One can transfer media files like music, videos, pictures etc., from PC to iDevices and vice-versa. Once can also fully manage his/her iPhone contacts and also export/import them to/from the PC. Another great feature it offers is backing up of SMS.
"All this sounds cool, but I want to transfer data directly from my iPhone to iPad. Can I?", you mas ask. Absolutely! You can transfer data from one iDevice to another using this software. And also, it has a very simple and user-friendly interface; something that is better than iTunes'.
Now, let's jump into a brief description of the features, it has.
Features of TunesGo Retro – Best iOS File Transfer Software
1. Media transfer from PC to iDevices and vice versa.
You can easily transfer media like videos, photos and music from your PC to iDevices. Say, you have had troubles with your OS or lost you iPhone library and are afraid that you'll lose the data? TunesGo Retro can restore lost data from your PC or iDevices efficiently; something that is not very easy to, using iTunes. You can also organize your photos in folders and manage them easily. And yes, transfer of media files from iTunes is also provided with this software.

2. Manage iPhone contacts and SMS
You can import/export contacts from your iPhone to your Outlook mail, Windows Address Book and Windows Live Mail.You can also backup contacts on your iCloud, Gmail, iPhone and others using TunesGo Retro. Merging duplicate contacts from different accounts has never been this easy. Managing SMS and exporting them to other Apple devices can be done easily.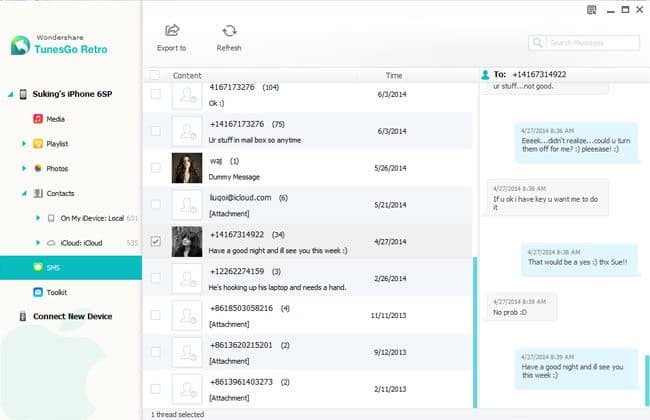 3. Transfer files between Apple Devices
You don't have to repeatedly sync your Apple devices like you used to on iTunes. Just connect all your iDevices to your PC and share data among them in one click!

These are the three major features of TunesGo.
Sometimes, during syncing and transferring of data from iTunes, we face problems like loss of data or reduction of quality. TunesGo claims that it can nullify any such loss, which is a thing to cheer about!
Know how to use the software, clearly.
Technical Specifications
Here are the full details about technical specifications you need to run TunesGo Retro on your computer.
System Requirements
| | |
| --- | --- |
| Operating System | Windows 8.1/8/7/XP/Vista |
| Processor | 750MHz Intel or AMD |
| Free Hard Disk Space | 1 GB or more |
| RAM | 512 MB or above |
Supported iOS
| | |
| --- | --- |
| iOS 5 | iOS 6 |
| iOS 7 | iOS 7.1 |
| iOS 8 | iOS 9 |
Supported Apple Devices
| | |
| --- | --- |
| iPhone | iPhone 6, iPhone 6 Plus, iPhone 5S, iPhone 5C, iPhone 5, iPhone 4S, iPhone 4, iPhone 3GS |
| iPad | iPad mini, iPad Mini 2, iPad Air, iPad with Retina display, The New iPad, iPad 2, iPad |
| iPod | iPod touch 5, iPod touch 4, iPod touch 3, iPod classic 3, iPod classic 2, iPod classic, iPod shuffle 4, iPod shuffle 3, iPod shuffle 2, iPod shuffle 1, iPod nano 7, iPod nano 6, iPod nano 5, iPod nano 4, iPod nano 3, iPod nano 2, iPod nano |
For complete specifications, click here.
Pros: The features of managing and exporting SMS and transfer of data without loss of quality or data itself, are the features that can drive one towards TunesGo Retro. Also, you can transfer data from one Apple Device to another very easily.
Cons: Wondershare has put its initial price as $39.95, something that not many iTunes or iCloud users would prefer since they are already getting free service. However, there is a free trial version (link from official site) using which, you can decide whether or not to shed some money.
TunesGo Retro includes GIF Maker
Wondershare added a new feature to TunesGo Retro software. You can now convert videos or images in your iPhone to GIF images in a go. All you need to use is little creativity to make them look good.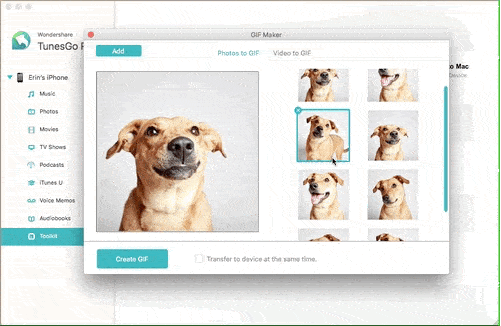 How to create a GIF image using TunesGo Retro?
Select any number of images/videos directly from your iDevice.
Edit the order of your imported media.
Click on Create button and have a cup of coffee till GIF is created.
Download GIF Maker for TunesGo Retro Here
Conclusion
If you love your Apple device and don't mind spending some good amount for it, I'd say, go for TunesGo Retro. It will simplify everything for you and make things easier.
What we think about
TunesGo Retro