Coming across nostalgic memories through media files on your old storage is bliss. However, finding your precious video clips from the past in a corrupted state leaves anyone in a devastated state. Not only older media files but newer video files might also go corrupt while transferring from one storage space to another.
The transfer process may include media files sharing from cloud storage or by any offline ways like CDs, DVDs, or USB. Moreover, the files may even get damaged due to the intervention of unwanted viruses on the systems. All of these factors will damage a video file, and returning them to a normal state becomes difficult at some point.
Keeping all of this in mind, we bring you the ultimate solution for fixing your corrupted video files. Wondershare has developed a medium called Repairit that helps you repair your distorted video files. Furthermore, Wondershare has made this tool work offline and online to make it more accessible and work more efficiently.
We have used the Wondershare Repairit, and now, we bring you our take on how the tool works and the full features provided to get back your corrupted video files.
The Wondershare Repairit is one of the best options for repairing videos that have been corrupted or damaged for various reasons. We have used both the online and offline mediums of the tool and were quite impressed with the performance. The Repairit tool has multiple video format support and an exquisite user interface making it the perfect option for fixing a corrupted video.
Many features outshine the online when opting for the offline version of the Wondershare Repairit. Both versions have drastic differences, making you switch to the offline version from the online with its extended options. Besides, we will show you the operations of both versions for fixing a damaged video. You can choose the best way to get the solution for corrupted video files quickly.
You can access the online version by visiting Repairit's official website and directly fixing your video files. Coming to the offline version, you can download the tool now from their website. The installation file comes in a small package and doesn't end up filling much of your HDD space. The software can be downloaded and installed on both Windows and macOS systems.
Video Formats: Supports 3 Video Formats for Repair
Number of Videos: Limit of 10 Video Repairs in a single day
File Size: Supports videos files that are only less than 200MB
Video Repairs in One Time: Can fix only 1 video at one time
Video Preview: Will preview only 30 seconds of the video file
Video Formats: Supports more than 10 Video Formats for Repair
Number of Videos: No limit and can repair unlimited video files
File Size: No File Size limit, can fix any big size media file
Video Repairs in One Time: Can fix multiple videos at a time
Video Preview: The tool can preview the full video without any hiccups
Video Analysis: Supports Sample Video Analysis
Modes: Arrives with 2 Modes along with Advanced Repair
Support for Cameras: Supports major camera brands in the world for fixing the captured videos
The Wondershare Repairit as a tool can mesmerize you with its effective video fixing capabilities and support for a wide range of formats. The software supports popular video formats, like the MP4, MOV, and 3GP formats, in which many popular camera brands record videos. Moreover, the tool comes with the support of a popular camera and storage brands that repairs any kind of video created or stored using those brands.
The platform features a Full-automatic repair of the video that doesn't require human interaction to fix your spoiled videos. Furthermore, the company hasn't cut down on the security aspect as the uploaded videos for fixing. The Repairit platform uses the 2048-bit encrypted connection to upload, store, and delete the video after 3 hours.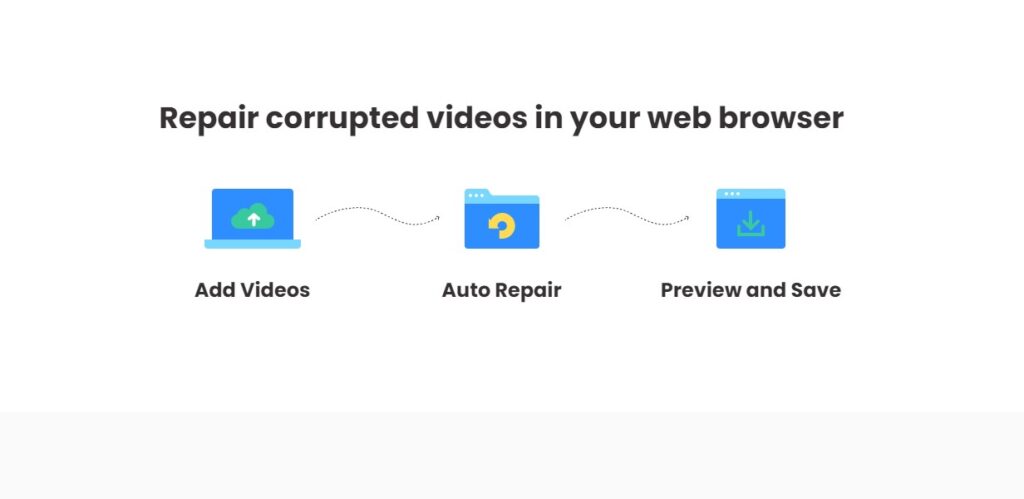 However, you can never worry about security when downloading their offline version. Because repairing corrupted videos takes place on your system, there's no external uploading and storing procedure. Both online and offline versions can repair any video file format without interrupting the source file's original quality or integrity. Lastly, the user interface of both platforms comes in a friendly appearance, and anybody can quickly fix their corrupted video files.
Let's take a brief look at how to fix any type of corrupted video file using the Wondershare Repairit offline and online platforms.
Using Repairit Online Platform for Fixing Corrupted Video Clips
We'll show you how to upload your corrupted videos and fix them immediately. You just require an active internet connection on your system and access to any browser to bring back your damaged video files to their original state.
Head over to Wondershare's Repairit online video repair tool's official website that can fix any damaged videos

Click the Upload option on the homepage and select the video you need to repair.

Wait for the video to upload on Repairit's website, and you can start the fixing.

Next, you need to select the Auto Repair option, and the tool will begin the restoration.
After the Repair, you can preview the video before downloading it.
Lastly, you can download the video directly on your system with just a click
Using Repairit Offline Software for Fixing Corrupted Video Clips
Here, we'll give you brief notes on the method to fix your corrupted video files using Wondershare's Repairit offline tool. You require a computer running on either Windows or macOS to install the software on your machine. Without any further ado, let's jump on to the process of restoring corrupted video files using the Repairit desktop.
Go to Wondershare's Repairit video repair official page to download the installation file.
Select your appropriate operating systems, such as Windows or macOS, and download the Repairit installation file.


Add the corrupted video to the video repair tool by dragging the file in the selected area.

Select the video files from the list and Click on the Repair button to start the video repairing process.

The corrupted video will start getting repaired, and your damaged video will return to a normal state in a few minutes.


Check the preview of the fixed video and save it on your hard disk by clicking on the Save option.
Conclusion
Wondershare's Repairit, as of our usage, has seamlessly brought our damaged video files back to the original version. As discussed above, the damage to media files might occur due to various factors. Yet the video repair tool available offline and online can change the whole scenario on how you treat these files.
The Repairit tool even features an Advance Video Repair tool where you can try to restore the video entirely even after the regular repair. Overall, the repair tool provides a quick solution for corrupted videos with a wide range of supported video formats. Wondershare has many more of these tools under its nest, giving solutions to various Mobile and PC issues.