What we think about
Wondershare Filmora
An alternative for iMovie on Mac. Filmora is the best video editing software for beginners to make a boring video to amazing and professional looking video.
Whenever someone says about image editing, the first option we have in our mind is Adobe Photoshop. But Photoshop is not for novice users and it needs a lot of skill to use Photoshop. When talking about video editing, the first thing that comes to mind is Adobe After Effects and again it is only for Advanced users.
Before beginners, there are many Photoshop alternatives for image editing and plenty of After Effects alternatives for video editing. If you are a Mac user, then you might have tried iMovie for video editing. But iMovie effects and animations are not updated regularly and most of them look outdated today.
Many people are waiting for an alternative for iMovie for very long time and finally, we have found one – Wondershare Filmora, a simple and minimal video editing software available for Mac, Windows, and Android.
Also Read: Wondershare Filmora Go Android app review
Wondershare is well known Chinese company with amazing tools for Windows and Mac. Filmora is one of their successful products which made video editing easier than ever.
Wondershare Filmora Features
Let's dig deeper into the software to know more about the features of Filmora for Mac. The welcome screen of Filmora is quite intuitive. You can choose the options depending on your project or open an existing Filmora project which you have already saved earlier.
Aspect Ratio
Choosing the correct aspect ratio for your project is very important. Filmora has 4 aspects rations for your next video. If you are not sure about what aspect ratio you need, it is recommended to choose 4:3 standard format.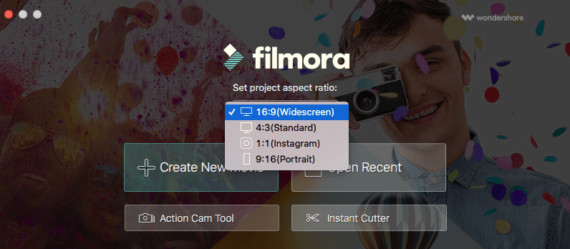 16:9 – Widescreen videos which are ideal to play on large monitors.
4:3 – Standard video aspect ratio. Choose it if you are not sure.
1:1 – Square videos for Instagram posts.
9:16 – Portrait videos.
Create New Video
The major video editing work is done on this screen and it has plenty of options to edit a video. You can add unlimited video tracks and maximum of 2 audio tracks to your timeline. Instant preview is shown on the top right of the screen and you can adjust the preview size or you can go full screen.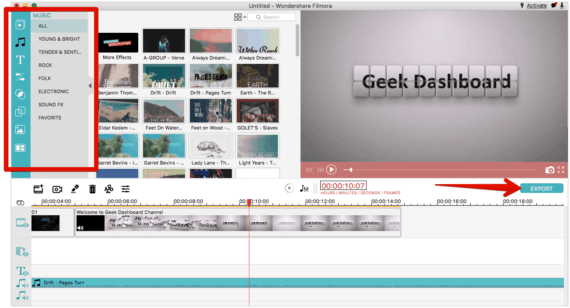 Available features to edit a video:
Media: To import video, audio and images from your Mac.
Music: Plenty of music samples are available inside Wondershare filmora. Make sure the selected music samples are available for commercial use.

Text/Credit: Videos are incomplete without adding start and end credits to it. You can choose them from openers, titles, lower 3rds, subtitles and end credits.
Transitions: While joining two clips of a video, it is important to add transitions to make the viewing experience smoother. Filmora has 200+ video transitions to choose from.
Filters: Amazing filters are available to add cinematic and vintage effects to your video clips.

Overlays: Many overlays like frames, damaged films, bokeh blurs etc are available. These overlays will change the overall video quality to a great extent.
Elements: Plenty of elements for love, journey, web, handwritten etc are available by default in Filmora video editor.
Split Screen: One of the most important features of Wondershare Filmora is split screen. You can split the screen into different designs to add different videos in the single frame.

Record Screen: Sometimes you might want to record the screen to explain your product. You can do it straightway from Filmora.
Voiceover: Add voiceover to your videos easily by connecting a microphone. You also have an option for noise cancellation.
Split: You can split the imported media to unlimited parts and remove the unwanted frames by simply clicking the trash icon.

Crop: Easily crop the video to remove unnecessary items from the video.
Rotate: You can rotate the video/image with just a click.
Power Tool: In this option, you can add Tilt-Shift to blur the left and right corners of the video. Along with Tilt-Shift, you can add Mosaic and Faceoff.
Advanced Color Tuning: To adjust colors, brightness, hue and more.
Inspector: Adjust the audio and video levels with inspector option.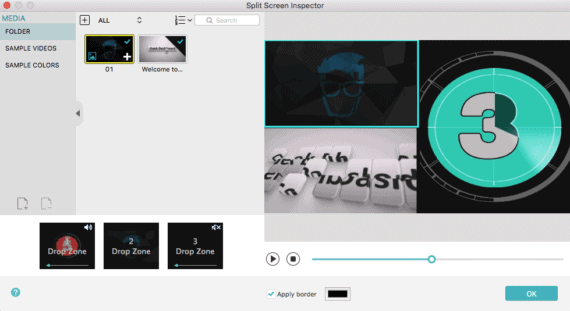 Action Cam Tool
Action Cam Tool is the most underrated option and such option is not seen in most of the video editors including iMovie. This option is helpful for travelers who shoot the videos with headcams like GoPro. If your video has fast moving objects or captured with shaky hands, then Action Cam Tool is helpful to stabilize and smoothen the videos.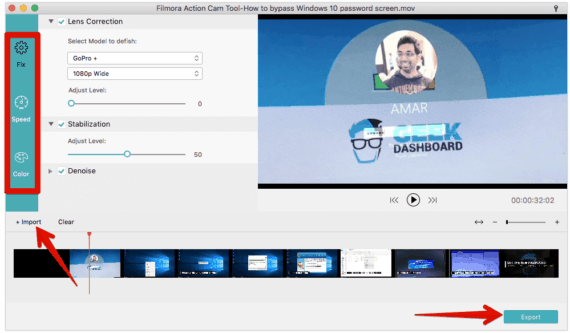 Once you import a video in Action Cam Tool, you have 3 options to edit the video. You can do the lens correction and adjust stabilization/denoise. Along with them you can add Speed Mark and Freeze frames with color corrections.
Changes are reflected real-time in the preview and once you are happy with the changes, click the Export button, choose the filename, output path and format to save the video.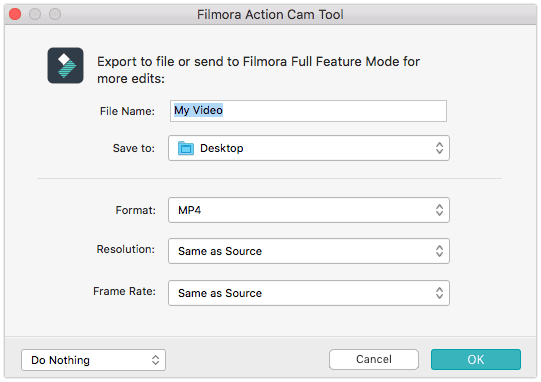 Also Read: How to convert VLC videos to MP4 format
Instant Cutter
Latest mobiles are now able to record 4K videos and a minute of 4K video will occupy hundreds of megabytes. To share such large video files over the internet, you need to either compress it or reduce the video length. Since we can not compromise on video quality, we can not compress them and the only option we are left with is reducing the duration of the video.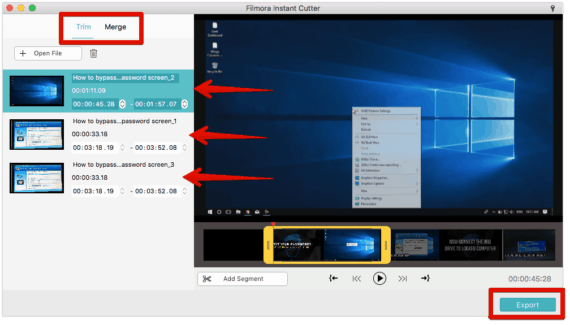 To reduce the duration, we need to just trim the important parts of the video or cut the unwanted parts from it. Instant Cutter option in Wondershare Filmora comes handy in such situations.
It has both Trim and Merge options. Trim option helps you to split the video into multiple videos by dividing them into segments. After exporting the video, each segment is saved as a new video.
Under Merge option, you can join the divided segments or two or more completely different videos into a single video.
Conclusion:
No doubt, Wondershare Filmora is the best alternative for iMovie on Mac. If you are bored with same old-fashioned effects and animations of iMovie, then you should immediately try Filmora software. The only drawback of this tool is the large watermark added to exported videos if you are using the free version. Watermark covers half of the screen and sometimes make video difficult to watch.
You can buy the full version of Wondershare Filmora to remove the watermark and tech support for a one time fee of $60.
What we think about
Wondershare Filmora