What we think about
Dr.Fone
Dr.Fone by Wondershare is an all-in-one mobile management solution. It excels in data recovery, screen unlock, and system repair. Although some features are device-specific, it offer substantial value for users willing to invest
As mobile technology evolves, the amount of functions we perform on these smart devices increases. There is a growing list of house cleaning and routing activities needed. Users are confronted with issues ranging from data loss and system breakdowns to phone transfer issues, necessitating proper phone and data management.
While individual mobile operating systems offer some functionality to help make phone management seamless, opting for an all-in-one management solution may be preferable. We got our hands on Dr.Fone, an application that purports to carry out these functions, and in this review, we explore all its quirks and features and give you our thoughts and recommendations.
Dr.Fone is an all-in-one management software for Android and iOS mobile devices. The Wondershare team developed it, the creators of Filmora, Recoverit, and DVD Creator.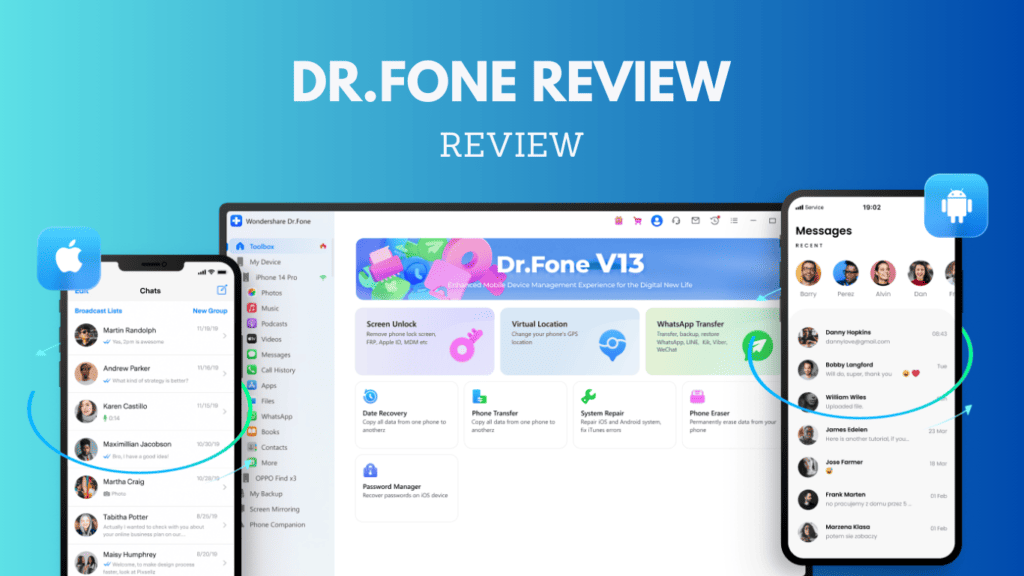 Dr Fone's robust desktop and online solution enables you to troubleshoot and manage your smartphone regardless of your location and includes multiple functions like:
To start with the service, follow the following steps.
Visit the official website and click the download option corresponding to your OS.

Double-click on the downloaded file to begin the installation, and make sure you follow the wizard to install the app successfully.
Launch the application, click the Login menu, and enter your login details.

Connect your mobile device to your computer via the USB cable.
Dr.Fone Features
Let's have a closer look at Dr.Fone's key features and functionalities:
1. Data Recovery
This is one of the more popular features of Wondershare Dr.Fone. You can recover deleted or lost files on an iOS or Android device. When you use this function, Dr.Fone's tech scans your device and will even recover data if the device is damaged or formatted. It gives many data recovery options, including recovering from iCloud, iTunes data recovery, and Password Recovery.
To use this feature, follow the steps below:
Launch Wondershare Dr.Fone and connect your device to the computer using a USB cable.
Click Toolbox on the left pane and select Data Recovery on the right.

You may choose from any of the recovery options presented. In this test, we picked Recover Data from iOS device.

Select the type of file you need to be recovered and click Start Scan.

Enter your phone's password when prompted.
This process will take a while, but wait patiently for it to complete.
2. Screen Unlock
The Screen Unlock Dr.Fone feature works seamlessly on iOS and Android devices. You can remove patterns, PINs, passwords & fingerprints on Android devices. The feature also helps you bypass Android FRP lock without needing a Google account or PIN. Furthermore, you can unlock Android brands like Samsung, Huawei, LG, and Xiaomi. But what we love most about this feature is that it requires no tech knowledge.
On iOS, the feature is equally remarkable, as it can remove all types of lock screens on iPad, iPhone, and iPod touch. With this feature, you will not need a password to bypass Apple ID and iCloud activation lock. The Screen Unlock will also bypass screen time and  MDM without any data loss, and you can do all this without any technical knowledge.
If you go overseas or change and restart your SIM card, your iPhone could become locked. You can resolve carrier SIM troubles in typical situations, such as SIM Not Valid, SIM Not Support, No Network Services, or SIM Locked using Dr.Fone – Screen Unlock.
3. System Repair
The System Repair function is the most useful function of Wondershare Dr.Fone. On Android devices, it offers a one-click repair that will fix system issues like the black screen of death with a high success rate. This feature is available for all mainstream Samsung models.
On iOS, it will resolve issues like boot loop, Apple logo, and 1110 errors. You are also able to downgrade your iOS or update it without jailbreak. We love how updated this feature is, as it functions perfectly on iPhone, iPad, and iPod Touch, running any iOS version, and is fully supported on the iOS 17 public Beta.
Lastly, if you have iTunes errors, this function will come in handy, fixing the error in one click and boosting your iTunes in seconds.
Using System Repair is easy, and you may follow the steps below:
Launch Wondershare Dr.Fone and connect your device to the computer using a USB cable.
Click Toolbox on the left pane and select System Repair on the right.

Select your device type.

Select a repair category.

You may need to click subcategories to get to some specific fixes. Based on the fix you pick, follow any onscreen information to complete the process.
4. Phone Transfer
This Wondershare Dr.Fone feature allows you to seamlessly transfer data or files between devices running different operating systems. Hence, you may transfer files from an Android to an iOS device and vice versa.
8000+ smartphones, including those from Apple, HUAWEI, Samsung, Sony, OPPO, Google, and others, are fully compatible with Phone Transfer. Additionally, it supports the most recent iOS and Android versions and unlocked devices offered by Sprint, Verizon, AT&T, or T-Mobile.
You may use this Wondershare Dr.Fone feature by following the steps below:
Launch Wondershare Dr.Fone and connect your device to the computer using a USB cable.
Click Toolbox on the left pane and select System Repair on the right.

Click on the data you need to transfer and click Start Transfer. Note that you will need a target device connected to your computer for this feature to work.

5. Backup & Restore
Wondershare Dr.Fone offers very flexible backup and restore options. You can back up iOS devices wirelessly and automatically and preview your backups before restoring them. This feature allows you to restore iCloud/iTunes backups selectively and guarantees no data loss during the process.
On Android devices, it allows more than 10 backup data types, such as photos, music, and contacts. We love this feature because you may restore the data to other iOS or Android devices.
The backup process is simple. Just follow the steps below.
Launch Wondershare Dr.Fone and connect your device to the computer using a USB cable.
Click My Backup on the left pane and select Back Up Now on the right.

Give it a while to complete the process.
To restore a backup, click Backup History and View for the backup you need.
Finally, click the Restore to Device option.

6. Virtual Location
This feature makes it possible for you to change the GPS location of your phone. You may find the feature helpful for any of the following reasons:
Playing location-based games
Bypassing geo-restrictions
Testing location-based features
Cheating in geo-location-based apps
We recommend you check with the terms of service for specific apps if you must use Virtual Location, as it may violate these agreements.
7. Password Manager
This feature is only available for iOS devices. This function will be useful if you can't remember the password to your online services, like a Facebook or Twitter or a Google account you previously logged into on your iPhone. It scans and finds these accounts.
You will also use the Password Manager to find Wi-Fi passwords for an iPad or iPhone. This feature is easy to use and allows you to export your iOS passwords to multiple formats and import them to Password Manager tools like LastPass, iPassword, Keeper, etc.
To use the Password Manager, follow the steps below:
Launch Wondershare Dr.Fone and connect your device to the computer using a USB cable.
Click Toolbox on the left pane and select Password Manager on the right.

Click Start Scan, then enter your iTunes password when requested.

The process may take a while, depending on how much data you have on the device, then you should be able to see all your passwords.
8. Phone Manager
By putting all of your files in one location, this feature enables you to manage media files and makes it simple to preview, move, and delete them. You can save time and space by merging duplicate audio and image files.
You can backup your Android apps to a computer with just one click. Also, it allows you to delete pre-installed apps or bloatware and install and uninstall apps in bulk while maintaining flexibility.
You can also preview, export, and print your WhatsApp and LINE chat messages, audio, video, images, and other media assets on your PC in just a few simple clicks.
Finally, you can transfer data between your mobile device and computer, including SMS, contacts, call history, etc.
9. WhatsApp Transfer
Dr.Fone's Whatsapp Transfer is your go-to feature whether you want to smoothly combine WhatsApp chats on two devices without any data loss or transfer your conversations on WhatsApp to a new phone with ease. It facilitates the transfer of WhatsApp chats and their attachments between various  Android and iOS.
This is how to use the WhatsApp Transfer feature:
Launch your Wondershare Dr.Fone app and connect your phone via a USB cable.
Expand My Devices on the left pane, click on your device, and on the right, click WhatsApp Transfer.

 Click Get Started.

If prompted, open developer mode using the instructions in the image below.

Click on Transfer Whatsapp messages.

Lastly, click transfer to begin the process.
The service offers pricing across 3 categories, Individual, Team & Business, and Educaton.
Individual Pricing
Dr.Fone – Full Toolkit:  Starts from $99.95 annually
Dr.Fone Basic: Starts from $39.95 annually
You can mirror your mobile device's screen to a PC, back up, recover, manage, and transfer data between devices using Dr.Fone Basic.
However, you get all the functions of Dr.Fone Basic plus phone transfer, data recovery, screen unlock, data eraser, WhatsApp transfer, system repair, and iTunes repair with Dr.Fone – Full Toolkit.
Team and Business Pricing
The pricing starts at $195.93 per year, but you must complete a form to purchase a business plan for more than 20 users.
Education Pricing
A Dr.Fone – Full Toolkit student plan costs $69.95 per year, but you must complete a form to purchase an education plan for more than 20 users.
We thoroughly enjoyed testing this application, but we did identify some drawbacks. See the top pros and cons in the table below:

Pros
Wondershare Dr.Fone is a complete toolkit to solve mobile device problems
It has an intuitive and easy-to-use interface
The service provides a lot of material and guides to ensure no user is stuck
It offers data encryption to ensure there is no vulnerability in sensitive information
It is very effective and mostly delivers functionality
Cons
Some features are not available on all devices
While it offers several great features, it is among the more pricey tools in this niche
Our Verdict
In summary, the Wondershare Dr.Fone application is a robust and effective phone management app. It delivers well on most features, which explains why it has millions of users.
A budget may be a constraining factor, but if you can afford the tool, you will agree that it offers great value for money.
If you tried this tool, please drop us a comment, telling us your experience using it. We look forward to hearing from you.
What we think about
Dr.Fone