What we think about
Wondershare DemoCreator
Capturing my screen and editing the video afterward was one of the most tedious things ever until I started using Wondershare DemoCreator.
Tell me one thing first! How many applications do you use for capturing your computer screen and editing the video afterward? Probably OBS Studio for recording your screen and Adobe Premiere for editing, right?
What if I say, you can do both from one single app! That's possible with Wondershare DemoCreator.
Being an avid content writer, I often capture my screen for presentations and tutorials. But my workflow hadn't always been smooth. I had to record in OBS, import the file to Premiere, deal with annoying bugs, and finally hit the Export button. That was hectic!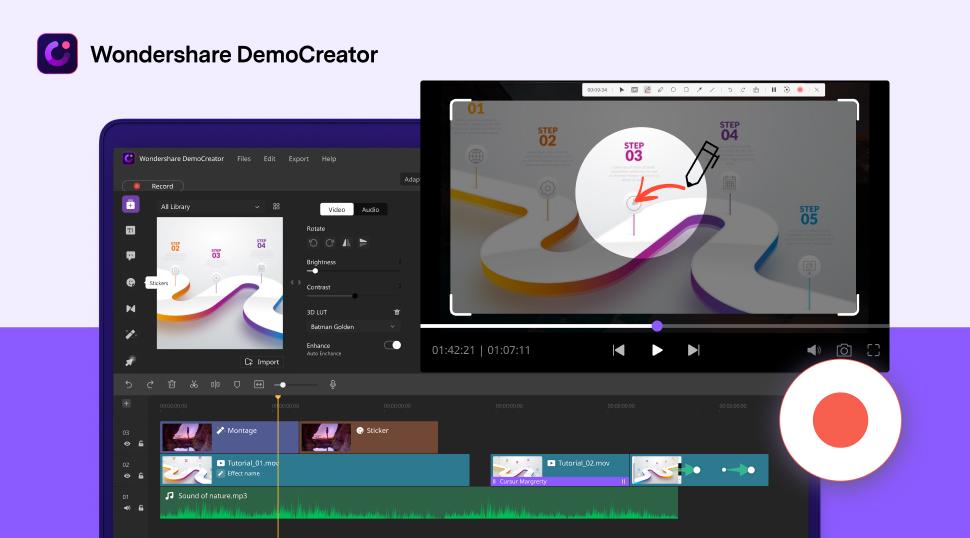 It wasn't that long until I switched my workflow to Wondeshare DemoCreator. And the moment I recorded, edited, and exported my first video, I realized how many hours I just wasted, dealing with OBS and Premiere's complexities.
I also realized that I'm not alone. Maybe you're also looking for some solutions to capture, edit, and share your screen without ever switching to another application. Well, you may find this review beneficial then.
Let's jump straight into today's in-depth Wondershare DemoCreator review and see what awesome features this all-in-one app offers.
The Necessity of Screen Recording & Editing
The importance of screen capturing and editing is undeniable, especially with all of us leading the WFH life, whether for work or education. Of course, apps like OBS Studio and Adobe Premiere have always been there, but they lack a unified experience. And let's not talk about the subscription charges.
Wondershare DemoCreator bridges the gap by combining the best of both worlds while retaining the essential recording and editing tools for both amateurs and professionals.
An Introduction to Wondershare DemoCreator
DemoCreator may sound relatively new to your ears, but if you're somewhat familiar with Wondershare, you might have already guessed that DemoCreator isn't any ordinary screen recording software. Yes, Wondershare is the same parent company behind the popular video editing apps, Filmora & FilmoraGo. Founded in 2003, Wondershare has indeed transformed the way non-professionals used to edit videos; first with Filmora, and now with DemoCreator.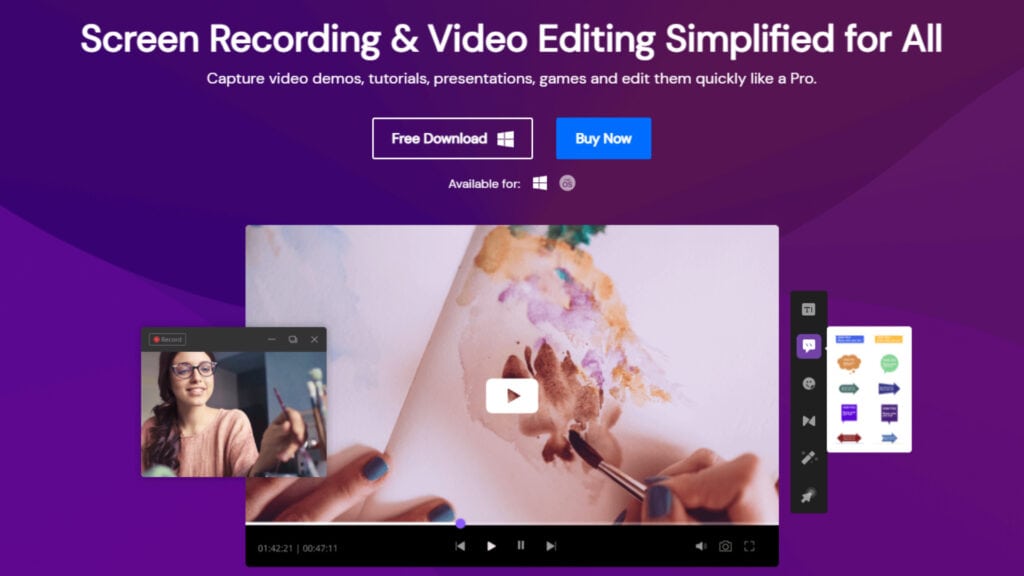 Just imagine how many hours you can save in your workflow by eliminating the time wasted in jumping between different apps. DemoCreator aims the same by bundling both screen recorder and video editor in just one easy-to-use package.
Capturing your screen is as simple as hitting the 'Start' button, with professional editing tools available for tinkering with your recorded video; all these, without even bothering to switch between different applications.
Bundled Features in The DemoCreator App
Wondershare has jam-packed this swiss army knife of screen recorders with so many full-fledged features, that honestly, I won't even utilize all in my basic workflows.
From real-time screen drawing to cursor highlighting to capturing the system or microphone sound, you will benefit from everything that will level up your productivity game.
Let's now explore what assortment of features the developers have baked right into this tool.
1. User-Friendly Layout & Interface
Before using DemoCreator, one of my most frequent complaints was about the complex user interface, let alone switching between apps hundreds of times.
Wondershare DemoCreator solves the issue by implementing its ribbon-like graphical interface, which offers simplicity, quick navigation, and neatly organized editing features under different categories.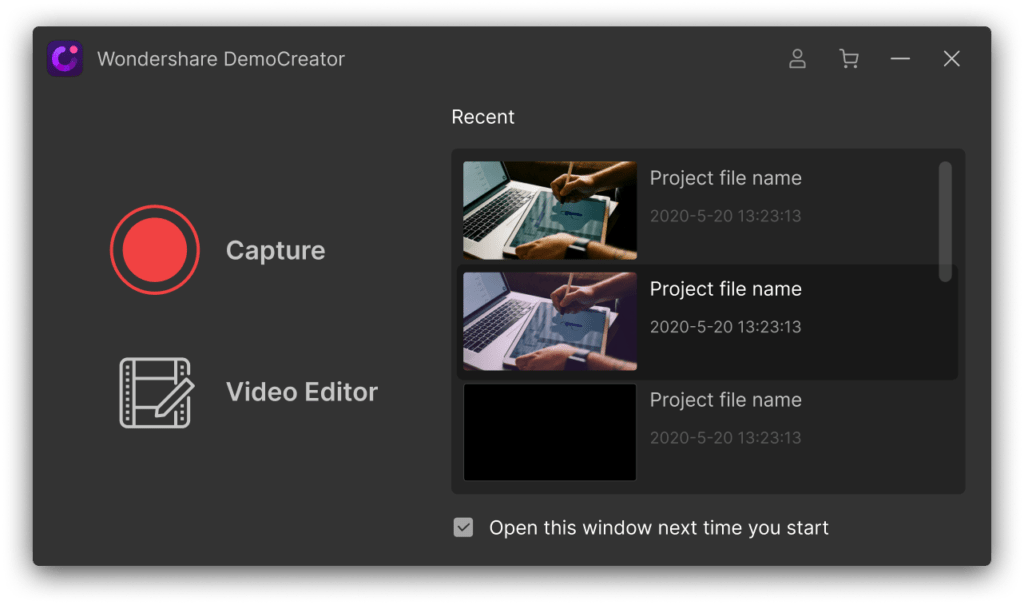 2. Customizable Screen Recording
Nowadays, more or less every other recorder lets you capture your screen with customizable options. But the feature in DemoCreator that I really like is the ability to record particular windows or applications, all while retaining the customizable resolution, frame rate, and creativity tools like real-time screen drawing and highlighting texts.

3. Professional Video Editing
I was somewhat skeptical about switching to DemoCreator, leaving behind my learning curve with Adobe Premiere. But guess what? I did not have any issues, whatsoever while adapting to another video editing UI. Taking notes from its dedicated video editing software Filmora, Wondershare has brilliantly chosen the best editing tools for creators.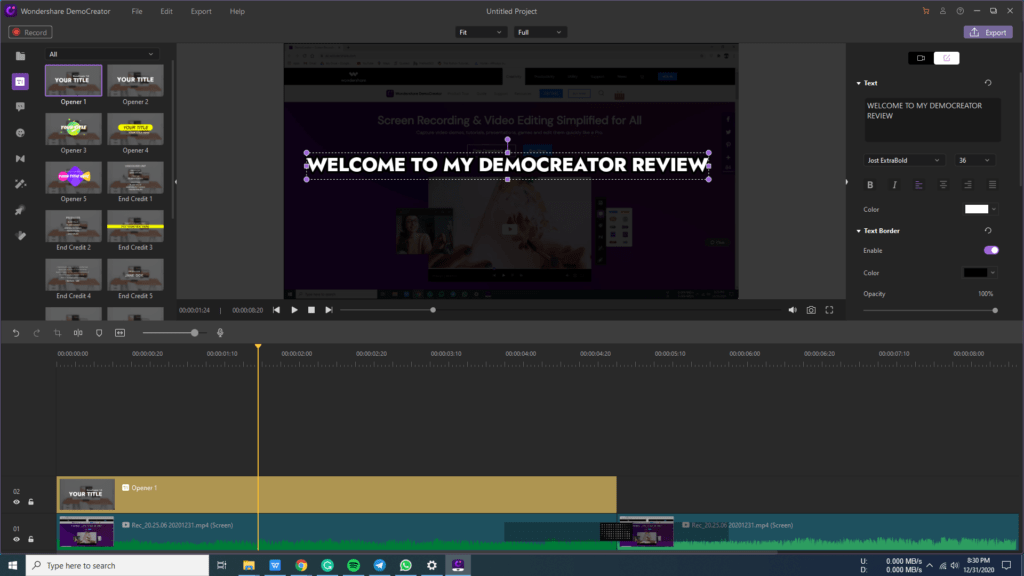 4. Video Import/Export Options
With the support of over 50 file formats, this all-in-one software offers flexible workflows for every need. No matter which formats your files are in, DemoCreator can handle even the most complex formats for professional works. And once your editing is finished, you can export your video with the same degree of flexibility with different file formats.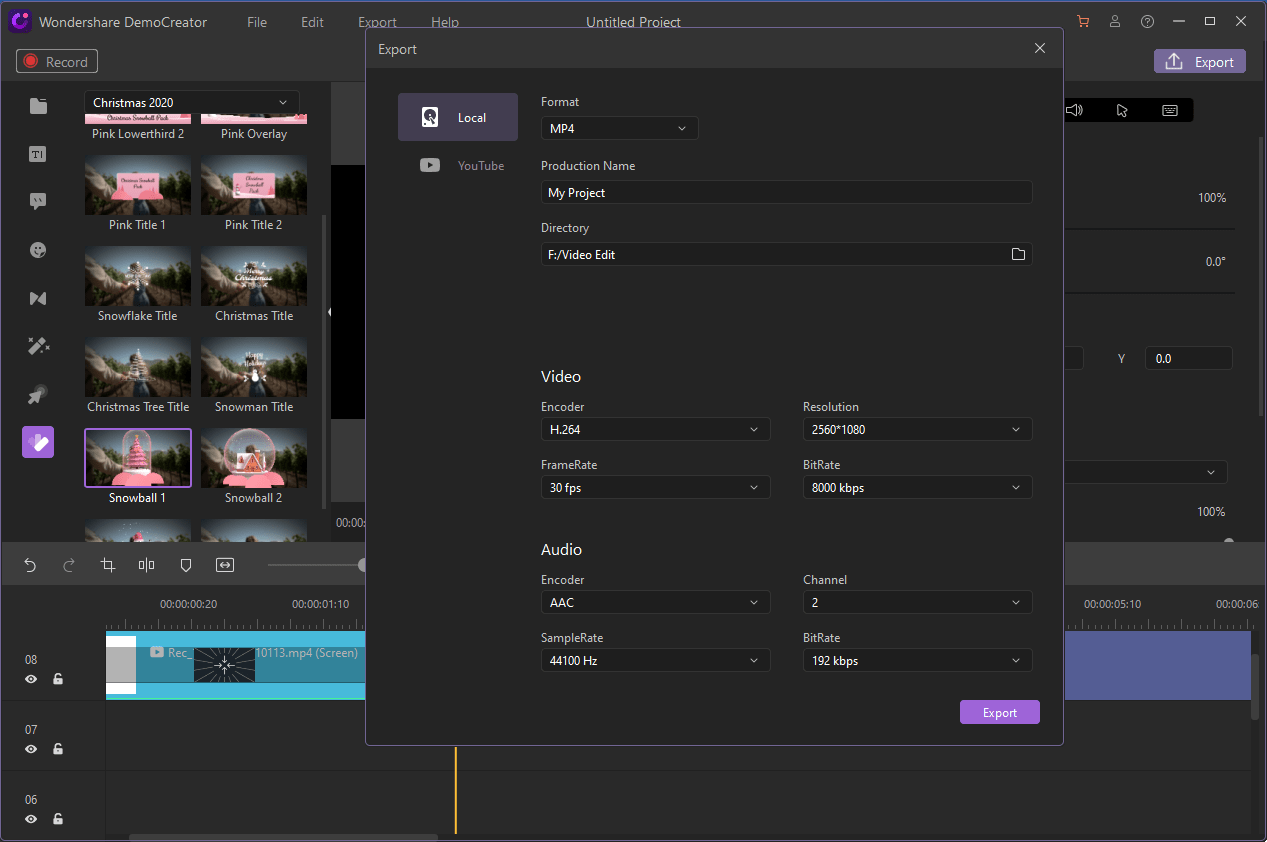 Don't Know How to Use DemoCreator? Let's Get You Started!
Honestly, DemoCreator is so easy-to-use and intuitive, that most people can figure it out by themselves. Neither I had any issues while switching my workflow from OBS to DemoCreator. But in case you need any assistance, here's how you can get started. And I'm pretty sure you can master DemoCreator within a few hours of usage.
Step 1: The first step of getting started with any app is, of course, installing the app itself. Download DemoCreator as per your system config, and install the app. Once DemoCreator is installed, open the app, and it will look like the image below.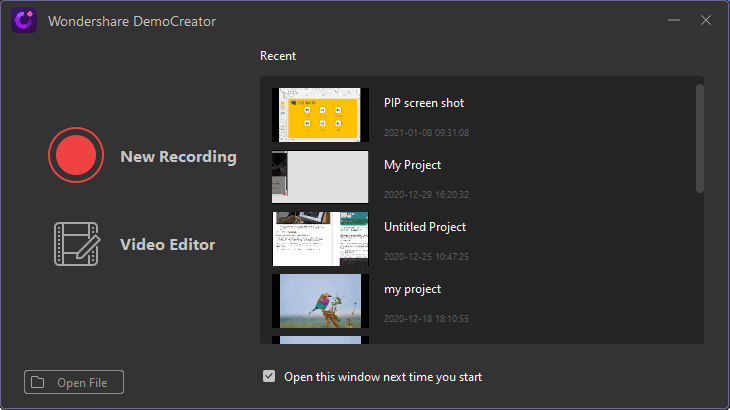 Step 2: From the start-up screen of the app, you can either start recording your screen or edit any pre-recorded video. Now, click on "New Recording" and the following screen will show up.
For starting the screen capture, smash the big RED button. But before that, be sure to set the parameters like video resolution, frame rate, and compression quality.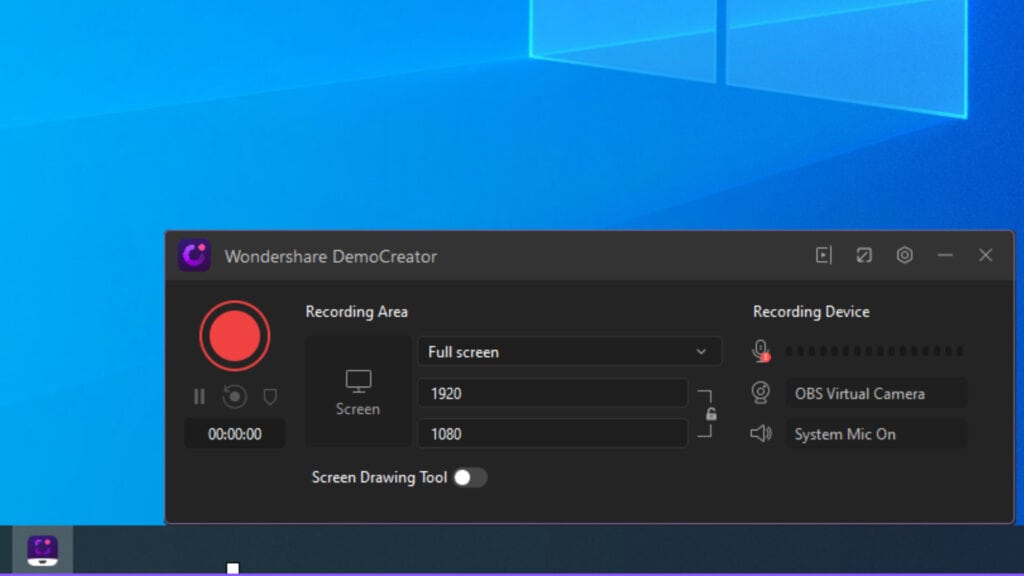 Step 3: Once the screen recording starts, toggle the "Screen Drawing Tool" and you will notice the ribbon-like control panel on the top. This is where the features get really interesting. Unlike most other screen recorders, DemoCreator offers dozens of options, including real-time screen drawing, adding markers, highlighting texts, and many more.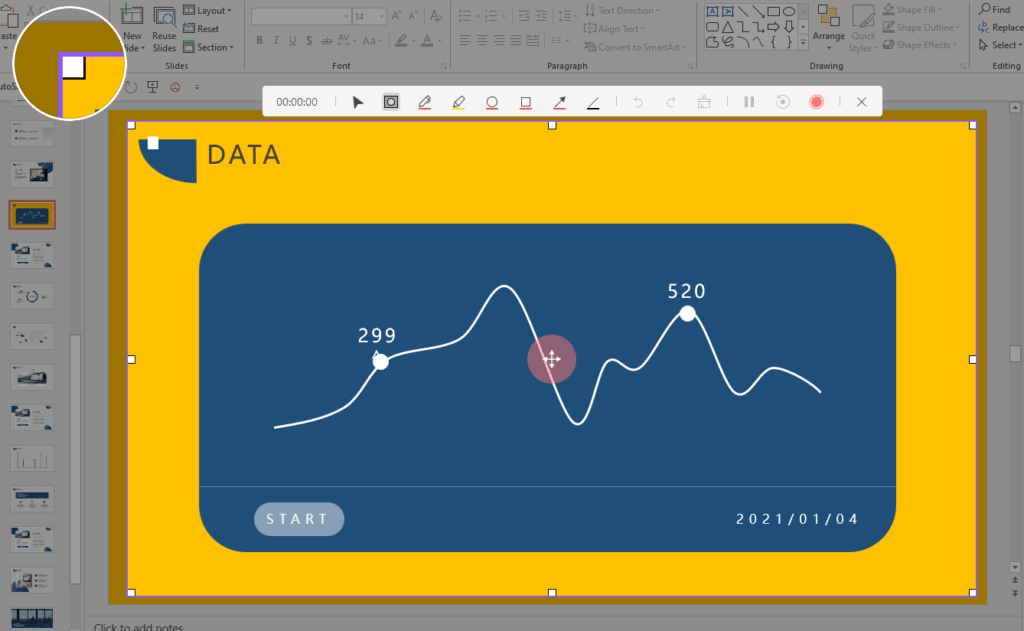 Step 4: Finally, finish your recording by hitting the "stop" button. What remains? Oh, editing! Don't worry, if you have previously used editing tools like Premiere or Filmora. The editor interface is shockingly similar, with tons of cool features like animations, captions, modern transitions, annotation tools, and even green-screen effects.
DemoCreator Pricing: Affordable for Everyone
Here comes the most exciting part that attracted millions of users, including me. You may expect sky-high pricing for the all-in-one software that offers those many recording and editing features.
But in reality, DemoCreator pricing starts from just $6.99 for individuals, with the business plans starting at $69.99.
Surprised, aren't you?
With plans available both monthly and annually, DemoCreator is arguably the best recording and editing software, yet.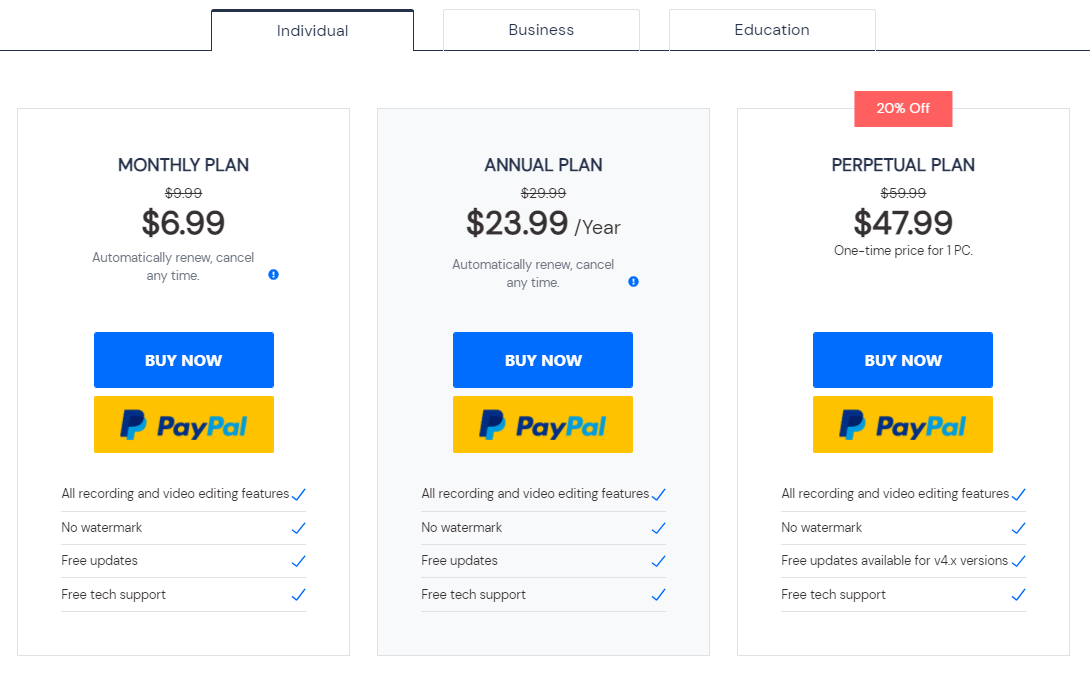 But hold on! There's also the free subscription, which may offer limited functionality but still beats out the competition with everything under one single package. And honestly, it does the job way quicker than any tools out there.
The interface is buttery-smooth with quick navigation.
Combined recorder and editor makes the process quick.
Supports recording up to 4K, with a 120Hz refresh rate.
The editor features cursor highlighting for tutorials.
Export options are available in wide varieties of formats.
The addition of lossless recording quality would be nice.
No ribbon-like interface is available for audio editing.
Zero support for external plugins and extensions.
Consumes too much system resources while recording.
The inconsistent mic on/off may raise privacy concerns.
Should You Go with Wondershare DemoCreator?
Well, you can surely ask Google and discover better screen recorders and video editing apps. But one thing they all lack is the unified experience. What makes DemoCreator the best choice for professionals is its intuitive UI and the combination of powerful recording and editing tools.
If we speak about the current WFH situation, online learning and productivity have become essential, and thus, the importance of DemoCreator is growing day-by-day.
With this software, you can benefit from the full-fledged features that will improve your content quality, while minimizing the man-hours required. Even if you're undecided about purchasing DemoCreator, you can try out the free package.
Frequently Asked Questions
Let's Wrap Up!
Wondershare has done an incredible job of launching DemoCreator, especially in this WFH situation. While using the app extensively ever since it launched, I faced no trouble, whatsoever.
My only complaint? The voice recording tool, that oftentimes left the mic active, raising privacy concerns.
I had already sent my feedback to customer support, hoping they will resolve the issue soon. After reviewing Wondershare DemoCreator, I can say for sure that it will deliver an awesome recording and editing experience while offering affordable DemoCreator pricing for all.
What's your opinion on DemoCreator? Check out Wondershare DemoCreator, try out the all-in-one DemoCreator app, and let us know about your experience in the comments below. If you really liked our informative DemoCreator review, be sure to share it with your fellow creators.
What we think about
Wondershare DemoCreator