Data recovery software is an essential tool in this digital age to keep your data safe and secure even when the data is lost or deleted. And, one of the most popular names in the data recovery domain is Wondershare Data Recovery. Today, we will be sharing the Wondershare Data Recovery review for our readers to decide whether it's a worthy investment or not.
The world relies more on soft copy data than hard copies in the 21st century. The most important documents, pictures, videos and every other data is mostly stored on modern day computers, smartphones, cameras or storage devices such as external hard disks, flash drives, etc. However, what if, the data is lost because of accidental deletion, system crash, or formatting.
At this scenario, only a reliable data recovery program can do the trick to recover all the deleted files from your computers or other devices. Here's where Wondershare Data Recovery comes into play. Being a well-known data recovery tool in the market today, we decided to test it out ourselves to do a review of the much-hyped product.
But, before we proceed with the review, it is important to learn a bit about Wondershare Data Recovery software and the company that built this amazing data recovery program that works on any storage device and supports both Windows and Mac operating systems.
More About Wondershare Data Recovery
Wondershare Data Recovery software is created by Wondershare, a leading software solutions provider that caters to the need of modern day digital enthusiasts. The product range of Wondershare includes Audio/Video Conversion, Data Recovery, Multimedia Editing, and much more. However, we are here to focus on the Wondershare Data Recovery tool.
Considering the importance of data in the modern day world, Wondershare has created a data recovery program that works both on Windows and Mac operating systems. The data recovery program is also capable of retrieving lost or deleted contents from external storage devices such as external hard disks, memory cards, flash drives, etc. Hence, it can also retrieve your lost pictures or videos captured from your smartphones or digital cameras.
Wondershare Data Recovery Review
So, without any doubt, the Wondershare Data Recovery program is the ultimate solution for any data lost or deleted from your devices. However, the Wondershare Data Recovery review will help us get into the detail of this data recovery tool and let us explore its different features and capabilities one by one to understand if it's worth in reality or it just looks good on specifications.
Before we move to the review, it is important for you to understand how the recovery process works and how the lost data is retrieved from your different storage devices.
Wondershare Data Recovery: How It Works?
Well, to recover your lost data or important documents, Wondershare Data Recovery tool offers you to choose from a different set of modules each tasked with a specific type of data recovery. Although the method of data recovery in each module is same, these modules give you different options such that they can be customized for a specific type of data recovery. All you need is to choose the right options and hit the "Scan" button using the modules to retrieve your lost files.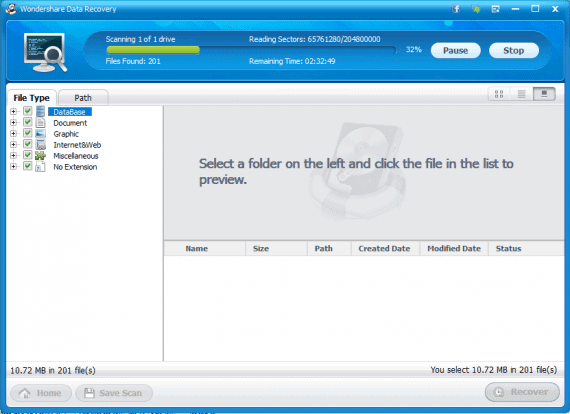 Once the scan is completed, the Wondershare Data Recovery dashboard will list the number of files it has retrieved from the lost files data. You can now choose the ones you want to recover as the data recovery tool is designed to retrieve as many deleted or lost data from your device. The excellent feature of Wondershare Data Recovery is that it is capable of retrieving more than 550 different file formats that include text documents, PDFs, videos, pictures, and several other file types that are used by the modern day digital world.
Well, there's one more intelligent feature offered by Wondershare Data Recovery tool which will allow the user to get a sneak peak of the retrieved file before recovering it. This feature is ideal for users who are confused between different files and could smartly get a preview to decide which files they want to recover and which they don't.
Different Modules of Wondershare Data Recovery
The data recovery process on Wondershare Data Recovery program is carried out within 4 different modules. Even though all these 4 modules work in a similar fashion, the modules are customized to perform data recovery with different parameters to find the lost files.
So, here is the list of different modules you get to choose from while scanning your device with Wondershare Data Recovery tool: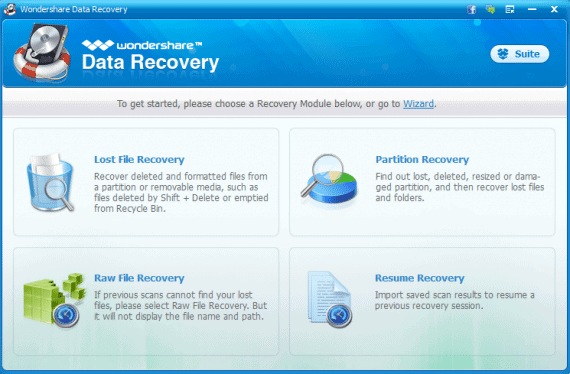 Module 1 – Lost File recovery
Well, there's no surprise whatsoever about this module as the name itself suggests what the module is for. It's the most basic modules of all and the one that's most commonly used module in Wondershare Data Recovery program to recover lost files. The basic reason behind the popularity of this module is definitely the easy to use process in order to find, locate and preview your lost files and other important documents. There's no need for any specific technical knowledge to use this module and its simple UI will easily let you choose a specific drive if needed to start scanning to retrieve lost files.
Module 2 – Partition recovery
Getting to a bit more advanced mode, there are times when data is lost during partitioning hard drives. During such scenario, it becomes difficult to retrieve the data using the Lost File Recovery module. Instead, you need the Partition Recovery module that lets you select the particular hard drive displaying all the available partitions on the drive. You can now choose the partition that you believe the data was store and start scanning to retrieve your lost files. This module supports all kinds of widely used file systems that includes NTFS, FAT 16, FAT 32, exFAT, etc.
With this module, you can also find out lost, deleted, resized, damaged partition on your system and then retrieve the files and folders from that partition. Similar to Lost File Recovery mode, the Partition Recovery mode lets you scan from partition level to scan all the fragmented and defragmented pieces to ensure the safety recovery of any lost data.
Module 3 – Raw File recovery
Raw File Recovery is an advanced module on Wondershare Data Recovery tool that is a bit time consuming compared to other modules, but it is worth the time as this module is designed to scan the system deeply in order to retrieve the data from places that can't be located by the above modules. However, it is advisable to use this module only when you are not happy with the results from Lost File Recovery and Partition Recovery module. However, this module won't show the file path like the Lost File Recovery and Partition Recovery modules, but it will be surely be more efficient and capable than those other modules.
Module 4 – Wizard Mode Recovery
Wizard Mode Recovery is a simple step-by-step instructed recovery mode designed to simplify the overall process for the users. As the basic task for the Wondershare Data Recovery tool is to retrieve and restore lost files, the Wizard Mode Recovery module will just ask a few simple questions when you launch the software and all you need to do is follow the instructions. Wondershare Data Recovery tool will then initiate "Quick Scan" for your device based on your preferences.
Module 5 – Resume Recovery
Well, the last and final module in Wondershare Data Recovery program is not entirely a scanning module. The Resume Recovery module is actually created to save scanned results so the user can recover data from previously scanned results. Just resume an old recovery session from the Wondershare Data Recovery dashboard and retrieve the lost files easily from previous scans when needed. Resume Recovery module is very important for those who need to restore files that weren't important at the time of the first scan but suddenly gains importance for some reason.
Our Verdict After Wondershare Data Recovery Review
When I first used the Wondershare Data Recovery for review, I simply did a quick scan using the Wizard Mode Recovery module that comes on the screen on it's when you launch the program. Well, I just wanted to see what kind of files is the program capable of retrieving and recovering. I was quite impressed to see some of the files which I never even knew I deleted as I might have deleted the full folders were showing in the list of recoverable files. The best thing with this program is that you can preview the files before recovering and that actually saves a lot of time and resources.
In addition to that, I also deleted some files that included a MS Word Document, a 250 MB video file, a 5 MB audio file, and a PDF file to see how other modules work. Well, the Lost File Recovery Module is quite excellent and fast almost similar to the Wizard Mode Recovery, whereas the Partition Mode Recovery and Raw File Recovery did take some time for the scanning. With every scan, you get the option whether to save the scan results for future use in the Resume Recovery module or not. You may choose to save or not based on your preferences.
On the top of it, I also found the tool to be highly safe and simple to operate. During the Wondershare Data Recovery review, I found that the tool works in read only mode and doesn't overwrite any file/folder or damage the system itself while scanning for lost data. You can also start/pause the scanning process at will.
With the precise filter option available on the program, you can also scan files for the specific date, name, and size in order to narrow down the search results as well as speeding up the overall process.
Final Verdict
All in one, I recommend Wondershare Data Recovery to everyone who relies on computers or digital gadgets for data storage. It's a must-have software in your armory as you don't know when you might need it. Whether your computer crashes, or your important files gets deleted accidentally, the Wondershare Data Recovery tool can help you recover the lost data within minutes.
Pros
Helps you recover lost data including 550+ file formats

Supports both Windows and Mac operating systems
Recovers data from mobile phones, digital cameras, flash drive, memory cards, external hard drives, mp3/mp4 players such as iPod, etc
Supports different file systems such as FAT16, FAT32, exFAT, and NTFS
Offers preview of the recoverable files
Lets you save scan results for future resume recovery mode
Cons
Takes a bit of time when you opt to scan deeply or while on Raw File Recovery mode
Partition Recovery and Raw File Recovery modules can be tricky for non-tech savvy users
Did your computer crash or you accidentally deleted some important files while formatting your device? No need to worry as you can easily recover all your lost files and data with Wondershare Data Recovery software.